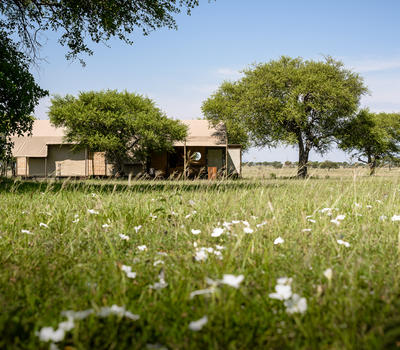 Offering Africa's most restorative safari experience under canvas, Singita Sabora Tented Camp awakens the senses and its seamless combination of private indoor and outdoor spaces allows for continuous game-viewing, reconnecting with nature and oneself, and finding much-needed stillness.
The nine self-contained suites all include private pantries, dining and fitness areas, as well as meditation decks, where guests can rest, relax and immerse themselves in wellness activities like outdoor yoga, while outdoor salas with secluded daybeds overlooking one of Sabora's two waterholes make for uninterrupted game-viewing.
With the tented suites set close to the ground, every sight, sound and smell of the bush is amplified and bespoke glass panelling welcome the Serengeti plains inside. Echoing the earthy colour palette of the bush, modern interpretations of campaign furniture evoke the timeless spirit of East African adventures.
Show More
Show Less