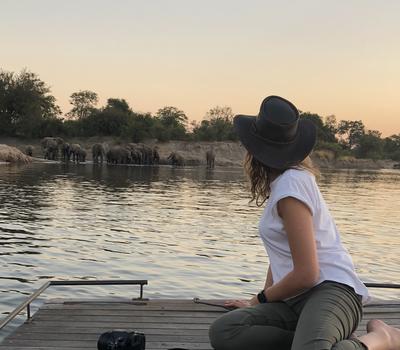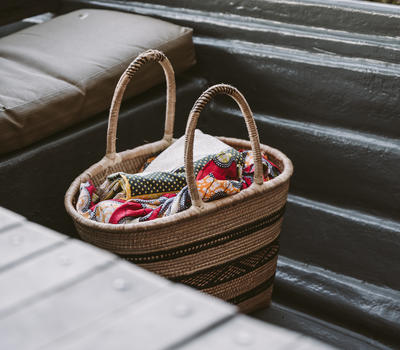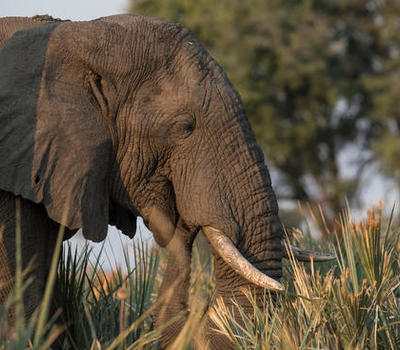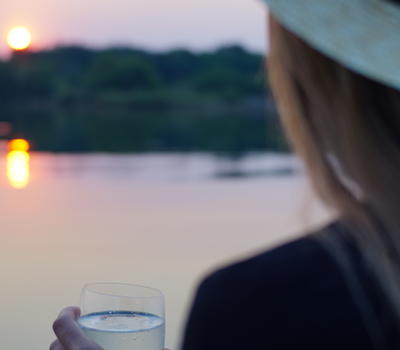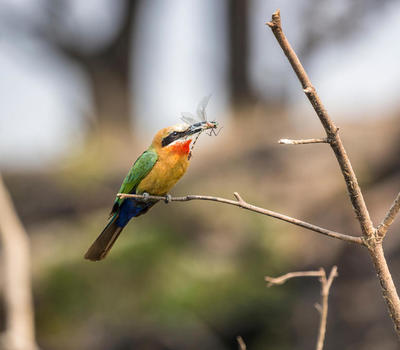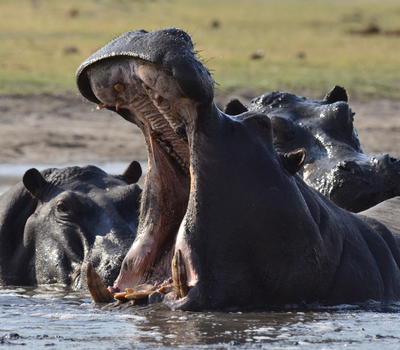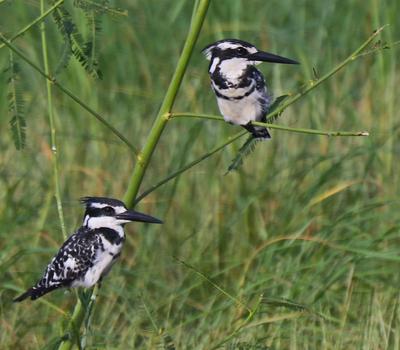 On-site Zambezi River Cruise
The Zambezi Sunset cruise is a superb way to relax and enjoy the spectacular beauty of the Zambezi River. There are great photo opportunities against often-spectacular African sunsets.
Flocks of birds skim the waterline as the sun sets behind the African skyline. Clients may have the opportunity to see a variety of game; including hippo, crocodile, and elephant as well as many bird species. A sunrise or sunset cruise in our own boat is included in all our packages!
Show More
Show Less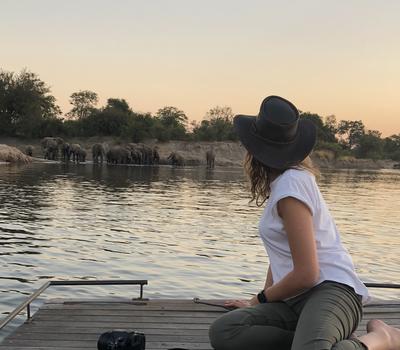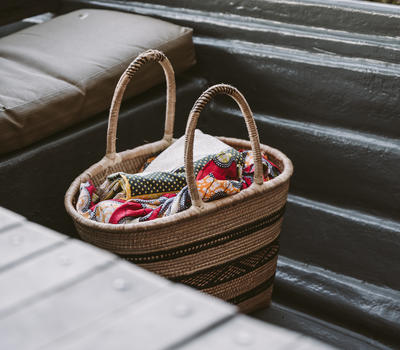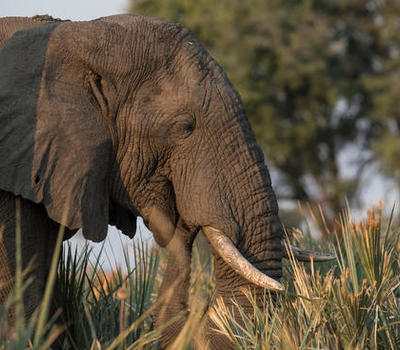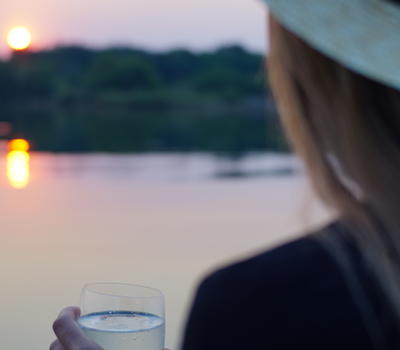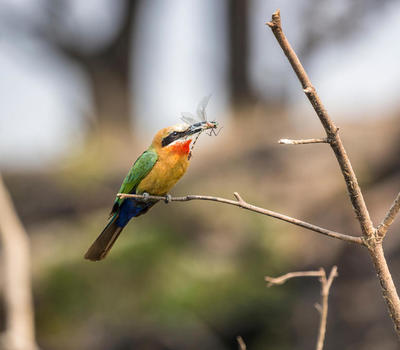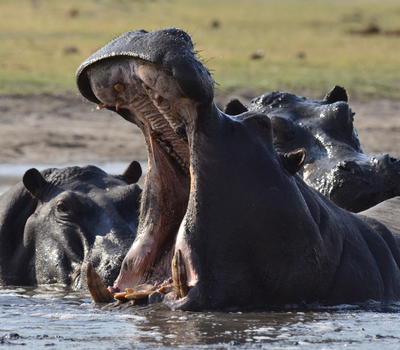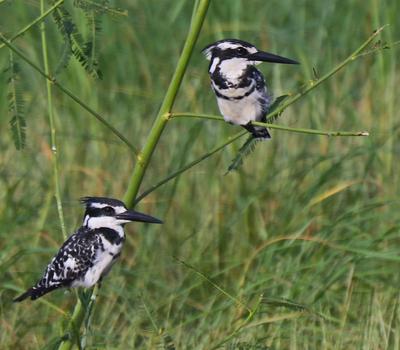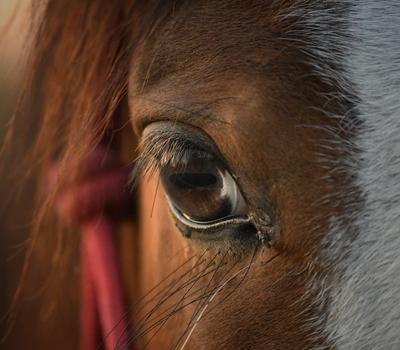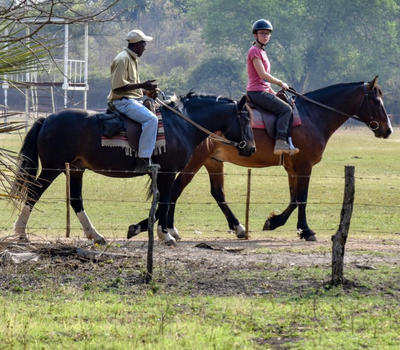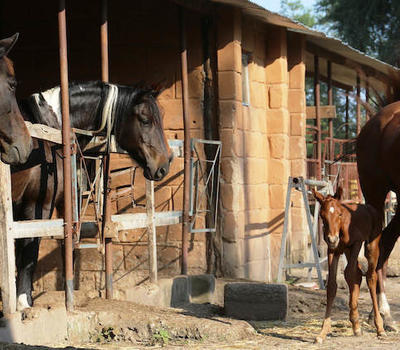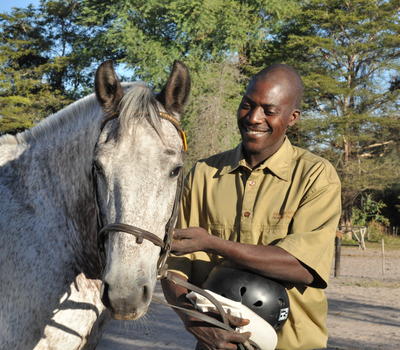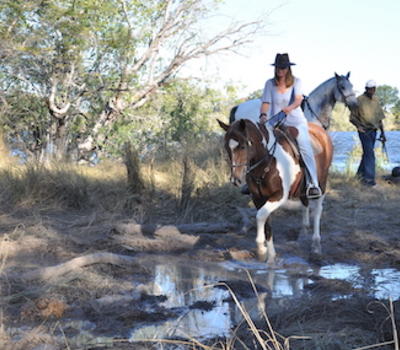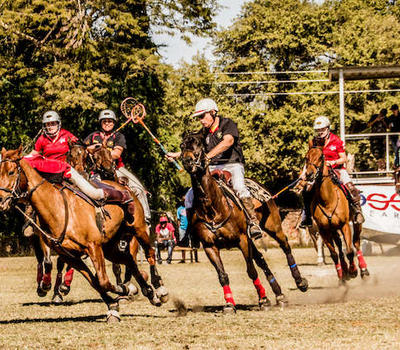 We have a large stable yard with horses for all levels of riders, and options for children. Horse-riding packages are available too. Livingstone Polo Crosse Club is also on our premises – guests are welcome to take a walk up to the fields to join us - or hire a horse and play!
Show More
Show Less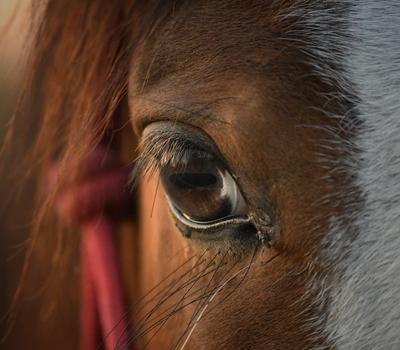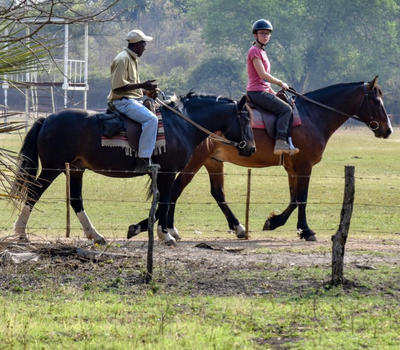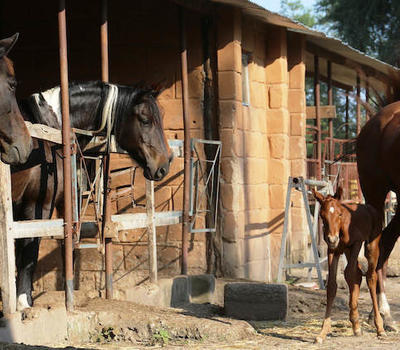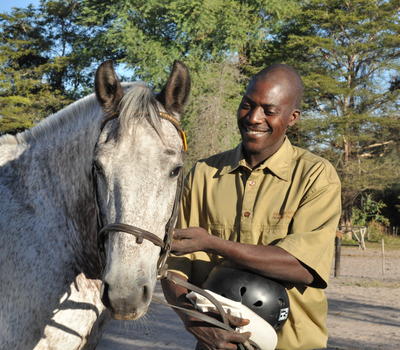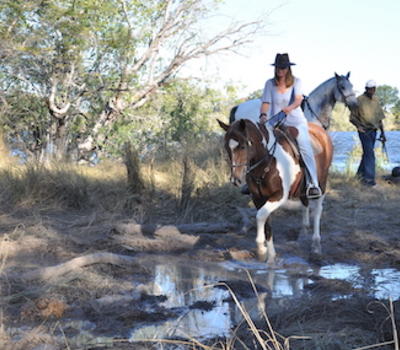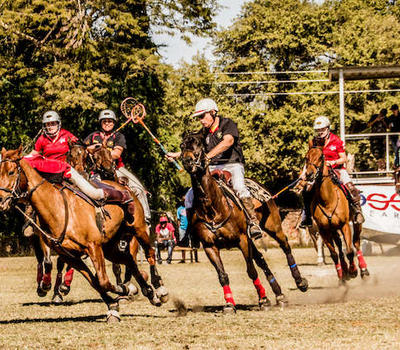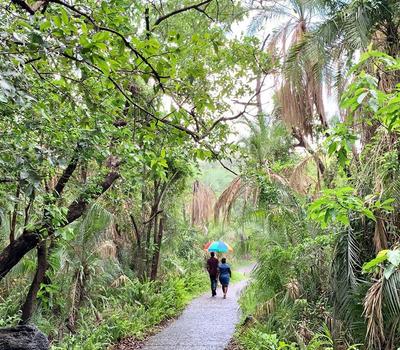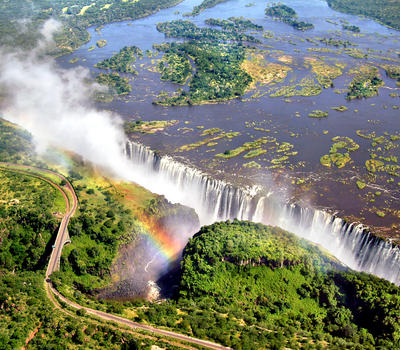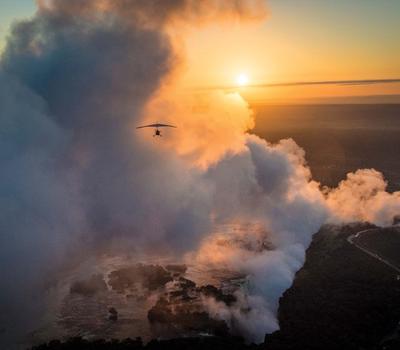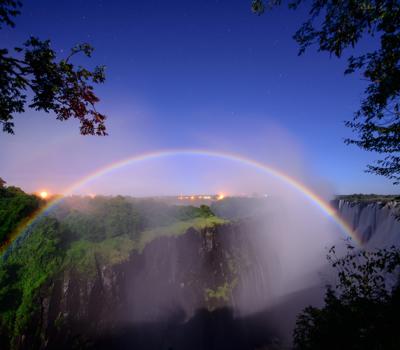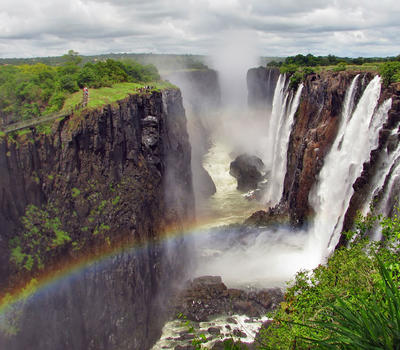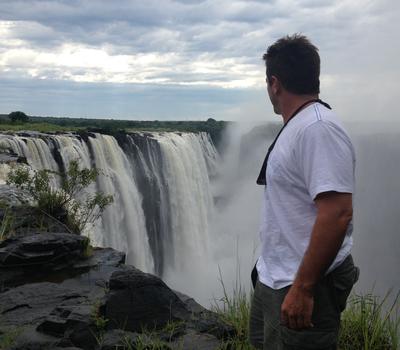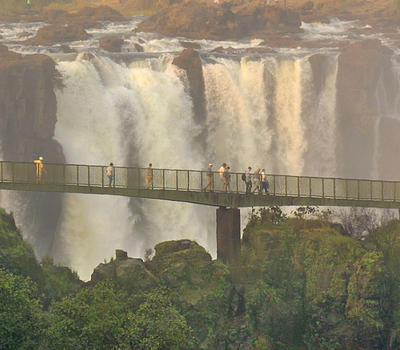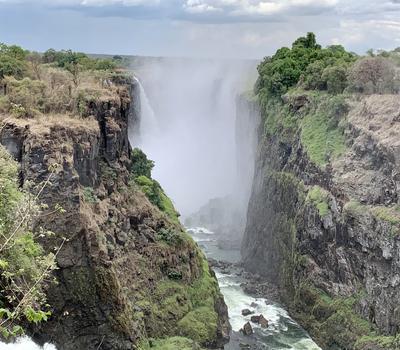 Victoria Falls Day Trip (Inclusive)
Utilize your private vehicle and guide to take you to Victoria Falls and explore Livingstone. No set time departures, no waiting for the late risers – you are free to spend as much time as you want to experience the world's largest waterfall and surrounding attractions. This is your day to do it all, see it all, experience it all! Our team is on standby to guide you and assist with all activity arrangements in advance, all pre-arranged experiences are for the clients' own account.
Different seasons = different views of the Falls and activities on offer. This is mainly due to the rains and the Zambezi River water levels which does have a dramatic effect on many factors that might influence your trip. If in doubt, please ask us for more advice.
There are three main seasons, which are, in a nutshell;
Low Water Season = Hot & Dry. August/September, October, November, December. Victoria Falls will be at her lowest water flow at this time of the year and it is imperative to visit both Zim/Zam viewing points to see water flowing over at various viewing points. Although you will not witness Victoria Falls in her full splendour at this time, this is prime time for wildlife viewing as herds of elephant descend upon the river. Livingstone, Victoria Falls & Kasane enjoy daily herd sightings on the roads and national parks during this season. White water rafting is also at its peak for adventure enthusiasts and the Devils Pool at the edge of Livingstone Island is open for daredevil swimmers.
High Water Season = Hot & Rainy. December/January, February, March, April, May. With the arrival of seasonal rains, the Zambezi River and tributaries begin to rise, and Victoria Falls begins to flow in earnest once again. This is prime viewing of Victoria Falls and travellers may witness the roaring thunder of water, giant swirling mist and the incredible noise and wet that gives rise to her Tonga name, "the smoke that Thunders". It may actually be challenging to see many parts of the Falls due to the sheer amount of mist and spray! This is the time to really get fully immersed in the glorious 'Zambezi shower!' Water-based experiences such as white water rafting and the Devils Pool swim may close due to safety concerns in this high water period.
Mid Water Season = Cool & Dry. June, July, August/September. Winter has arrived in the region and visitors may be surprised at how low the temperatures can quickly drop in the evenings! The water flow quickly reduces at this time of the year as we approach the Low Water season once again. Visitors may expect warm sunny days, cool evenings, fantastic wildlife viewing opportunities and all activities / experiences on offer.
Show More
Show Less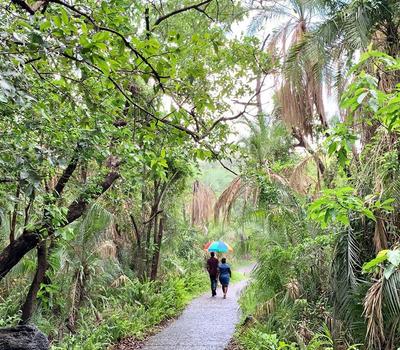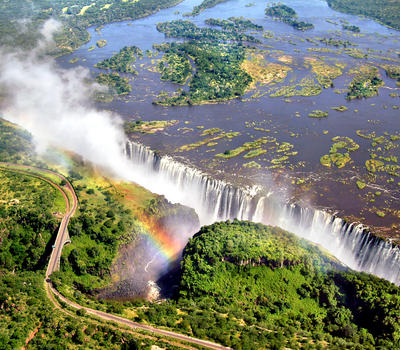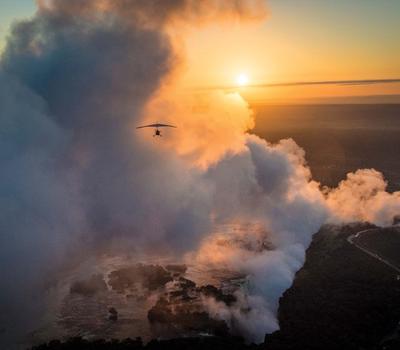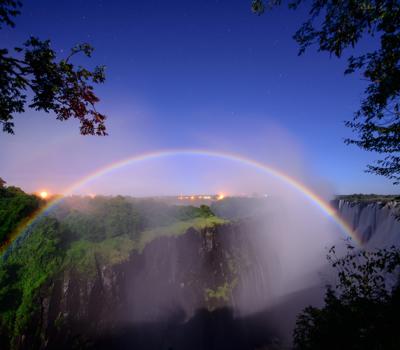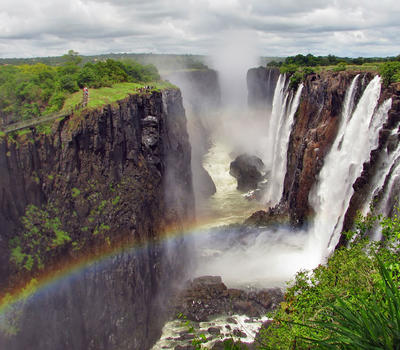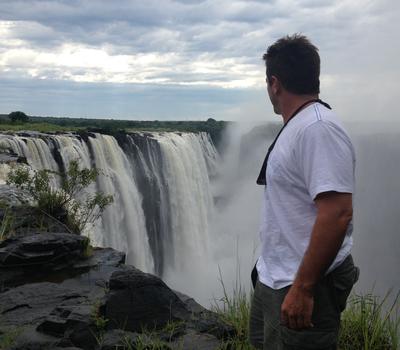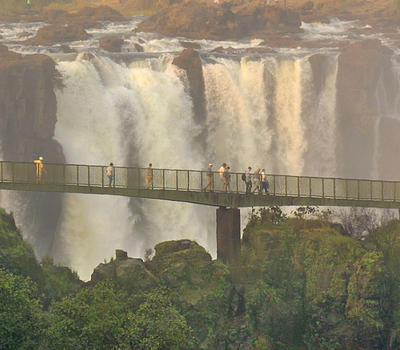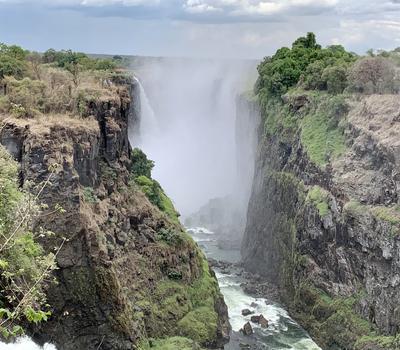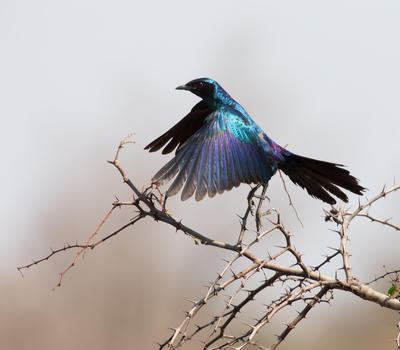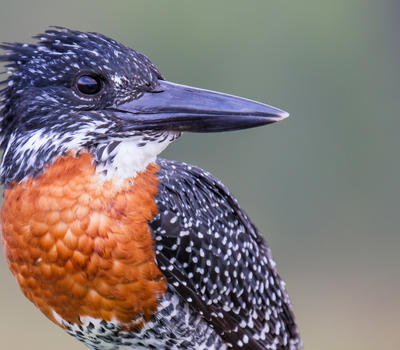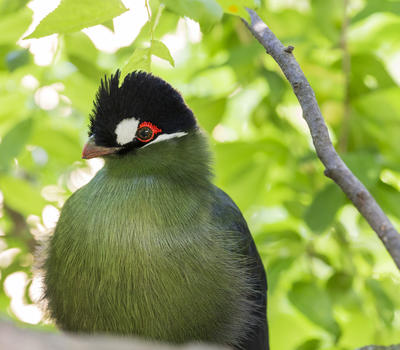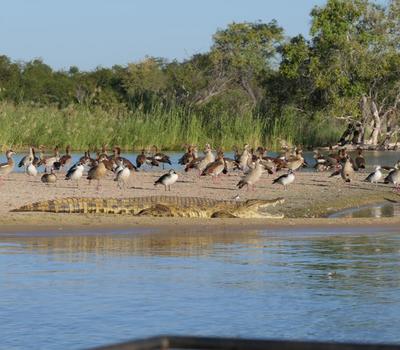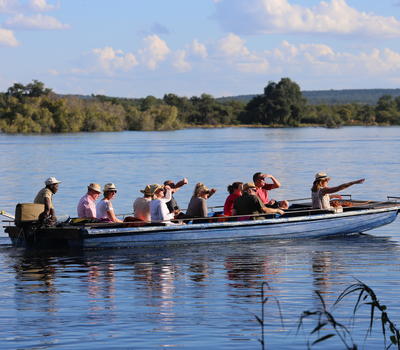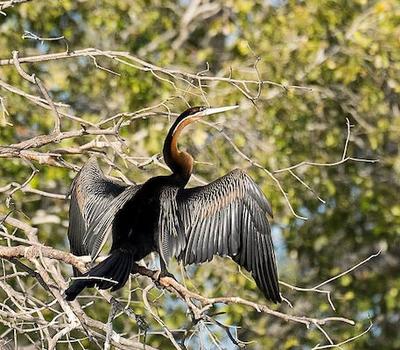 On-site Birding Opportunities (Bush & River)
Cross some of the rarer birds off your list – over 180 species of birds have been spotted here, including the African Fin Foot and the Livingstone Turaco.
Bird watch from your chalet overlooking the river or from our gardens. If you're keen to learn more, we offer birding for novices and professionals.
Show More
Show Less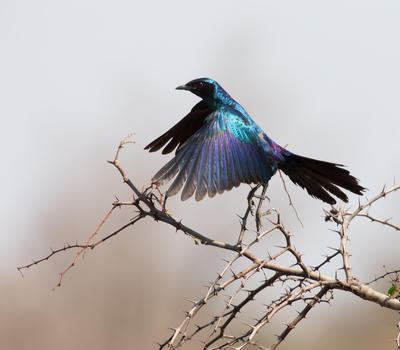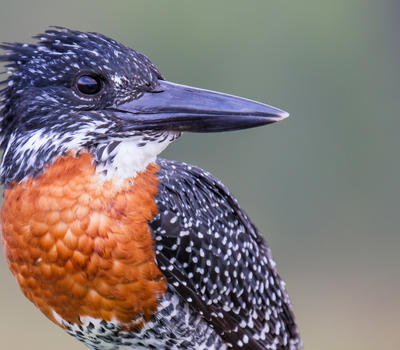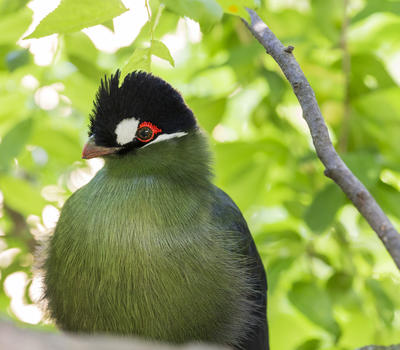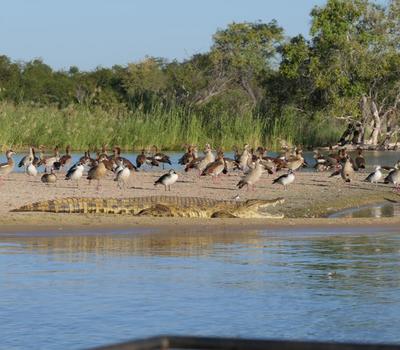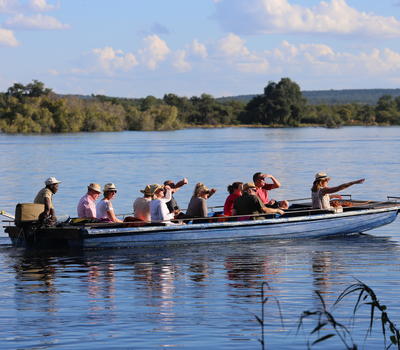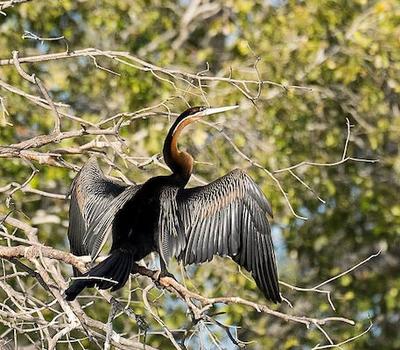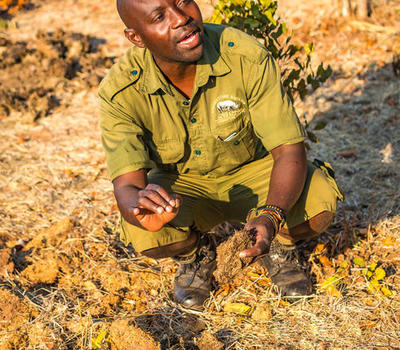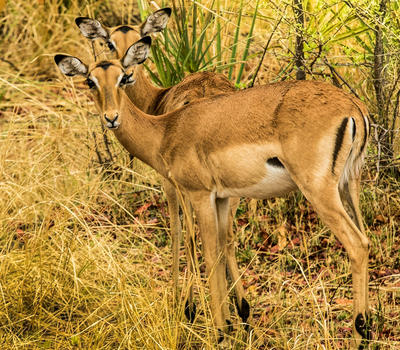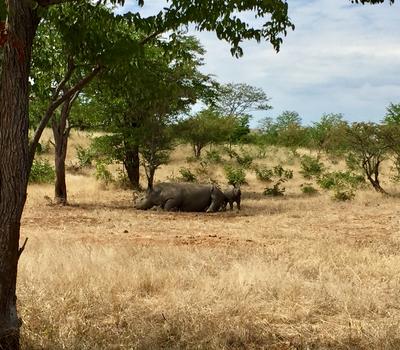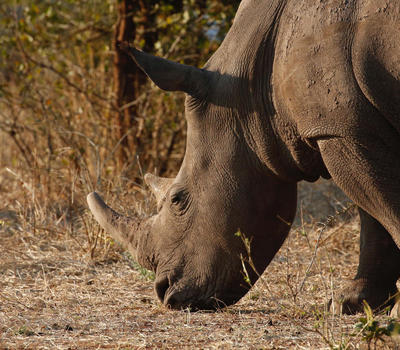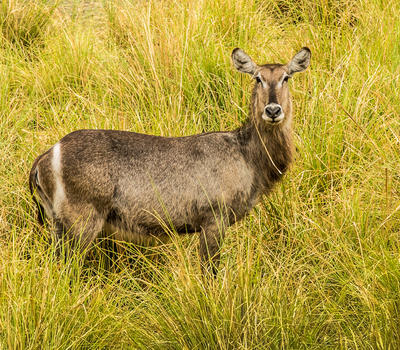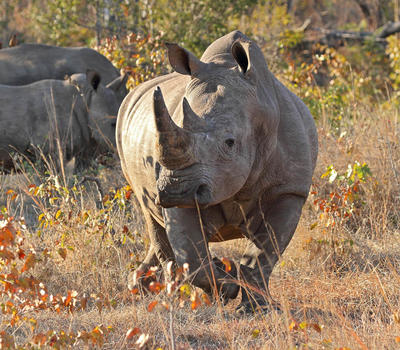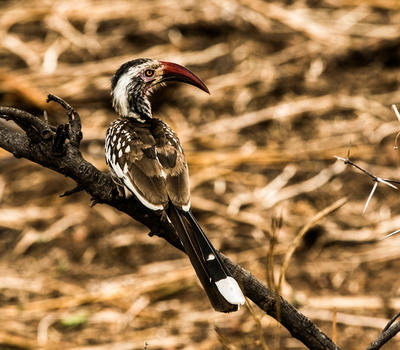 Walking Safari - Tracking Livingstone's White Rhino
Embark on a guided walking safari in our local Mosi-oa-Tunya National Park in search of the rare and endangered White Rhinos.
Spectacular to be able to view these and other game whilst on foot, and learn about the bush.
Show More
Show Less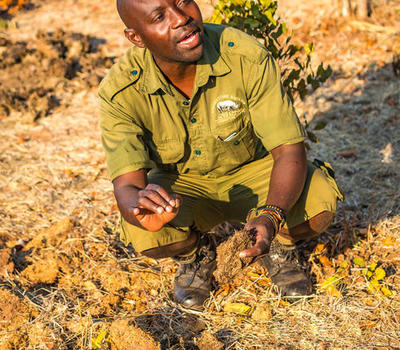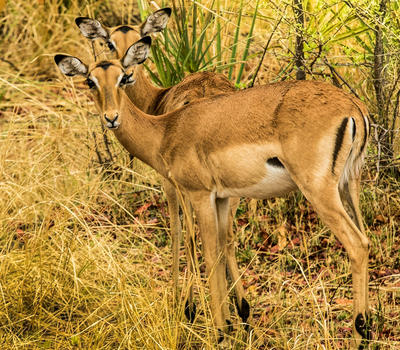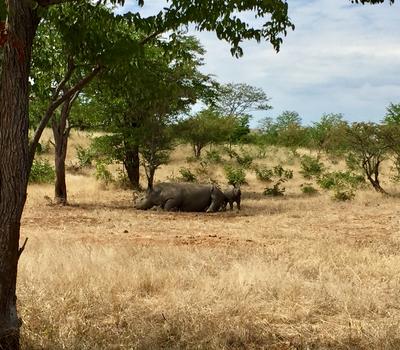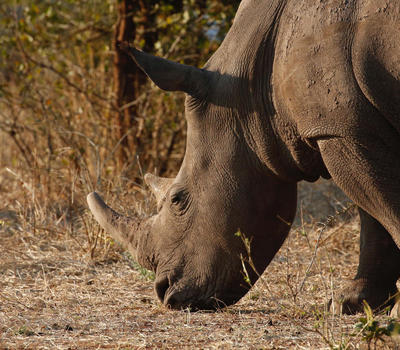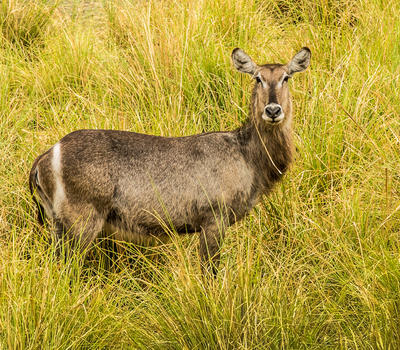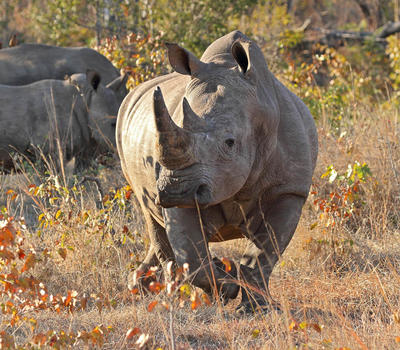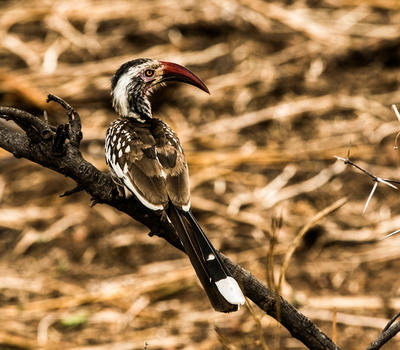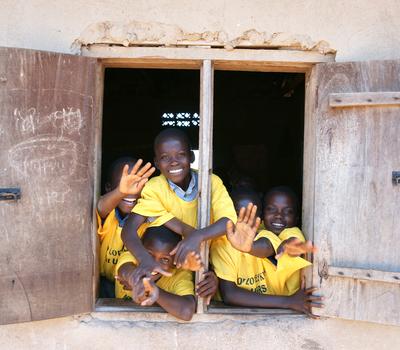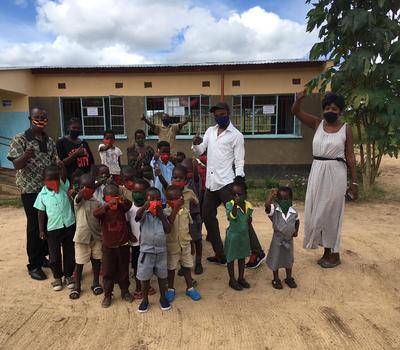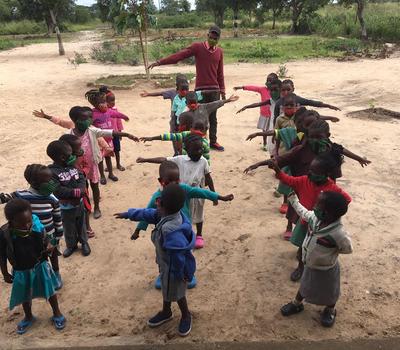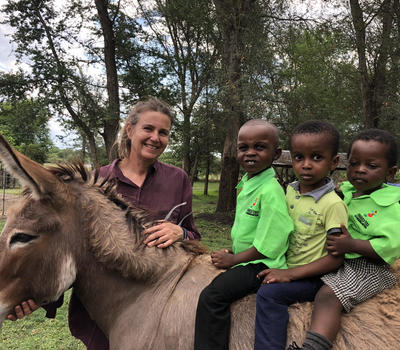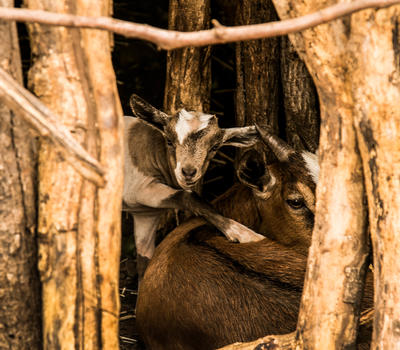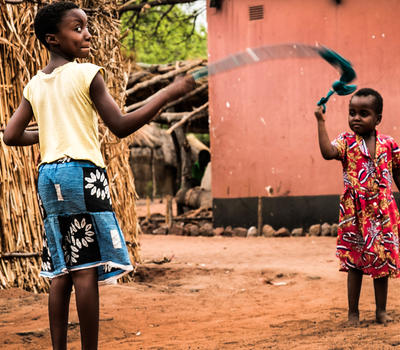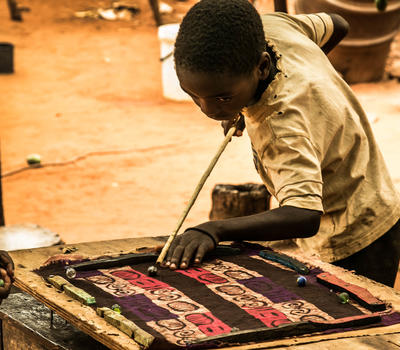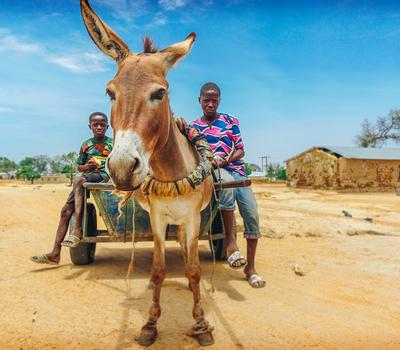 Visit our neighbouring village, home to most of our team at the lodge. A chance to meet some members of the community, and learn about the local building techniques, cuisine, traditions and of course the local brew! A visit to the small community pre-school that we support is always fun too – for the students and the visitors.
Show More
Show Less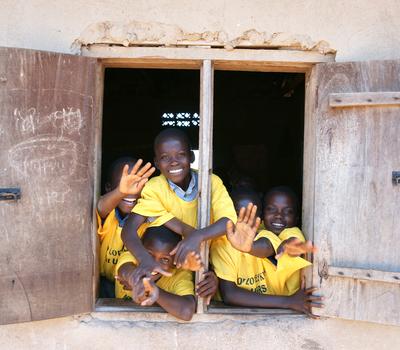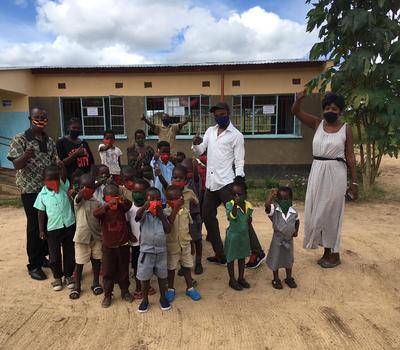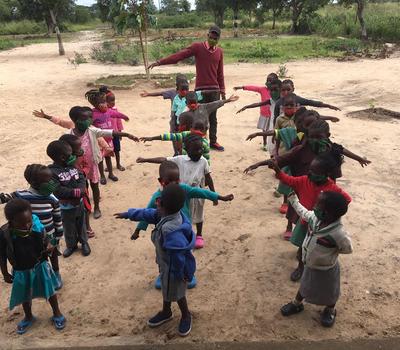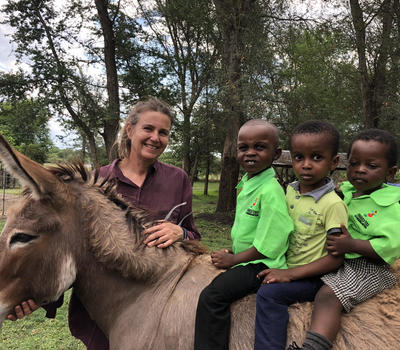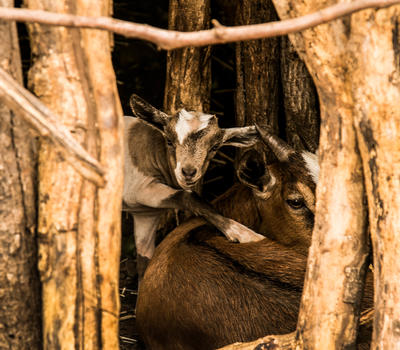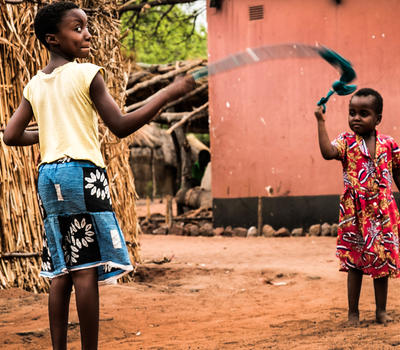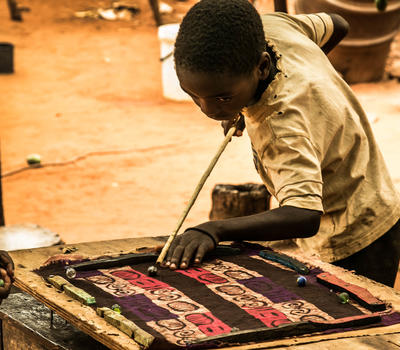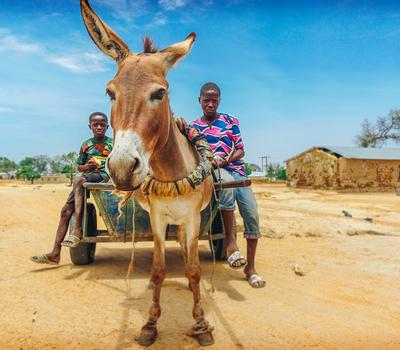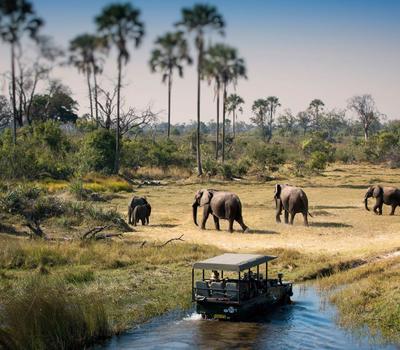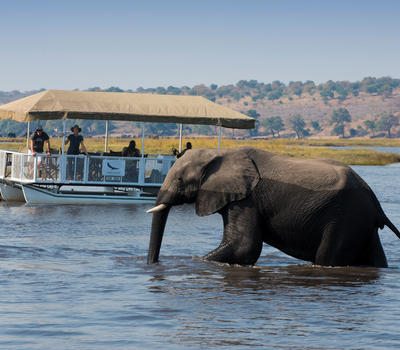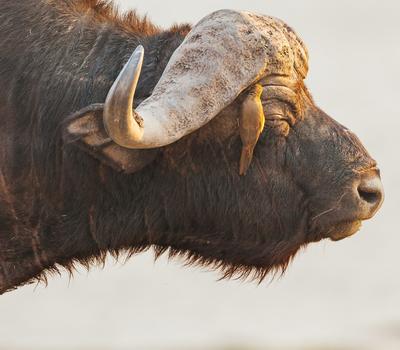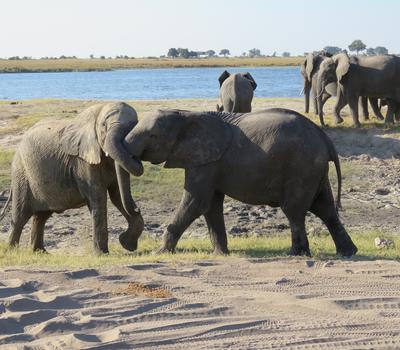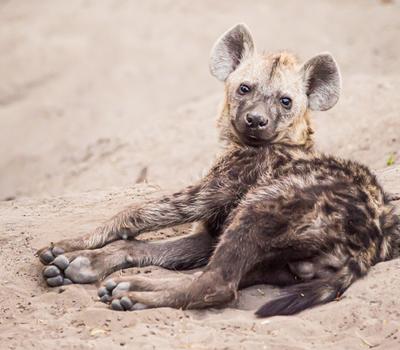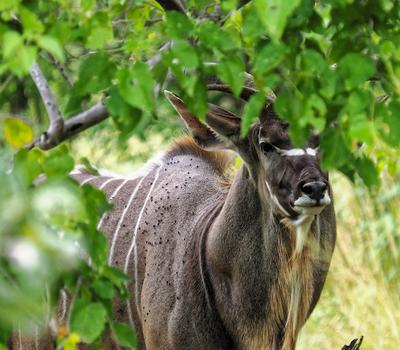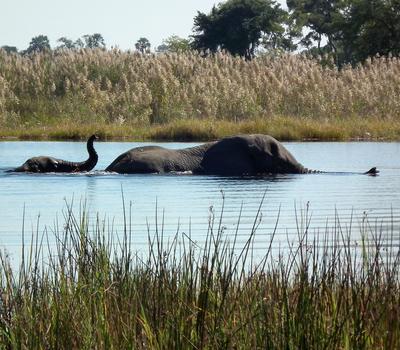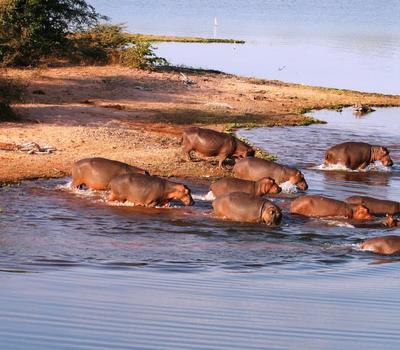 Day Trip to Chobe National Park
Chobe National Park is well known for being one of the best wildlife destinations in the world. This safari experience is ideal as a combination destination with Zambia as a day-trip experience due to its close proximity.
Chobe boasts Africa's Big Five. A Chobe River Safari brings you close to brilliant birdlife, pods of watering hippos, primeval crocodiles and elephants, breathtaking in their sheer number - infact, the world's largest elephant population. The land-based safari heads deeper into the Park to spot the elusive big cats that make Chobe their home. Chobe is also a popular birding destination – more than 450 species have been recorded. Several species, including skimmers, are on their southern-most limit, making a sighting particularly exciting for Southern Africa bird watchers.
Land-based and water-based safaris are available and both are possible in a single Chobe Day Trip.
Show More
Show Less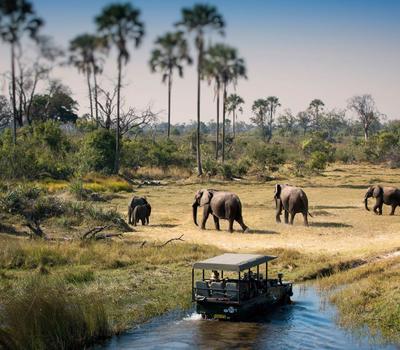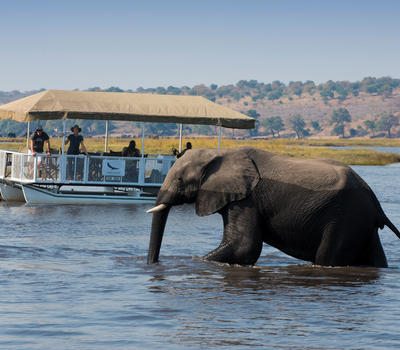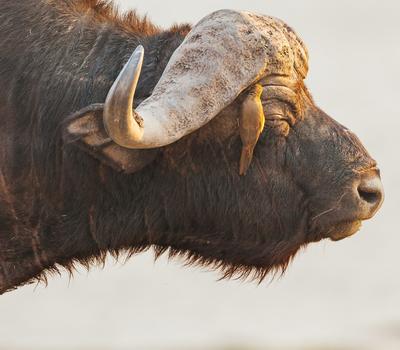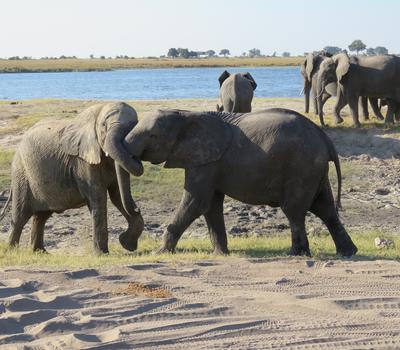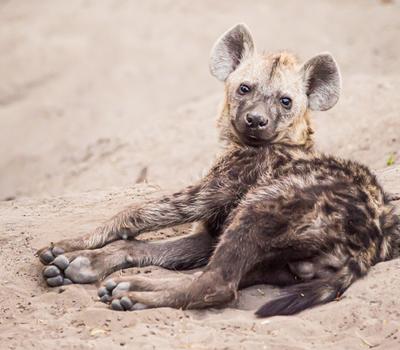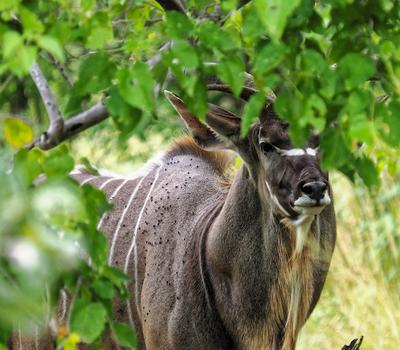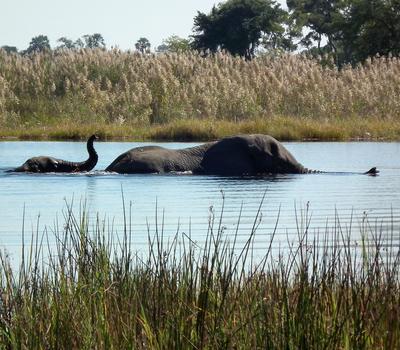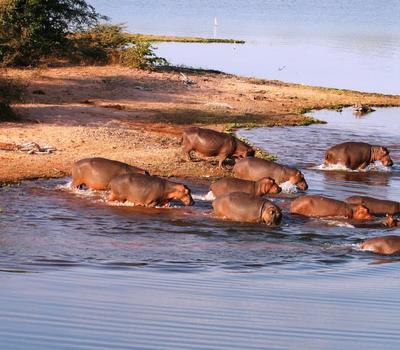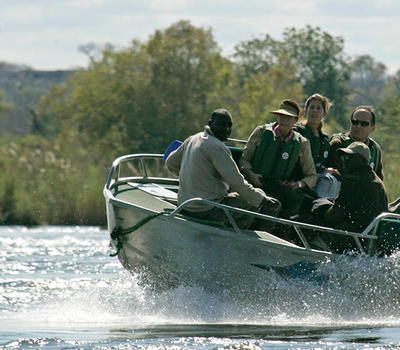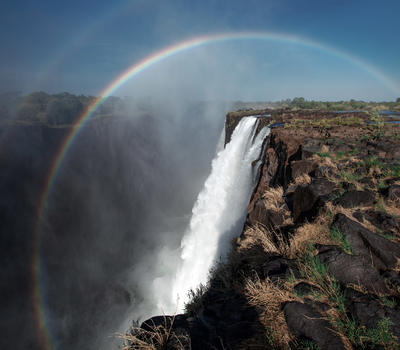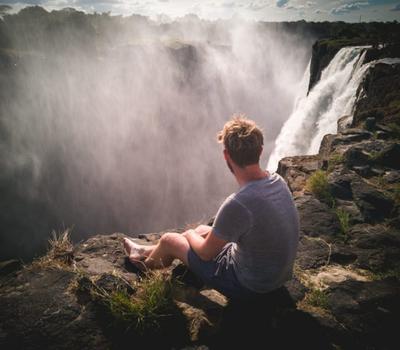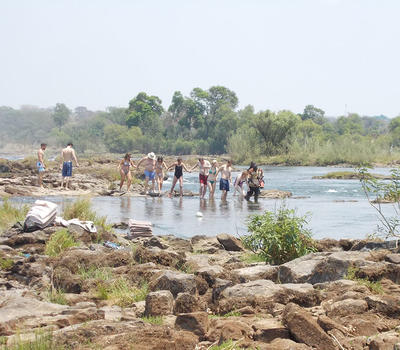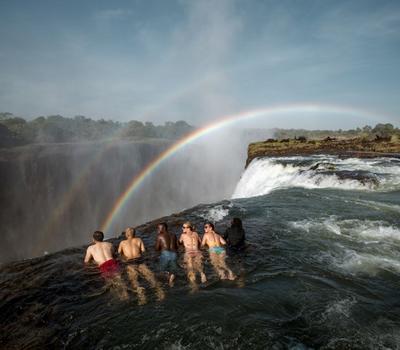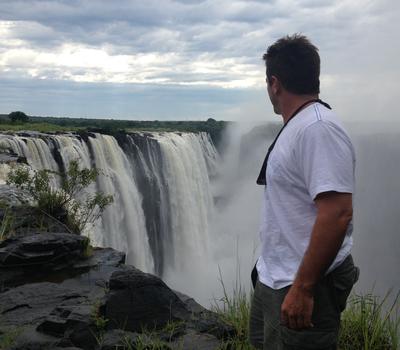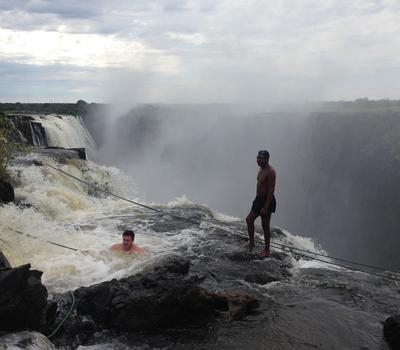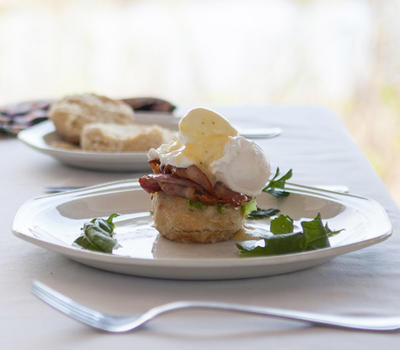 Swim in the Devils Pool at Livingstone Island
Visit Livingstone Island and stand where the Scottish explorer David Livingstone first viewed the Victoria Falls in 1855!
Your trip to Livingstone Island starts on the banks of the Zambezi River where you will meet your guide and be given an introduction of what to expect and a safety talk. From there you will take a short boat ride to Livingstone Island. The captain will navigate the rocky channels as you cruise within a close distance of the Victoria Falls. Once you reach Livingstone Island you will be greeted by staff and taken on an adventure to the edge of the waterfall - if it is a sunny day the rainbow views are incredible! Clients are then provided the optional experience of swimming in the Angels Pool or Devils Pool (the rockpool that is open will dependent on water levels/safety) The Devils Pool has a natural rock ledge literally on the edge of the Falls, allowing visitors to safely swim in the pool without getting swept over the edge!
After the swimming experience and all-important photos, your guides will lead you back to a pop-up restaurant where you will be treated to either Breakfast, Lunch or High Tea depending on the time of day.
Show More
Show Less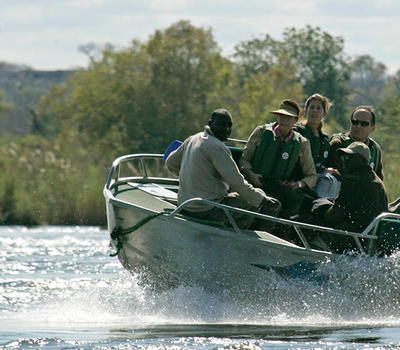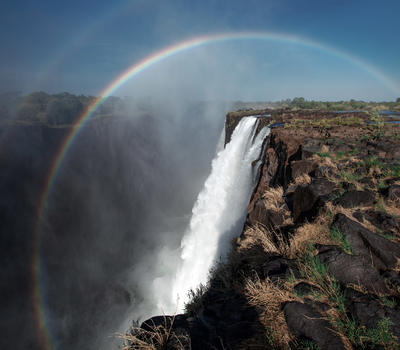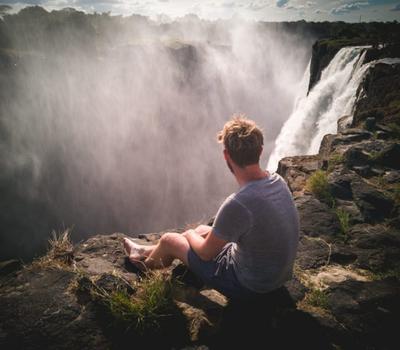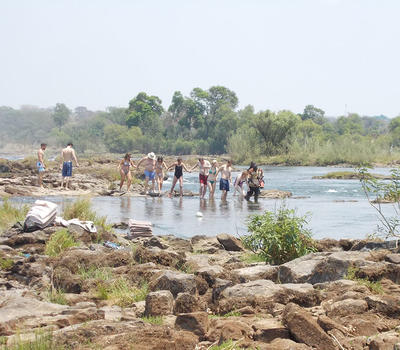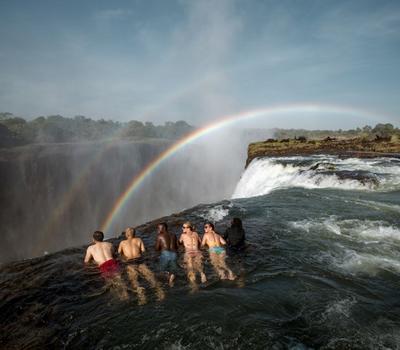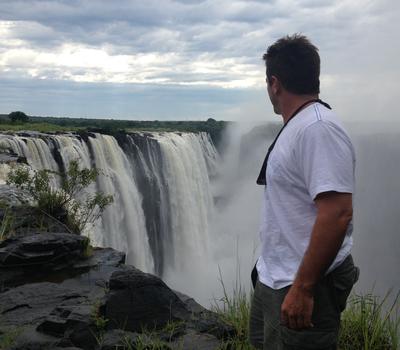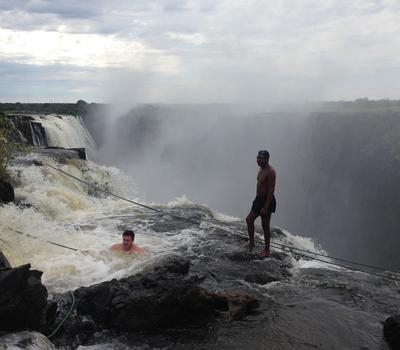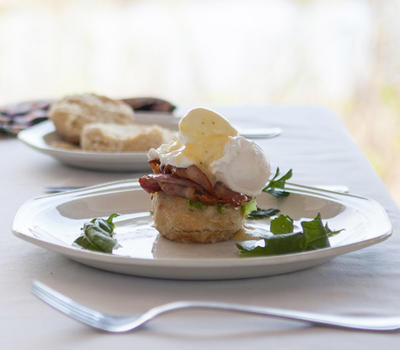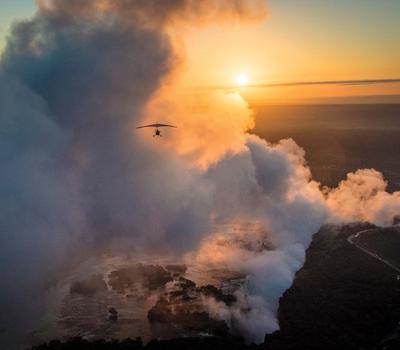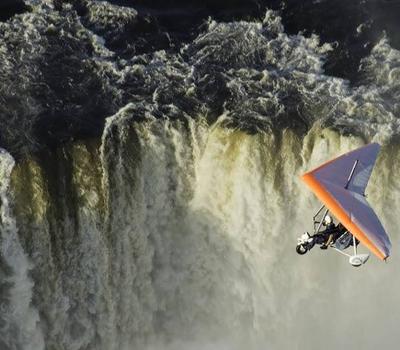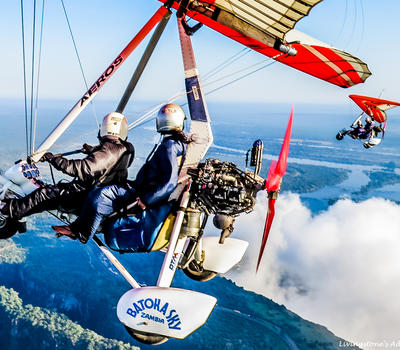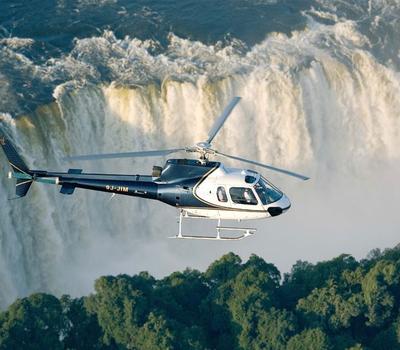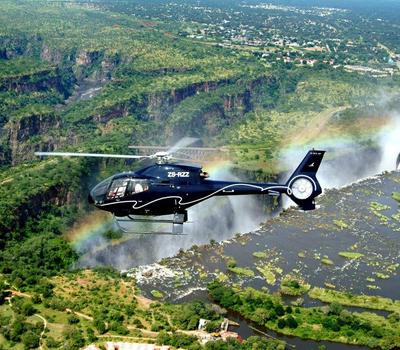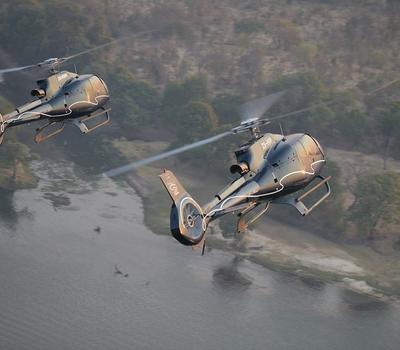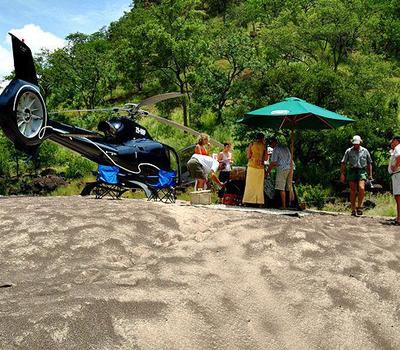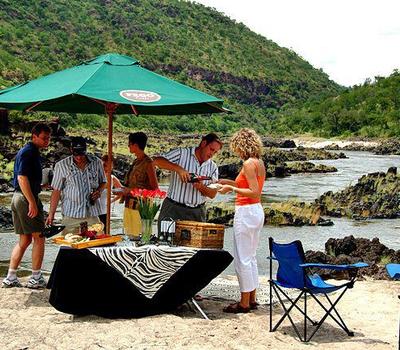 Flight of the Angels over Victoria Falls (Helicopter or Microlight)
Soar over Victoria Falls, Batoka Gorge, and the wildlife-filled National Park by helicopter or microlight, covering three world-class attractions in one unforgettable ride.
Will you be kissed by an angel as you fly through the 'smoke' of the Falls?
Show More
Show Less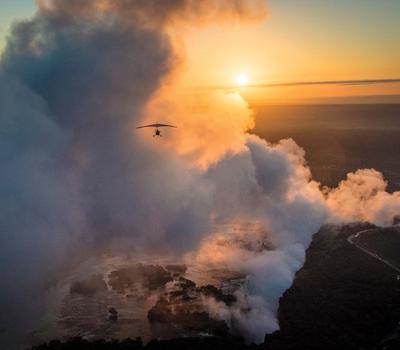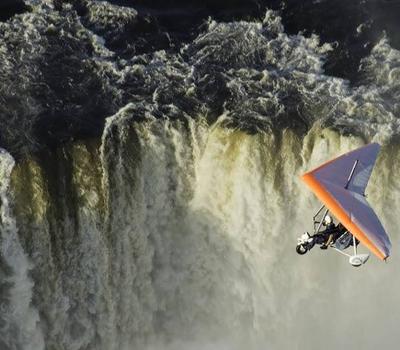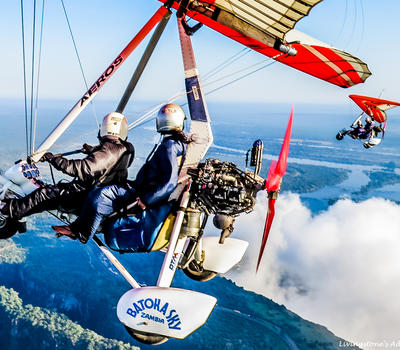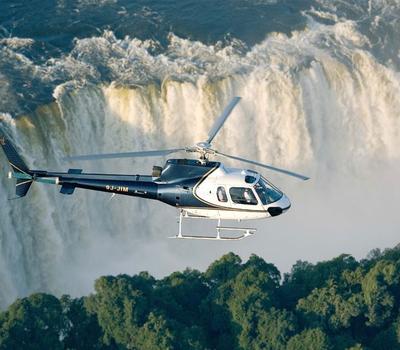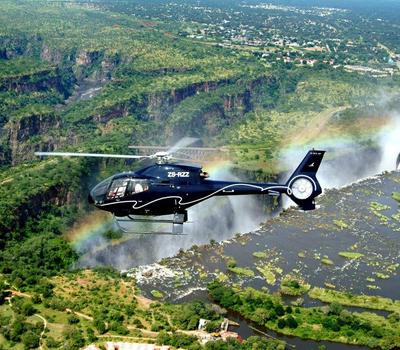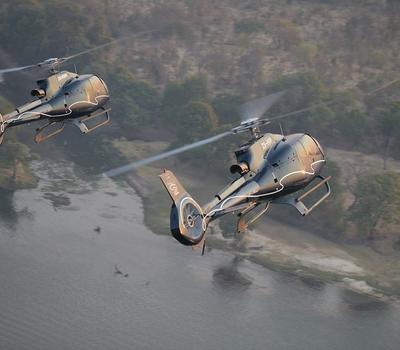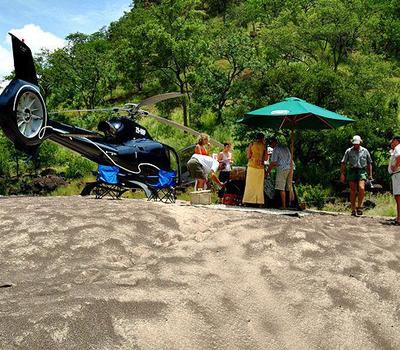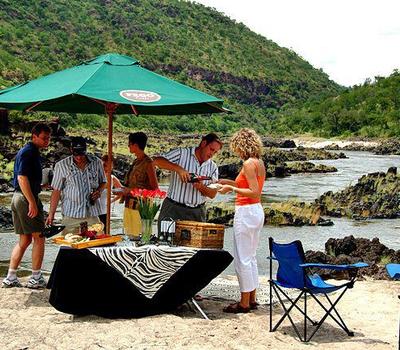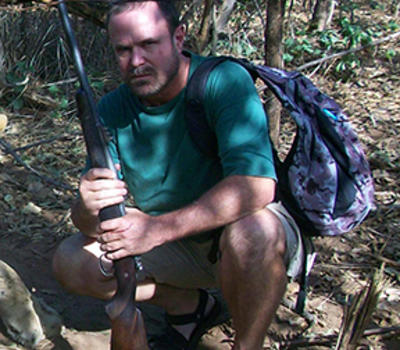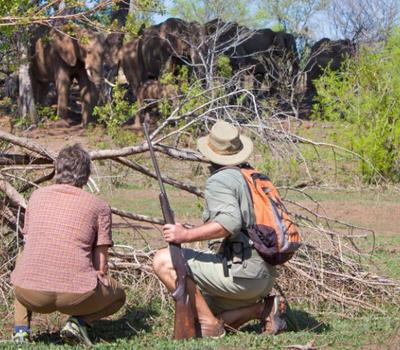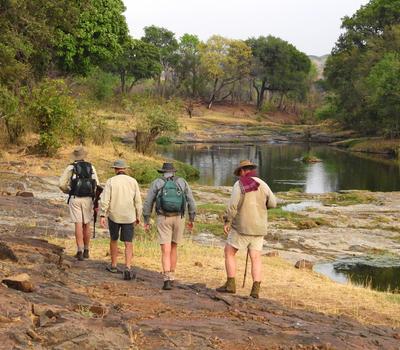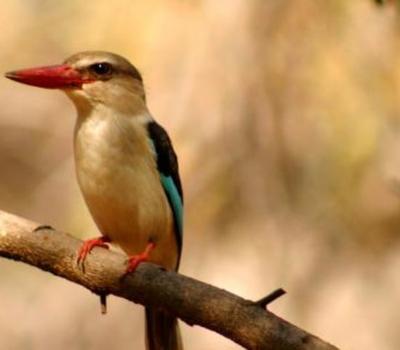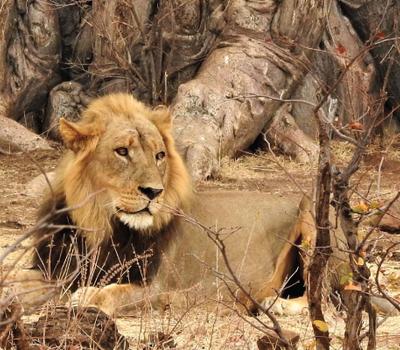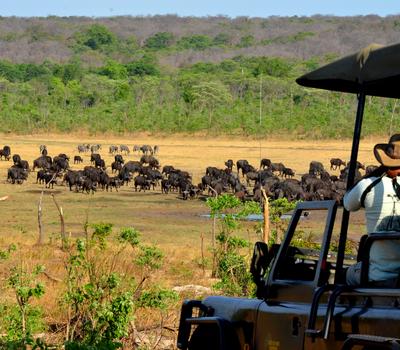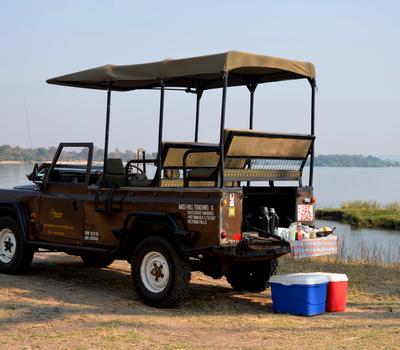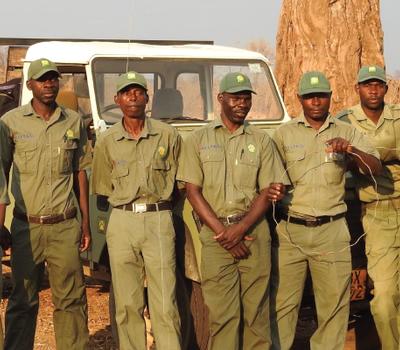 Zimbabwe Day Trip with Charles Brightman
Take a day trip to the Zambezi National Park in Zimbabwe, for a day on safari with conservationist and safari guide Charles Brightman.
Charles has worked as a Professional Guide for the last 32 years and has an extensive knowledge of the local flora and fauna, specialising in Private Guided Safaris (including walking safaris, specialist wildlife and birding watching safaris), as well as customised accommodation and safari itineraries.
Charles is four times winner of the Green Globe 21 Award as voted by the Zimbabwe Council for Tourism and finalist in 2011, 2014 and nominee for 2012 and 2013 in The Safari Awards. Discover Safaris believe that tourism can benefit wildlife conservation and local communities, and are committed to minimising our environmental impact and supporting local conservation and community projects. Charles dedicates much of his time to the Victoria Falls Anti-Poaching Unit which he established in 1999 and which he has developed into a well respected anti-poaching initiative.
Show More
Show Less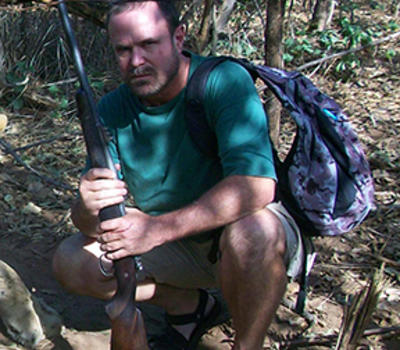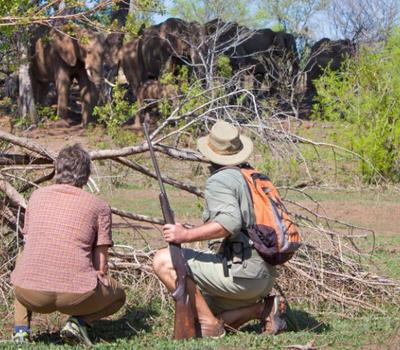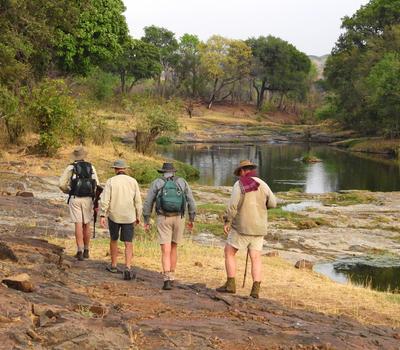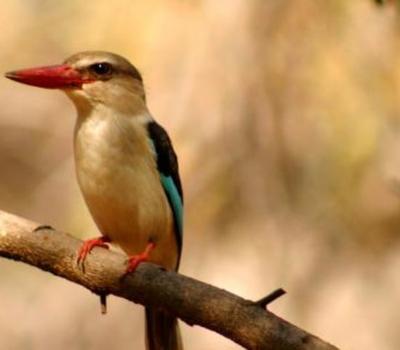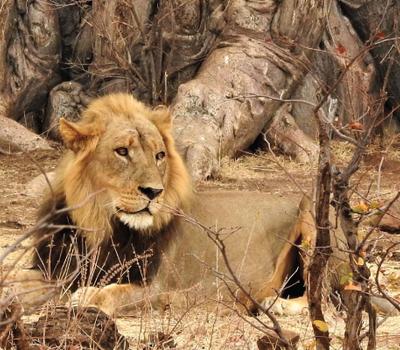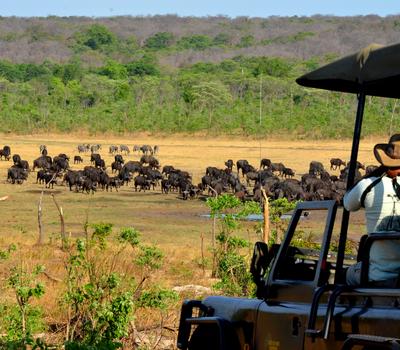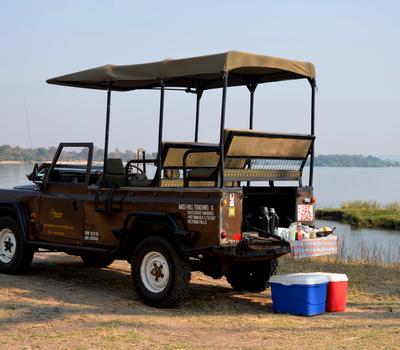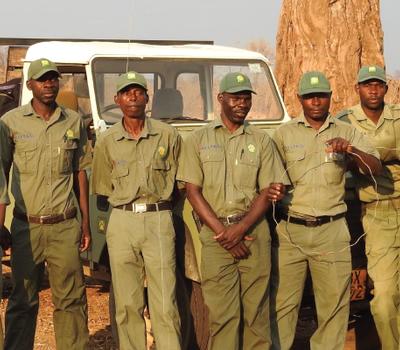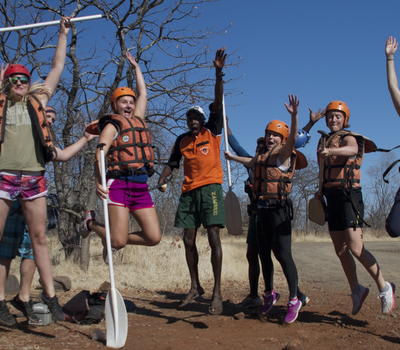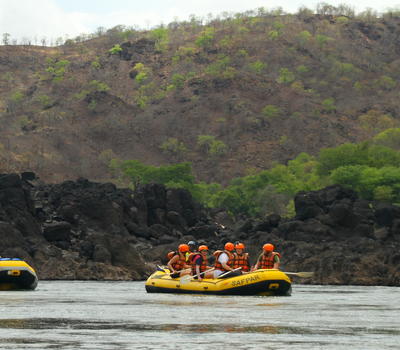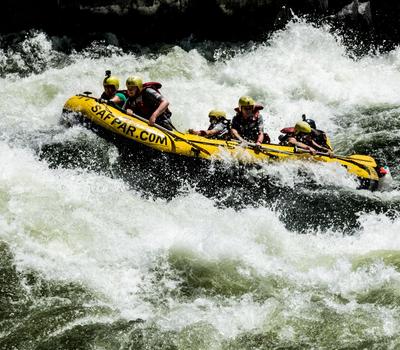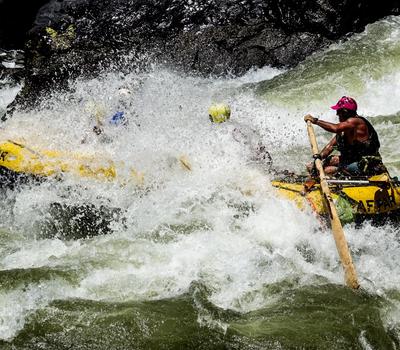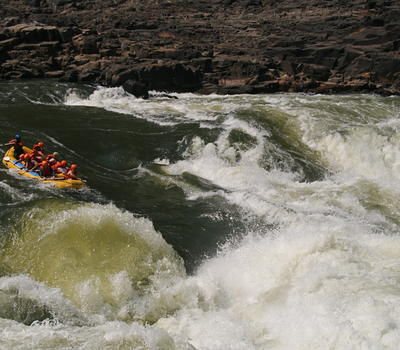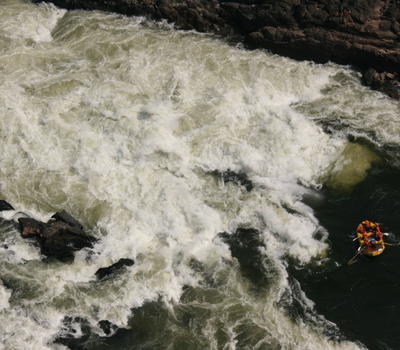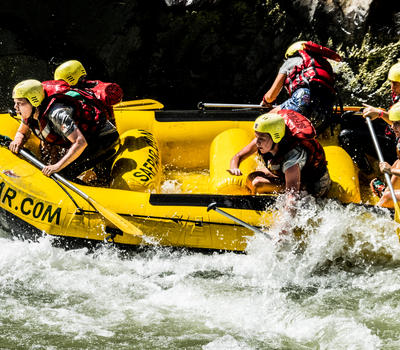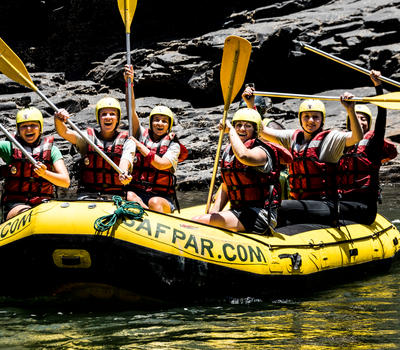 White-Water Rafting (Half or Full-Day)
Considered the best one day rafting experience in the world, the Zambezi River flowing down the Batoka Gorge provides one of the most intense sensory thrills imaginable. Its white-water rapids and striking scenery, deep within the sheer black cliffs of the Batoka Gorge afford the adrenaline junkie a wild roller-coaster ride along a route carved over millennia by the middle Zambezi River. SAFPAR offer a Full Day Rafting experience and the season is split into Low or High Water.
"LOW WATER"
The "Low Water" Rafting Season runs approximately from the middle of August to the middle of January, depending upon the water level / rains each year. This can change as and when levels increase or decrease. Our low water trips depart from directly below Victoria Falls in the Boiling Pot. Note! At the end of the rafting trip, rafters are required to hike 200m out of the gorge, this can be challenging in the warmer months in the middle of the day. While you are not required to be an extreme athlete, the ability to do these 20-25 minute hikes is an indication of fitness levels required for this incredible river.
RAFTING IN LOW WATER (Approx. July to January) Full Day Rapids 1 – 21
"HIGH WATER"
The "High Water" Rafting Season runs approximately from the middle of January to the beginning of August, depending upon the water level / rains each year. Please note that rafting can close around April /May for safety reasons due to water levels being too high. Note! At the end of the rafting trip, rafters are required to hike 200m out of the gorge, this can be challenging in the warmer months in the middle of the day.
RAFTING IN HIGH WATER (Approx. Feb to June) High Water Rapids 14 – 21
Show More
Show Less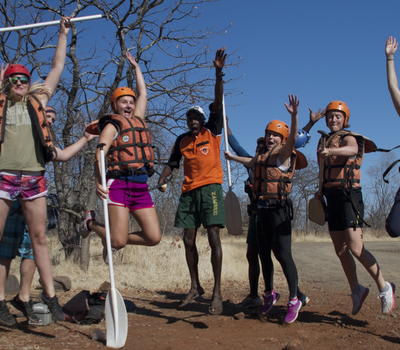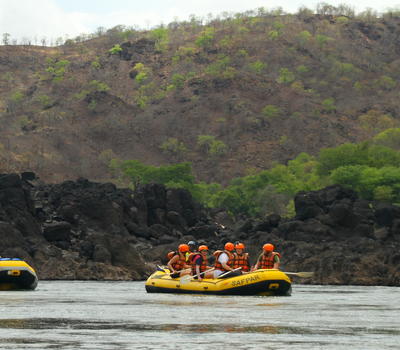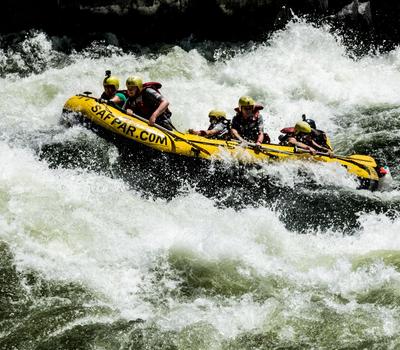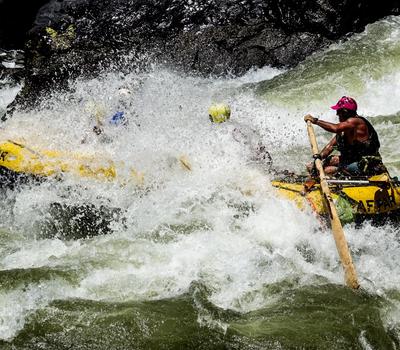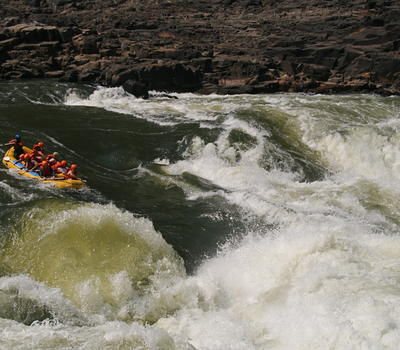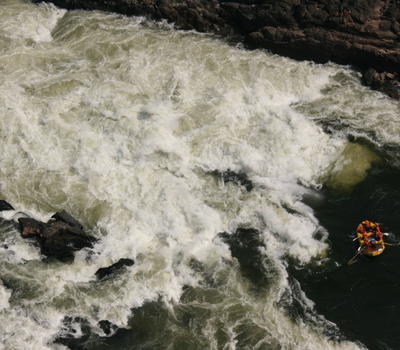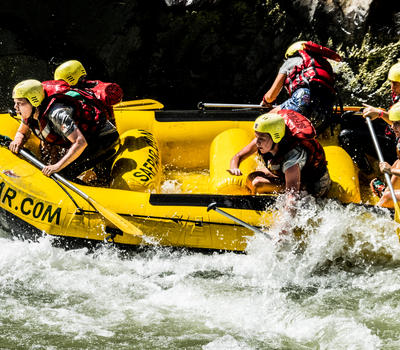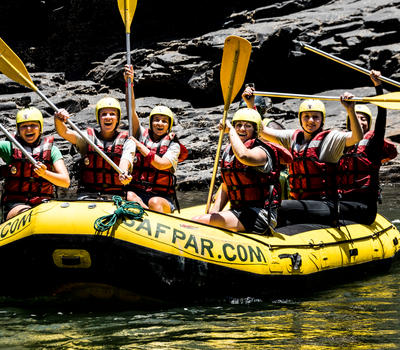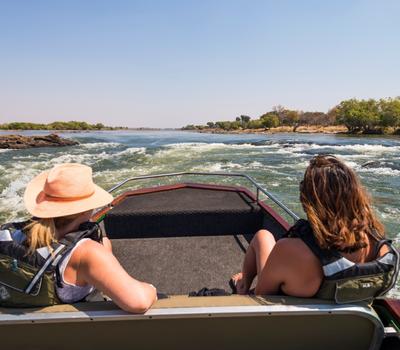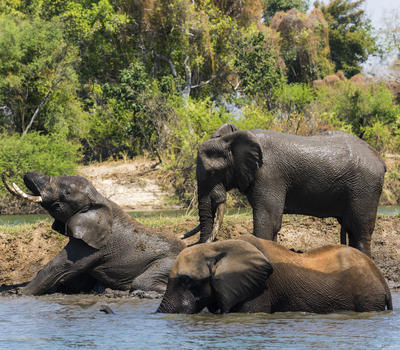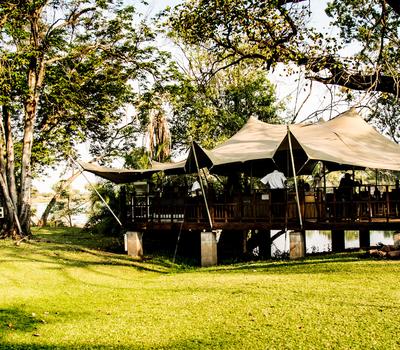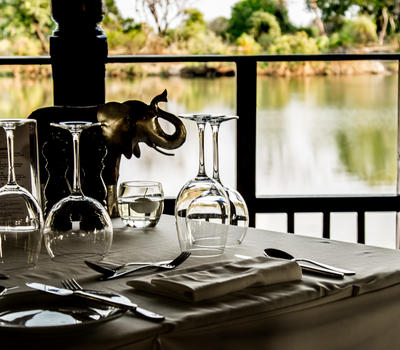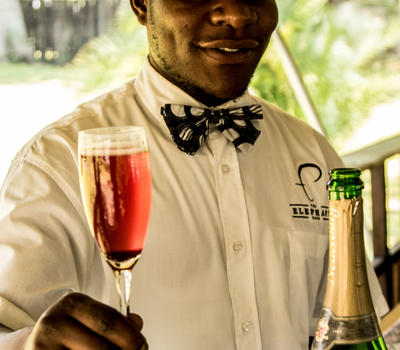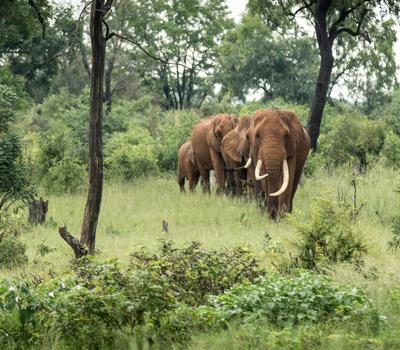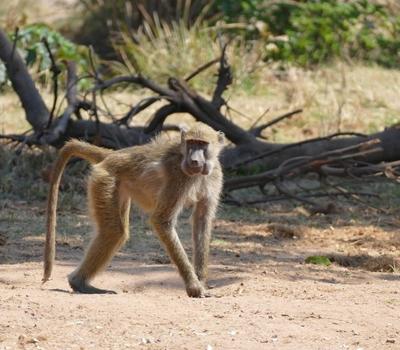 Rated one of the top dining experiences in Zambia, The Elephant Cafe is a three-tiered adventure (jetboat, elephant viewing and all-inclusive dining) that is a signature experience for all visitors to Victoria Falls!
The palate is local, uncompromisingly Livingstone. The team at The Elephant Café use homegrown and local produce, always keeping an eye on sustainability. Your adventure begins upstream of Victoria Falls departing from The David Livingstone Safari Lodge & Spa; where clients will be on wildlife watch whilst they meander through the National Park, river and islands. The real fun begins when several rapids need to be negotiated - avoiding hippos and crocodiles on the way! The jetboat experience to The Elephant Café is approximately 30 minutes per way. On arrival clients will be met by members of a magnificent herd of rescue elephant for a once-in-a-lifetime opportunity. Experience an unforgettable encounter with these gentle giants, hosted by guides who are dedicated to their wellbeing, some of whom have cared for this same herd for over 20 years.
The origins of this herd are six elephants left orphaned after an extreme drought led to culling operations in Zimbabwe in the 1960's and 70's. Hand-reared with positive reinforcement techniques – these elephants have grown up with safe human support. During the height of political uncertainty in 2002, the herd and many of their caretakers were transferred from Zimbabwe across the Victoria Falls Bridge to the Mosi-Oa-Tunya National Park in Livingstone for safety under the ward of Safari Par Excellence. There is an extremely strong bond between members of the herd and their handlers. It is a phenomenal sight to witness and many visitors are understandably overwhelmed with emotion during the herd meet and greet. The herd receive regular visits from an advisory committee of veterinary specialists, who assist and oversee all aspects of the herd dynamics including emotional and physical wellbeing – and the all-important dental check-ups!
Show More
Show Less