Mhondoro Safari Lodge & Villa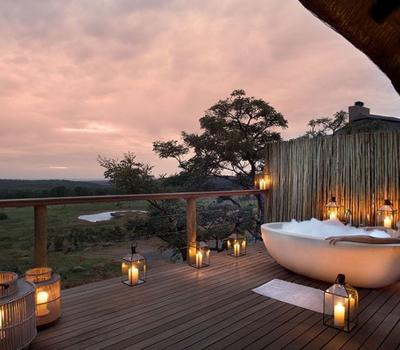 Adjacent to the Main Lodge is the Massage Suite, which offers a quiet and secluded haven for those seeking inner peace. Indulge in the moment and let a dedicated spa therapist treat you to a deep tissue massage, a hot stone massage or an aromatherapy treatment. Two massage beds can be placed inside the building or on the private deck, whichever is your preference. The deck also boasts an outdoor bath, which allows you to immerse your body in milky luxury while enjoying the views overlooking the waterhole. And why not finish your session with a manicure or a pedicure? We proudly use products from Rain Africa who combine indigenous plants and natural ingredients based on recipes used since antiquity by African healers and which are the heart and soul of the Rain range.
Show More
Show Less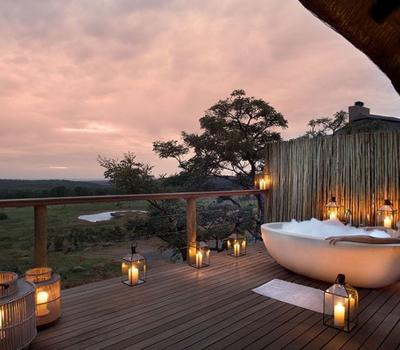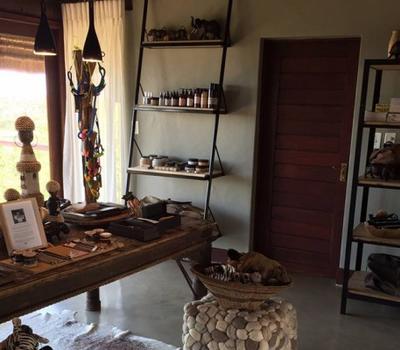 If you'd like to take home a piece of Mhondoro Safari Lodge & Villa, our collection of African products offers mementos for yourself or souvenirs as gifts, catering to all ages. The Curio Shop stocks traditional African jewellery, luggage and interior design ornaments. Our collection also includes modern South African design classics like the handcrafted Pichulik jewellery that is a bespoke range of handcrafted necklaces and accessories made in Cape Town. Also for sale is the Rain Africa collection used in our spa treatments and available in the guest bathrooms. Rain products are made from indigenous plants that have been used since antiquity by African healers. Rain Africa creates handmade bath and body products using natural African ingredients. They are responsibly handmade with love and care for their customers, craftspeople and the environment.
Show More
Show Less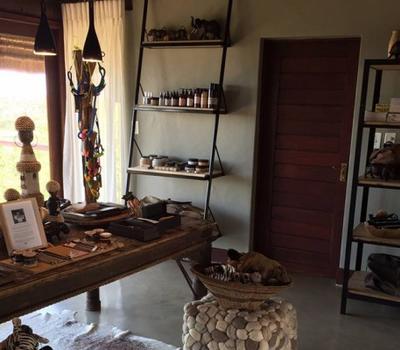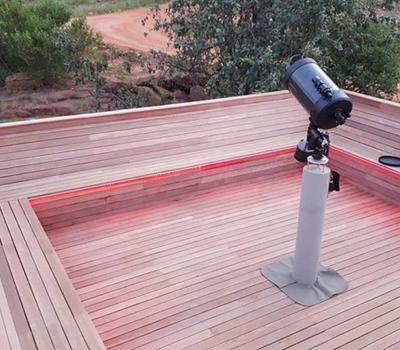 For many, just being on safari in Africa is romantic in itself. The opportunity to be in the wild, absorbing the atmosphere and breathing in the pristine natural air is glorious on its own. Adding in our star deck to this experience, as an exceptional vantage point to gaze up at the vast Africa nightsky, will take romance to a whole new level. As your own private viewing deck of the infinite constellations, with very little light pollution in the area, you can look up into the Milky Way from where, on a clear night, you should be able to see about 2,500 stars. You will be able to spot the Southern Cross constellation with its two stars of Alpha and Beta Centauri, often referred to as the 'pointers' to help stargazers locate the asterism of the Southern Cross. The elevated wooden star deck has custom-made seating, with seatbacks angled at 45 degrees to allow for comfortable star-spotting. Our high-powered telescope is linked to a sophisticated computer programme that enhances a thrillingly detailed search of the cosmos.
Show More
Show Less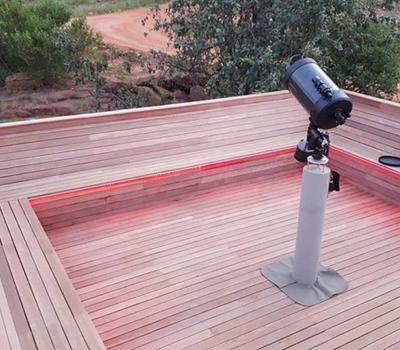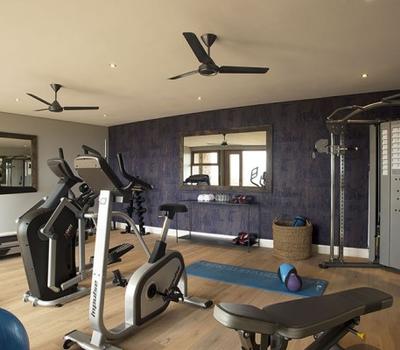 The Main Lodge and the Mhondoro Villa both feature a fully equipped gym where you can stay in shape while enjoying the wildlife activity at the waterhole. Embrace a cardio session on the treadmill, an invigorating cycle on the home trainer, a total body workout on the cross trainer, or improve your strength with the weights. Go wild!
Show More
Show Less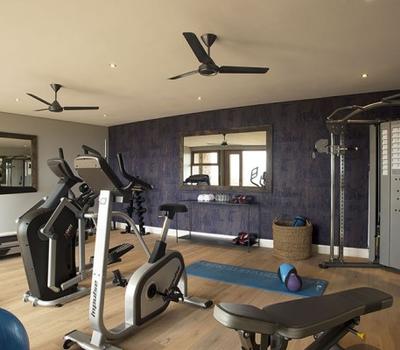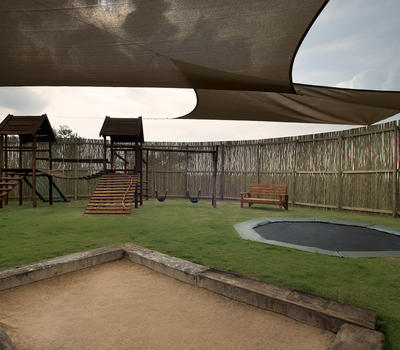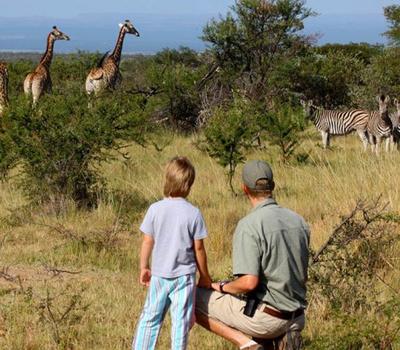 Mhondoro Safari Lodge & Villa is known for its child and family friendliness. Little travellers can enjoy the swimming pool and the safe, secluded playground with its protective elephant fence, or explore the variety the bush has to offer during a Kiddies bush walk. The spacious Family Suite and the exclusive-use Mhondoro Villa are perfectly equipped to accommodate families. Mhondoro Safari Lodge & Villa offers a Kiddie's programme for the youngest children. The Kiddie's programme consists of a welcome pack with a children's work book. We also offer Kiddie's insect walks, animal track moulding with plaster of paris, track and sign ID, clay animal sculpture making, archery for older children, star gazing and cookie baking & decorating with our pastry chef (R 150 / € 10 * per person). Regret children under 6 years of age may not be accommodated on scheduled game drives when other guests are joining. Bumble game drives may be arranged for families with small children at a rate of R 600 / € 41 * per bumble drive, subject to the availability of a vehicle and a ranger at the time. The drives are tailored to carter to our smaller visitors and can vary in duration and will include child appropriate facts and sightings.
IMPORTANT: Please take note of the NEW South Africa Child Visa Regulations and requirements for all family travellers.
Show More
Show Less