Twelve Apostles Hotel & Spa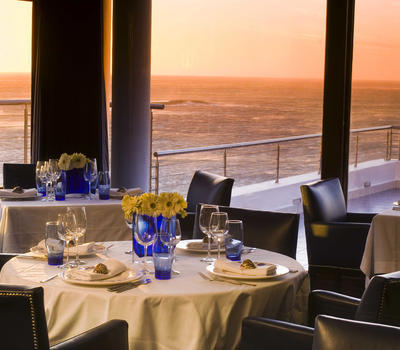 Fine dining and incredible views

Savour the finest indigenous and international cuisine on offer in our extremely popular Azure Restaurant. Christo Pretorius, Executive Chef, is on hand to create a variety of exquisite dishes including meat, seafood and vegetarian options.
From our delightful entree selection or the delicate fresh oysters to main, your taste buds will be infused by the finest of organic ingredients.
Round off the perfect meal with a delightfully sweet dessert. Bea's double baked cheesecake, taken on our stunning terrace overlooking the ocean, will truly allow you to experience the magic of Azure!
Fresh, Local and Seasonal Cuisine
A modern French menu with a distinctive South African influence
Offering seasonal, fresh cuisine, The Twelve Apostles is recognised as one of South Africa's top places for wining and dining. Our modern French menu with South African influences is updated regularly by executive chef Christo Pretorius.
In 2013 made its debut onto the coveted American Express Platinum Fine Dining Awards list.
More than 95% of the items on the menu are sourced from the Western Cape in line with the Hotel's Responsible and Sustainable Environmental Policies and follow the Southern African Sustainable Seafood Initiative's best practice guidelines.
Fine Wines
From our cellar an award-winning experience
Sommelier Gregory Mutambe and his team of wine stewards, are on hand to advise diners in the award-winning Azure Restaurant. He has a true passion for wine and food along with many years of experience in both local and international wine competitions, which has allowed him to compile an extensive wine list for the enjoyment of our guests.
The wine list he has created is truly impressive, and has received various industry awards over the past decade including maintaining a Diamond rating in the Diners Club Wine List Awards held annually country wide. Guests will find not only an outstanding range of the great names of the wine world, but also an intriguing selection of lesser-known bottles. Many of the wines listed are available by the glass, including a selection from the celebrated South African estate of Bouchard Finlayson.
Gregory assists diners with the perfect wine pairing during meals, working closely with executive chef Christo Pretorius in creating the perfect pairings.
He cites French-born Master Sommelier, Master of Wine and the World's best Sommelier, Gerard Basset as his inspiration, and says about his profession: "If you want to become a sommelier you have to have a real passion for wine and be prepared to work odd hours, weekends and holidays. This shouldn't discourage you, as the exposure to different wines you receive, and the incredibly interesting people you meet from all over the world, makes for the most gratifying experience you could ever have. You become the palate for guests, who trust in your knowledge and ability, which is just remarkable."
Show More
Show Less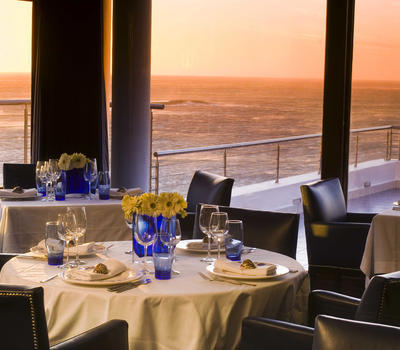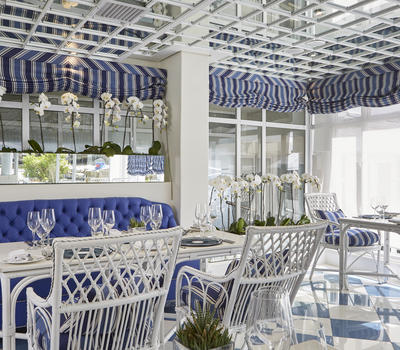 Relaxed dining 24 hours a day
Our al fresco styled eaterie offers a casual and relaxed dining experience and enjoys fabulous sweeping views of the mountain range framed by the natural beauty of the indigenous flora.
The flexible menu, available 24 hours a day, means you can enjoy a California styled menu at any hour, including a breakfast if you are still functioning in a different time zone. Enjoy anything from tasty salads and sandwiches to the most honest hamburger in Cape Town or a piece of grilled fish caught fresh on the day. During summer we offer an extensive ice cream menu and fresh fruits.
Show More
Show Less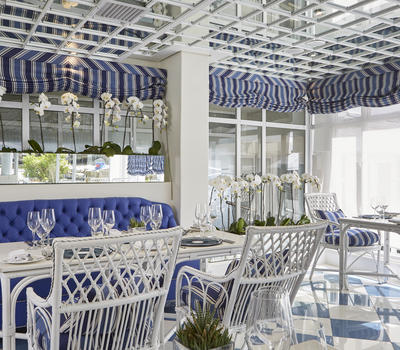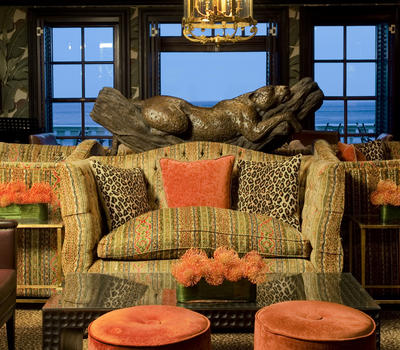 Watch the sun go down with your favourite tipple
The perfect place to relax with friends, family and colleagues whilst enjoying live entertainment from Monday to Saturday evenings. Proven to be an extremely popular with locals as well as guests, we offer a fully stocked bar featuring many different cocktails. A fine selection of cognacs and an impressive collection of ports are available, as is a wide selection of cocktails including the fashionable "Cosmo" and Vanilla Chocatini; a martini made with Stolichnaya vanilla vodka and white crème de cacao, garnished with a chocolate flake and maraschino cherry. Our professional bar tenders are on hand to take your order and will even create a cocktail using your favourite ingredients!
The Leopard Bar is also a great spot to enjoy "Tea by the Sea", a delicious afternoon tea with all the trimmings including chocolate brownies, cream scones, finger sandwiches and a selection of the best teas and coffee. It's regarded as something of an institution by the locals.
BAR EXPERIENCES:
Gin and Canapé Tasting Experience:
Sit back and relax in The Leopard Bar with a botanical Gin and Canapé Experience.
We will pair your gin and tonic with three delicious canapés designed by our Chef Nicholas Goldschmidt. Enjoy each gin with its own specific flavour profile for you to experiment with, all while being hosted by our talented bar team throughout your experience.
Gin Making Experience:
Join us for a superb Gin Making Experience.
Available every Friday from 17h00, join us for a fun filled evening where you craft your own gin in The Gin Lab. Enjoy a welcome gin and tonic which includes a variety of locally foraged botanicals, followed by butler style canapés throughout the evening while our talented Mixologist guides you through the wonderful world of gin and its abundance of flavour.
Craft Beer and Canapé Experience:
Honing in on the growing allure of craft beer, we have craft beer and craft cider tastings paired with Chef Christo's gourmet canapés.
Fans of high quality brews can find out more about the different styles and brewing methods and the perfect food pairings.Hosted by our team of bartenders, guests will be able to taste five, locally produced brews, together with a selection of perfectly matched canapés prepared by Executive Chef Christo Pretorius. (Private tastings available for between two and 20 guests).
24 hours in advance booking is required any time from
10:00 – midnight.
Tea by the Sea:
Our 'Tea by the Sea' service is renowned for its scrumptious, freshly baked selection of warm scones, cupcakes, macaroons and mouth-watering finger sandwiches, along with our finest selection of fragrant teas and coffees.
Guests can indulge in 'Tea by the Sea' experience which is regularly topped up to enjoy as much as you would like, served table side daily from 10h00 to 16h00. Our generous hospitality, with incredible sea and mountain views, makes this an institution with the locals and the perfect location for a special occasion. This chic affair is the ideal way to celebrate any special occasion.
Group bookings are welcome (terms and conditions apply).
Show More
Show Less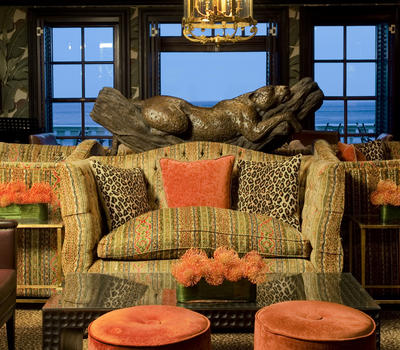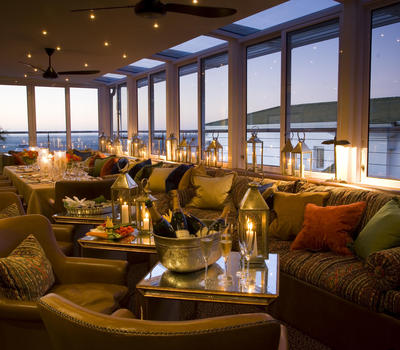 A tranquil space in which to take tea and admire the view
Soak up spectacular views of the Twelve Apostles Mountain Range while relaxing in the tranquil Conservatory or enjoying your favourite cocktail from The Leopard Bar menu. Simply unwind with a book or enjoy 'Tea by the Sea' with delicious homemade scones, jams, cupcakes, finger sandwiches, tarts and other mouth-watering delicacies.
While ideal for quiet time, the Conservatory can also be used exclusively for intimate dinners, baby showers, hens parties, book clubs or even as break-away room for conferences.
Elevate Gin to Another Level
Join us for a superb, Gin Tasting Experience. Available daily, a flight of three local gins is paired with three different tonic waters, together with a variety of botanicals and spices for you to enjoy with your own uniquely crafted blend. Each gin has its own specific flavour profile for you to experiment with, all while being hosted by our talented bar team throughout your experience.
The gin and canapé tasting experience pairs your gin with three canapés specially designed by Chef Nicholas Goldschmidt. 24 hours notice required for bookings.
Show More
Show Less