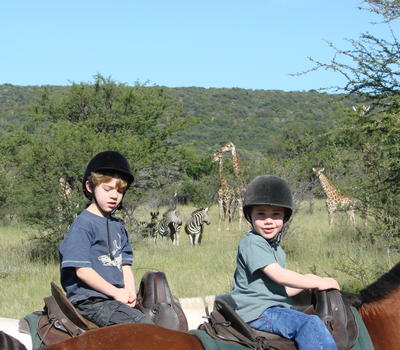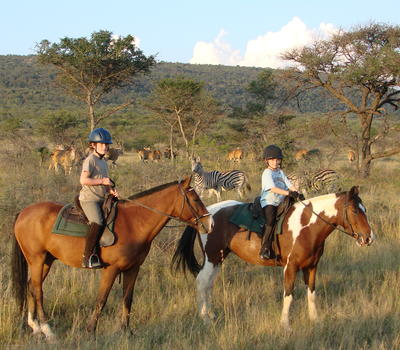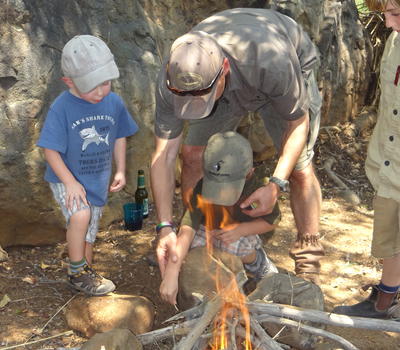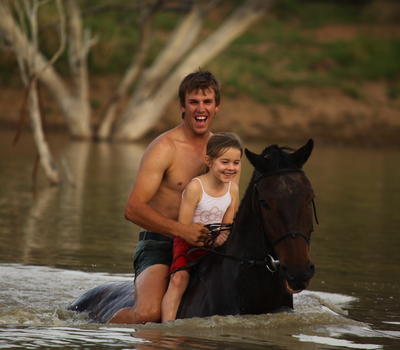 Ant's has got to be one of the most child-friendly safari lodges in Africa: we will give your children and family a life-changing experience,from grandparents right down to babies. Our unique policy allows children of all ages to join their parents on all game viewing activities, so you can witness their first encounters with wildlife. At Ant's, family safaris really are our speciality; we have an abundance of exciting and thrilling safari activities to offer kids of all ages, allowing them to leave with an intimate knowledge of the bush.
What makes us different?
Both lodges are small and intimate, allowing you maximum flexibility, with no fixed times and your day tailored according to your needs. Children are welcome to join their parents for dinner; alternatively, special suppers or meal times can be arranged. As a family, you can also book private dinners. Although your children can join you on all activities, you can happily leave them at the lodge and enjoy a more challenging walk or ride, as we offer full child minding.
We have an exceptional variety of activities available on offer these include:
Game drive guided walks / walking safaris
Led pony rides for beginners or under 4 bug and spoor walks / learn to become a ranger
Horse riding lessons Fishing
Horse riding safaris / full day rides Snake and reptile talks / handling
Swimming with the horses Mountain biking
Archery Elephant back safaris
Rhino tracking Big 5 game drives
Night sky safaris camp outs
visit to our local children's home
We have a selection of wonderful ponies catering to both the novice and experienced child rider. Beginners will be led by a competent guide and riding lessons are also available. Children under four will be led on a pony in and around the lodge area as they are still too young to be taken out on long outrides.
Both lodges have various facilities ideal for kids, such as the swimming pool which is heated all year round, a trampoline, sand pits, a badminton and volleyball court, as well as a selection of toys and books. Due to our relaxed and informal atmosphere, Ant's Nest and Ant's Hill are ideal for families with kids of all ages.
Show More
Show Less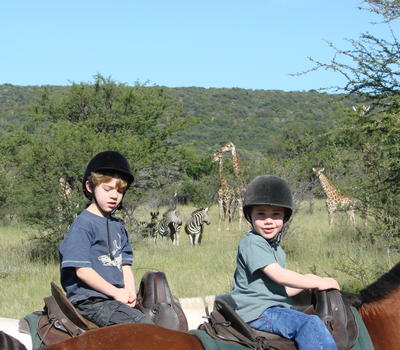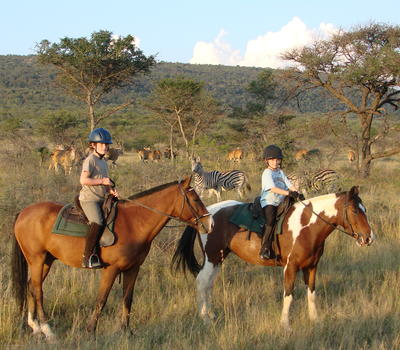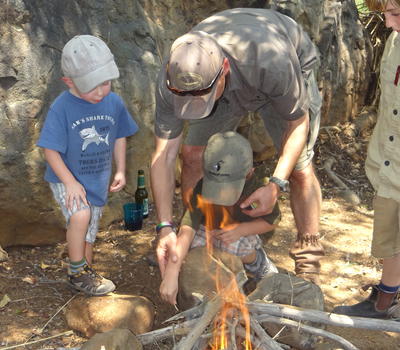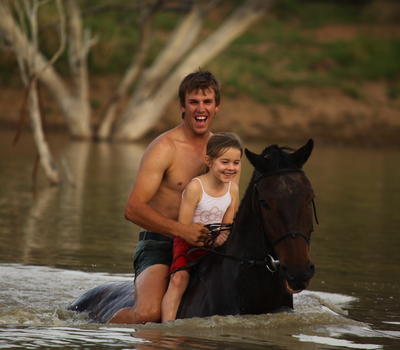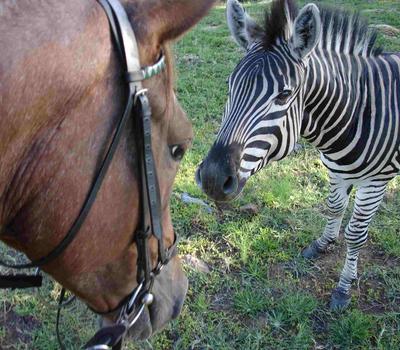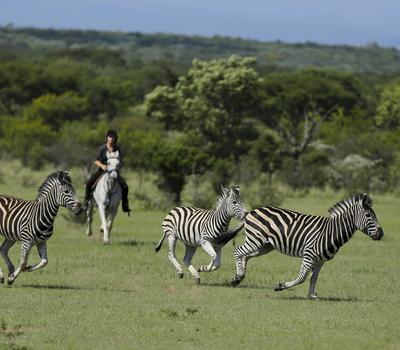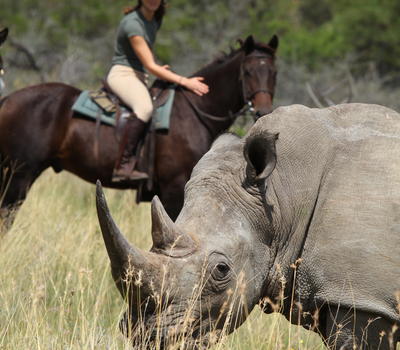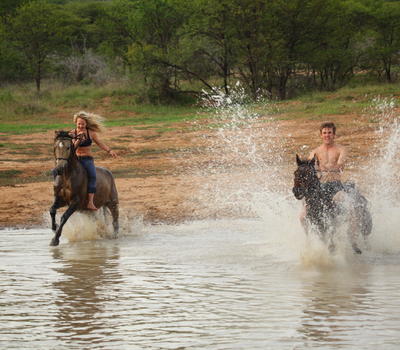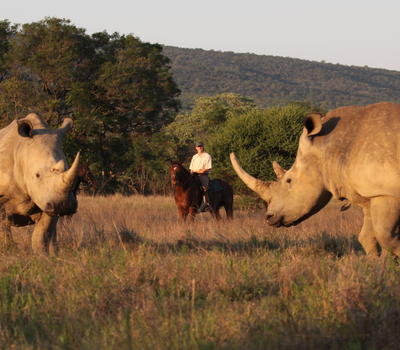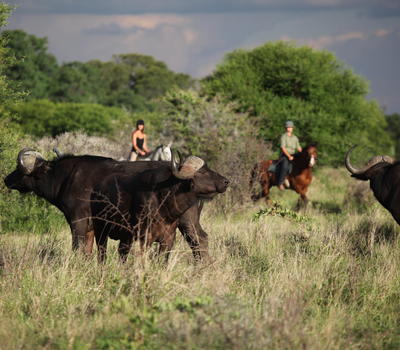 Both Ant's Nest and Ant's Hill offer the opportunity for some of the greatest game viewing in the African bush – from horseback. You can canter along open sandy tracks or traverse high ridges with spectacular vistas. The pace can be as fast or relaxed as you desire. Often we get so close to the game that the experience will remain forever unmatched.
We have fit, reliable and responsive horses, providing a choice for both the professional rider and the absolute beginner. (You do not need to have ridden before). The herd of almost 90 horses is made up of big thoroughbreds and Arab-Boerperd crosses and includes some fabulous children's ponies. Each ride is led by two competent guides and the emphasis is on safety at all times. The enthusiastic rider may wish to ride twice daily and turn their stay into a luxury riding safari. Families or couples, where some ride and others don't, can enjoy separate activities. As we always have two guides on each ride, novices can go out with their more competent partners without slowing the ride. Basic lessons for non-riders are available at both reserves; many guests learn to ride and gain confidence here.
What makes our riding safaris unique: our horses live out in the bush and graze in and amongst the game, thus giving guests possibly the closest wildlife encounter on horseback in Africa as the game see the horses as just another animal. Our flexibility, incredible personal service, huge variety of game, additional activities and the ability to take all levels of riders including children, sets us apart from other riding operations particularly those in lion and elephant country.
Tack & Equipment
We use comfortable McLellan saddles made locally for long hours in the saddle. These are based on the famous US cavalry saddle designed for the comfort of both horse and rider alike. We do also have a few English saddles available. No client will be allowed to ride with us unless they are wearing a riding hat so we do stock a selection of sizes. We do, however, recommend that you bring your own well-fitted helmet if you plan to spend many an hour in the saddle. Wide brimmed riding hat covers are advisable. In order to be covered by both your own and our insurers, the wearing of riding helmets is compulsory. Our weight limit is 120 kg (19 stone).
Show More
Show Less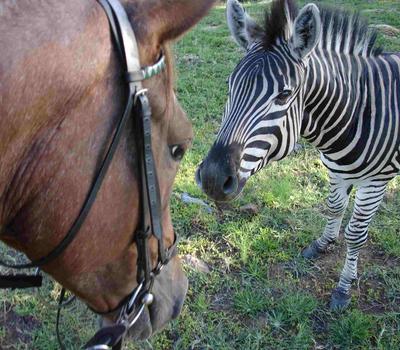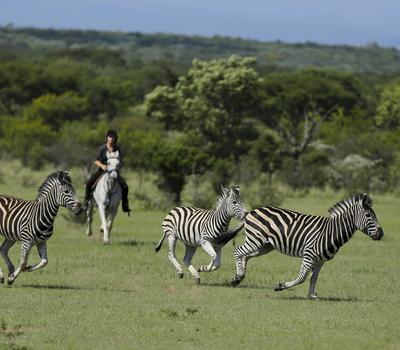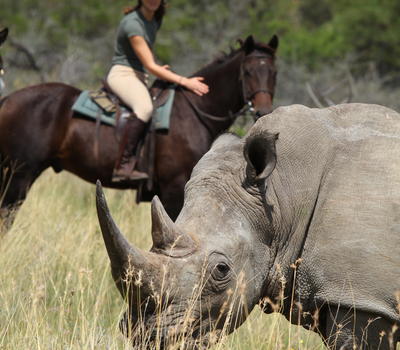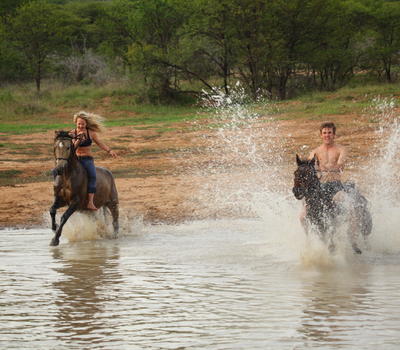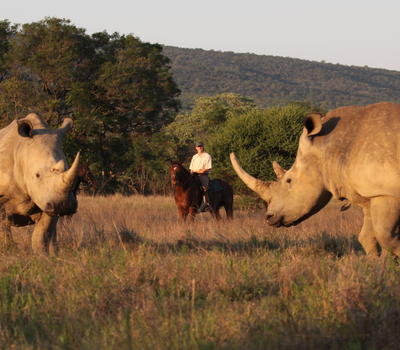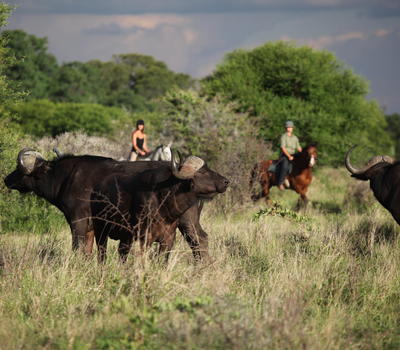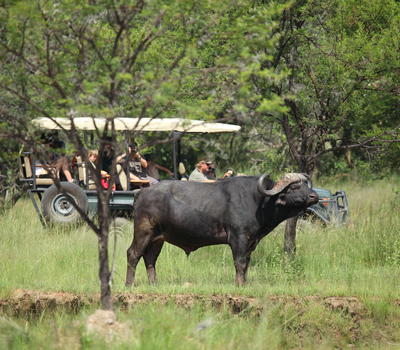 Our guides will be available to take you out in an open 4x4 Land Cruiser either for morning or afternoon game drives or using a spotlight at night to find elusive nocturnal animals, such as the rare brown hyena, aardvark, bushbaby and porcupine. The advantage of a game drive is that you are able to cover more ground across the reserve. Game drives and walks can often be combined to make game viewing and photography more exciting
Show More
Show Less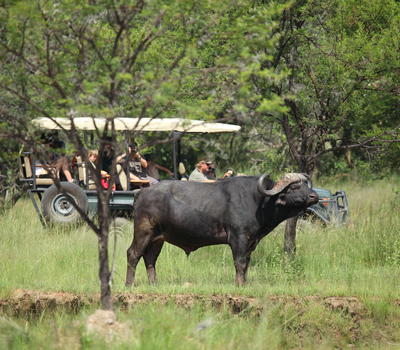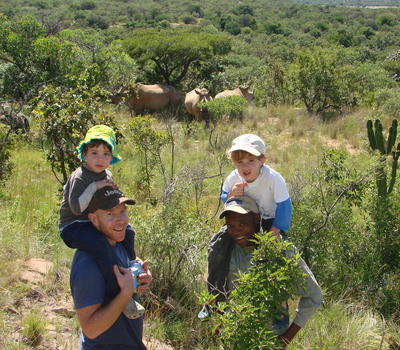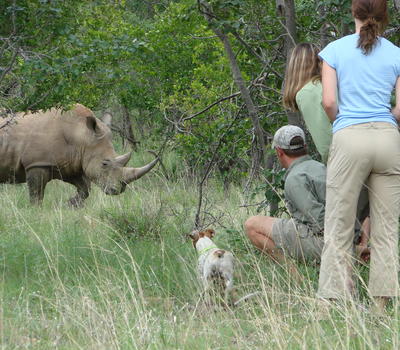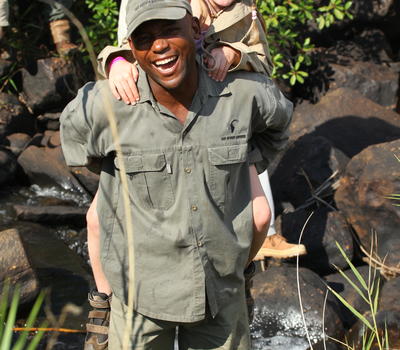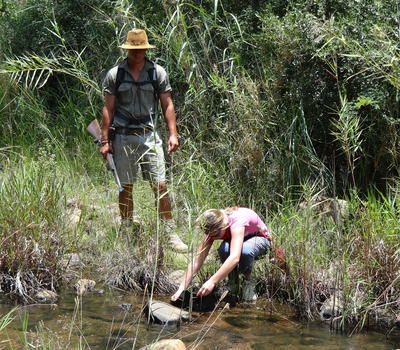 Guided walks and walking safaris
For those who prefer walking, our guides will lead you through the bushveld on foot. These walks are informative and interactive, enabling you to gain knowledge of African flora and fauna. One can often miss the smaller details of our beautiful environment when on a vehicle or horseback, so guided walks are highly recommended. These can be in the form of a gentle stroll to identify: insects and birds, track animals through the bush, and learn the medicinal properties of various trees and plants. Alternatively, the more energetic traveller can hike over the plains and up impressive gorges. Specialised bug hunts and learning to track game are available for children at both bush homes.
If you are an avid walker, you may also choose to do a full day walking safari, stopping in a scenic location to enjoy a bush lunch or even a dip in one of our many dams. We also offer an incredible river walk through mountains and gorges to view bushman paintings on another private reserve in a very different geographical area of the Waterberg
Show More
Show Less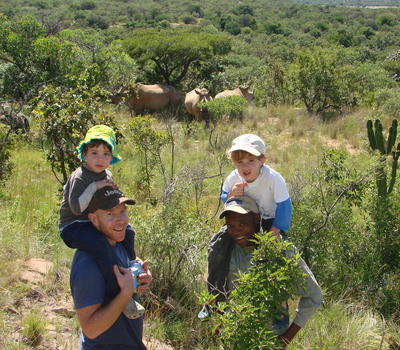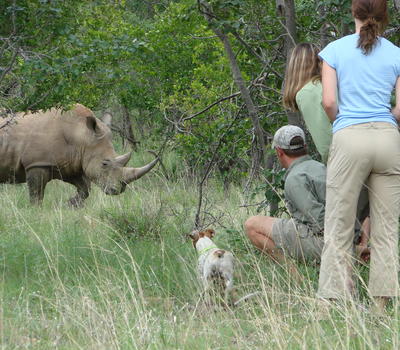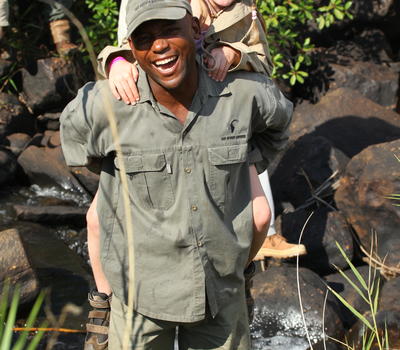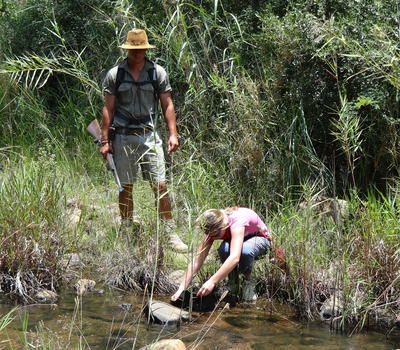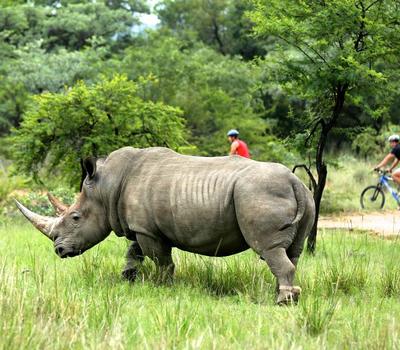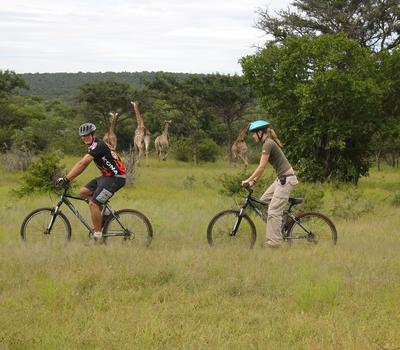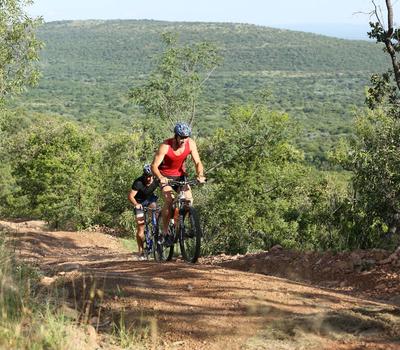 For those wanting a bit of exercise, try out our mountain bikes. The incredibly diverse terrain offers extreme technical cycling as well as gentle meanders. Enjoy cycling alongside herds of game in the more gentle plains and valleys; alternatively for our fitter guests there are more challenging terrains with routes varying from five to twenty kilometers
Show More
Show Less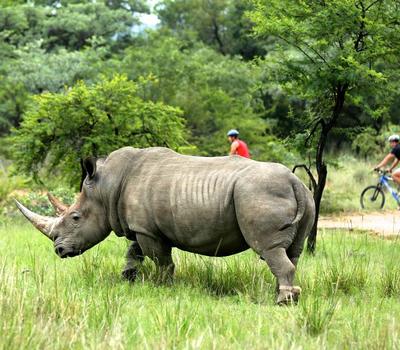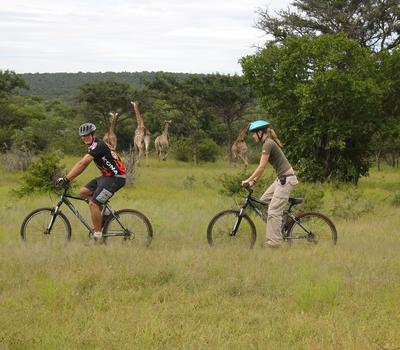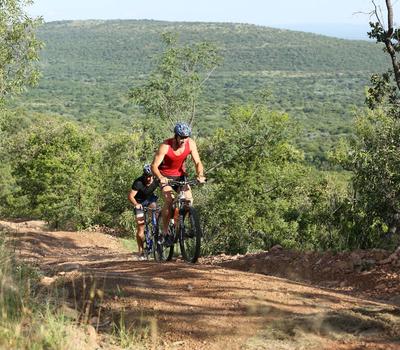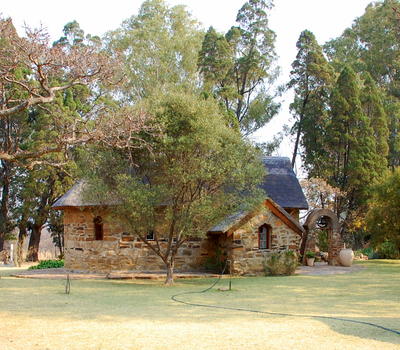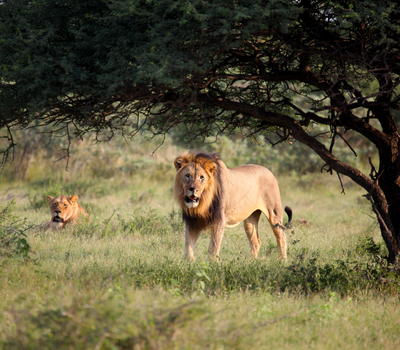 Local excursions in and around the Waterberg
A local 'Big Five' game reserve, where it is possible to see lions and elephants.
On Sundays we go to a historic thatched church where you can meet local people and see the 1914 building designed by Sir Herbert Baker. Children can attend a colourful Sunday school where the Sotho children sing choruses in rousing harmony.
We are happy to take you into the local town where you will find a wide variety of African arts and crafts.
* Please check with the lodge on arrival as some of the above may not be available at the time
Show More
Show Less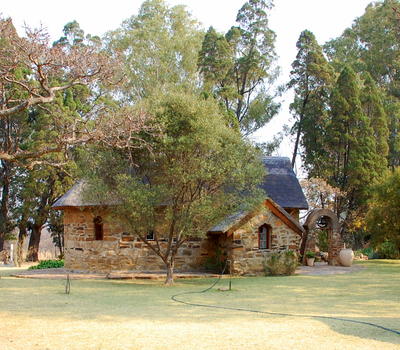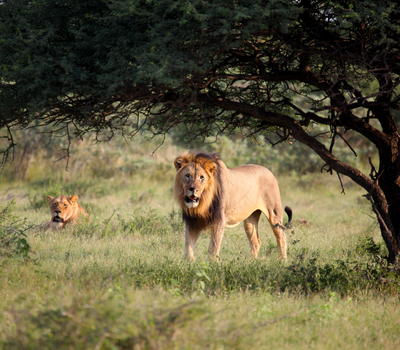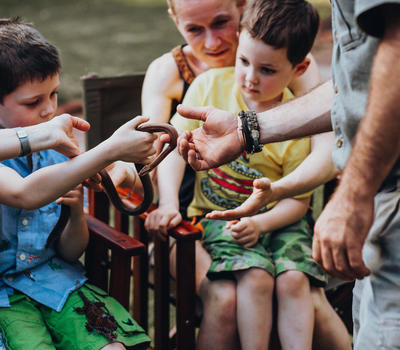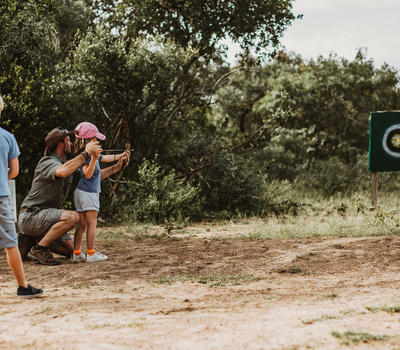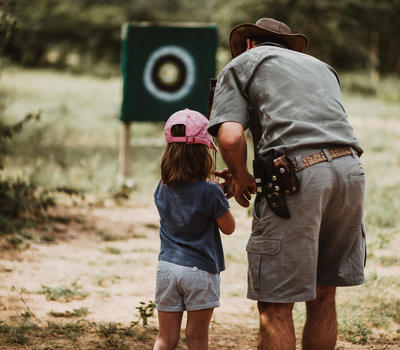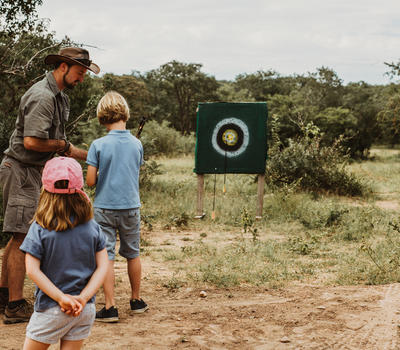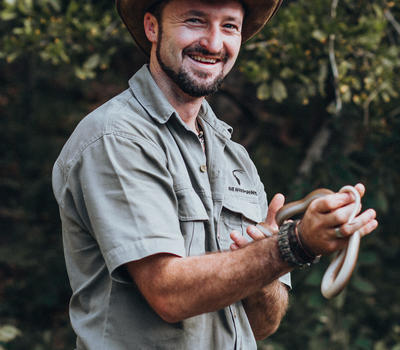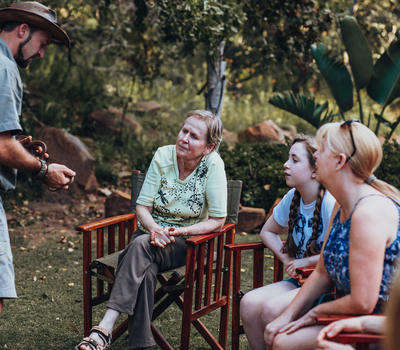 Archery and Snake handling
Archery:
Test your aim with an archery activity based in the grounds of the lodge. This activity must be arranged with your hosts in advance, so the equipment can be organized and is subject to the availability of our trained instructors.
Snake Handling / Educational
Do not fear! This is great way to learn all about snakes with our guide Craig who is based at Ant's Hill. Please let us know if you would be interested and we can either do it at Ant's Hill or he can come over to Ant's Nest. This is subject to Craig being on the property.
Show More
Show Less