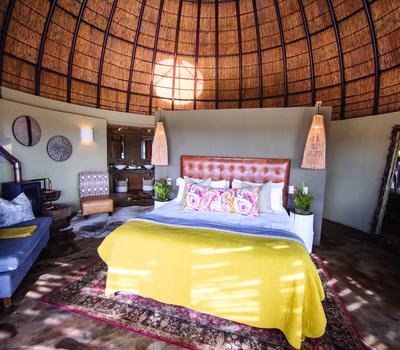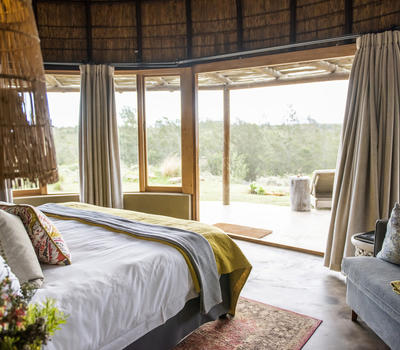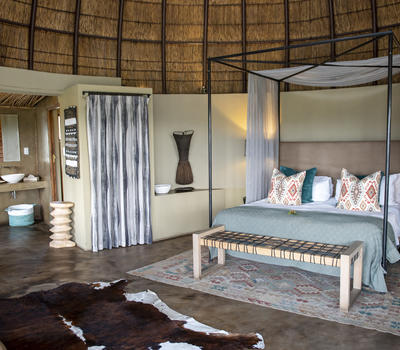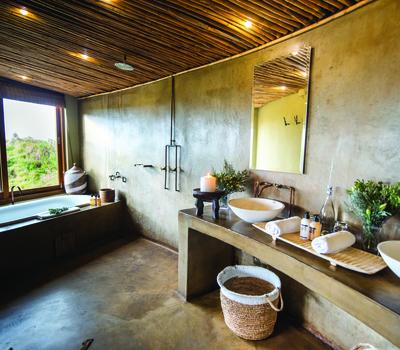 14 stand-alone bedrooms with a modern and luxurious twist on the traditional Khoi-San "hut" for romantic safari accommodation. Each open plan suite is nestled into its spectacular surrounds with 180-degree views of the spectacular mountains and Fynbos scenery, sky lights for star gazing, fireplaces and deep baths to keep you warm upon return from an evening game drive.
The Suites are 75m2 in size and open plan with a double volume thatch roof and mountain views; a large bathroom with rain shower, deep bath with picture window, double sinks and separate toilet room; indoor seating area by fireplace, separate dressing area, and private covered patio with double lounger.
Lodge facilities include an infinity pool with bar service and covered loungers, open-plan lounge and bar area, reception and curio shop, tented bush spa, elegant African restaurant, covered dining veranda, and outdoor dining boma.
Show More
Show Less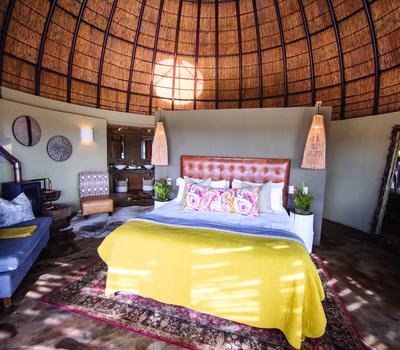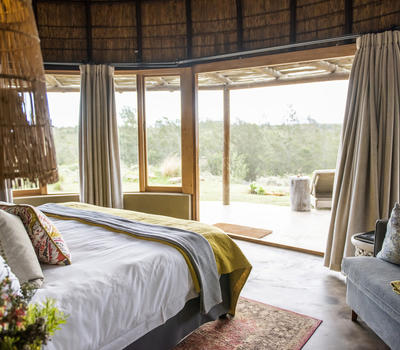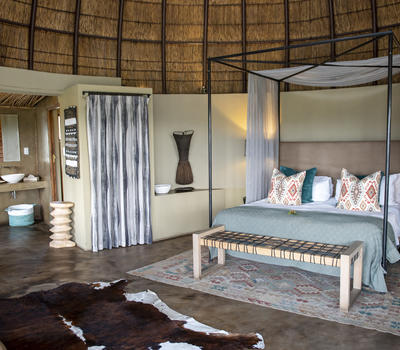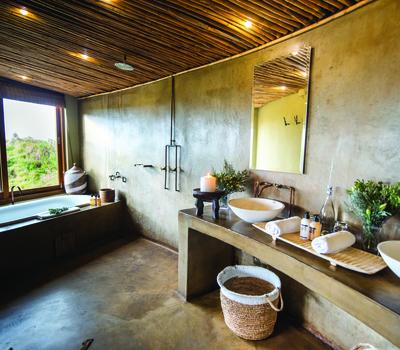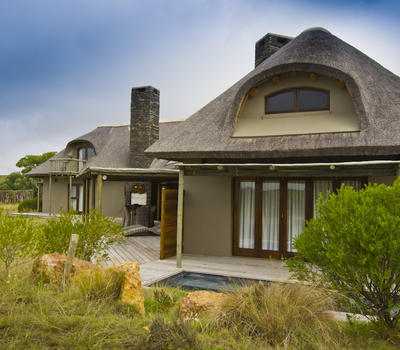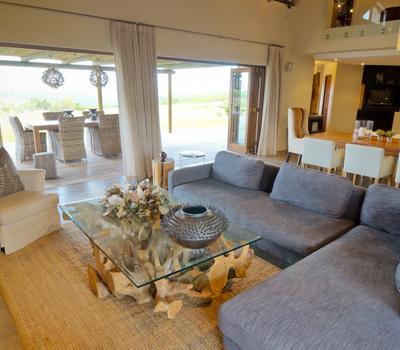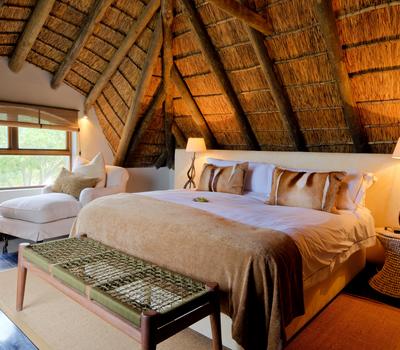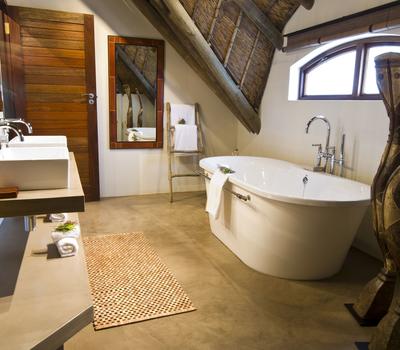 Fynbos Villas and Bush Villas
16 Private Fynbos Villas and Bush Villas offer total privacy and spaciousness to groups particularly families with children. The deluxe three and four bedroom Villas feature an open plan lounge with kitchen and dining room all opening onto a wraparound deck with magnificent valley and mountain views.
Fynbos Villas are located next to Kwena Main Lodge and transfers are provided to and from the Main Lodge in game vehicles.
Bush Villas are located +-5-10 km's from Kwena Lodge and require self-drive to and from the Main Lodge for meals and game drives.
Villa facilities include an open plan, double volume lounge, kitchen and dining area with double volume thatch roof, fireplace and TV with DVD; expansive deck with BBQ and magnificent valley and mountain views; they are approximately 250m2 in size and ideal for families and groups;
Show More
Show Less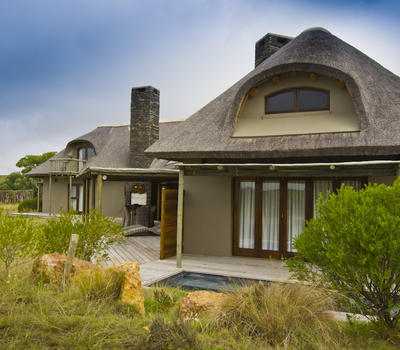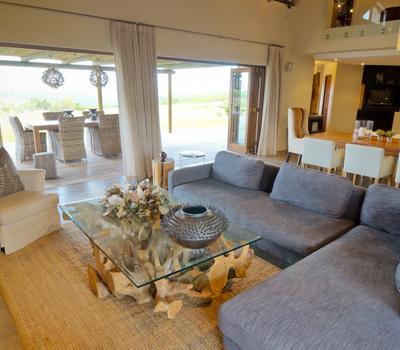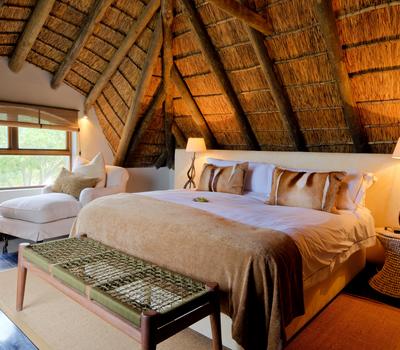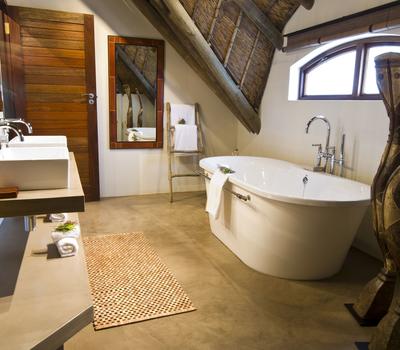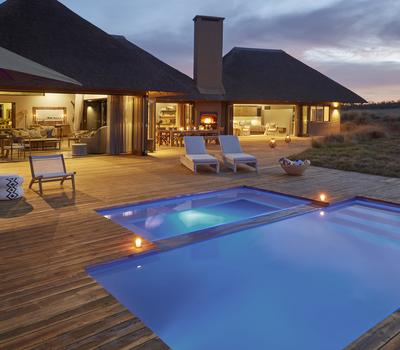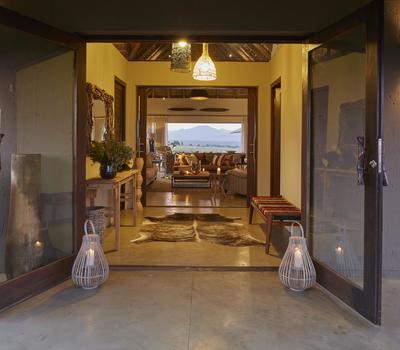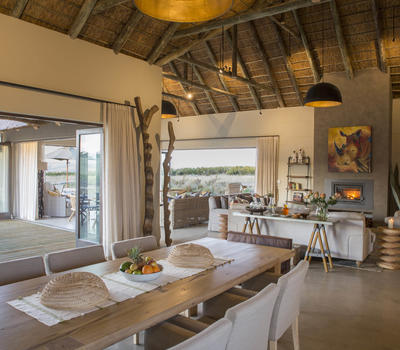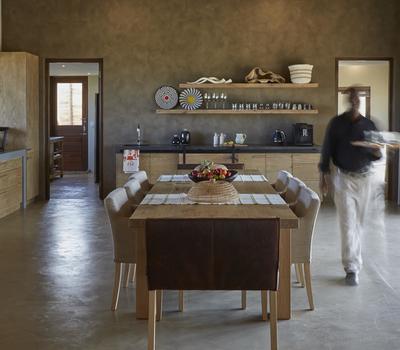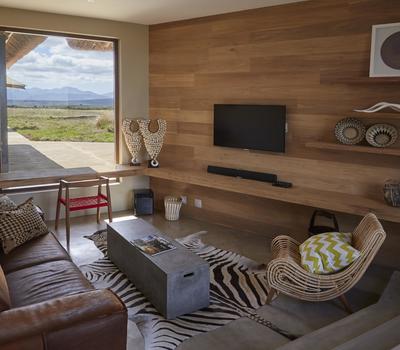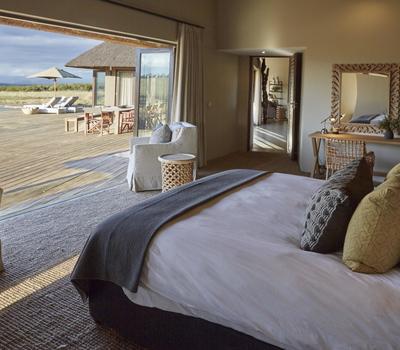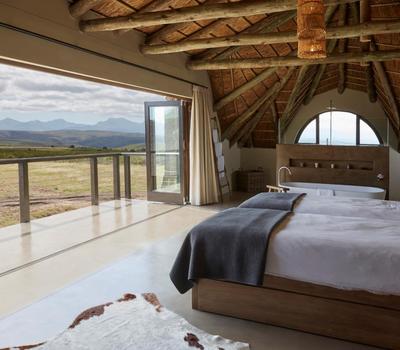 Luxuriously spacious and stylish African villa with your own Field Guide, Chef and Butler. The villa is privately situated in the reserve's 1200 hectare walking area surrounded by grasslands teaming with game. Three luxurious guest suites, with endless mountain views, provide extravagant accommodation for 6 adults or 4 adults and 4 children. The ultimate bush getaway to restore and revive with friends or family in a Big 5 game reserve ideally and accessibly located on the Garden Route.
Ulubisi Offerings:
Privately staffed, 500m2 exclusive use lodge, located in the reserve's 1200 hectare walking area;
Three luxurious guest suites with mountain views and expansive open plan bathrooms provide extravagant accommodation; Bathrooms with rain shower, deep bath, double sinks, outdoor shower and private deck.
Pool and Jacuzzi/hot tub with extensive deck area to take in spectacular surrounds; Inclusive of all gourmet meals and local beverages; Private chef, butler, field guide and game viewer for the duration of your stay.
The Villa can accommodate 4 adults and 4 kids; in addition to this, there is a Loft Apartment with a separate entrance, that can accommodate 2 adults at no additional cost.
Additional activities are: Fynbos and wildlife hikes, Mountain biking (6 adult bikes and 2 children's provided), trail running and the Junior Ranger Programme.
Show More
Show Less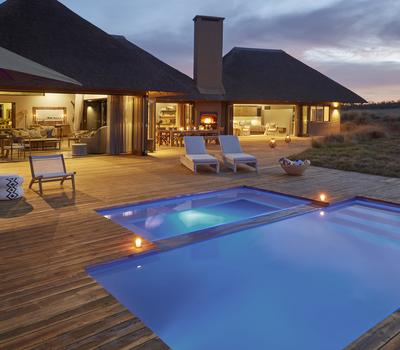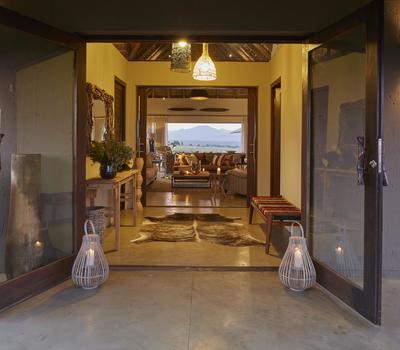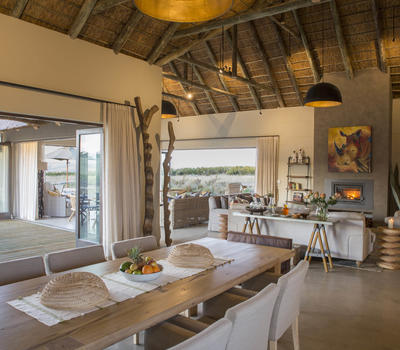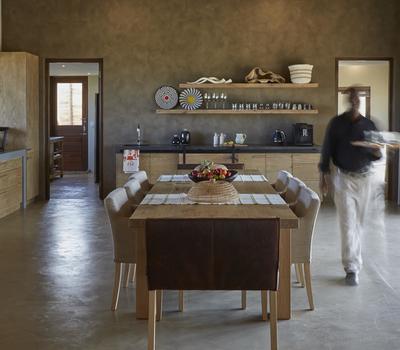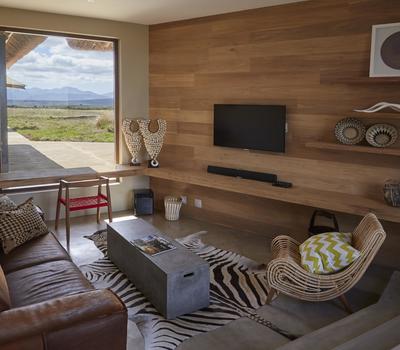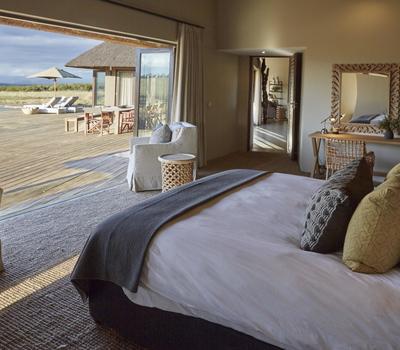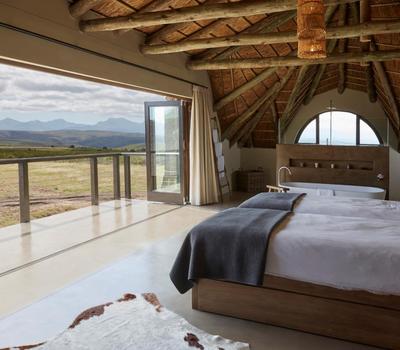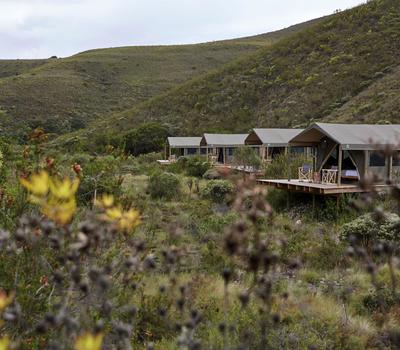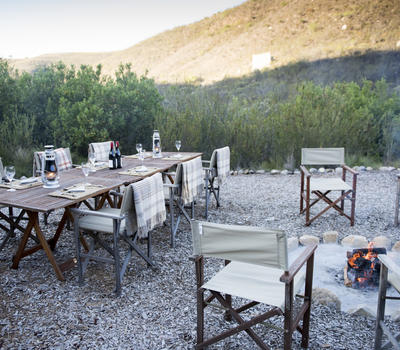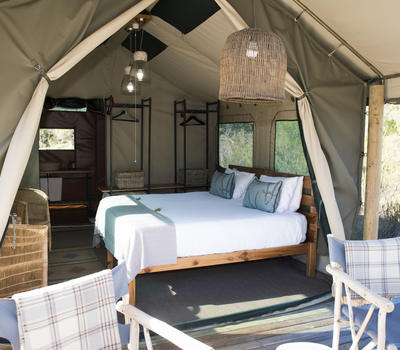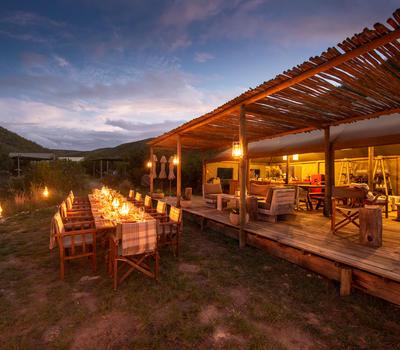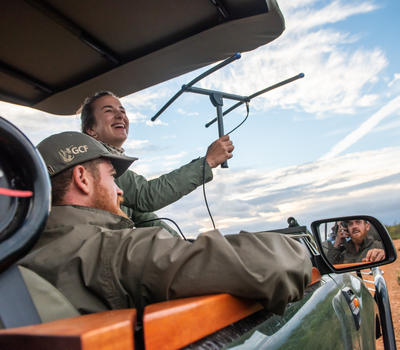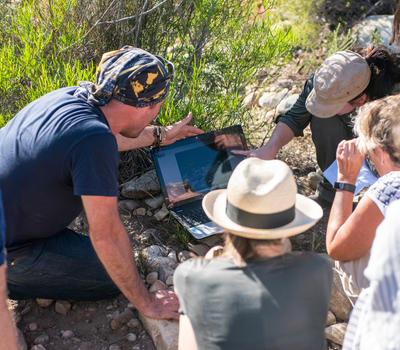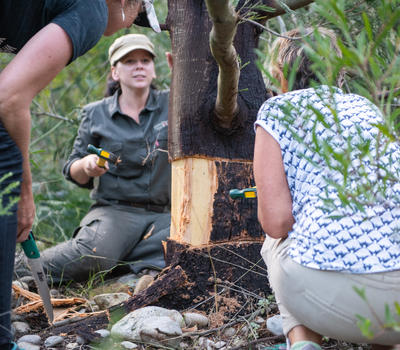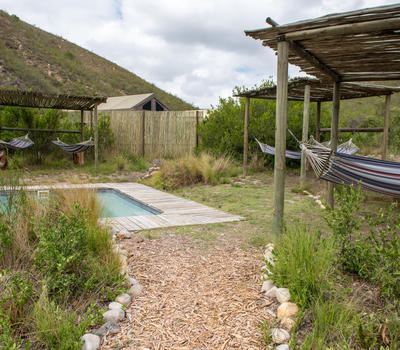 Gondwana Game Reserve has developed a one of a kind conservation tourism experience for individuals, families or groups who want to get more involved in Africa on their safari.
Participants will be involved in wildlife and veld management, learn important bush skills and interpretation, and simply enjoy a behind the scenes view of a Big Five private game reserve.
The research and findings from the program are fed back to Gondwana's conservation department to assist in decision making enhancing the reserve management plan.
The itinerary includes plenty of game drives, bush walks, and down-time in an utterly inspiring landscape.
This is your chance to get involved with the important conservation work of a Big Five game reserve and not only enjoy, but contribute!
Your base during the program will be in eco-friendly, solar powered, stylish tented camp set in a protected Fynbos valley in the heart of the game reserve. The camp facilities include 5 large, comfortable twin or king share tents, set on raised platforms, each with a private bathroom and covered deck area.
All meals are provided in the camp's outdoor dining boma or in the main communal tent which includes kitchen, lounge, and dining areas, with a nearby pool and hammock relaxation area.
The safari style cuisine is wholesome, homemade and hearty with braai's and stews for dinner and wraps and salads for lunch.
A private dedicated team of three (two expert field guides and chef) look after up to 10 guests for an incredibly intimate and exclusive experience.
What's Included
* 3 or 5 Day Conservation / Safari Program (Thursday arrival).
* Accommodation in remote, solar powered, tented eco bush camp.
* All Food and beverages included (except soft drinks and alcoholic beverages not served on game
drive).
* Twice daily Housekeeping Service (including all linen and towels.)
* All conservation activities and Game Drives on private vehicle dedicated to the camp.
CONSERVATION ACTIVITIES
• Wildlife monitoring and recording (focus on large predator movement (lion))
• Monitoring of the cape leopard cameras established on Gondwana and surrounding area
• Management and support of the cheetah re-wilding program
• Alien invasive tree species eradication
• Water assessments
• Elephant dung sampling
• Bird identification and monitoring
• Translocation & veterinary care of wildlife – season dependent
• Bush skills and interpretation
• Veld management
Show More
Show Less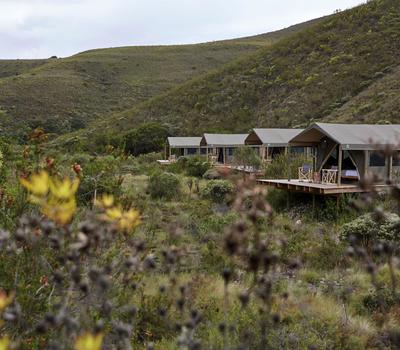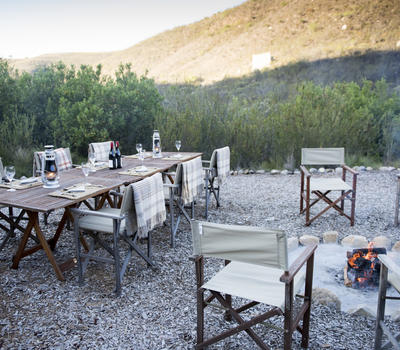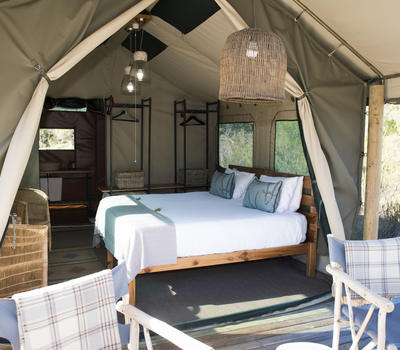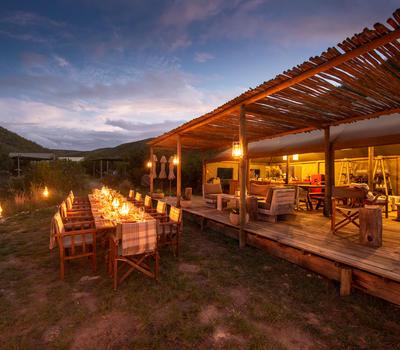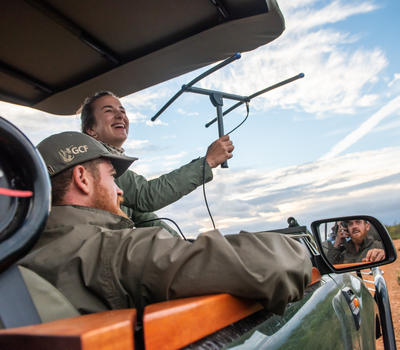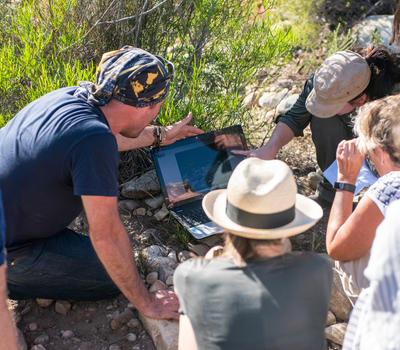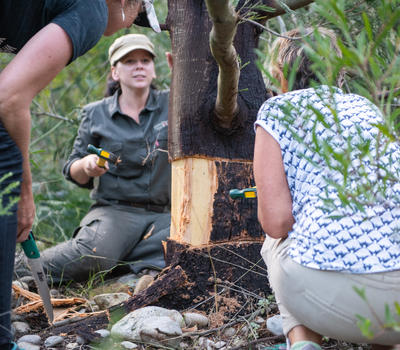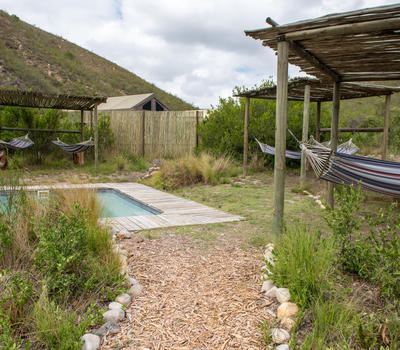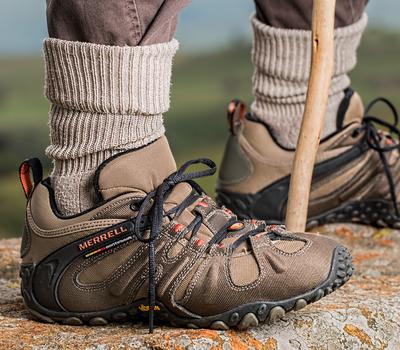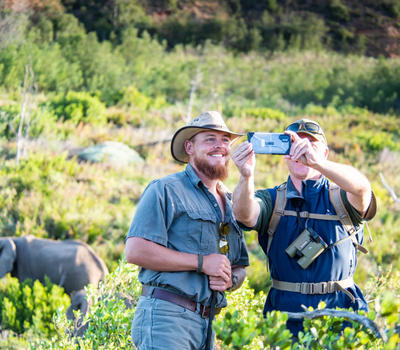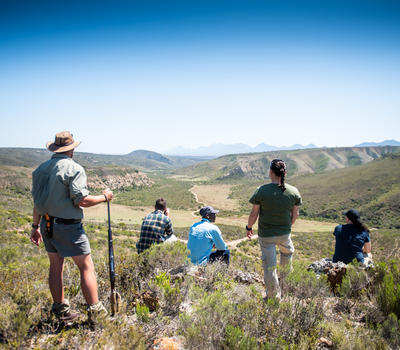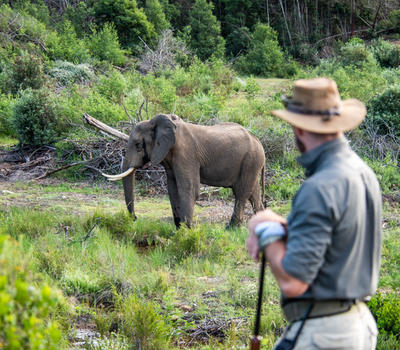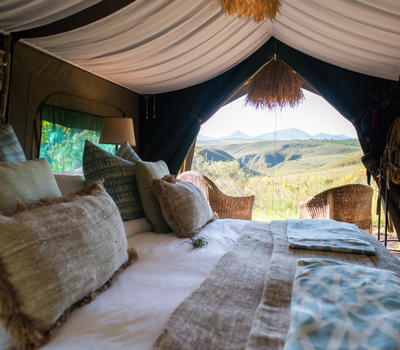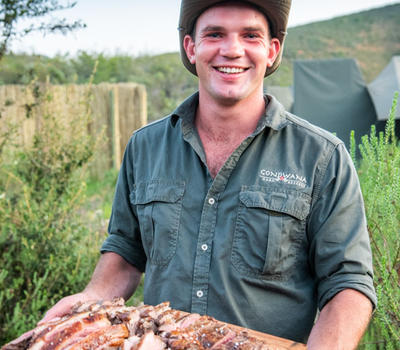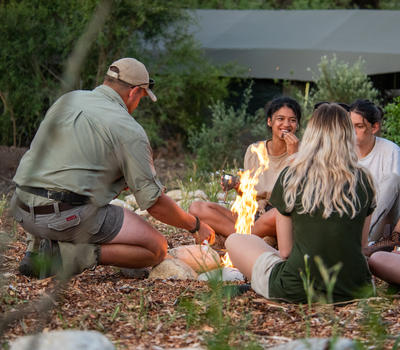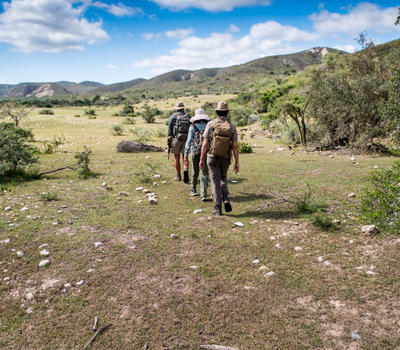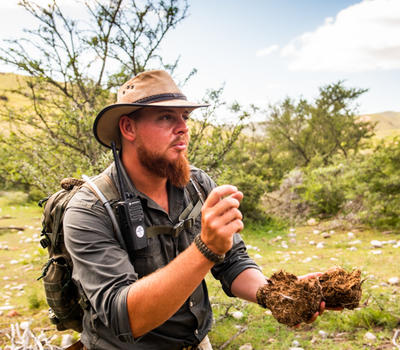 Pioneer Trail - Walking Safari Trail
JUST BRING YOUR BOOTS!
In 2019, we launched a three night walking trail traversing through our private, Big five, 11 000 hectare, malaria free game reserve. The trail takes you to three remote tented fly camp locations with two full days of hiking. Your expert trail guides intimately expose you to the Reserve's unique biodiversity and eco-systems whilst experiencing the Big Five and multiple species of antelope on foot.
The Trail is the ultimate slack packing adventure, where your belongings are moved daily between the three camps, allowing you to experience the dramatic Fynbos landscape with only a light day pack.
Each exclusive camp is comprised of four tents with en-suite bathrooms sleeping a maximum of 8 guests. Homemade African inspired meals are catered for you with cold beverages on tap. You literally need to "just bring your boots" and the Pioneer Trail team will do the rest. It has been said there is no better way to experience nature and wildlife than on foot!
Camp Facilities:
• 3 Tented Fly Camps each with:
• 4 sleeping tents with en-suite bathrooms and covered outdoor seating area
• Main dining and lounge tents
• Outdoor dining boma and campfire area
• Staff complement: Camp Assistant and two Trails Guides (same team for 3 nights)
Pioneer Trail Detail
• The trail will traverse the 11 000 hectare, free roaming big five game reserve under the escort of
two armed and qualified trails guides.
• Approximately 10 kilometres of walking per day (+/- 6hrs of walking a day)
• Exclusive remote footpaths and game trails requiring medium exertion
• Daily packed lunches and tea and water breaks throughout the trail
• Luggage and valuables can be stowed at Lehele Lodge for guests that are not self drive
Requirements
• 12 years of age and above
• Physically capable of walking 6 hours a day
• Set departure days: Monday and Thursday with 3 night stay
• The Trail runs in the summer season only from October through April
3 Night Itinerary
Day 1 - Start days are Monday and Thursday
• Arrival to Gondwana Game Reserve for lunch and check in (meet your trail team and discuss any
dietary requirements or other details)
• Guests to pack 3 days of belongings into provided duffle bags and lock remaining luggage in their
vehicle
• Guests to be issued with all hiking equipment: day packs, water bottles, walking sticks, etc
• Trails Team to transfer guests to fi rst Tented Fly Camp in open Game Viewer
• Afternoon tea and treats in camp
• Afternoon guided Game Drive in Big Five Reserve with sundowner with your Field Guide
• Dinner and drinks around the fi re
• Briefing for Day 1 on the trail
Day 2 and 3
• Morning Wake up
• Camp Breakfast
• Depart on Trail with packed day pack including provided lunch
• On the trail: Guided interpretive walking exploring the Fynbos biome, wildlife and birdlife with
scenic rest stops and possible waterhole swims.
• Arrive at Fly Camp 2 and then Camp 3 at approximately 3pm
• Settle into your new tent with your belongings delivered from Camp 1 and then Camp 2
• Afternoon Tea and treats provided
• Afternoon at leisure (Have a drink, take a shower, read a book)
• Dinner and Drinks around the campfire
Day 4
• Morning Wake up
• Camp Breakfast Fry up
• Morning Game Drive out of remote campsite 3 back to your vehicle for check out
Show More
Show Less