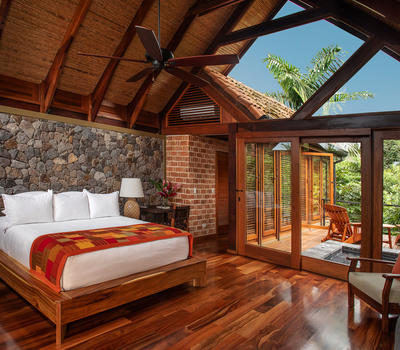 Our twenty-one Casitas feature a king size bed, fine linens, double sinks, private toilet and dual-headed rainfall shower with amazing views of the surrounding forest.
Each Casita is complete with its own warm natural spring spa-plunge pool and intimate terrace facing out to the volcano and our rainforest canyon stream. All Casitas are built from precious tropical hardwoods and offer exceptional privacy and living space at 81 sq. meters (872 sq.ft.)
Canyon Casita King features:
• King Size bed with fine linens and four extra-large pillows
• Full deck overlooking the canyon with volcano view
• Warm natural spring Spa-Plunge pool
• Adirondack chairs, table and footrest
• 55" Smart Television with international cable and Netflix
• Air Conditioning
• Ceiling Fan
• Writing desk and stationary
• Double head rain shower overlooking the rainforest
• Double sinks with complete amenities and lighted vanity mirror
• 1500w Hair dryer
• Separate toilet
• Complimentary Minibar: water, juice, soda, beer, coffee, tea and snacks
• Spacious cedar closets with bathrobe and slippers
• Iron with board
• Complimentary Wifi
• Complimentary VOIP phone calls to USA
• Laptop Safe
• Additional twin bed available on request.
Show More
Show Less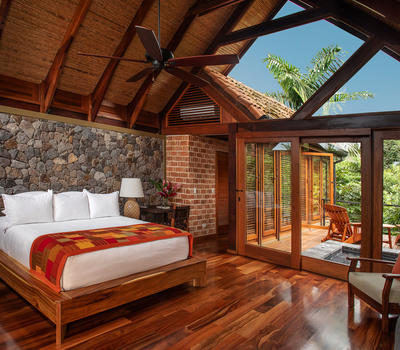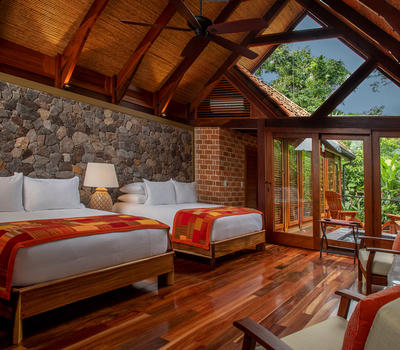 Our ten Casitas feature two queen beds, fine linens, double sinks, private toilet and dual-headed rainfall
shower with amazing views of the surrounding forest. Each Casita is complete with its own warm natural spring spa-plunge pool and intimate terrace facing out to the volcano and our rainforest canyon stream.
All Casitas are built from precious tropical hardwoods and offer exceptional privacy and living space at 81 sq. meters (872 sq.ft.)
Canyon Casita Queen features:
• Two queen size beds with fine linens and four extra-large pillows
• Full deck overlooking the canyon with volcano view
• Warm natural spring Spa-Plunge pool
• Adirondack chairs, table and footrest
• 55" Smart Television with international cable and Netflix
• Air Conditioning
• Ceiling Fan
• Double head rain shower overlooking the rainforest
• Double sinks with complete amenities and lighted vanity mirror
• 1500w Hair dryer
• Separate toilet
• Complimentary Minibar: water, juice, soda, beer, coffee, tea and snacks
• Spacious cedar closets with bathrobe and slippers
• Iron with board
• Complimentary Wifi
• Complimentary VOIP phone calls to USA
• Laptop Safe
Show More
Show Less