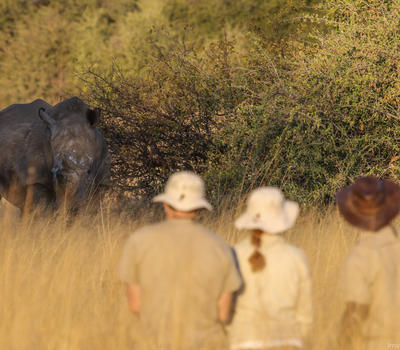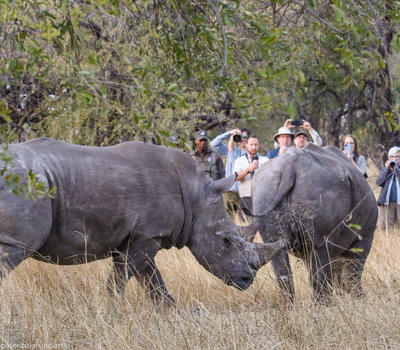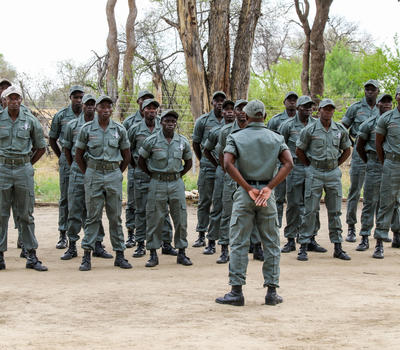 Walking with Rhino and a visit to the CRCI Imvelo Ngamo sanctuary
RATES AND EXPERIENCE
(Valid until 31st December 2023)
2 hour tour, combined with another activity available to
make it a full morning/afternoon.
Nett US $180 net per person sharing (30% single
supplement, US $90 for children 12 and under)
Includes:
• Tour of the sanctuary headquarters – meet some of the
Community Wildlife Protection scouts on duty that day,
and hear a short talk on the origins of the Cobras unit
and how they protect the rhino, as well as the future
plans for our ground-breaking Community Rhino
Conservation Initiative
• Walking tour to view and spend time with the rhino and
our Cobra Rangers guarding them 24/7 – lots of photo
opportunities and quality time to watch and enjoy our
white rhino in their new home on the Ngamo
plains (how close one will be able to get to the rhino is
subject to conditions on the ground)
Please note:
• Single travellers unable to join a group pay a 30%
supplement
• Rates are quoted in USD, inclusive of 2% tourism levy
• Subject to availability and terms and conditions apply
• The rhino experience is non-commissionable
• For bookings that are already confirmed and invoiced for,
guests can book and pay in camp
• Please ensure guests bring USD cash if they wish to pay in
camp for this activity
• This activity can be added upfront in the booking process to the invoice.
Show More
Show Less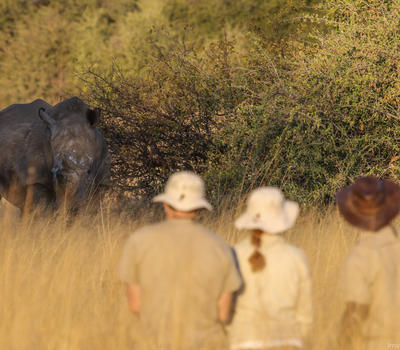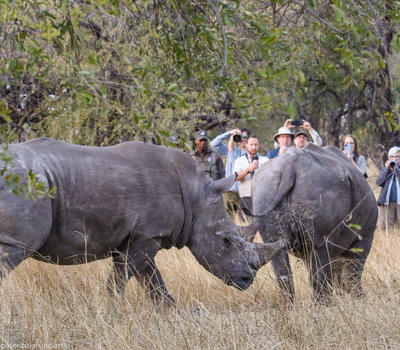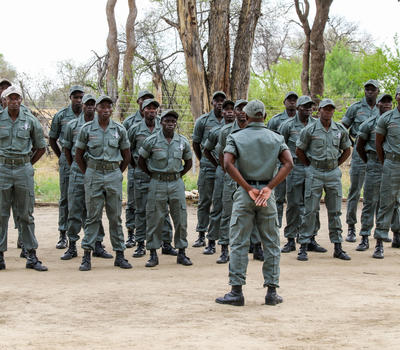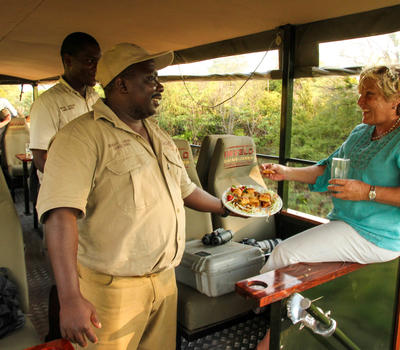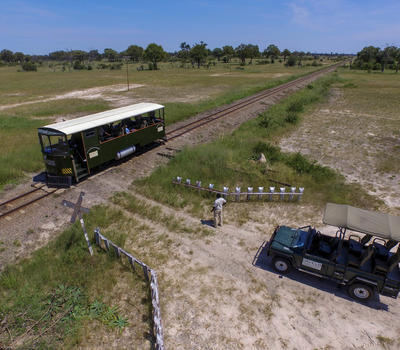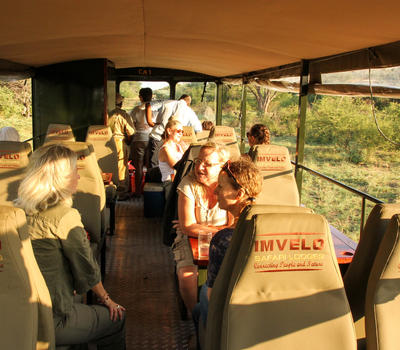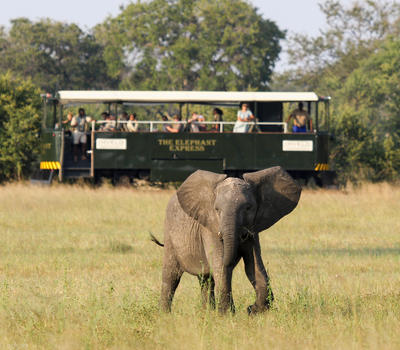 Elephant Express rail car
Experience our one-of-a-kind unique Elephant express rail car which is an
exceptional activity and a definite highlight of a stay at Camelthorn Lodge!
The Elephant Express was introduced in 2015; it is a unique railcar, ingeniously designed and built to offer an unforgettable activity to and between our camps in Southern Hwange National Park.The Elephant Express makes daily return trips as necessary between Ngamo Siding, near Camelthorn to Dete Railway station. It is a 2.5hr ride and a great game viewing opportunity. It is at an additional cost, please contact reservations on prices and how to use it to transfer guest in and out of camp.
• Accommodating up to 22 passengers, the railcar has a safari design with open sides, an engine at the front and back and specially trained drivers. It offers individual coach seating at teak tables and a chemical loo on-board.
• Soft drinks, beers, wine and snacks are provided and lunch is served whilst the railcar is stationary before the return trip.
• The railcar is spacious with large aisles to allow your guests to walk around within and spot wildlife.
• There is a highly experienced knowledgeable guide is on board to answer all your questions and help make the trip as enjoyable as possible.
Show More
Show Less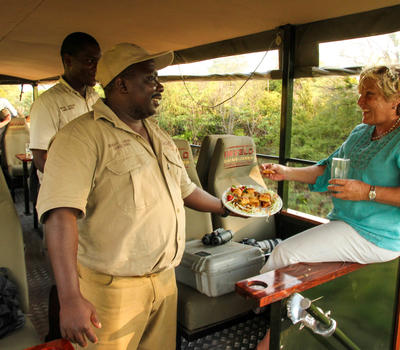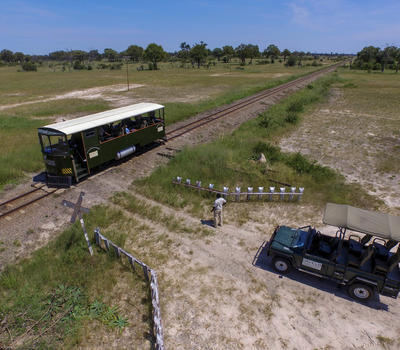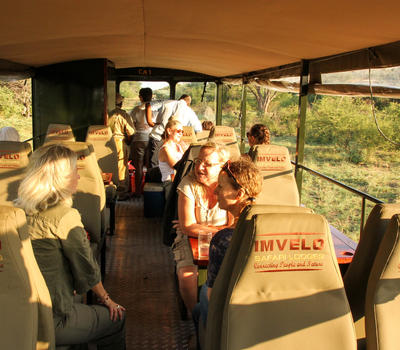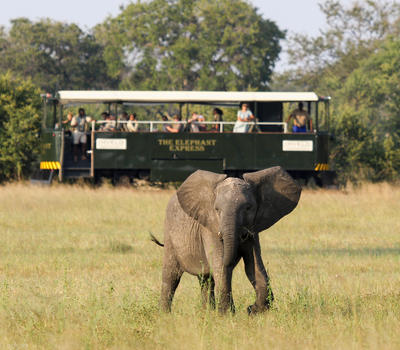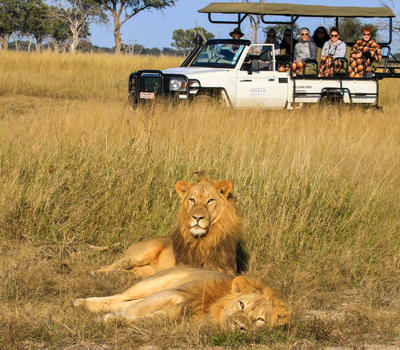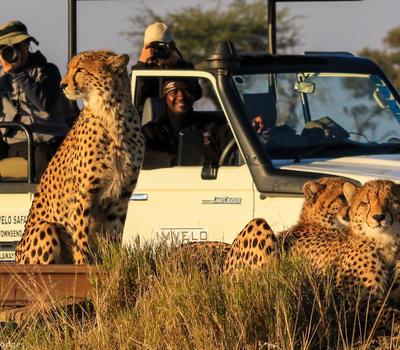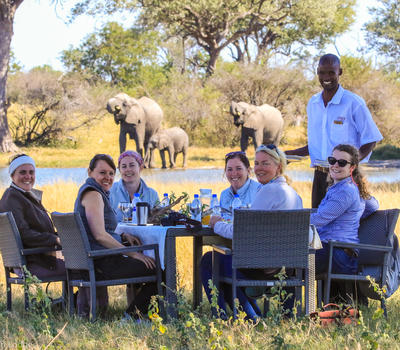 • Traditional open safari vehicles driven by licensed experienced guides
• Morning game drives with tea, coffee and biscuits and afternoon drives with drinks and cooked
snacks
• Land cruisers seat up to 9 guests and Land Rovers seat up to 7 guests
Show More
Show Less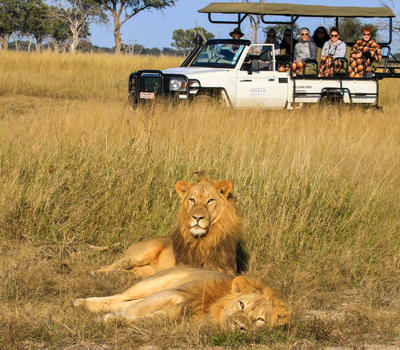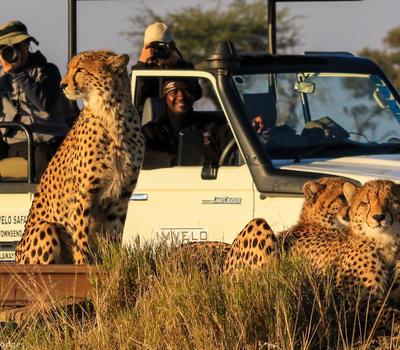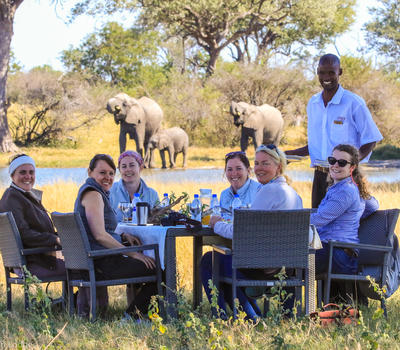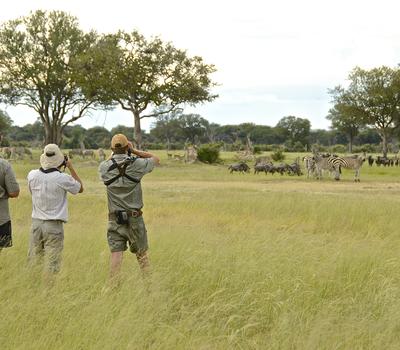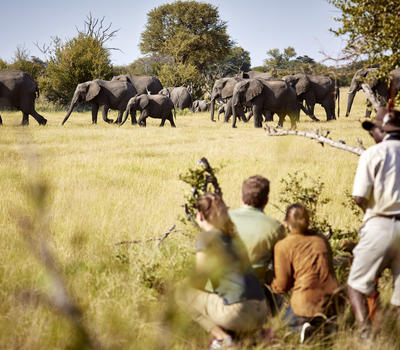 • Conducted by a fully licensed and highly experienced professional guide
• Usually undertaken in the mornings
• Ideal for photography of big game on foot
Show More
Show Less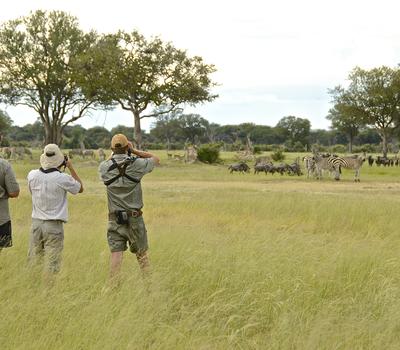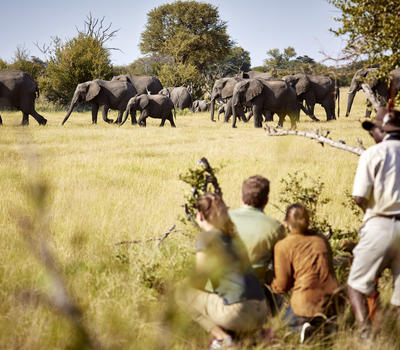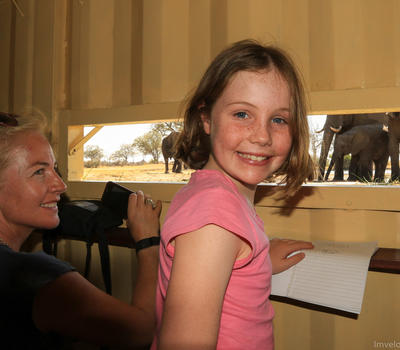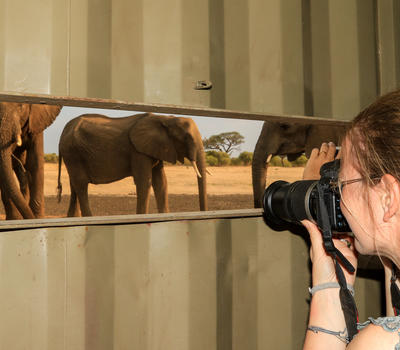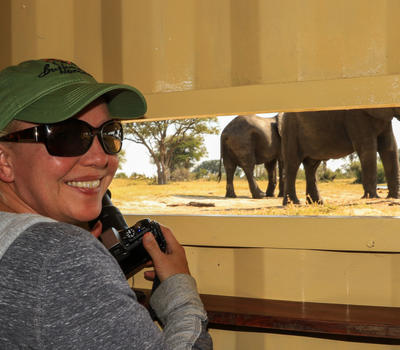 • A feature of Camelthorn is the 6m long underground blind with en-suite flush toilet
• Strategically positioned in the shade of a Leadwood tree, disguised as an antheap and aligned to
take advantage of both the sunsets and the evening light at elephant toe level - this blind will have
novices taking National Geographic pictures!
Show More
Show Less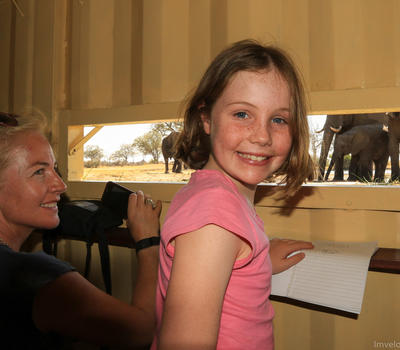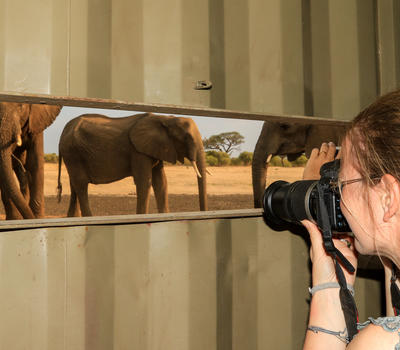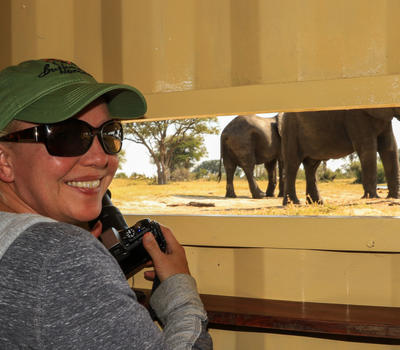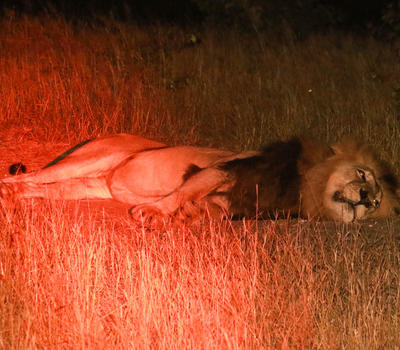 • Night drives within the lodge estate to view the array of wildlife particularly nocturnal creatures is
very popular
• Usually undertaken upon return from the afternoon activity or alternatively after supper, particularly
when lion are heard calling nearby
Show More
Show Less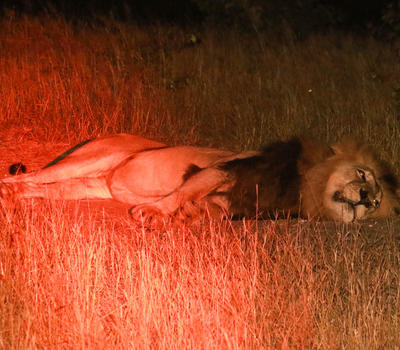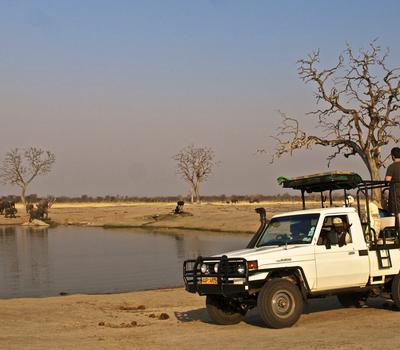 • Imvelo Safari Lodges operates 18 pumping stations for the wildlife within this area of the park, the furthest of which is 55 km into the Park
• A popular activity is to take an all day trip into the park to visit the waterholes and drop fuel and oil
for the motors, and rations and supplies for the pump attendants.
• A picnic lunch is then enjoyed near one of the waterholes before taking an afternoon game drive
back to the lodge
Show More
Show Less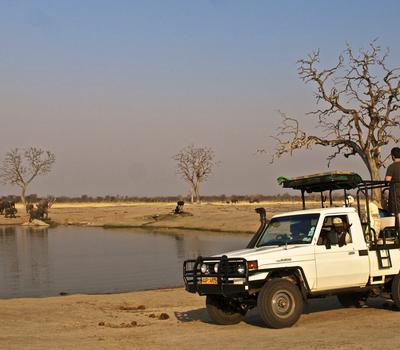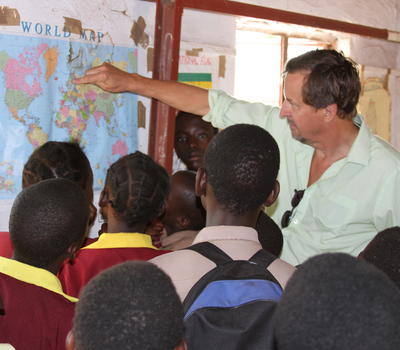 School Tours and Village Visits
• Within the neighboring villages of Tsholothso 15 minutes drive from the lodge, our guests have the
opportunity to enjoy a real life look at village life in rural Matabeleland
• A fascinating experience of a variety of typical daily village activities is followed by a tour of one of
the nearby schools conducted by the Headmaster where guests are given the opportunity to hear
traditional songs sung by the children and enjoy a 'class interaction'.
Show More
Show Less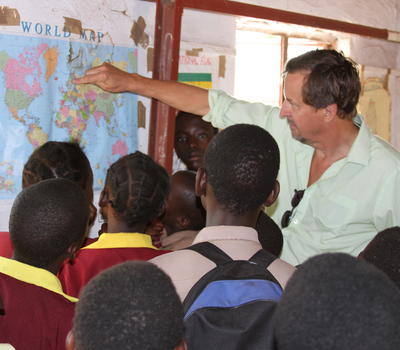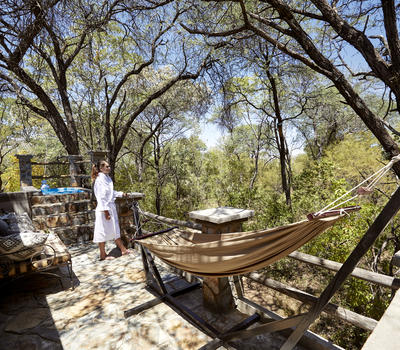 Imvelo's ethos is to enrich the lives of those who live around us as well as our guests. As such, we have a strong link with communities around the lodges and our spa treatments fall in line with our proud tradition of empowering the community through providing jobs in tourism as our beauty therapists have been hand-picked from the surrounding community area.
Our therapists were then trained locally to provide you authentic Zimbabwean treatments in the most spectacular settings! We encourage you to enjoy one of these treatments during your stay with us, as you will not only experience some true pampering in the African bush, but you will also be further giving back to our local community.
Spa treatments are available at your private villa on the maisonette level, overlooking the unspoilt acacia woodlands or a destination treatment can be arranged in the Camelthorn concession, close to the lodge, enjoying the sights and sounds of nature.
(Destinations available will vary, depending on seasonality, amount of guests in camp and time of day the treatment is requested.
Please discuss this with management the day before the treatment is requested and they will do their best to ensure something special is arranged.)
Spa Menu
"Imvelo's Ikhanda Massage"
Head Massage
A rejuvenating head massage in the tranquil surroundings of the African bush relieving your mind of stress in Natures Company.
20 minutes - RACK $20
"Imvelo's Unyawo Massage"
Foot massage
Put your feet up and relax with a picturesque view as you get treated to a foot massage with the sights and sounds of nature at your feet.
30 minutes - RACK $30
"Imvelo's Ihlombe & Intamo Massage"
Shoulder & neck massage
Focused on your areas of stress, unwind and close your eyes as nature treats you to a relaxing shoulder and neck massage.
30 minutes - RACK $30
"Imvelo's Ubuhle Manicure or Pedicure"
Basic manicure or pedicure
With beauty in mind pamper and treat yourself with the sounds of nature in the backgrounds as you unwind on your holiday in Zimbabwe.
40 minutes - RACK $30.
Show More
Show Less