Introduction
Ultimate private island retreat in Seychelles, 9 rooms, up to 19 persons with 2 private boats and your own island to enjoy with friends, family or simply just 2 of you!
Key

FI: Fully Inclusive - Bed, All Meals, Fees and Activities
Price
Fast Facts
Includes
Excludes
Price
€10000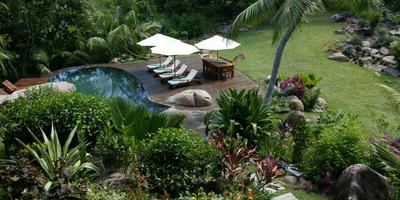 Fast Facts
8 Days / 7 Nights
Reference Number: Code Island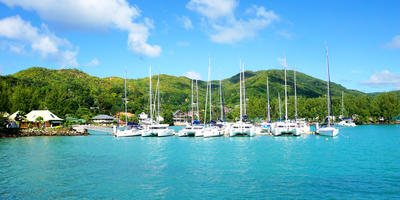 Includes
-The use of the Island and luxury Villa facilities; including 3 ocean view luxury villas and a Safari lodge with en-suite bathrooms that include a total of 9 rooms, 2 swimming pools, 2 private restaurants, 2 bars, a private helipad, a beach, a fully equipped private office centre, a belvedere sky lounge, 15 hectares of lush tropical forest and gardens and a dedicated professional staff.
-Breakfasts, lunches, dinners, offering gastronomic French Cuisine or custom prepared to client preferences and tastes, whenever they wish.
-Unlimited premium international "in house selection" of fine champagnes, wines and spirits, mineral waters, non-alcoholic drinks and all natural and flavoured custom prepared beverages. "In house selection " Champagnes, wines and spirits list available upon request.
-Massages : If booking is fully confirmed and paid in full a minimum 30 days prior to arrival date:; Unlimited massages, whenever and wherever on the Island. 1 masseur available for booking including 1 to 6 adults. 2 masseurs available for booking including 7 or more adults. Client may select their masseur, between their choice of either male or female therapists, or both, if request is made minimum 60 days prior to arrival date. If booking is fully confirmed and paid less than 30 days prior to arrival date, then they will make best efforts to provide with massage services, but can't guarantee that service availability.
-One Personal assistant/Butler per villa for the entirety of the stay.
-Client unlimited use of total 2 golf carts for the entire duration of their stay.
- Laundry
-Unlimited use of all available motorised and non-motorised island water sports, and all its associated equipment. Water sports include "Big game" fishing with Round Island own boat (maximum capacity 8 persons), water skiing, sailing, snorkelling and kayaking.
-Unlimited boat "day trip" excursions with Round Island boats such as inner-island guided tours, islands exploration, swimming with turtles at nearby Coco Island, picnics at beaches accompanied by our professional bartender and staff, and sunset or moonlight cruises.
-Unlimited use of 2 crewed island boats (1st boat with 8 persons capacity / 2nd boat with 5 persons capacity).
-Unlimited access to 18 holes golf game on nearby Praslin Island Lémuria Resort with transfer by Island boat.
-Unlimited high speed Internet wifi access throughout the island.
Excludes
-Not included in rental prices, but available upon requests are all tobacco products, special high end exclusive wines, champagnes and spirits requests, private yacht rental, airport transfers ( helicopter transfers can be provided at extra cost), telephone calls, scuba diving, deep sea fishing, and any other special clients requests providing that requests are submitted latest 30 days prior client arrival, are technically feasible, and don't infringe on Seychelles laws and regulations in place.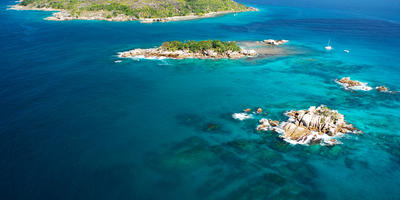 Praslin Island:
Round Island Resort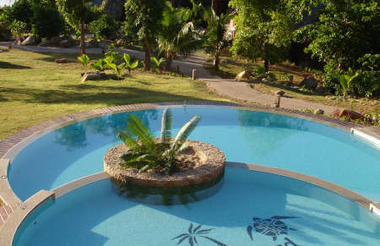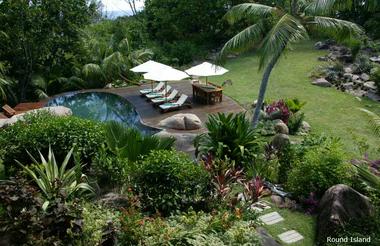 Praslin Island:
Round Island Resort