Introduction
Laid-back little Watamu looks out over the Indian Ocean and enjoys a blinding white-sand beach and a soft breeze coming off the water. It's a gorgeous slice of coastline and one that includes its own marine national park. As well as its natural endowments, great dining scene and relaxed village vibe, Watamu makes an excellent base from which to explore the nearby Gede ruins, Arabuko Sokoke Forest Reserve and the mangrove-fringed waterways of Mida Creek.
DEEP SEA FISHING & CREEK FISHING
Watamu is one of the world's top destinations for Deep Sea Fishing, with the majority of skippers supporting the 'Tag and Release' system, to allow the sport to continue well into the future.
GEDI RUINS
Not far from Watamu, near the junction with the main Mombasa-Malindi road, lie the Gedi Ruins, a National Museum site and a window into the mysterious past of this stretch of coastline. The town of Gedi was a Swahili settlement established in the 13th century town and inhabited by sailors, traders and settlers from Oman who plied the spice trade between the Middle East and Africa. Unlike other well-known Swahili towns such as Lamu, Mombasa or Zanzibar, however, almost no historical record was made of the town, nor was it marked on maps from that period. The reason for the secrecy surrounding the existence of Gedi is unknown, and the cause of its downfall also remains a great historical mystery.
MONANGU DHOW TOUR
Set sail in style on a traditional Mozambican dhow to explore the magic of Mida Creek and the Watamu Marine Park. With the capacity to seat 15 people, Monangu is available for private day trips and sunset cruises.
MIDA CREEK
Stretching inland from the sea into Arabuko Sokoke Forest is one of Watamu's true hidden treasures: Mida Creek, a broadwater tidal creek surrounded by extensive mangroves and lined with palms.
Mida is a stopover point for many migratory birds and an essential protected area for their survival. This makes it one of the most important and beautiful natural attractions on the Kenyan coast.
Mida is best explored by boat, on a cruise through the creek at sunset for a sundowner drink, as the setting sun turns the waters to gold and flocks of roosting birds fill the sky. Flamingoes are often seen feeding in Mida. The creek is also an incredible kayaking destination, with endless small channels and passages through the mangroves to explore where kingfishers hunt in the shallow waters and fish eagles perch in the overhead trees. You can also take a stand up paddle board (SUP) through the creek or even take a guided float through the waters of the creek in a life-vest, carried by the gentle tidal currents.
BIO-KEN SNAKE FARM
Located just a few minutes' drive from Watamu's hotel resorts, Bio-Ken Snake Farm houses the largest collection of snakes in East Africa and is open to the public. The 35-year-old research centre also offers snake removal and snake bite anti-venom services.
WATER SPORTS
Watamu offers a wide range of Water-related activities. From Kayaking and fun-boats to scuba diving and snorkelling. Kite-surfing too has taken off in a big way in Watamu.
THINGS TO SEE
There are plenty of places to go and things to see in Watamu and beyond. From the facinating Bio-ken Snake Farm and Watamu Turtle Watch's rehabilitation centre, to the Butterfly farm and the historic Gede ruins only a short taxi or tuk-tuk ride away.
PLACES TO EAT
There is a large choice of restaurant, bars in Watamu - the Pilipan offers Asian-fusion, and the Italian influence in Mpango is clear in the thin pizzas. The Ice creams at Anna and Andreas are something else and everywhere there are opportunities to sample fresh seafood. Visiwa Beach Watamu, Safina Beach Bar & Grill, Caffe Sotto Sopra, Pilipan Restaurant - Watamu Just to mention but a few
OUTDOOR ACTIVITIES
If you have had too much of the water, there are lots of other sports to take part in. Cycling, Golf, Tennis are only a few of them.
Key

B&B: Bed and Breakfast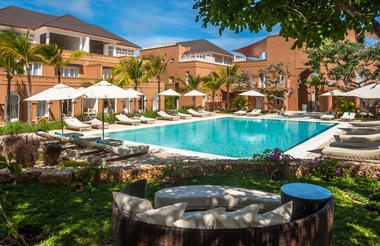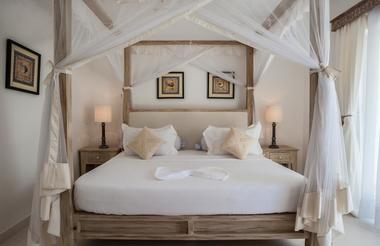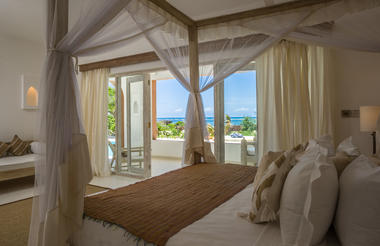 Fast Facts
3 Days / 2 Nights
Group Size: TBA
Reference Number: CWT/BS/2022
Special Interests: Visiwa Restaurant, Safina Beach Bar & Grill, Caffe Sotto Sopra, Pilipan Restaurant - Watamu, Monangu Dhow Cruise, Mida Creek, Watamu Marine Park, Gede Ruins, Vasco Da Gama Pillar
Price
Medina Suite - One Bedroom Suite (sleeps up to 2 guests) One Super King Double: separate living area + kitchen
Starting from; Self Catering KES 13,900 Per Night
Starting from; Bed and Breakfast KES 16,950 Per Night
Palmerie Beach Villa - Luxury Three Bedroom Villa (sleeps up to 6 guests) Two Super King Doubles + one Twin room: separate living area + Kitchen + rooftop terrace with plunge pool
Starting from; Self Catering KES 50,000 Per Night
Starting from; Bed and Breakfast KES 58,500 Per Night
Optional Extras
Monangu Dhow Cruise Tour - KES 15,000
Airport Transfer (per vehicle)
Malindi Airport: KES 3,900 one way
Mombasa Airport: KES. 11,000 one way
SGR Miritini or Mariakani; KES. 11,000 one way
Includes:
Accommodation
Daily Breakfast
Non - motorized water sports
Excludes:
Other Meals
Tours/Excursions
Tips and gratuities
Malindi Airport Transfers