Introduction
Namibia is a vast country, even by African standards, covering an area approximately twice the size of California and four times the size of the United Kingdom, but with a population of a mere 2 million. This gives one of the lowest population densities in the world. It is also an 'ageless land'; visible through our heritage of rock art created by stone-age artists and geological attractions such as the petrified forest where fossilised tree trunks have lain for over 280 million years. When added to the space and silence, these factors all contribute to a feeling of antiquity, solitude and wilderness.
The climate is typical of a semi-desert country. Days are warm to hot and nights are generally cool. Temperatures are modified by the high plateau in the interior and by the cold Benguela Current that runs along the Atlantic coastline. Except for the first few months of the year, the country is generally dry with very little rain.
This Ultimate Namibia Under Canvas Safari affords you the chance to experience this magnificent and memorable country in a very personal way. You will have your own professional and experienced safari guide who will enhance your enjoyment of this unique country by making it a fascinating and stress-free journey of discovery amidst very dramatic scenery. The knowledge, experience, and character of our guides are critical to a successful safari which is why we ensure that they are both personable and very professional. Your Ultimate Safaris guide will have an intimate knowledge of each area and camp/lodge that you visit, allowing them to share the local insights and highlights whilst adding continuity and depth to your safari. It goes without saying that they all know exactly what a "True African Safari" is all about. Not only are our guides highly qualified, each has a specific area of expertise. Together they possess the breadth and depth of knowledge to allow them to answer questions and satisfy the interests of each of our guests. The presence and company of your Ultimate Safaris guide will turn your safari into an experience of a lifetime!
The Under Canvas camps are designed to offer a true "back to nature" experience with the emphasis being on the experiential aspect of safaris, to go back to the roots of safari, to touch, to smell, to feel and to experience the wild, with one's feet firmly in the dust that covers Africa. This is an experience that is exclusive in the real sense of the word, as well as being very much away from the pressures of 'normal' life!
Since most of the camps are semi-permanent and seasonal, there is a degree of compromise required concerning some of the frills and other 'add-ons' that you might expect in a permanent tented camp or lodge, but there is still a strong focus on ensuring guests' comfort. Those prepared to forego some conventional 'necessities', so that they are unencumbered by buildings and all the paraphernalia that goes with them, will be able to go to sleep hearing only the noisy silence of the desert and to wake up to a chorus that announces the start of a new day. It is the kind of intimacy that can only be achieved by taking guests to the most wild, remote and private places, and giving them access to exclusive areas away from the beaten path.
Key

FB: Full Board - Dinner, Bed, Breakfast and Lunch

FB+: Full Board Plus - Dinner, Bed, Breakfast, Lunch and Activities
Onguma Game Reserve :
Onguma Tree Top Camp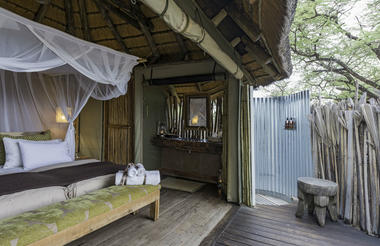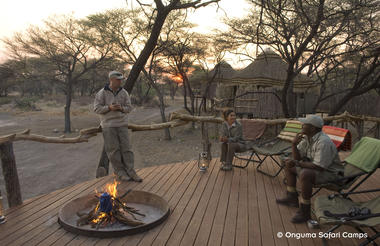 Damaraland :
Huab Under Canvas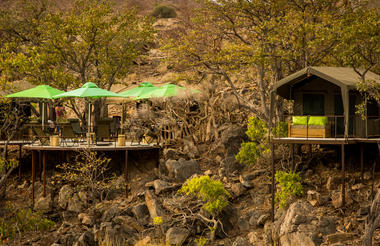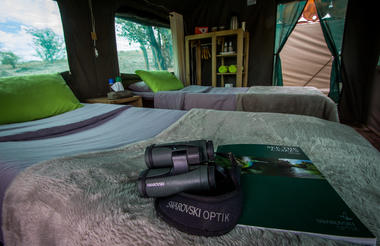 Swakopmund :
Desert Breeze Lodge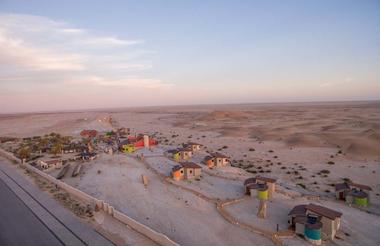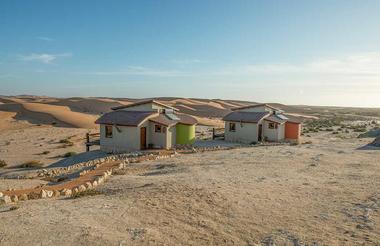 Namib Tsaris Conservancy :
Sossus Under Canvas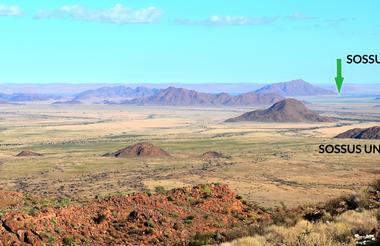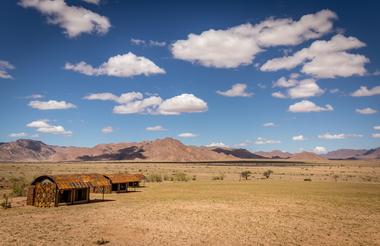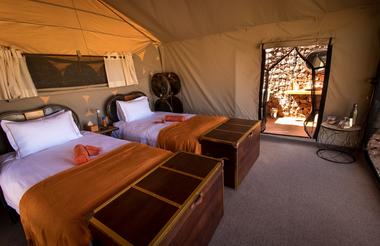 Above and Beyond Holidays
Fast Facts
10 Days / 9 Nights
Group Size: MINIMUM 2 | MAXIMUM 7
Price
Guaranteed Departures from 2 guests!
Low Season Price from ( April, May June & November 2020)
$5700 per person twin share
High Season Price From ( July, September & October 2020)
$6260 per person twin share
Single Supplements Apply
Includes:
Accommodation as stated above.
Transportation in a luxury air-conditioned safari vehicle.
All meals.
Services of a registered and experienced naturalist English-speaking safari guide.
Entrance fees and excursions as described in above itinerary.
Mineral water on board the safari vehicle.
Local drinks at meals (this includes water, soft drinks, beers and table wine).
Onguma afternoon property drive in open game viewer with camp guide.
Welcome pack.
Excludes:
International, regional & local flights to Namibia and airport taxes.
Return airport transfers from Windhoek International Airport – Windhoek – Windhoek International Airport.
Pre and post safari accommodation in Windhoek.
Any entrance fees and excursions not included in the above itinerary such as scenic flights.
All premium and imported wines, champagnes and spirits
Laundry (laundry service available at lodges at extra cost) – //Huab Under Canvas will offer a limited complimentary laundry service to assist with a 'mid-point laundry' opportunity.
Gratuities.
Items of personal nature (telephone expenses, curios, medicines etc).
ENTRY VISA FEES.
BANK CHARGES (as per bank or 3.5% commission for VISA/MASTER and 4.5% commission for AMEX).
Onguma Game Reserve :
Onguma Tree Top Camp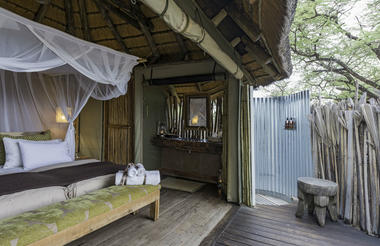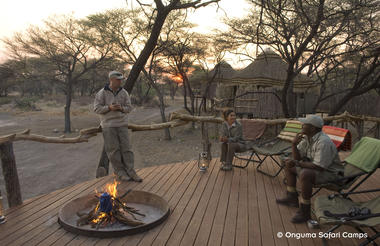 Damaraland :
Huab Under Canvas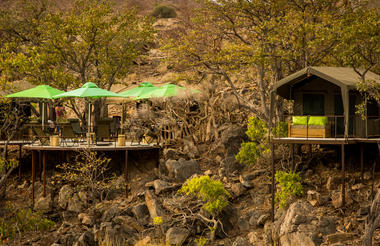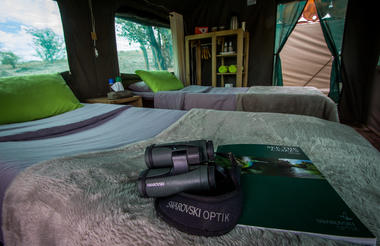 Swakopmund :
Desert Breeze Lodge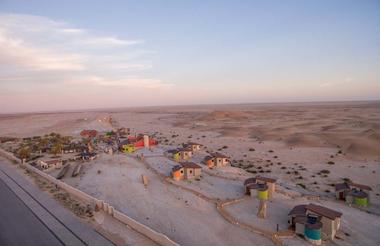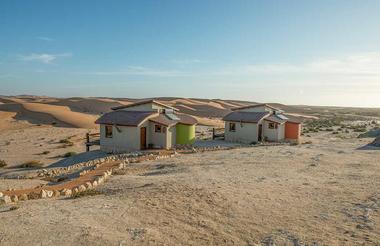 Namib Tsaris Conservancy :
Sossus Under Canvas