Introduction
The South Pacific puts on quite a show, and the region's incredible diversity of scenery is front and center on this 11-night journey through the Cook and Society Islands. From the rugged terrain of Rarotonga and coral reef-lined lagoon of Aitutaki to the jaw-dropping beauty of bucket-list mainstays Bora Bora and Moorea, you'll be hard pressed to pick your favorite port.
Highlights
Hidden beneath the emerald foliage on the "Garden Island" of Huahine, you'll find hidden temples surrounded by rare orchids, ancient archaeological sites, and panoramic views that are sure to take your breath away. What more could you ask for?
Spend two long, luxurious days in storied Bora Bora. You've seen the photos and magazine covers, but the real deal is even more beautiful than you could have ever imagined. Take it all in with a dip in the lagoon or a sunset sail.
Live the life idyllic with a memorable day on Motu Mahana, our own private slice of paradise. On this exclusive islet, treat yourself to sand between your toes, the shade of swaying palm trees, a sumptuous barbecue lunch, and, of course, drinks sipped from coconuts
Paul Gauguin first sailed to Tahiti in 1891 in search of inspiration, and along with the idyllic landscapes, he found a deep connection with the inviting spirit of the local Polynesians. Today their intimate, luxury cruises through French Polynesia and the South Pacific allow you to experience these remarkable places on the vacation of a lifetime that is part of Paul Gauguin Cruises commitment to also benefit local people and support the protection of this unique part of our fragile and beautiful planet.
| Start | Day | Accommodation | Type | Destination | Duration | Basis | Start |
| --- | --- | --- | --- | --- | --- | --- | --- |
| Day 1 | Day 0 | Paul Gauguin | | | 11 nights | AI | Day 1 |
| Day 1 | Day 0 | Papeete Harbour | Day Stop | Papeete Harbour | Day | | Day 1 |
| Day 2 | Day 1 | Huahine | Day Stop | Huahine | Day | | Day 2 |
| Day 4 | Day 3 | Aitutaki | Day Stop | Aitutaki | Day | | Day 4 |
| Day 5 | Day 4 | Rarotonga | Day Stop | Rarotonga | Day | | Day 5 |
| Day 7 | Day 6 | Bora Bora | Day Stop | Bora Bora | Day | | Day 7 |
| Day 9 | Day 8 | Tahaa | Day Stop | Tahaa | Day | | Day 9 |
| Day 10 | Day 9 | Moorea | Day Stop | Moorea | Day | | Day 10 |
| Day 11 | Day 10 | Papeete Harbour | Day Stop | Papeete Harbour | Day | | Day 11 |
Key

AI: All Inclusive - Bed and All Meals
Paul Gauguin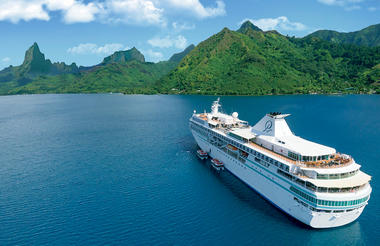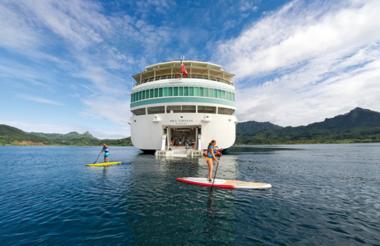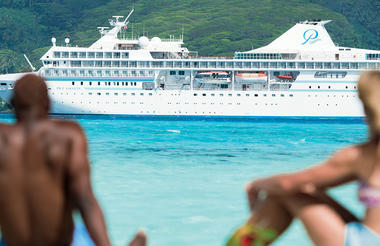 Fast Facts
12 Days / 11 Nights
Reference Number: Date: March 5 -16, 2022
Price
Price starting from US$4,780* including roundtrip airfare from Los Angeles :
Cat. B (Veranda Suite): US$6,970
Cat. C (Balcony Stateroom): US$6,090
Cat. D (Balcony Stateroom): US$5,860
Cat. E (Window Stateroom): US$5,110
Cat. F (Porthole Stateroom): $4,780
PRICES PER PERSON / TWIN OR DOUBLE SHARE / PORT TAX OF $220 PER PERSON NOT INCLUDED
Includes:
Roundtrip airfare from Los Angeles in Economy Class
Roundtrip airport/pier transfers
All shipboard meals in a choice of three venues, including 24-hour room service
Beverages, including beer and select wines and spirits
Onboard gratuities for room stewards and dining/bar staff
A day at Paul Gauguin Cruise's private islet, Motu Mahana
Access to Paul Gauguin Cruise's private beach in Bora Bora
Select watersports and use of snorkel gear
Excludes:
Return flights from Canada to Los Angeles
Port, security, and handling fees of US$220 per person (additional charges)
Travel Insurance
Excursions
Any and all items of a personal nature
Transfers if not taking Paul Gauguin's Air
Spa services
Paul Gauguin