Introduction

Suppose the mysterious tropical forests, meeting the people who live here, and the thought of encountering mind-boggling diversity of wildlife fascinates you. In that case, this is the expedition you must take.
Escorted throughout by Tony McKeith, founder of Busanga Safaris .
A unique wildlife safari to the untouched rainforests of Central Africa. A safari that will leave you looking at the world differently.
Delayed flights, bumpy roads and muddy feet; notwithstanding, this is a unique and rewarding wildlife experience. This vast region, spanning three countries sparsely populated with Bantu tribes and groups of Ba Aka Pygmies.
Dzanga-Sangha is in the northern section of the Congo Basin in the Central African Republic. Thriving populations of Gorillas, Forest Elephants, Bongo, Sitatunga, Red Riverhog exist here and many smaller primates and mammals, soo many forest birds, and a myriad of plants and trees.
During your safari, you will be travelling in 4 x 4s, and on foot into the remotest parts of the jungle. We will walk amongst the saline bais and clearings where the canopy lets light reach the forest floor and where many animals and birds gather to feed in the mineral-rich soil. You will encounter Ba'aka Pygmies, and your guide will arrange for us to join them in a hunt for food into the forests. These experiences are not contrived for tourists; instead, they are a window into the lives of the people of these beautiful people forest. Dzangha Bai is undoubtedly one of our planets most incredible wildlife hot spots; we will spend days here in a treehouse platform.
The astonishing spectacle of a constant procession of Forest Elephants coming and going in the bai, where they gather to take on the minerals that bubble up from the ground and paint themselves with golden mud, the photo opportunities are outstanding. At Dzangha Bai, we can often encounter Bongo, and much much more. You will trek to visit habituated families of Western Lowland Gorillas, experience bird watching with experts. Explore by boat on the SANGHA and YOBE Rivers.
Using a spotlight around camp, and from the boat will help find some of the more unusual nocturnal species like Galago, Potto, Gennet, Civit, Golden Cat, Hammer-Bat and several owl species.
The lodge's own ongoing research and rehabilitation of Pangolins offers visitors a chance to see wild Black-bellied Pangolins actually in camp while they feed.
Visits from local experts and conservationists when they are available can add an exciting dimension around the dinner table at night.
The incredibly committed owner/hosts at Sangha Lodge have over the years they have rescued many orphaned animals from the bushmeat trade. Pangolins especially are often kept alive after being caught, and live adults rehabilitate easily. As well as the 70 pangolins saved, they have also hand-reared several fascinating smaller mammals like Blue duikers and successfully hand-raised and released back to the wild, Brush-tailed Porcupine, Servaline Genet, and Long-snouted Cusimanse.
Book now for this Extraordinary Journey.
Enquire about extending this safari to include Odzala (Rep Congo)
Accommodation and Destinations
Price
Fast Facts
Includes
Excludes
Price
June 2023
Starting in Bangui, Central Africa Republic,
$8700 per guest
Single Supplement for single accommodation USD $600

Price is quoted in USD but you can pay in Euro or GBP £
Enquire about extending this safari to include Odzala (Rep Congo)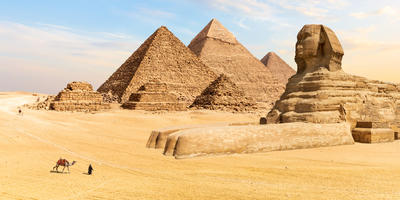 Fast Facts
8 Days / 7 Nights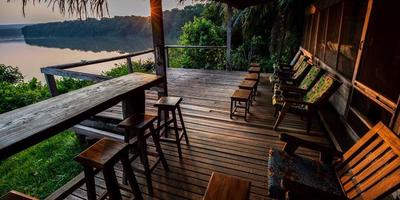 Includes

The cost of the trip includes the following according to your itinerary for:
7 night's accommodation at Sangha Lodge on full board.
All vehicle hire and landed costs while at sangha lodge.
1 gorilla tracking permit per person.
1 Mangabey tracking permit
1 Bai walk
1 Visit Dzanga Bai
1 day's net hunting and pygmy activities
1 Boat trip to the waterfall /Picathartes site
1-night walk
Charter flights to and from Bangui.
Meet and Greet and Airport assistance.
Additional activities are charged EXTRA :
Gorilla trekking EUR 290
Full day at Dzanga Bai EUR 135
Guided night walk EUR 31
River Cruise EUR 31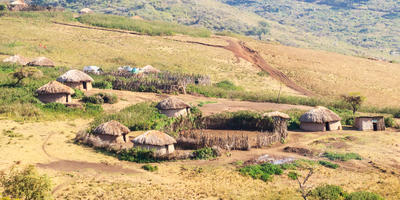 Excludes
Extra Accommodation and transfers in Bangui if needed.
Any park activities not specified here.
Drinks except bottled water
Additional activities are charged EXTRA :
Gorilla treking EUR 290
Full day at Dzanga Bai EUR 135
Guideed night walk EUR 31
River Cruise EUR 31
In the result of delays in the charter due to weather or any other issues, Busanga Safaris will help get you back on track but cannot be responsible for any extra costs incurred.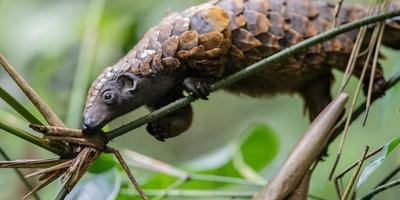 Dzanga Sangha Reserve:
Sangha Lodge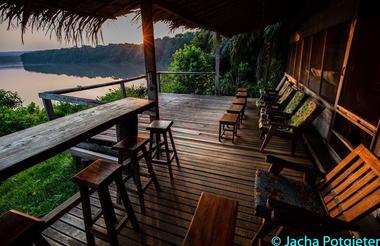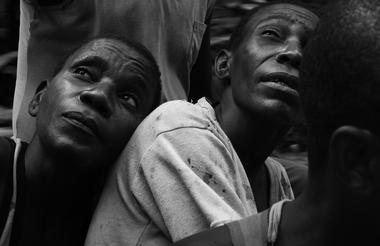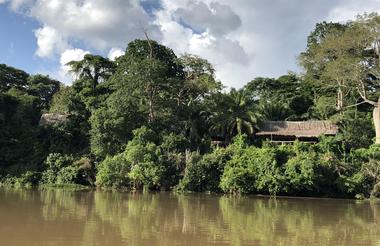 Dzanga Sangha Reserve:
Sangha Lodge