Namibia
With its well-developed infrastructure, some of the best tourist facilities in Africa and an impressive list of breath taking natural wonders, touring Namibia is truly a pleasure. Visit the capital of Windhoek and the lovely coastal town of Swakopmund to discover remnants of the country's German influence, reflected in the architecture, culture, cuisine and the annual Oktoberfest celebrations. To properly appreciate this extraordinary country, you will have to venture out of the cities to explore the remarkable natural landscapes Namibia has to offer. These include: the impressive Fish River Canyon Park; the vast Etosha National Park teeming with local subspecies, such as desert lions, desert elephants and the Hartmann's Mountain Zebra; the hauntingly beautiful Kalahari Desert; and of course the Namib Desert stretching for nearly 1000 km along the magnificent Atlantic coastline. Namibia is an ideal destination for travellers seeking an unforgettable African experience in a uniquely beautiful untamed wilderness.
Huab River Valley
Days 1 - 2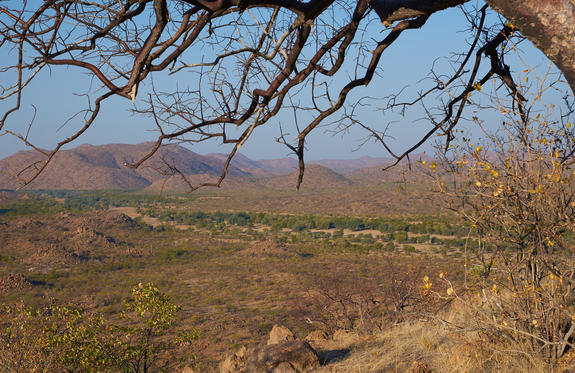 Fringing the Torra Conservancy in northwest Namibia, the Huab River Valley is renowned for its spectacular panoramic vistas featuring pristine wilderness defined by stark plains, ancient valleys and the distant peaks of the Brandberg Mountains. This ruggedly beautiful area offers travellers a wide range of activities such as: exploring the exquisite terrain of the Huab River Valley, catching a glimpse of the rare desert-adapted elephant on an afternoon safari, taking a guided nature walk, or learning about the unique local cultures of the area. A diverse variety of wildlife can be spotted in the valley including: springbok, gemsbok, greater kudu, springbok, lion, zebra, giraffe, cheetah, and black rhino. Don't miss the famous Twyfelfontein rock engravings.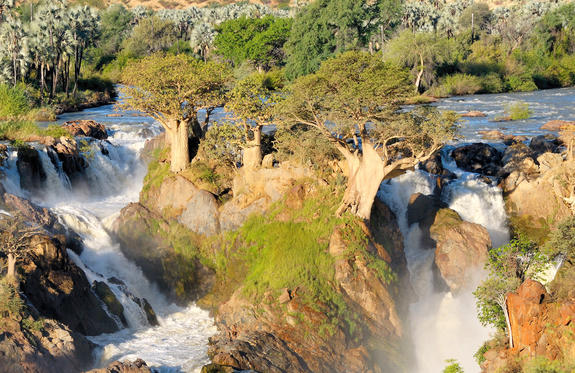 Bordering Angola in northern Namibia, Kunene is a region as well as the name of a river, which is one of just five perennial rivers in Namibia. The Kunene River is an invaluable source of water for the local Himba people, and it has been the mainstay of their existence for hundreds of years. For travellers, the river's most striking feature is the magnificent Epupa Falls, which cascade over a distance of more than a kilometre downstream, with an impressive vertical drop of around 60 metres. Whitewater rafting and kayaking are both popular pursuits in these areas. Visitors can take sundowner cruises; explore sublime hiking routes; enjoy excellent bird watching opportunities; learn about local culture with a trip to a traditional Himba village; or go canoeing, kayaking, and game viewing.
Botswana
Situated in the southern reaches of Africa, Botswana is renowned for its pristine wilderness areas characterised by deep lagoons, wetlands, lush palms, rugged hills and desert plains. The country's primary tourist drawcard is undoubtedly the vast red expanse of the Kalahari Desert and its remarkably beautiful Okavango Delta, the largest inland delta in the world. These natural wonders provide a tranquil haven for an abundance of African wildlife to thrive. Other highlights include the impressive Makgadikgadi Salt Pans, where visitors are privy to massive zebra migrations during the flood season; the Savuti plains, which host a significant pride of lions; and the Tsodilo Hills, where 4500 rock paintings form a unique record of human settlement over many millennia.
Moremi Game Reserve
Days 4 - 7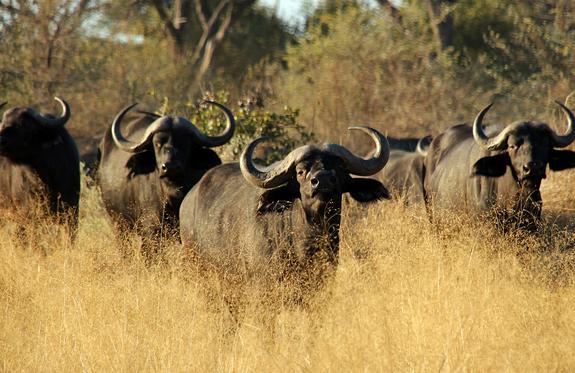 Situated in the east of the Okavango Delta, Moremi Game Reserve ranks as one of the most beautiful reserves in Africa. It covers more than 4871 square kilometres of pristine wilderness, and this varied terrain includes savannah, winding waterways, and dense forest. The diverse ecosystem supports an incredibly wide spectrum of wildlife, ranging from large herds of buffalo, wildebeest and zebra, to the rare sitatunga and lechwe antelope, lion, cheetah and packs of wild dog in the open grasslands. The birdlife is prolific and includes most of the 550 bird species recorded on Botswana's national bird list. A range of luxury lodges in the reserve offers visitors the perfect base to experience this corner of paradise.
Duba Plains Private Reserve
Days 7 - 9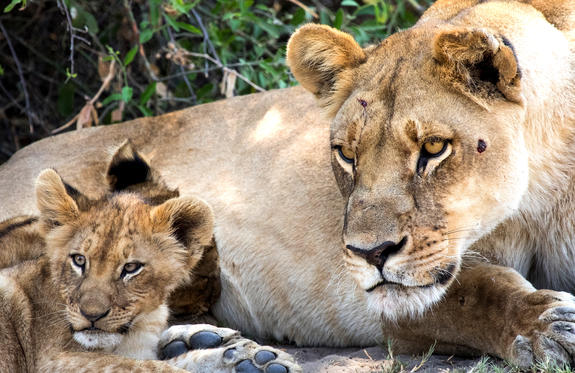 Set in the enthralling Okavango Delta, the Duba Plains Private Reserve is one of the best places to start your exploration of the wild areas of Botswana. The landscape is characterised by vast plains dotted with fig, ebony, and garcinia trees and traversed by a network of pristine waterways. Visitors can look forward to leisurely boating excursions along the tranquil rivers of the Delta, thrilling game drives, and mystical night drives in the African bush to spot a wealth of nocturnal wildlife. Commonly spotted species include hippo, blue wildebeest, hyena, giraffe, elephant, lechwe, buffalo, tsessebe, and warthog. Visitors can spot up to 200 species of bird, take horse riding safaris through the untouched grasslands, and enjoy a glass of wine under the African night sky.
Moremi Game Reserve
Days 9 - 13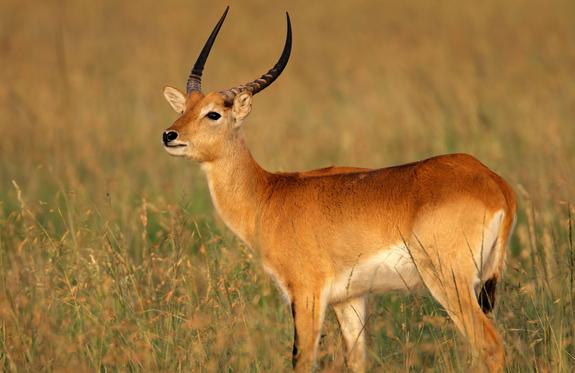 Makgadikgadi Pans National Park
Days 13 - 16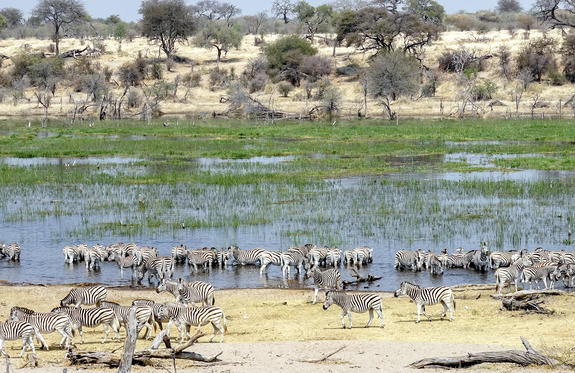 Situated in northeastern Botswana, the Makgadikgadi Pans National Park covers an impressive 3900 square kilometer area and brims with natural wonders. Chief among these is the largest tree in Africa, a world-famous 5300-year-old Baobab. Game viewing is at its best during the wet season - the rains transform the salt pans into a magnificent lake, attracting an abundance of wildlife and, most spectacularly, large flocks of gloriously pink flamingos. The area is renowned for its massive herds of wildebeest and zebra which migrate to the park en masse, followed closely by a variety of predators including lion, cheetah, and hyena. Popular activities include game drives, bird watching, cultural tours of Gweta Village and several ancient historic sites, and 4WD and quad biking excursions on the pans.