Swakopmund
Days 1 - 2
In 1892, eight years after South West Africa was declared a German Protectorate, Swakopmund was founded with the intention to build a harbour. By 1907 a little town pulsating with life had emerged from the desert! Swakopmund boasted the largest European population of all the German colonies in Africa. Decades on and much bigger now, the charming town is as alluring as ever. The mix of Namibian influences with picturesque buildings from the colonial era, palm-lined streets and seaside promenades, the laid-back holiday atmosphere plus the cool sea breeze make Swakopmund one of the most attractive places in the country.
Despite the turquoise waters of the Atlantic Ocean on its doorstep and the Namib Desert as its backyard, Swakopmund is not a tropical sunbathing paradise, however. The moderate climate along the coast is due to the cold Benguela Current. The current also causes the nightly fogs for which the town is famous and which sustain the wealth of desert flora and fauna near the coast. Early mornings and the evenings can be chilly throughout the year – a welcome respite from the inland heat.
Swakopmund has become the country's adventure mecca. The desert, the dunes and the ocean lend themselves to a host of thrilling activities: sandboarding, sand skiing, quad biking, dune carting, beach angling and deep sea fishing, to name but a few, and not to forget parachuting.
There is no shortage of diverse shops, bistros and restaurants. Small specialist shops sell hand-made leather work, art & crafts, hand-woven carpets and wall hangings, hand-embroidered bed and table linen and other items proudly made in Namibia. Superb jewellery, designed and crafted with local gemstones by master goldsmiths, are another special feature of Swakopmund.
Activities other than fun in the sand and the sea: visit the art galleries and buy contemporary Namibian art and crafts; visit the museum to learn about Swakopmund's history; join a tour of Karakulia Weavers and watch karakul wool being spun and woven into wall hangings and rugs; admire the world's largest quartz crystal cluster and other mineral treasures at the Kristall Galerie.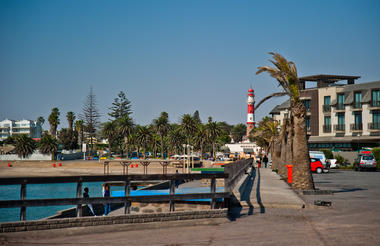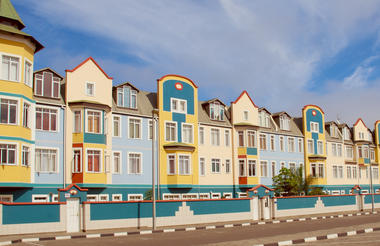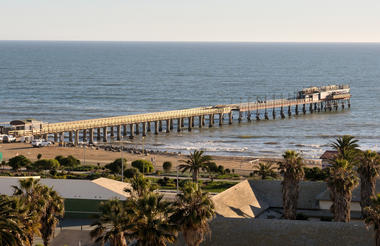 Sesriem
Days 2 - 4
As there is no accommodation at Sossusvlei, visitors to this desert wilderness are likely to end up staying at Sesriem, 65 kilometres away, where camps and lodges serve as a base from which to explore the dunes. Sesriem Canyon, a deep chasm carved through the rocks by water, is a striking natural feature of the area that is best explored on foot. Stony walls rise up sharply on both sides of the canyon, while birds roost in its crags and lizards dart along the ledges. The canyon's name was coined when early settlers used it as a water source, using six lengths of leather ('ses riem – six thongs) tied together to lower buckets into the water at the base of canyon.)