Kwando River
Days 1 - 4
Meandering through the spectacular Zambezi Region in north-western Namibia, the Kwando River forms the border between Namibia and Botswana near the end of its course. The area along the Kwando is known for the game reserves, national parks and wildlife sanctuaries which offer excellent game viewing opportunities. The perennial river attracts plenty of wildlife – large herds of elephants, hippos, crocodiles, turtles, spotted-necked otters, zebra, impala and red lechwe, to name but a few, as well as more than 400 bird species. Accommodation is provided by numerous lodges on the banks of the river.
Activities: Game viewing; bird watching; river cruising; fishing; go camping; relax and soak up the spectacular views of wild Africa.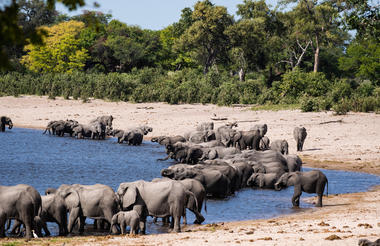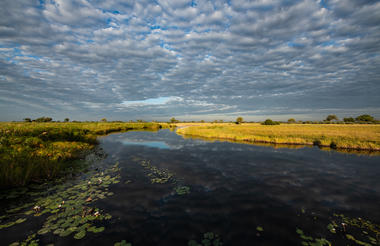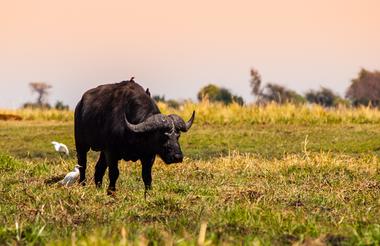 Chobe River Front
Days 4 - 6
The Chobe River forms the northern boundary of the Chobe National Park which is renowned for its diverse and abundant game viewing opportunities. This section of the park is best known for its dense concentration of wildlife, including elephant and hippo populations, but the waters attract all manner of game including large herds of buffalo and the lions that prey on them - a visit to the Chobe River Front guarantees close encounters with an array of African wildlife. Visitors can look forward to a range of exciting activities such as 4WD along the banks; motorboat cruises; and rare birdlife spotting. For a unique, luxury safari experience, hire a houseboat.