Rwanda
The first thing that springs to most people's minds when thinking of Rwanda is its turbulent political history. But today's Rwanda is a far cry from the nation it was in the mid-90s: the country has emerged from the shadows and has much to offer visitors, most notably the tracking of endangered mountain gorillas in the lush Virunga National Park, which extends across the peaks and jungle-covered slopes of the volcanic Virunga Mountains. Other major tourist attractions include expansive Lake Kivu, ancient Nyungwe Forest with its rich population of primate species, and the game-rich savannah lands of Akagera National Park.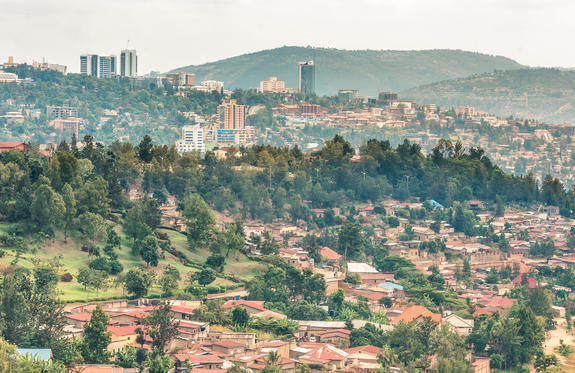 Rwanda's capital and biggest city stretches across undulating lush hills surrounded by towering mountains, the largest of which is Mount Kigali, rising 1850 metres above sea level. Kigali is the country's financial, commercial and cultural hub, served by an international airport and featuring a wide range of accommodation options, restaurants and points of interest, including the Kigali Genocide Centre, an atmospheric market and numerous craft shops. With its interesting architecture, busy streets, meandering boulevards, and green hillsides, Kigali is said to be one of the most attractive cities in Africa and is definitely worth a visit.
Volcanoes National Park
Days 2 - 4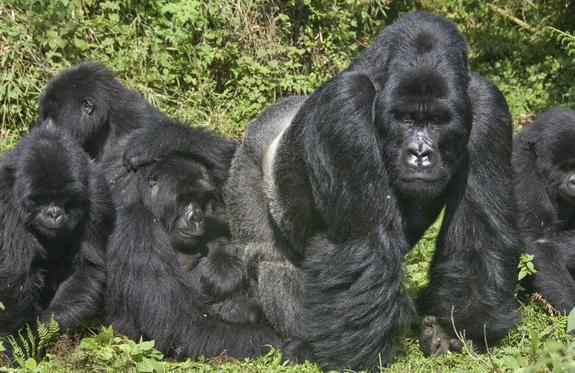 Bordering the Democratic Republic of Congo in Rwanda, the Volcanoes National Park is best known as a sanctuary for the region's rare mountain gorillas. Visitors flock here to experience a face to face encounter with these intriguing creatures. The park is set high on the jungle-covered slopes of the volcanic Virunga Mountains. Highly regulated treks through the reserve allow visitors to spend an hour at a time with these incredible primates in their natural habitat. While the gorilla's are without a doubt the main drawcard, visitors can also look forward to exploring a network of scenic hiking trails, visiting the tomb of the world-famous Dian Fossey and the Karisoke Research Centre, and enjoying a beautiful day hike to the crater lake on Mount Bisoke.
Tanzania
The name Tanzania conjures up images of wildebeest stampeding across vast savannah, rain forests teeming with monkeys and birdlife, and great plains brimming with legions of game. All of these natural wonders and more are on offer in this exceptionally diverse African nation. Visitors typically visit Tanzania to partake in at least one of the four well known Tanzanian tourist experiences: a relaxing seaside vacation on the picturesque island paradise of Zanzibar, an underwater tour of some of the world's most renowned dive sites around the gorgeous Spice Islands, a safari adventure in some of Africa's most impressive game reserves, or a hiking excursion around Mount Kilimanjaro National Park. Whichever of these incredible holidays you choose, you will undoubtedly be welcomed by some fabulously friendly and peaceful inhabitants who, despite being divided into 120 different ethnic groups and cultures, live in harmony with one another and provide some of the most wonderfully exotic local cuisine you could imagine. With all of this diversity on offer, the most difficult part of your Tanzanian holiday experience is likely to be deciding where to go!
Southern Serengeti
Days 4 - 7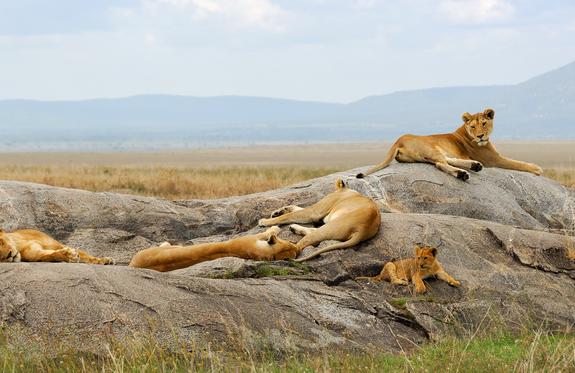 The Serengeti together with Kenya's Masai Mara Game Park form Africa's most famous wildlife park. The image of acacia trees on an endless grass plain epitomises Africa for many, and then add a Masai warrior and some cattle to the picture and the conversation need go no further. The annual wildebeest migration through the Serengeti and the Masai Mara is the largest mass movement of land mammals on the planet – with more than a million animals following the rains. But that is not where the game viewing ends; large prides of lions, elephants and giraffes in grasslands, gazelles and eland to mention but a few.
Singita Serengeti Grumeti
Days 7 - 11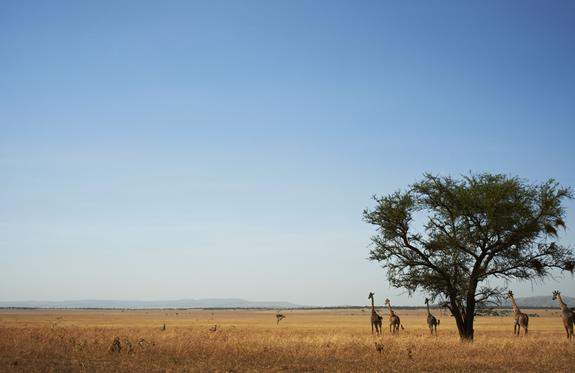 Singita Grumeti is located adjacent to the Western Corridor of the Serengeti, bordering the national park, and encompasses 400,000 acres of unrivalled wilderness. Wide river valleys meandering through the plains, grasslands, woodland and forest. The area forms part of the famous migratory route, which is travelled by hundreds of thousands of animals every year. Grumeti features unparalleled exclusivity combined with the ability to enjoy a wide selection of activities not allowed inside the Serengeti as it not governed by national park regulations. The famous Great Migration, an annual trek of 2 million animals through the Serengeti-Mara ecosystem, bisects our reserve annually. Called The Greatest Wildlife Show on Earth it has, since time immemorial, been the dramatic backbone of this enormous wilderness.
Ngorongoro Crater
Days 11 - 13
Located in Northern Tanzania, the Ngorongoro Crater is best known for its natural beauty and abundance of diverse wildlife; which makes it one of Africa's most popular safari destinations. Surrounded by Tanzania's highlands, this UNESCO-listed crater is said to be the world's largest intact volcanic caldera. Visitors can look forward to spotting the world-renowned Big Five and a host of other wildlife species including large herds of zebra and wildebeest. It is famed as one of Tanzania's best tourist attractions offering visitors an array of wonderful activities including excellent bird watching, trekking, wildlife viewing, mountain biking and visiting a local Maasai village. Don't miss the opportunity to jump on an excursion to the magnificent Olduvai Gorge.