Day 1:
Chobe River Front Namibia
After landing at Kasane Airport you will be met by a Desert & Delta representative who take you to the transfer vehicle for the short drive to Chobe Savanna Lodge.
Set in a classic African savanna environment with sweeping vistas, the focal point of the lodge is a thatched open sided lodge which commands a 270 degree view over the Chobe River and beyond to the Chobe National Park.
As this is a water-based lodge, guests have a choice of aquatic activities. River excursions in small, easily manoeuvrable boats are ideal for close encounters with the wild visitors to the river's edge.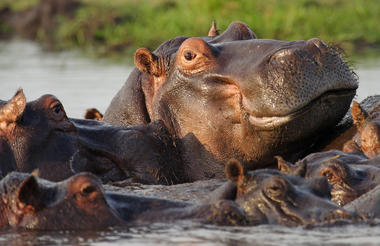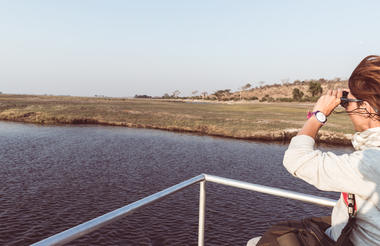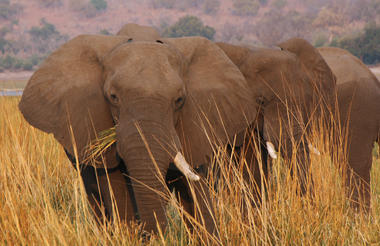 Day 2:
Chobe River Front Namibia
Please see Day 1 Itinerary.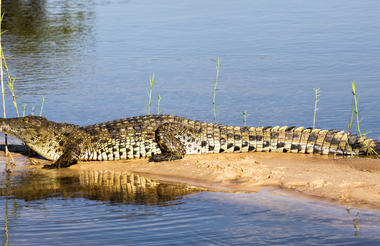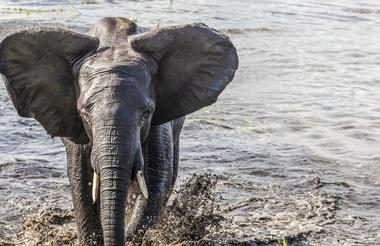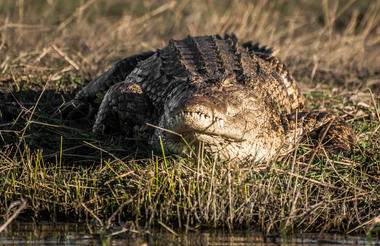 Day 3:
Savuti - Chobe National Park
After breakfast you will be transferred to the air strip for your flight to Savute Safari Lodge.
Located on the banks of the Savute channel, Savute Safari Lodge is intimate, accommodating only 24 guests in cool thatched timber and glass suites.
The area is renowned for its population of bull elephant and for the unique interaction of the resident predator species. The close proximity of wildlife translates itself into the recently refurbished, modern African décor.
Activities are centered around game drives throughout the Savute area in open 4x4 safari vehicles
Many trips will incorporate a visit to the famous Savute Marsh for your chance to see the historic presence of the Savute Channel at the marsh against a teeming backdrop of wildlife.

Guests will also enjoy a visit to the ancient San rock paintings at Gubatsa Hills, a small hilly outcrop which forms a remarkable landmark in the otherwise flat landscape.

Savute lays claim to a spectacularly large summer zebra migration, which is determined by the rains but usually occurs between November and December and again between February and April when the zebras move from the rivers in the north in search of the lush grasslands and full waterholes in the southeast of the park. They are always accompanied by a myriad of predators.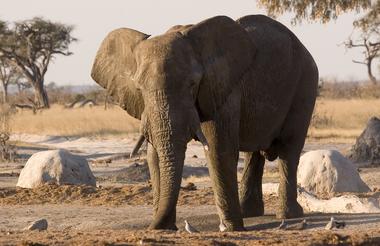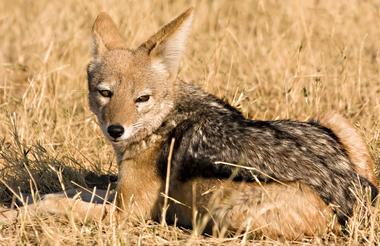 Day 4:
Savuti - Chobe National Park
Please see Day 3 for Itinerary information.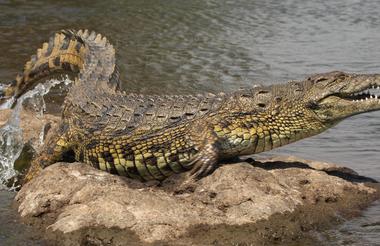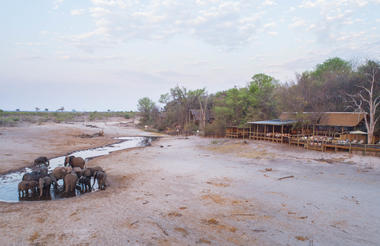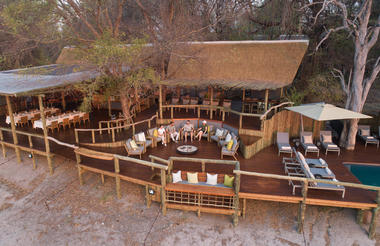 Day 5:
Moremi Game Reserve
After breakfast you will be transferred to the air strip for your flight to Camp Okavango.
Peering out beneath giant ebony trees, Camp Moremi brings true meaning to the word safari in the Xakanaxa area of the Moremi Game Reserve.

Game drives in open 4x4 vehicles, both in the morning and late afternoons, offer frequent sightings of lion, leopard, and cheetah as well as wild dog. Alternatively, guest can explore the Xakanaxa Lagoon and surrounding Okavango channels by motorboat.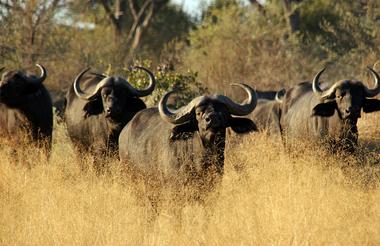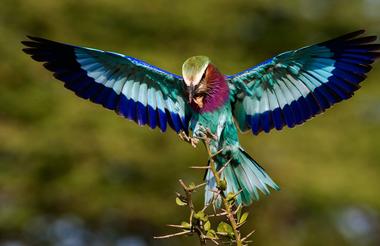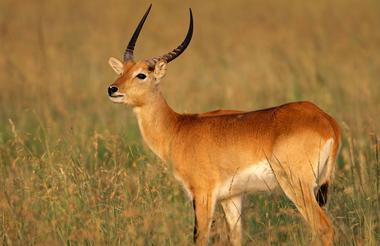 Day 6:
Moremi Game Reserve
Please see Day Itinerary from Day 5.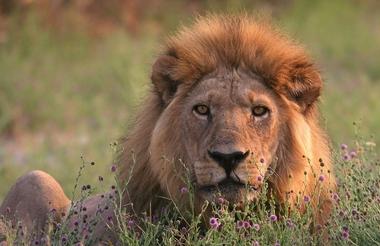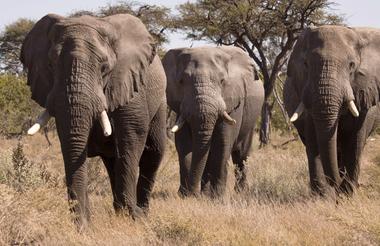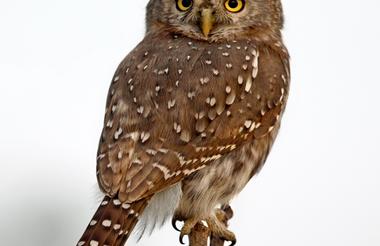 After breakfast you will be transferred to the air strip for your flight to Camp Okavango.
Camp Okavango, a unique and exclusive African safari camp is situated on the remote Nxaragha Island. This hidden treasure, in the heart of the permanent Okavango Delta, assures its guests of an unparalleled year-round water wilderness experience.
Camp Okavango's main area comprises of a network of interconnected walkways linking up two lounge areas, a dining room, library, self-service bar and curio shop. Sweeping ramps lead to the lower level deck with two open-air fire pits and comfortable seating areas to relax and take in the natural surroundings. There is a third deck with a rim flow swimming pool and thatched lounge deck for those warm summer days.
With its open air design and elevated position, the new Camp Okavango is an eco-sensitive lodge which captures the very essence of the Okavango Delta.
To ensure a peaceful and genuine safari experience, Camp Okavango accommodates just twenty-four guests. There are eleven intimate Safari suites and one Family suite consisting of two bedrooms and each with an en-suite bathroom. Each of the guest suites have been built on individual raised wooden platforms and set beneath the thick Okavango Delta vegetation. The en-suite bathrooms have double vanities, double shower and a separate water closet (with a view). The stack away sliding doors open onto a private open-air viewing deck offering beautiful views over the Okavango Delta.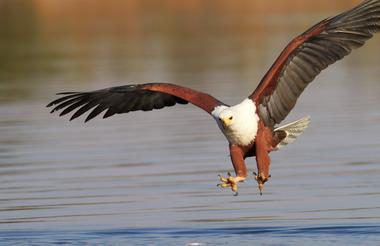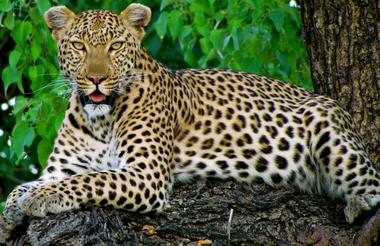 Please see itinerary from Day 7.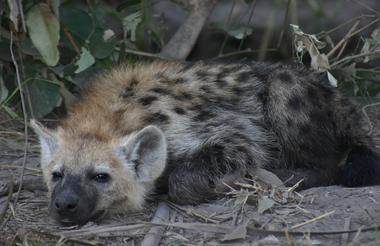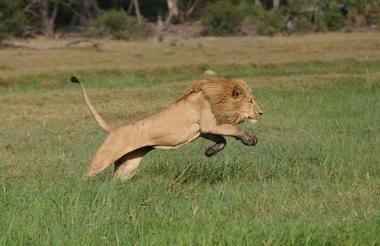 After breakfast you will be transferred to the airstrip for your flight to Maun airport completing your Best of Botswana 8 Night Experience.