Days 1 - 3:
Majete Wildlife Reserve
On arrival in Blantyre you will be met at an agreed time and then transferred across to the Majete Wildlife reserve ready for a 2 night stay.
Majete Wildlife Reserve is one of the outstanding success stories of African conservation. Granted protected status in 1955, it became the subject of extensive poaching in the 1980s and 1990s. But a concerted joint effort since 2003 by the African Parks Network and the Malawi government - including the reintroduction of endangered species - has turned it into a model of sustainable development and biodiversity. In 2012 Majete became a Big Five Park.
Located in the south of Malawi, Majete is an area of 70.000 hectares, part of Africa's Great Rift Valley. The reserve is made up of mature miombo woodlands and granite topped hills that contrast with picturesque river valleys and lush riverine forest. For connoisseurs of wildlife many exciting encounters lie in store, with the chance to view many species including black rhino, leopard, lion, elephant, buffalo, eland, kudu, sable, suni, klipspringer, Lichtenstein's hartebeest and zebra.
Surrounded by 7,000 hectares of private concession, Mkulumadzi enjoys an idyllic location at the confluence of two rivers shaded by giant leadwood trees. It is the perfect combination of splendid isolation and first-class facilities.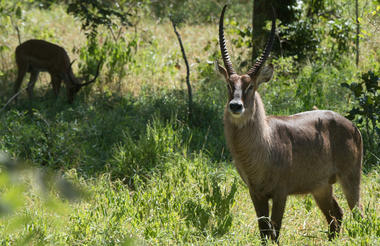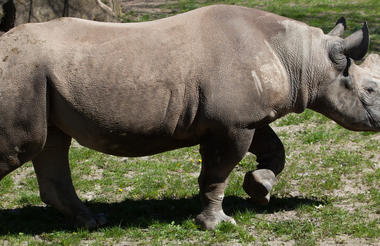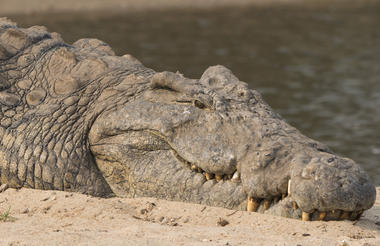 Days 4 - 6:
Liwonde National Park
Mvuu Lodge nestles discreetly on the banks of a lagoon just off the Shire River on the western boundary of the wildlife-rich Liwonde National Park. The main lounge building is set high above the water for long views up-river. Accommodation comprises eight luxurious tents for a maximum of 16 guests, each with en-suite bathroom facilities and a private viewing platform looking out on the lagoon. Lodge facilities include a dining room, pub, lounge area, wildlife library and swimming pool
River safaris
Superb river cruises take in the languid Shire River, providing the perfect opportunity to get close to hippo pods, bathing elephant, crocodile and colourful birdlife.

Nature walks
Enjoy getting closer to the flora and fauna in the park away from the confines of a safari vehicle on a nature walk with an experienced guide. Closed shoes and safari coloured clothing required to be worn. The age limit for guided walks and trails is 16 years.

Game drives
Named after Chief Liwonde who championed its protection, the park harbours very diverse landscapes. Travel through these in one of our well maintained open sided 4×4 vehicles in search of equally diverse wildlife.

Night drives
Enjoy a sundowner at an idyllic spot in the bush before heading out in the dark in search of the varied nocturnal wildlife that makes it home in the park.

Shire River Trail
The Shire River trail is a three-day trek across the park that gives guests the chance to truly immerse themselves in nature.

Birding
Liwonde National Park offers some of the best birding in Malawi. Specials include brown-breasted barbet, Böhm's bee-eater, African skimmer and Livingstone's flycatcher to mention just a few.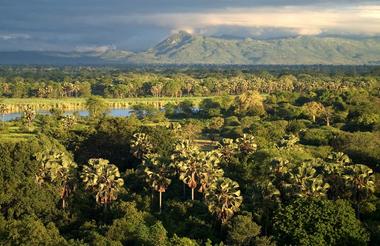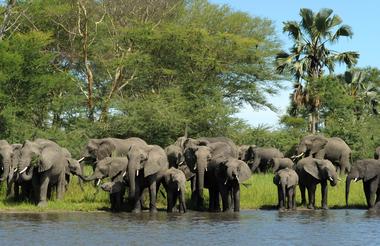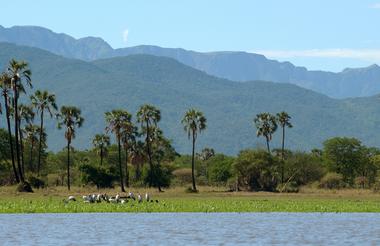 Situated on the west side of the Nankumba Peninsula on the Southern end of Lake Malawi you can find Pumulani subtly nestled in the lush hills amongst the trees and craggy outcrops. The ten villas provide the ultimate in space, design, comfort and privacy.
David Livingstone famously named Lake Malawi "The Lake Of Stars" and for good reason, during the day the light dances across the deep blue water and once the sun has set the stars twinkle brightly both in the sky but also on the lake as the fishermen light up their hurricane lamps for their night on the lake.
Guests can relax on the sandy beach or enjoy an elevated view of the lake from the stylish infinity pool. For those seeking some activity we offer waterskiing, sailing, kayaking, walks in the hills, sunset cruises on our hand built dhow and snorkeling and diving. Under water activities never fail to amaze as the diversity of fishlife is very surprising and experts say that this lake is home to more native fish species than any other in the world.
Pumulani offers the perfect mix for a memorable holiday. Enjoy being active or simply relax in the beautiful and tranquil scenery.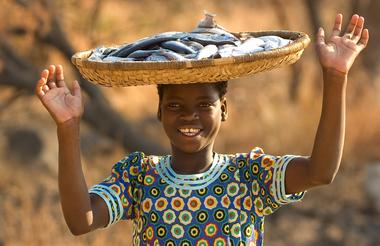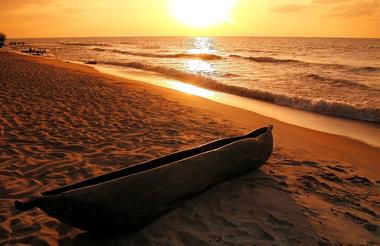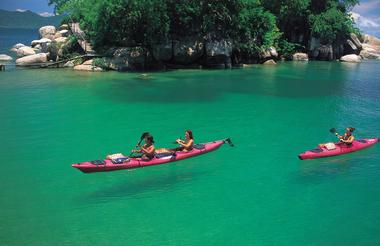 Days 10 - 14:
South Luangwa National Park
The South Luangwa Park is 9050 sq. kilometer; with the river, its tributaries and the riverine strips being the focus of the wildlife viewing. There are diverse habitats, from huge ox bow lagoons of varying stages of maturity, woodlands, ebony groves, grassland and thickets, that host a great variety of wildlife. The birdlife is also excellent with over 450 species to be seen.
Nkwali is located on the banks of the Luangwa on a magnificent meander in the river overlooking the National Park where leopards roam along the bank and can often be spotted from camp.
Game drives
· An option of day or night drives.
· Toyota Landcruisers with two tier seats (three tier for groups / families) are used - a "window" seat (i.e. two people per row) for everyone.
· Open top vehicles, affording you total 360 degree vision.
Walking
· The walks are led by our knowledgeable guide, and escorted by an armed National Park scout.
· Our guiding team is very passionate and will certainly impart some amazing bush insights at a level that will surprise you.
Seasonal Boating - A special treat indeed for guests in the Emerald Season.
· From end December/January to around April.
· Explore the lagoons for enhanced game viewing and birding.
Village Tours
· A visit to Kawaza Village and the schools is often remembered years later by our guests as the most rewarding part of their visit to Africa. This gives a more holistic experience of the Luangwa Valley.
· Alternatively take a stroll within the community around the Mfuwe area which is bustling – small "dukas" (shops), the market, bars, and people offering various skills.
Wildlife Education Centre
· A charitable trust for the school children of the Luangwa Valley to teach them about wildlife and conservation.
· Great activity for the children especially.
Tribal Textiles
· For unique locally produced hand-painted textiles, drawing inspiration from the stunning Zambian wildlife and surroundings.
· A perfect place to buy a souvenir or two of your Zambian experience...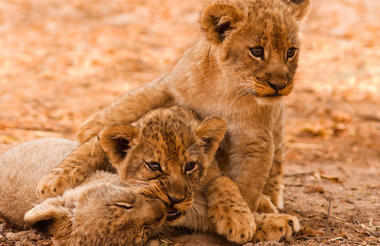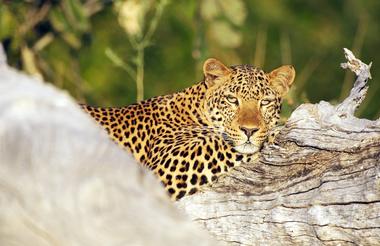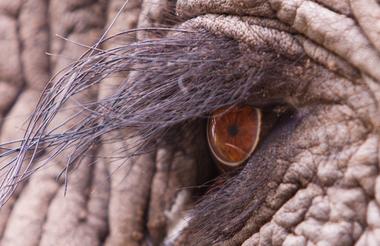 Days 15 - 17:
Kafue National Park
22,400 square kilometers of pristine African bush to explore in open 4x4 game viewers, by boat on the mighty Kafue River or using your own two feet in the form of walking safaris. 40% of all of Africa's water flows through Zambia and the Kafue River –the major lifeline of this park – is one of the largest rivers in the country. This unexplored gem of a park is enticing for it's incredible diversity of wildlife and it's sheer quantity of big game.
The park was established in the 1950s by the legendary Norman Carr but despite it's size, diversity and wealth of game remains largely unexplored.
Ila Safari Lodge has 10 state of the art luxury safari tents perched each on their own deck reaching out over the banks of the Kafue River.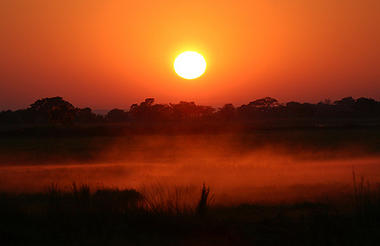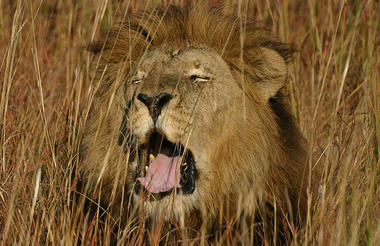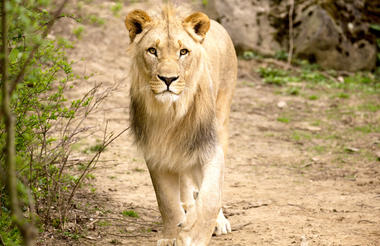 Days 18 - 20:
Victoria Falls (Zimbabwe)
You will be met at Livingstone Airport and transferred to Gorges Lodge, here you have activities included such as a tour of the falls, gorge-edge walk, black eagle viewing, village tour and a sundowner cruise.
There are many activities available in the falls areas and we are happy to provide details and book these for you.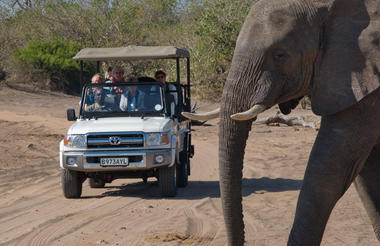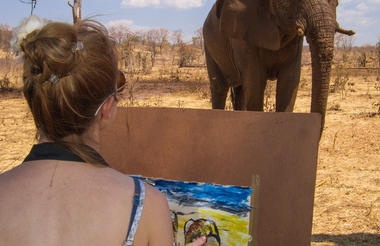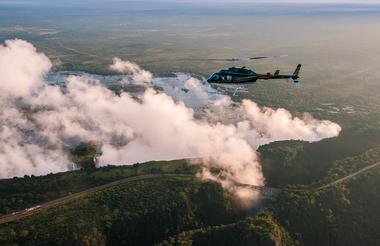 Day 21:
Victoria Falls (Zimbabwe)
Today you will be transferred across to the Vic Falls Hotel. We recommend having lunch or afternoon tea on Stanley Terrace. It is a peaceful and relaxing way to spend the afternoon, surrounded by colonial style architecture.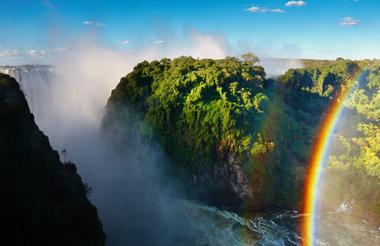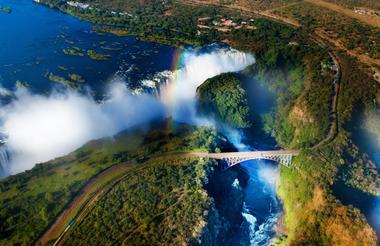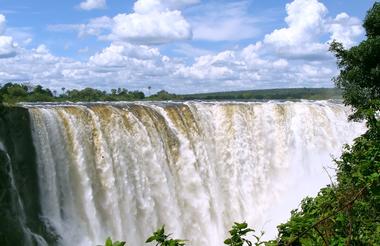 Days 22 - 24:
Eastern Hwange National Park
Arrangements will be made for a visit to the Painted Dog Centre.
Today you will have a transfer to Dete station to meet the Elephant Express train into Hwange where you will be met by your transfer to Camelthorn and then have a game drive through the park to the lodge.
Whilst here your activities are game drives and walks, that can be arranged at the lodge directly.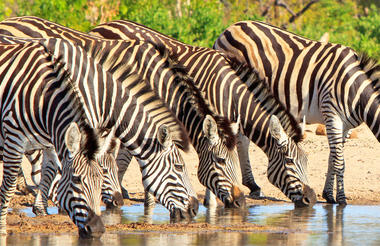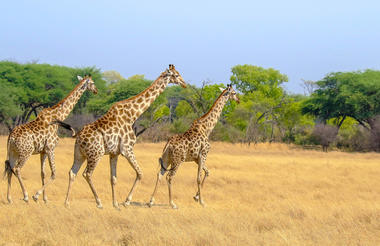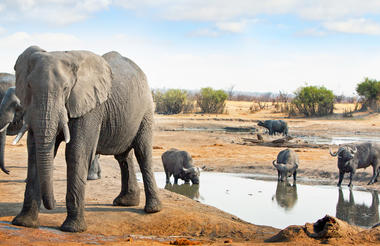 Days 25 - 27:
Southern Hwange National Park
Today you will have a game drive through the park to meet Somalisa and be transferred to the camp. Located on an excellent concession for game you will be able to explore the park by foot or vehicle.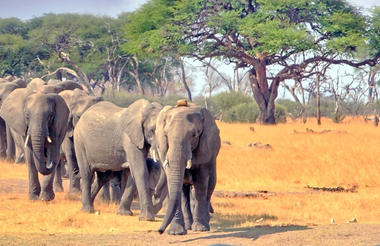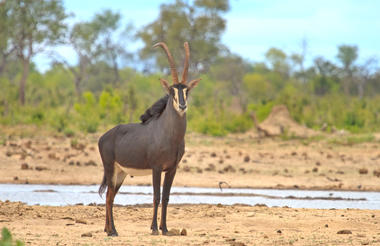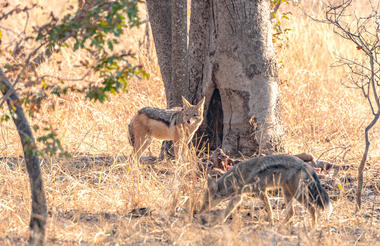 Day 28:
Matobo National Park
Today you will have a transfer to Hwange Main Camp where you will be met by Driving you Wild and transferred to Amalinda Lodge. Here you can go on hikes through the scenic hills, track rhino on foot in the national park, have guided walks to see rock paintings and Cecil Rhodes grave as well as game drives in the park.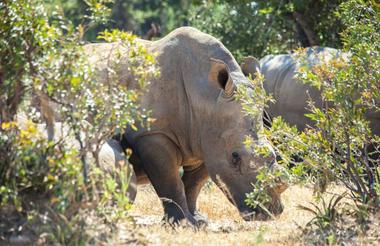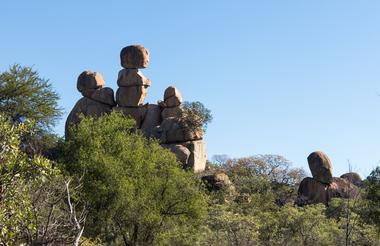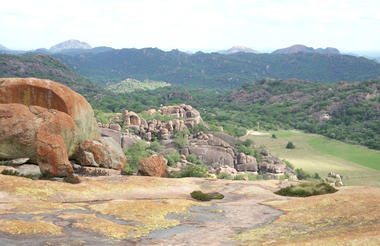 Optional
Malindidzimu (Worlds View)
Day 29:
Matobo National Park
Today you will have a private tour of the Khami Ruins and a Bulawayo City Tour.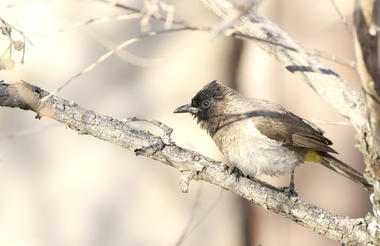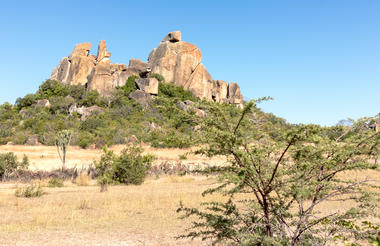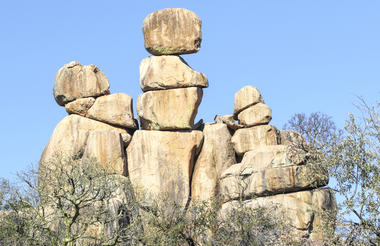 Days 30 - 31:
Matobo National Park
Free time to undertake activities in Matopos National Park.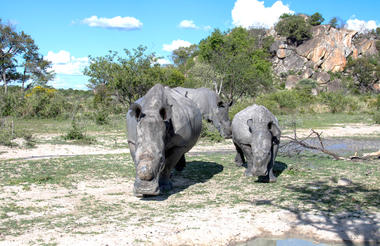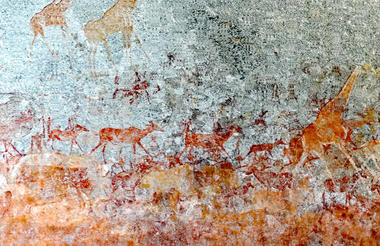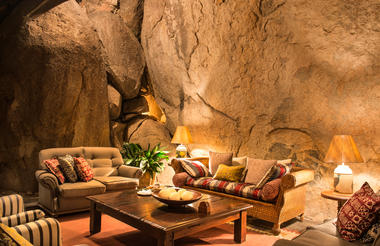 Optional
Malindidzimu (Worlds View)
Day 32:
Great Zimbabwe Ruins
Today you will transfer across to Norma Jeans Lake View Resort ready for a one night stay.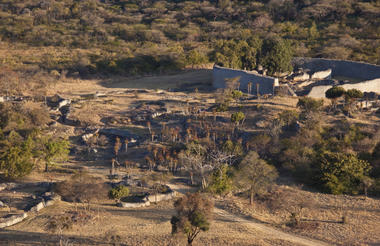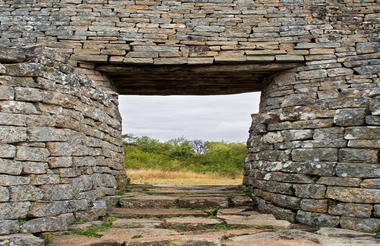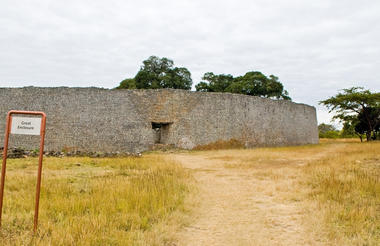 Day 33:
Great Zimbabwe Ruins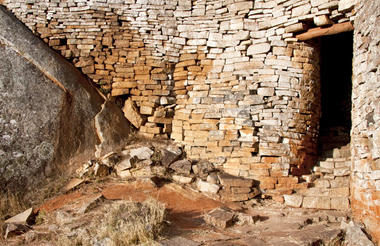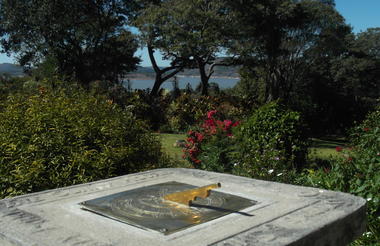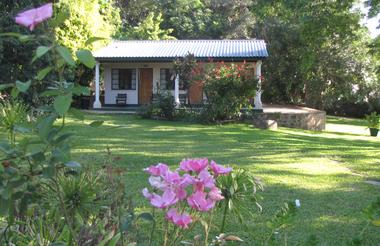 Today you have an included tour to the Great Zim ruins. We recommend you hire a local guide at the ruins, and your driver can assist with this.
Following the tour of the Zim ruins you will transfer across to Harare for a 1 night stay.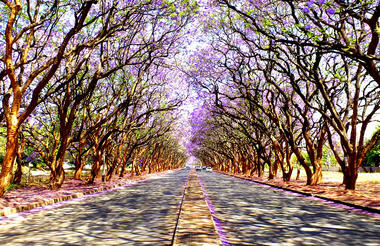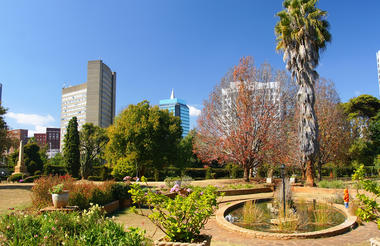 Sadly your final day has arrived and you will have a transfer of an hour to Harare Airport in time for your flight home.