Today we will organise a transfer for you from Kasane Airport, Botswana over the border to Katima Mulilo in Namibia. It sounds quite a trek but in fact the whole journey only takes around 1 to 1.5 hours. Your driver will have refreshments on board for you and will help you will any necessary paperwork at the border crossing.
On arrival in Katima Mulilo you will pick up your 4x4 vehicle which will be waiting for you and then you can head for your accommodation for the next three nights, the Zambezi Mubala Lodge.
The vehicle comes with standard insurance but other levels of cover are available upon request.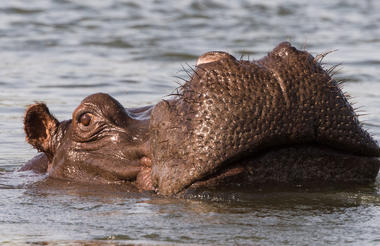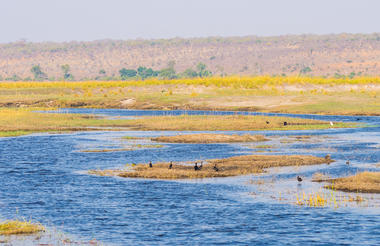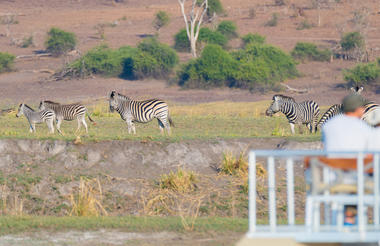 Expert tips
A private transfer from Botswana and into Namibia is a relaxing way to cross country borders without any stress and your driver will be on hand to answer any questions you may have along the way
Included
Private Transfer from Kasane Airport, Botswana to Katima Mulilo, Namibia
One way drop off fee for your vehicle
A bird-lover's dream, Zambezi Mubala Lodge is home to over 450 species of birds and hosts the springtime visit of one of the largest colonies of carmine bee-eaters in Africa. These bright and cheerful visitors nest along the banks of the majestic Zambezi between the months of August and December, filling the air with sound, activity and colour as they flash crimson breasts, swooping and rising into the air in an exuberant burst of energy.
The lodge sits on the banks of the Zambezi and it is just a short walk to the carmine bee eater colony along the river bank. A sunset cruise is a perfect way to end your afternoon before a sumptuous al fresco dinner in the open air restaurant.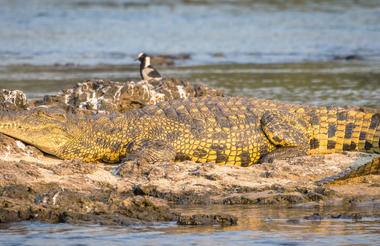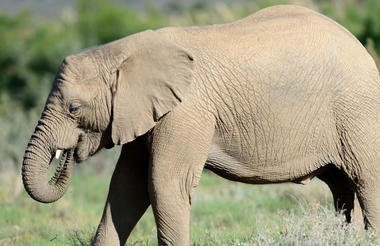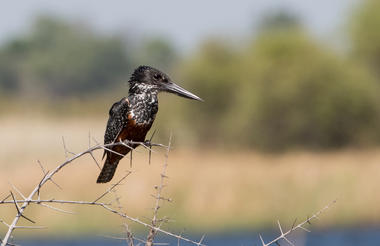 Expert tips
The lodge is positioned on the banks of the Zambezi and offer other kinds of activities as well as great birding. Tiger fishing here is excellent and rods can be hired at the lodge and a guide will take you out to the best parts of the river. Sunrise and sunset cruises are also very popular and there is no better way to end a day than slowly floating down the river with a sun downer in your hand watching the sun set.
Today you could drive to nearby Nkasa Rupara National Park ( also known as Nkasa Lupala and Mimili NP! ) This park is a series of wetlands and floodplains and for a proportion of the year is impassible to vehicles but in September you will be fine. A great spot for birding amongst the reedbeds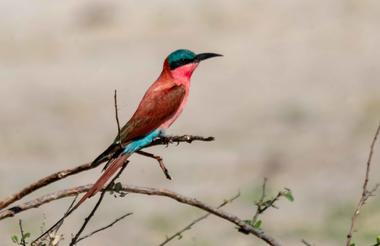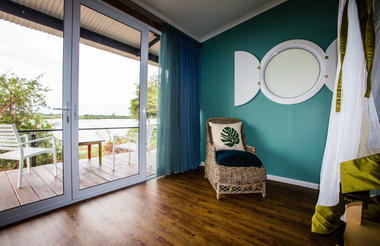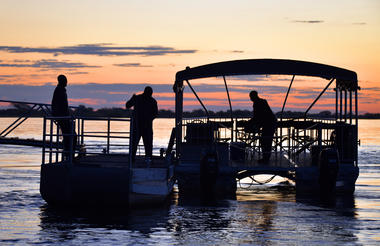 Expert tips
The Kwando River runs along Nkasa Rupara's western border and then changes course to become the Linyanti River, forming the park's south-eastern boundary. It is the same river but is known by different names in various areas. The northern border abuts the Balyewa, Wuparo and Dzoti communal area conservancies The entire area is flat. Most of the park consists of channels of reed beds, lagoons and islands. Nkasa Rupara has relatively narrow, permanently filled main channels of the Kwando/Linyanti River and several periodically flooded channels.
You head west this morning through the Bwabwata National Park until you reach Nunda River Lodge. This lovely lodge is built on the Okavango River and the individual tented chalets sit right on the banks of the river.
If you arrive too late to drive to the park then a relaxing and rewarding start to your stay at Nunda is on a sunset cruise down the Okavango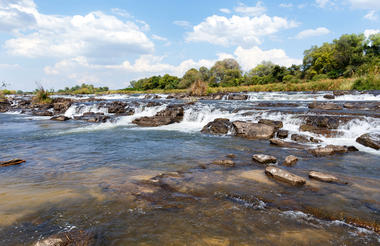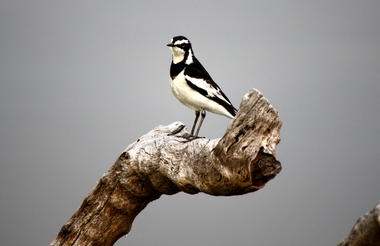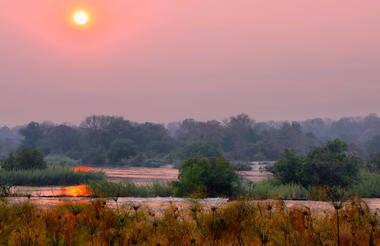 Expert tips
From here you can drive daily to the Mahango National Park which sits on both sides of the river. The east has vast herds of buffalo on the flood plains and deep riverine woodlands which is home to many species of birds while the western side is known for its huge Baobab trees and rare sightings of wild dogs, roan and sable antelope, lion, cheetah, leopard, elephants and ground hornbills
As well as nearby Mahango, there are over 450 species of birds in this area and the lush grounds of the lodge offer great birding opportunities for those who are happy to sit quietly with a pair of binoculars
The park is just a few kilometres from your lodge and is split into two sections, one on each side of the river.
The western section of Mahango has three main roads that meet at the Botswana border. The southern road is the most beautiful and has an interesting mix of habitats that support a diverse number of both mammal and bird species that are not seen elsewhere in Namibia. This includes sable and roan antelopes, wild dog and many more.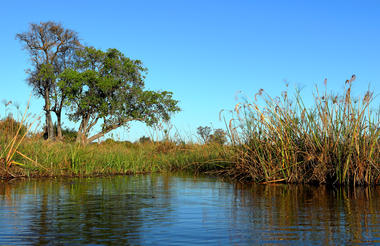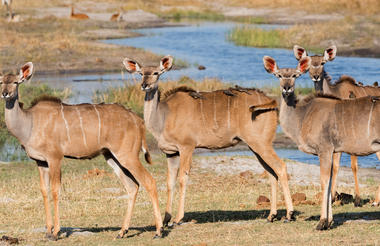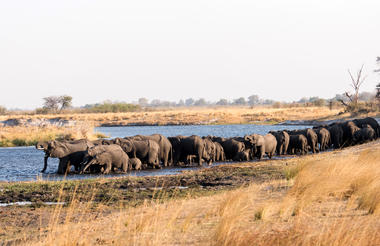 Expert tips
The western section of Mahango has three main roads that meet at the Botswana border. The road closest to the river is the most beautiful and has an interesting mix of habitats that support a diverse number of both mammal and bird species that are not seen elsewhere in Namibia including Ground Hornbills and Souza Shrike. This includes sable and roan antelopes, wild dog and many more.
The eastern side of the park is known as Buffalo Core and living up to its name often has vast herds of buffalo grazing on the flood plains There are areas of deep riverine woodlands which are home to many species of birds and the watery grasslands and channels house many species of waterbirds including Allen's Galinule, Pied and Malachite Kingfishers and Black Crake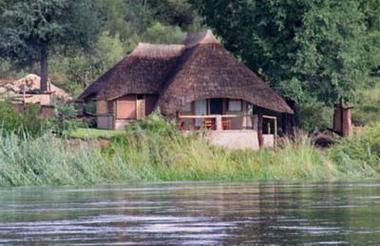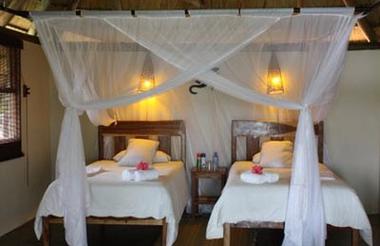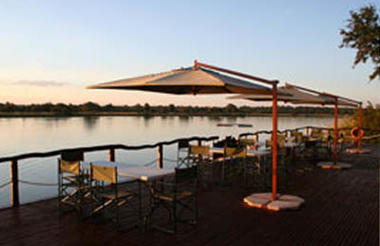 Expert tips
Just south of your lodge on the road to Mahango west is an area of rocks in the river which is one of the few places where you can find Rock Pratincole. Ask locally for directions.
Day 7:
Onguma Game Reserve
A long drive today so try to get away as early as possible. The long tar road west and south is a good straight road so after you have passed through the local villages where there are speed restrictions you should find the drive easy.
A good lunch time stop is Roy's Rest Camp on the right hand side just north of Grootfontein. This quirky lodge is a well known birding hot spot and is one of the few places to see Bare-Cheeked Babblers in Namibia.
Onguma Game Reserve is just outside of Etosha's eastern gate on the right hand side of the road.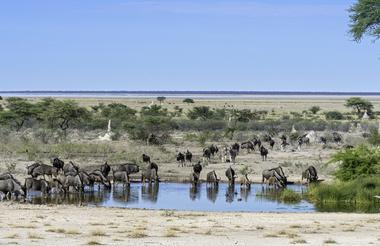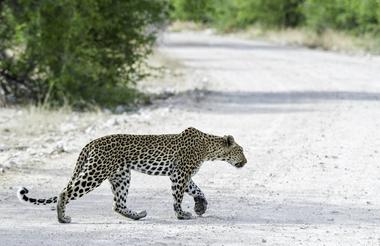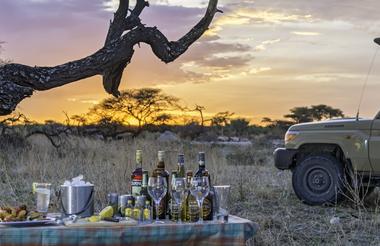 Expert tips
There is a veterinary checkpoint en route to prevent the spread of foot and mouth. and the officers will ask you details of your travel arrangements and will check you are not carrying meat products. They may spray your tyres with disinfectant and ask you to step on a disinfected pad. Once checked they will wave you on your way.
Day 8:
Onguma Game Reserve
Onguma sits right on Etosha's eastern boundary and shares a fence with the park. The reserve has many of the species found in Etosha and Tree Top Camp has its own waterhole which is easily viewable from your own deck.
The eastern side of Etosha can be very rewarding and has a number of large lion prides in the area as well as 2 hyena dens. Cheetah are seen here regularly and this area is the best place to see Damara Dik-Dik.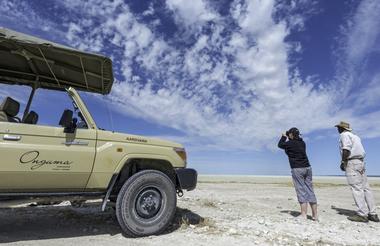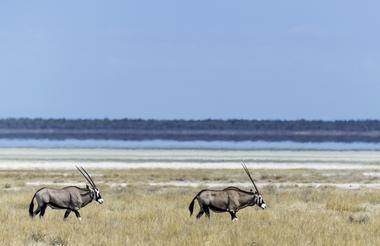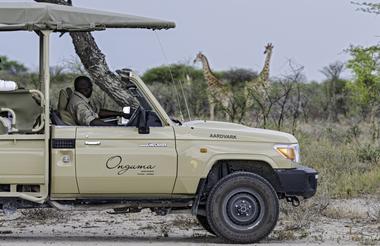 Expert tips
You will receive a copy of Kathryn's book "The Photographer's Guide to Etosha National Park " which should help you find the key waterholes and wildlife hot spots but have a look at the sightings book in Namutoni Camp reception for up to date sightings.
Park Permits - When you enter the park you will be asked how long you are staying. At this point I suggest you explain you are staying at Onguma for 2 more nights but will be going into the park daily and are then staying for another 5 nights inside the park. This means you can drive to reception and pay for all 7 days in one go and not have to queue each day.
Day 9:
Etosha National Park
Today you head to the central area of Etosha to Halali Camp.
This area is dominated by both mopane woodland and open plains that roll all the way down to the giant salt pan. The floodlit waterhole is a real bonus at this camp with large herds of elephants coming nightly to drink and bathe along with frequent sightings of black rhino.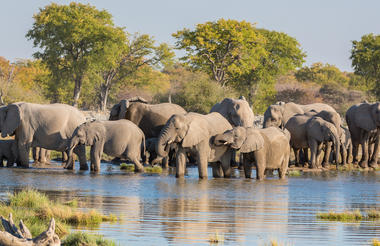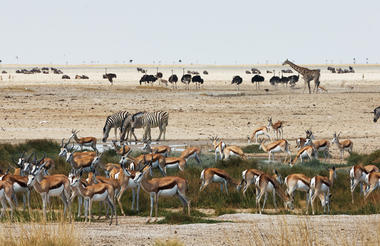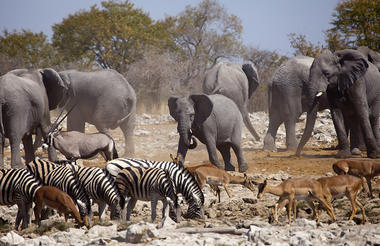 Expert tips
The waterhole viewing area is high up on rocks with the waterhole below you. To get the best view you will need to get there before sunset so you can sit on one of the front seats/rocks. It is helpful to take a head torch with you.
The camp is home to several species of owls and the best way to find them is by asking the security guards who generally know where they roost. Honey badgers are often seen at night around the camp as are bush babies.
Day 10:
Etosha National Park
A second night at Halali gives you the opportunity to cover both the centrally wooded area east of the camp and the rolling plains at the edge of the pan north of camp.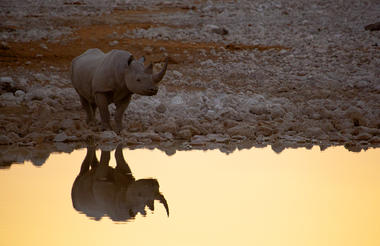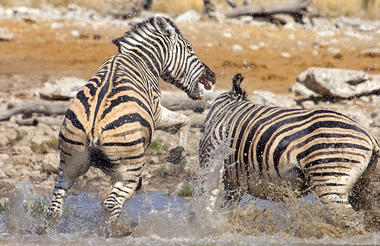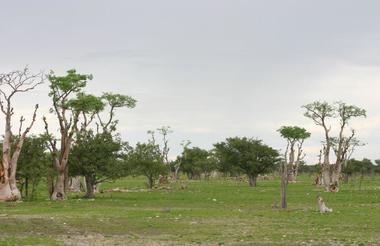 Expert tips
Key waterholes/areas around Halali include Helio ( which is dry ) but has a huge rocky outcrop which is home to a big male leopard who is often seen on the rocks, Goas which is excellent for elephants and several eagle species and Nuamses a small but lovely waterhole deep in the woods which is a favourite elephant bathing spot
70 kilometres further west is Okaukuejo Camp where you will spend your last 3 nights in Etosha. Okaukuejo's floodlit waterhole is world famous and is as active by night as it is by day. At dusk large elephant herds often come to drink, bathe and dust themselves and throughout the night black rhino come to drink and socialise.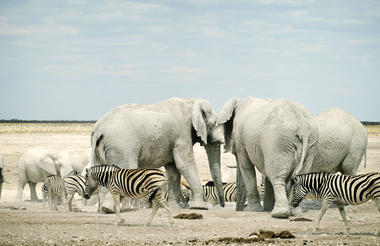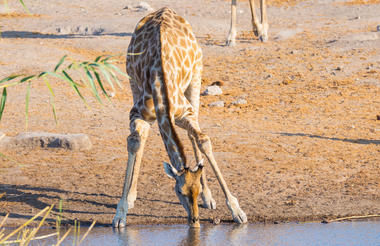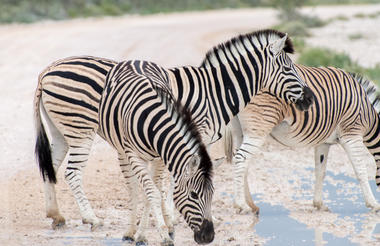 Expert tips
En route are several key waterholes including the trilogy of Salvadora, Charitsaub and Sueda. This is home to a large lion pride and often they are seen in this area waiting for the thousands of zebra and springbok that leave the safety of the woods where they have spent the night to drink and graze out on the plains.
From Okaukuejo there are several key areas and waterholes to check out.
It is worth driving east as soon as the gates open to Nebrowni waterhole just 8km away. This is a favourite drinking hole for the big carnivores before they go and rest up for the day. It's a very open area so it worth sitting a while to see what is coming before moving on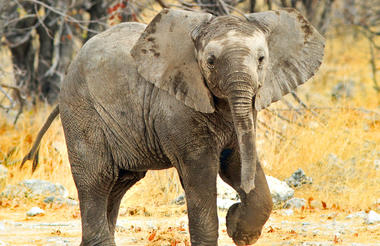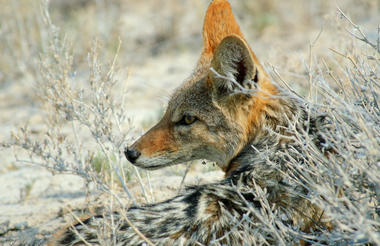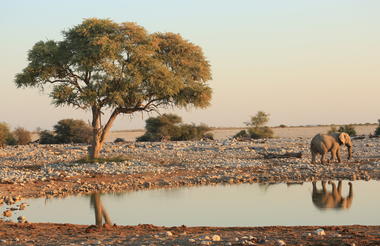 Expert tips
After Nebrowni head down towards Gemsbokvlakte and on to Olifantsbad ( Elephant's Bath ) which is within the mopane woodlands. Here you will find some of the woodland species such as Black-faced Impala, Kudu and Red Hartebeests. Namaqua and Double Banded Sand Grouse love this waterhole as do Helmeted Guinea Fowl which in turn attracts a number of raptor species
The area north and west of Okaukuejo is an area of wide open plains as far as the eye can see.
The two key waterholes here are Okondeka and Ozonjuiti m'Bari. Okondeka is home to a very large pride of lions that sit hidden amongst the dunes and tussocks which lead to the trickle of water that runs into the salt pan. Sometimes hundreds of plains game can be seen drinking from this vital water source and the scattered bones prove that the lions make the most of this daily occurance.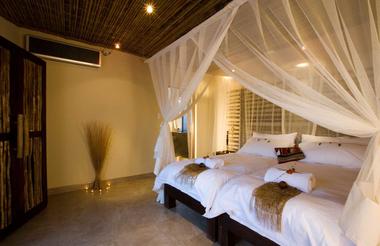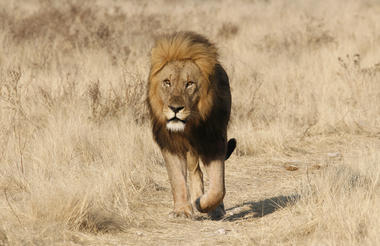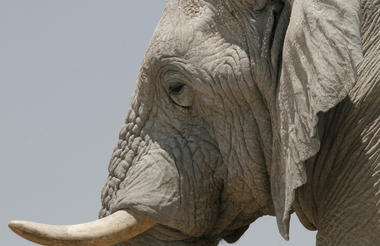 Day 14:
Okonjima Nature Reserve
You leave the park this morning for the 3.5 hour drive to Okonjima. It is tar all the way so you will make good progress.
When you arrive at the gates to Okonjima you have a further 24 kilometres on dirt road before you arrive at the lodge itself.
When you check in you will be given options and timings for your activities and meal times before being shown your luxury room.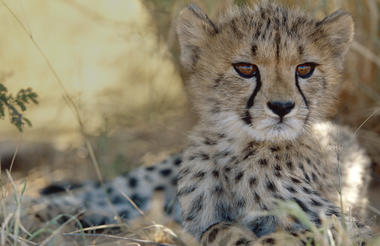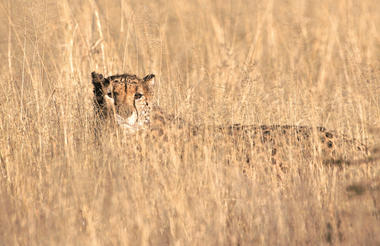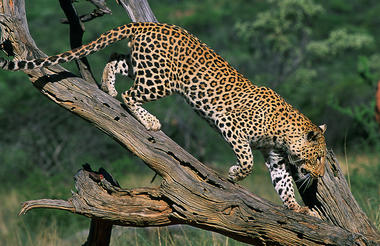 Expert tips
Try to leave Okaukuejo when the gates open which will give you chance to stop at a couple of waterholes en route out of the park and some extra time in case you get a fantastic sighting on the way. Ideally aim to arrive at Okonjima by midday so you have time to have lunch and enjoy your rooms before tea and cakes prior to your afternoon trail.
Ensure you have all your exit paperwork to hand when you leave.
Included
We have included 3 activities per person during your stay at Okonjima
Day 15:
Okonjima Nature Reserve
You will receive an early morning call today so you have the chance to enjoy coffee and muffins before you set with your guide on your am trail.
Leopard tracking is often rewarding in the early mornings as the carnivores are still prowling or have made a kill overnight.
By 9.30 you will return to camp for a hearty breakfast before you can retire to your rooms to rest or perhaps enjoy one of the self guided hiking trails on the property.
Your second activity of the day could include the endangered species trail which is often done later in the evening as you will be looking for some of Namibia's rarest nocturnal animals including Aardwolf, Aardvark, Pangolin and Brown Hyena.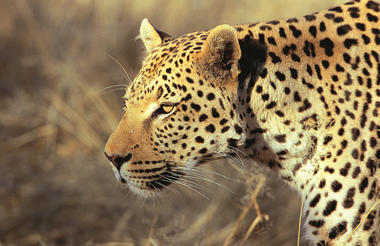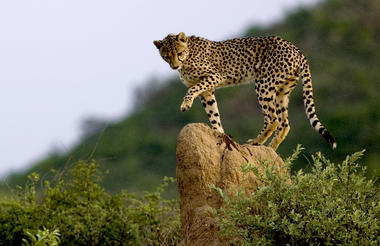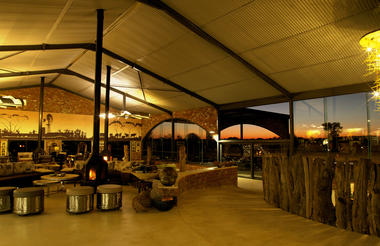 Expert tips
Birding at Okonjima is usually very rewarding with some specialist species such as White-tailed Shrike and Monteiro's Hornbill
After an early breakfast you retrace your steps heading north again before turning west towards the small town of Kamanjab, home of the Himba.
The road is tar until this point and then it turns to gravel for the next 116km. This is a very scenic road after you get to the top of the Grootberg Pass as the road winds down to the valley below showcasing the unique mountains around Palmwag/Etendeka.
There is a good chance of seeing desert elephants on this road and evidence of their existence is often found along the road!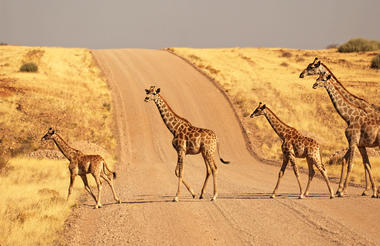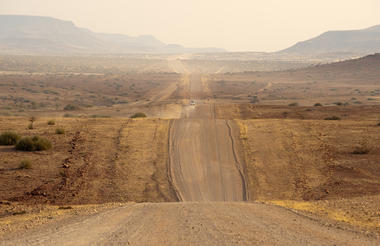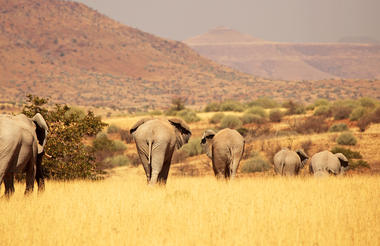 Expert tips
Kamanjab is a good place to refuel just in case they have run out at Palmwag
Just before Palmwag you will get to another veterinary fence where you will be asked where you have come from and your destination. All routine stuff.
You will leave your vehicle at Palmwag Lodge in one of the parking bays and will be collected at 4pm by the guides at Etendeka and driven to the lodge 18km away. You will need to take everything you need for the next 2 nights with you but if you prefer to decant a few things into a smaller bag then the rest of the belongings will be perfectly safe locked in your vehicle.
Your drive in often becomes a nature drive and there will be a cold gin and tonic waiting for you on your arrival
Palmwag has a lovely pool bar that serves draught beers and excellent lunchtime snacks
Today you will enjoy being in the middle of one of the most remote and beautiful parts of Namibia. Etendeka is a legendary camp, here you can enjoy the total solitude, the magnificent scenery and with luck Damaraland's famous desert lions, elephants and black rhinos along with giraffes, oryx, springbok, zebras and other resident herbivores. Your days will be spent in search of wildlife and your evenings will be spent around the campfire back at the lodge discussing the highlights of the day before a million stars come out.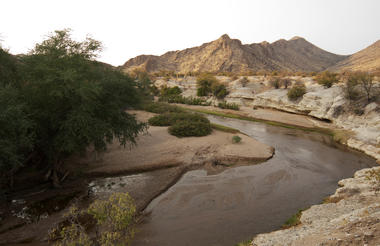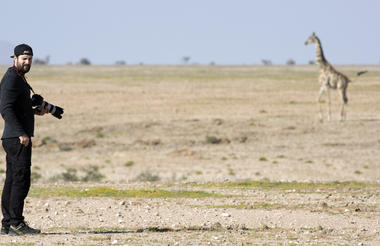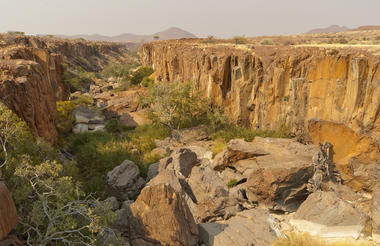 Expert tips
Etendeka gives you the opportunity to totally relax in one of the most pristine and remote areas on earth. The landscape dwarfs you and guests often describe it as a humbling experience. The scenery is breathtaking, the wildlife runs wild and free and the hospitality genuine and warm
You head towards the coast today turning south when you get to the ocean. This is the Skeleton Coast National Park so you will need to pay your day permit to travel through to Swakopmund and beyond to Walvis Bay and your next two nights at The Rez Guesthouse.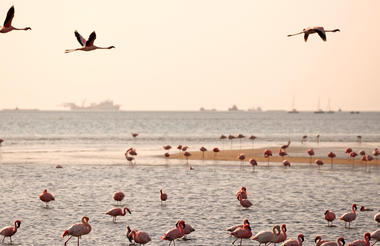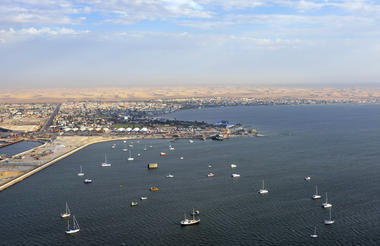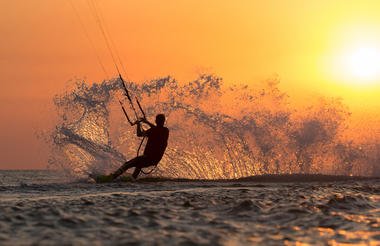 Expert tips
This will be your longest driving day as you will be on gravel all the way but the scenery is lovely for the most part and, time permitting, you could stop at the Cape Cross Seal Colony en route
For your full day in Walvis Bay we can organise a marine tour for you in the morning and then you will have time to enjoy the lagoon at your own pace in the afternoon.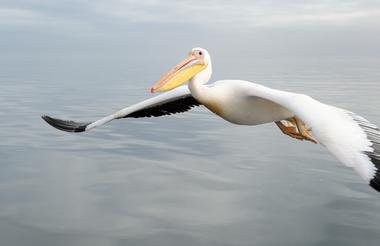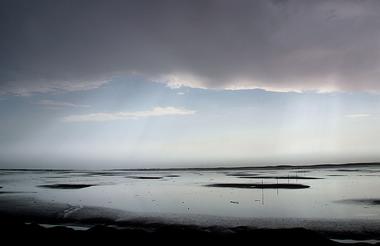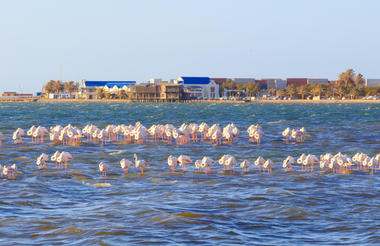 Expert tips
There are a 250 plus species of birds in and around the Walvis Bay area and most can be viewed from the lagoon promenade.
It's worth driving down to the salt works at the end of the lagoon and driving along the dirt roads there as many species of waders can be found dibbering along the shoreline and this is also a good area to find Namibia's Damara Tern
Try to set off as early as possible today for the long drive to Sesriem. The first half of your journey will seem a little dull but soon the scenery changes and you will pass through two canyons ( the Gaub and the Kuiseb ) before getting into some dramatic desert scenery.
A quick stop at the one horse settlement at Solitaire and the bakery there giving you a chance to buy its famous apple crumble before continuing for the last 2 hours to Sesriem
Your accommodation is Dead Valley Lodge which you will find just inside the park. After completing gate formalities and paying you park fees drive down the tar road for just a few minutes before finding the entrance to the lodge on the right hand side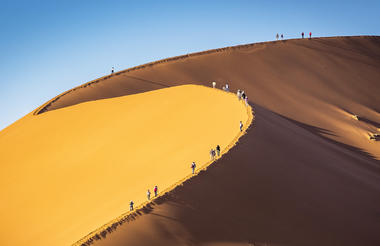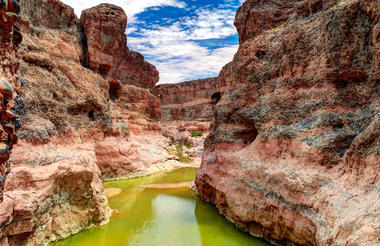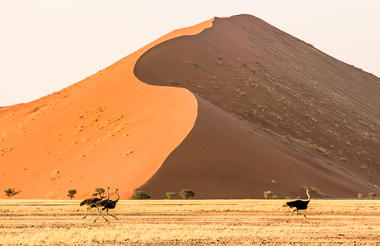 Expert tips
Between Walvis Bay and Windhoek there are only 2 fuel stations so best to refuel on the coast and then again at either Solitaire or Sesriem
A very early start for you this morning to drive to Sossusvlei and Dead Vlei for sunrise. You still have 70km to go until you get to Dead Vlei so it is important to ask for a breakfast pack and set off as soon as you feel comfortable.
There is a 2x4 car park where people park and get a shuttle ride on through the sandy 4x4 track to both Dead Vlei and Sossusvlei - or you can go for it yourself. Your vehicle is equipped for sand and even if you get stuck there will always be lots of people on hand to help get you out.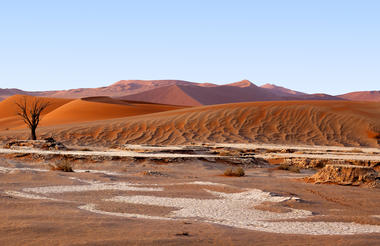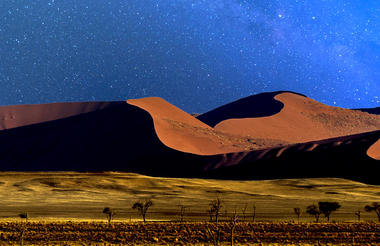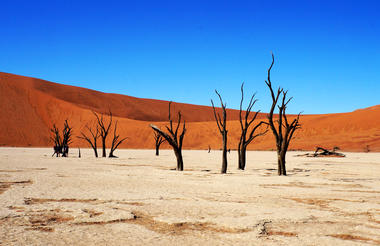 Expert tips
Many people are happy with just one visit down to the biggest dunes in the world however, some people also return for the sunset.
Other good afternoon/sunset options include a walk down Sesriem Canyon, with its narrowing sides and rock pools and a sundowner on nearby Elim Dune is always a nice way to end the day. The area is very good for wildlife with oryx, springbok and ostrich returning from the grasslands to the safety of the dune and there is a very large sociable weaver's nest in an old Ana Tree and they return at dusk in their droves to the safety of their nest
After another hearty breakfast you drive back to Solitaire before turning right towards Windhoek over the Spreetshoogte Pass. This is a very high pass and the view from the top is spectacular.
This is the most scenic route back to Windhoek but ensure you give yourself enough time to get back to the car hire depot where you can drop off your vehicle before being transferred to Hotel Thule or another hotel of your choice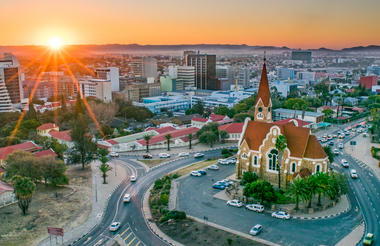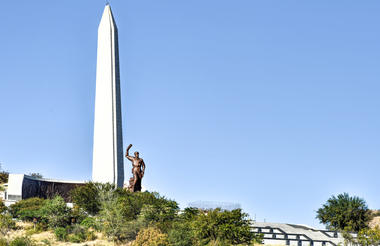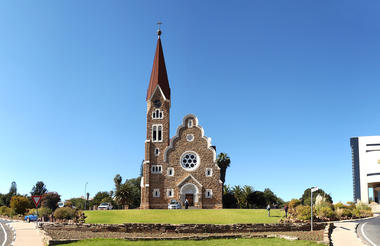 Today we will organise a transfer from your hotel today back to the airport in good time for your onward flighs