AIRPORT - WINDHOEK (ca. 42 km / 0:30 h)
After arrival at the airport in Windhoek you take over your booked rental car and drive to the nearby Windhoek. You spend the rest of the day in Windhoek at your leisure.
If necessary, you can visit one of Windhoek's numerous and well-stocked supermarkets and buy food, drinks and everything else you need for your upcoming adventure. Or you take a stroll through the beautiful streets of the capital of Namibia. If there is enough time, you could explore the vibrant township of Katutura by bike.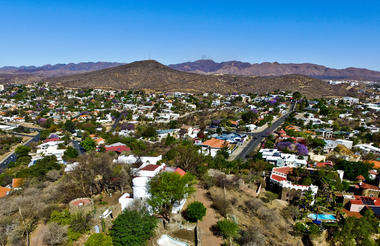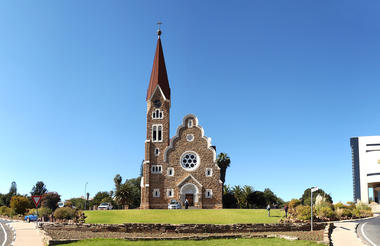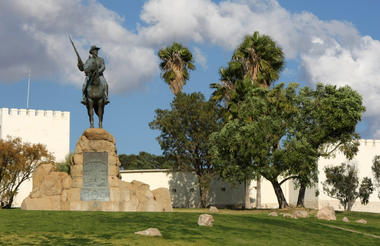 Day 2:
Naukluft Mountains
WINDHOEK - NAUKLUFT MOUNTAINS (ca. 290 km / 3:52 h)
Now it really starts with your Namibia adventure. Leave Windhoek and head south for a refreshing stop at Lake Oanob for a nice lunch. Then we continue on gravel roads to our destination in the Tsaris Mountains.
There are several trails in the mountains around the lodge, ranging from an hour to a full day. Maps and packed lunches can be provided, as can guided walks and sunset tours.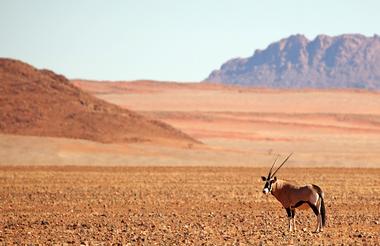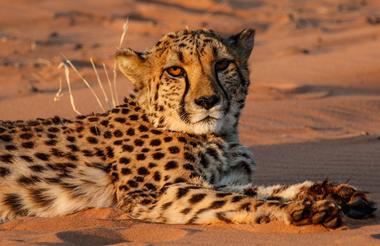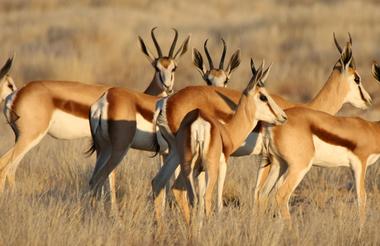 Day 3:
Naukluft Mountains
NAUKLUFT MOUNTAINS (Tagesausflug nach Sesriem/Sossusvlei)
Today is reserved for one of Namibia's highlights: Sossusvlei in the Namib Desert, known for its high red sand dunes and deep valleys with glistening white salt pans.
You should leave at the first opportunity and drive towards the big red dunes. In the morning light these majestic sand mountains shine in a magical light. Since the temperatures are still bearable, you can set out to climb them. The view is breathtaking.
Further possibilities today would be a visit to the Sesriem Canyon, a deep gorge that can be walked through. And also the Naukluft Zebra Mountain Park is not far away and could be the destination of an excursion.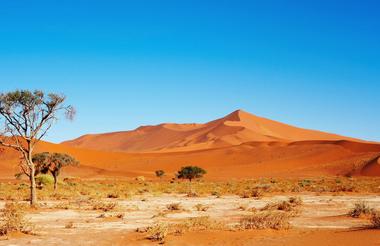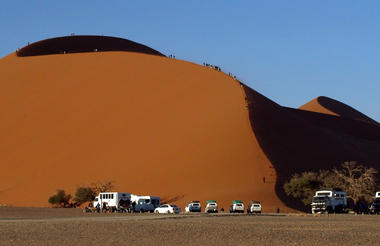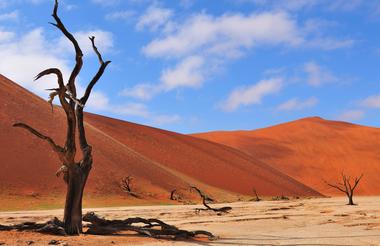 Day 4:
Naukluft Mountains
NAUKLUFT MOUNTAINS
Today the Naukluft Mountain Zebra Park could be a destination. Hiking is the main activity in this game reserve. A variety of tours are possible here, from relaxed walks to multi-day hikes. Refreshing waterfalls and rock pools invite you to cool off, so don't forget your swimsuit!
But there are also many activities around your lodge to explore the true nature of this wonderful region.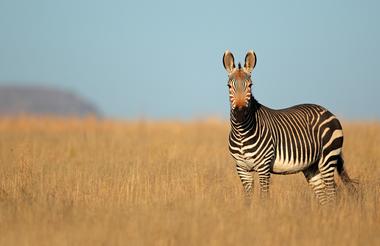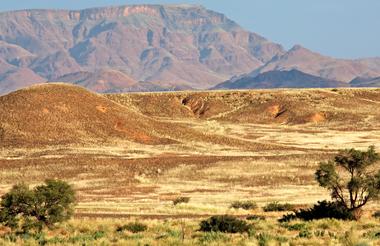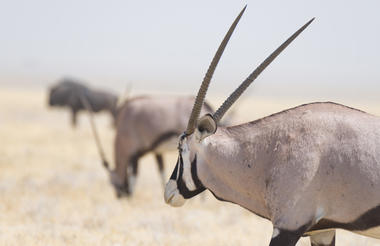 NAUKLUFT MOUNTAINS - SWAKOPMUND (ca. 378 km / 5:08 h)
The drive leads through the loneliness of the Namib, where there are only a few farms left and right of the runway. On your way you will pass Solitaire, a small collection of buildings and a petrol station. A good place for lunch and refueling.
On the way to the coast, which you later reach at Walvisbay, you cross a landscape that resembles the Sahara. Sand as far as the eye can see!
Your destination for today is Swakopmund, the city on the Atlantic coast, which even after more than 100 years of German colonialism cannot deny its Wilhelmine origins.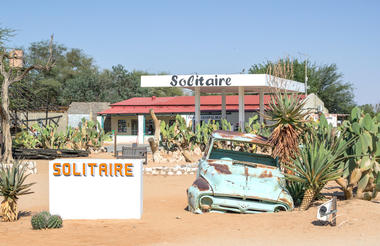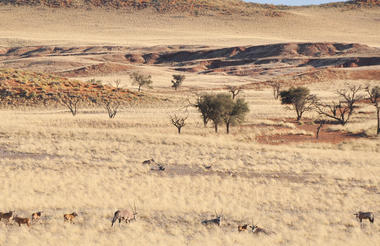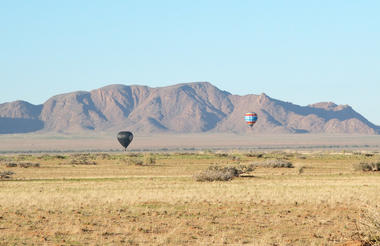 SWAKOPMUND
Enjoy the time in Swakopmund to enjoy the fresh sea air, to look at the ocean and to relax. Culinary Swakopmund also has a lot to offer: You can eat excellent fish everywhere, which is not usual in Namibia. Why don't you rent some big bikes and cycle through the dunes and along the beach? A great experience!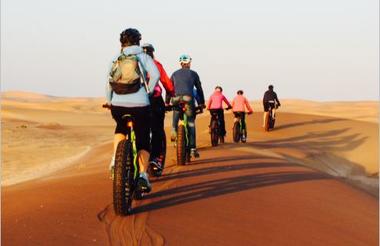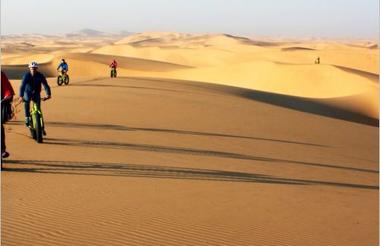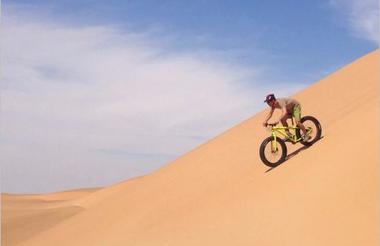 SWAKOPMUND
Another day on the coast, perfect for excursions and explorations. We recommend a boat trip to observe dolphins and seals. You can book a variety of offers and, if you feel like it, you can also take a canoe for an environmentally friendly close-up view of the animals. Alternatively, you can take guided expeditions into the desert and marvel at the amazing variety of life in this rugged nature. Or how about a parachute jump? In Swakopmund there is a lot to experience.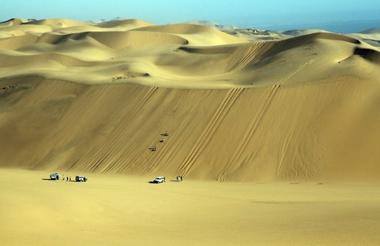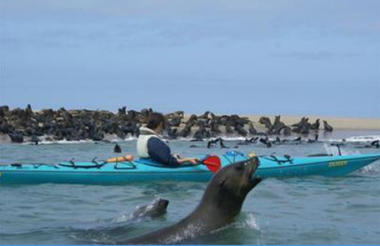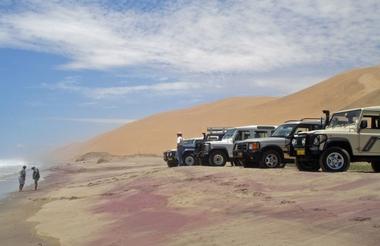 SWAKOPMUND - SPITZKOPPE (ca. 153 km / 1:43 h)
The Spitzkoppe is a world famous rock formation in the middle of the Namibian desert, with unique large-format rock formations, mysterious caves, archaeological sites, endemic bird life and a landscape that allows the visitor to hike in complete tranquillity and serenity.
On your arrival day you can experience sunset tours, a guided tour around the mountain cones, a walk to the famous San paintings or a mountain bike ride on steep slopes.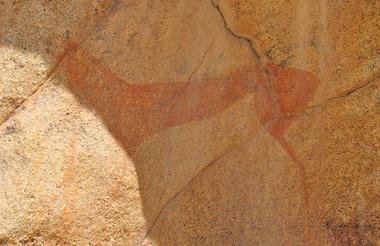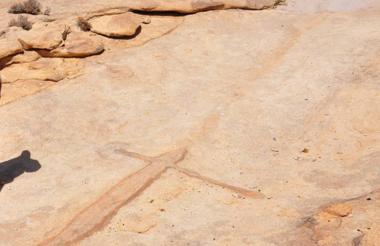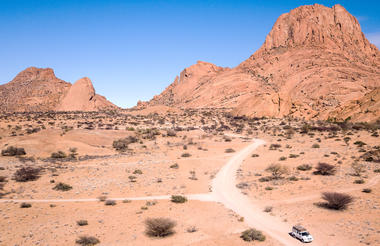 SPITZKOPPE
Another day to explore the secrets of this unique landscape around the Matterhorn of Namibia. The Spitzkoppe with its spectacular rock formations is a paradise for every photographer. This region has often served as an impressive backdrop in well-known film productions.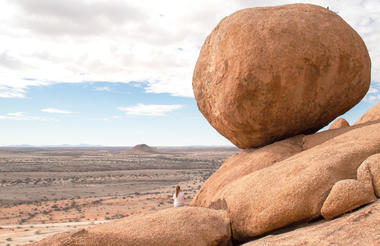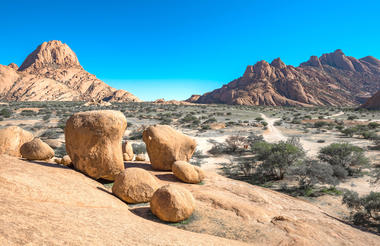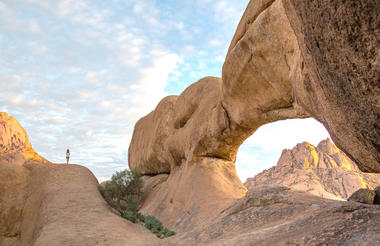 SPITZKOPPE - TWYFELFONTEIN (ca. 233 km / 3:31 h)
In the morning you leave Spitzkoppe and drive towards Damaraland, which offers many other sights besides the famous world cultural heritage Twyfelfontein. Twyfelfontain is one of the richest rock art galleries in Africa. In the national monument Burnt Mountain you can admire an intensive colour variety in the volcanic rock and the nearby dolomite columns of the Organ Pipes remind you strongly of organ pipes.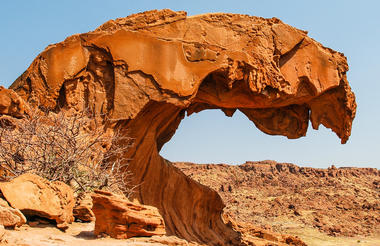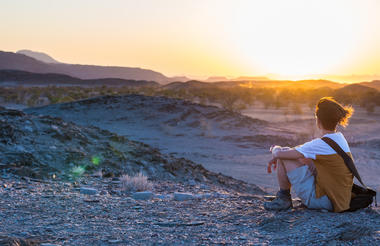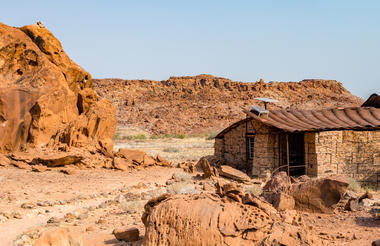 TWYFELFONTEIN - ETOSHA SOUTH (ca. 314 km / 3:27 h)
We continue in the direction of a very special highlight, the famous Etosha National Park. On the way there is a lot to see. The landscape here is dry and lonely. But even here there is a lot of animal life. With a little luck you can see the famous desert elephants. But also various living museums, thus villages, in which the population living here shows their way of life, a petrified forest, and much more invite to stop.
In the afternoon you will reach your lodge south of the National Park.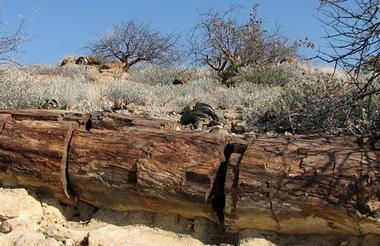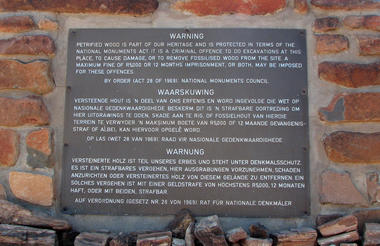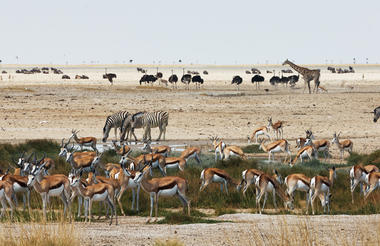 ETOSHA SOUTH
Today we have to get up very early! With the sunrise the national park gates open and you drive your jeep to the stalk. Around this time there is a lot going on here, the nocturnal animals return, the day-active ones come from their hiding places. In the light of the rising sun the bush shines in wonderful light, a paradise for photographers! Whether you are out all day or spend the heat of the day in your camp is up to you.
Alternatively, you can book guided game drives into the national park and get closer to the animals with a professional ranger in an open jeep.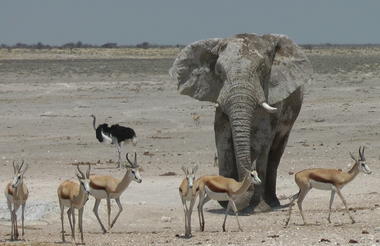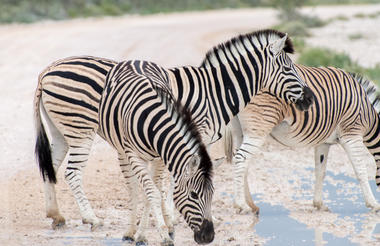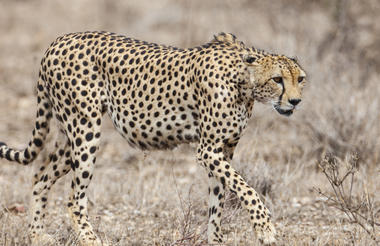 ETOSHA SOUTH - WATERBERG REGION (ca. 243 km / 2:37 h)
Heute Vormittag bleibt Gelegenheit, um eventuell noch eine morgentliche Pirschfahtrt zu unternehmen. Später führt Sie dann die Fahrt über das hübsche Städtchen Otjiwarongo, dass auch heute noch an vielen Stellen sehr deutsch wirkt, in die Waterberge.
Die Region Waterberg ist stark geprägt durch wilde afrikanische Natur. Hier gibt es viele Tiere, die man eigentlich nur in Nationalparks vermuten würde. Die Berge selber verfügen über einen immerwährenden Vorrat an Wasser, der sie für die trockene Region so wichtig macht.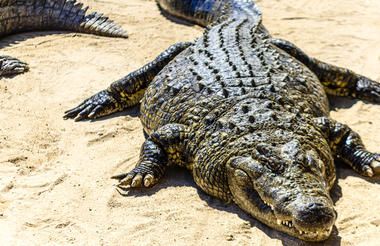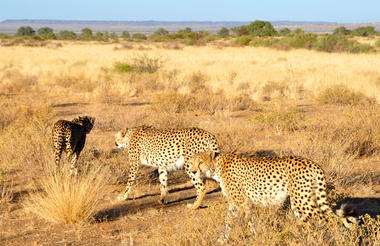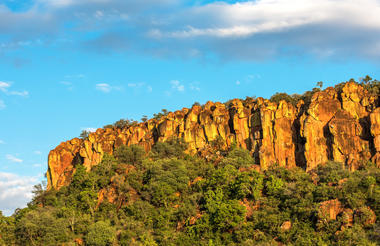 WATERBERG REGION
The striking sight of the brick-red sandstone of the Waterberg plateau, crowned by lush vegetation, has supported a great variety of flora and fauna for thousands of years. The untouched, fortified Table Mountain, which is up to 420 m high and surrounded by the Namibian savannah, has created a perfect piece of landscape for nature.
Today can be used to visit the Waterberg Plateau. You will have the opportunity to observe some of the more than 200 bird species registered here. Black eagles, peregrine falcons and Namibia's only breeding colony of Cape vultures belong to 33 species of birds of prey. The latter are the rarest birds in Namibia.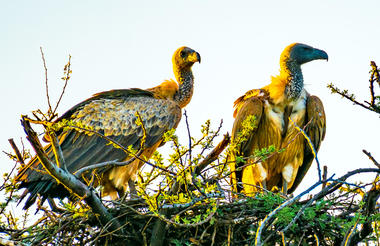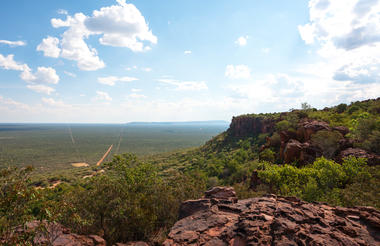 Day 15:
Okonjima Nature Reserve
WATERBERG REGION - OKONJIMA NATURE RESERVE (ca. 155 km / 2:05 h)
In Okonjima they have dedicated themselves to nature conservation and take care of the animals that have got into conflict with the farmers outside. Ideally, they are abandoned in the huge game reserve and can lead a normal life. In particular, this concerns leopards and cheetahs, which can often be spotted in their natural environment during game drives. Beside the big cats you will also find a lot of other animals, which are native to this place in Africa.
The Okonjima nature reserve is known for the AfriCat Foundation. Since its foundation in 1991, AfriCat has made it its mission to make a significant contribution to nature conservation and at the same time to ensure the survival of Namibia's predators in their natural habitat. It carries out research, community and environmental education projects as well as nature conservation measures to rehabilitate carnivores such as cheetahs and hyenas.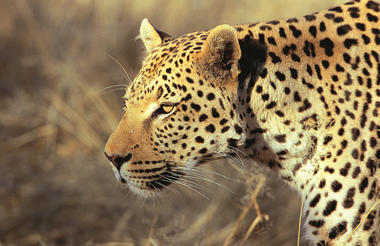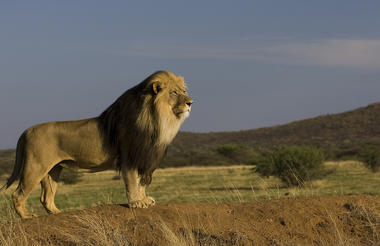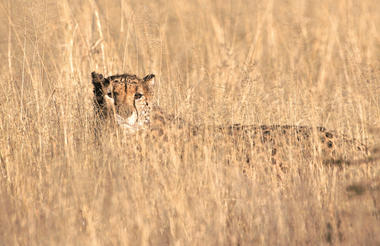 OKONJIMA NATURE RESERVE - CENTRAL NAMIBIA (ca. 277 km / 3:28 h)
We're heading south. Passing Windhoek your destination is Na an ku se Lodge. This is once again pure African safari feeling. Here you can choose from a variety of activities that are all about animal welfare and species conservation. Especially recommendable is the Carnivore Feeding Tour, during which you can visit the cats of prey living on the grounds and watch them feeding.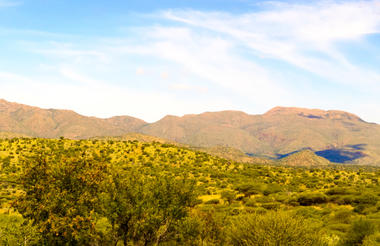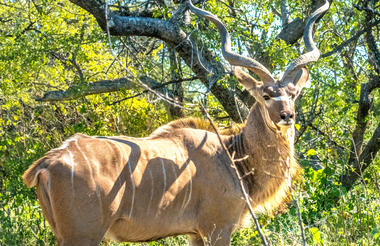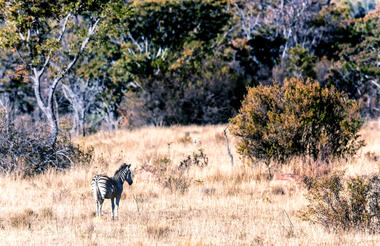 CENTRAL NAMIBIA
Today you can participate in various activities in the lodge. The Ancient San Skills Academy is a joint venture between the Lodge and the Nyae Nyae Conservancy. It aims at a mutual education of the San and is a good opportunity for guests and visitors to get to know this great culture. Guests can learn about the traces of the bush, learn how to make fire with traditional San fire sticks, observe the making of bows and arrows, and witness the working of jewellery and handicrafts.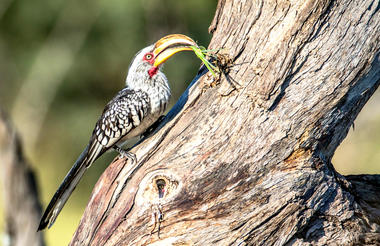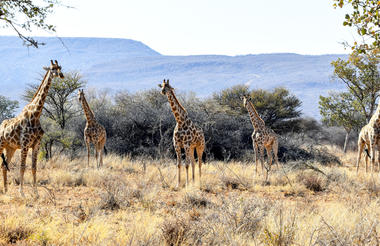 CENTRAL NAMIBIA - AIRPORT(ca. 30 km / 0:30 h)
Today is your last day in Africa. If your departure is only in the evening, you can dedicate yourself once again to Windhoek and its sights. Or do you stroll through the shops in search of a souvenir? Just in time before the departure you drive back to the rental station, where you hand in your car.