Meet on arrival at Hanoi airport, flight details TBA, and transfer to the city centre for hotel check-in (room may not be ready until 14:00 hrs. Early check-in is subject to room availability and a surcharge will apply)
Hanoi Street Eats Tour
This evening, you will venture into Hanoi street food scene with our expert guide. Throughout this authentic and local adventure, you will be wandering through the labyrinth of old, narrow streets that make up the Old Quarter. The alleys are full of lively shops and vendors serving tempting dishes made from generations-old recipes. These appeal to everyone's taste. During the leisurely walk, your senses will come alive as you visit at least four distinctly different eateries and savour iconic, local dishes. Take the opportunity to relish the classic "Pho" noodle soup referred to as Hanoi's number one speciality. Dine on Banh Cuon, a hot steamed rice pancake rolled with chopped pork. Dig into street food favorite Bun Cha, grilled pork patties and pork belly served with rice vermicelli. Last, and not least, is the classic Banh Mi, a signature Hanoi experience that fuses the French baguette with Vietnamese inspired fillings such as egg, pate, pork or sausage.
On this walk you are part of the local life. You will wrap up this memorable tour with a cup of Vietnamese egg coffee or a cup of sweet soup or a fruit shake.
Note: Distance Hanoi airport – city hotel: 30 km Driving time approx. 45 min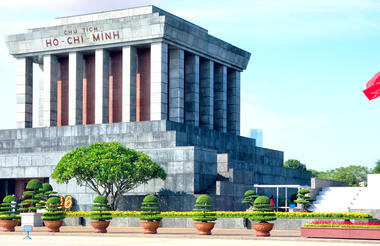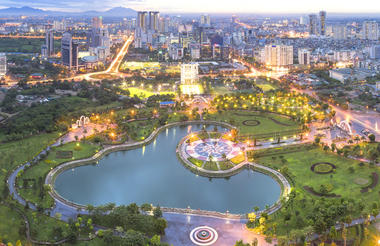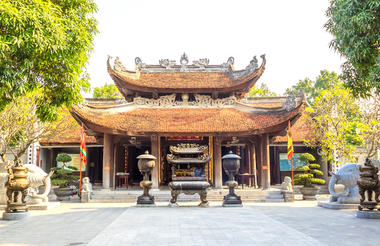 Hanoi Cooking Class & City Tour
Hanoi is renowned for its rich history and centuries-old architecture, attracting thousands of tourists every year. One of the best things to do in Vietnam's capital city is to participate in a cooking class where you will learn about valuable ingredients and techniques involved in Vietnamese cuisine.
This morning, you will learn to create dishes that elegantly combine Vietnamese ingredients with traditional cooking technique for the best authentic experience. This women-run cooking class is located in a very charming Hoi An styled house with lush garden by the Red River, which is only 15 minutes ride from the old quarter. You will get a chance to meet local people in non-tourist areas with visit to an authentic wet market, see all the produces you ever want to see, learn the secrets of Vietnamese cuisine while enjoying the mesmerizing food that you cook, and experience a day like-a-local.
In the afternoon, you will take an orientation tour of Hanoi with visit to the historic Ba Dinh Square, see the Ho Chi Minh Mausoleum from outside, then visit the Temple of Literature, known as the first university of Vietnam and built more than 1,000 years ago. Afterwards, continue to Hoan Kiem Lake and visit the Ngoc Son Temple.
Enjoy the famous water puppet show and have dinner at a restaurant with beautiful view over Hoan Kiem Lake.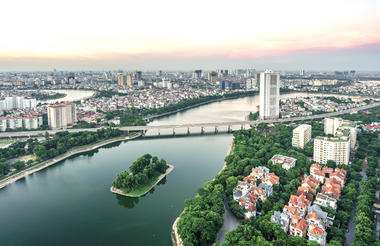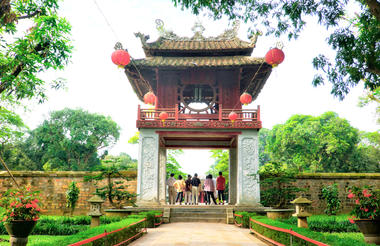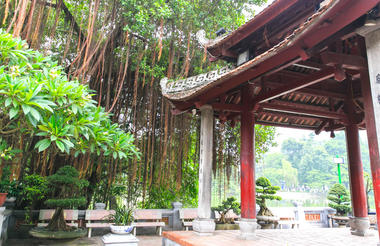 Activities and Services
Hanoi Cooking Class & City Tour
Full-Day Experiencing the Rustic Life of Hanoi Countryside
Escape from the city's hustles and bustles and delve deeper into the local life at the mystic land of Ba Vi, home to the legend of Tan Vien Mountain Genie, one of the four Immortals in the Vietnamese Pantheon.

Enjoy a day filled with interesting activities and memorable experience shared with the locals. You will be introduced to and may join local farmers in tea making process all through tea bud picking to drying, grading and tasting the newly produced green tea, then you will move on to another family, where you will join the host in preparing special dishes for your lunch. Under the ancient tree canopy, enjoy your delicious meal self-prepared from the home produced ingredients.
After lunch, you will have a leisurely village walk with visit to families who produce tofu, conical hats and a rice husking mill. Next up, you will hope on a cycling tour through the peaceful countryside to the bank of Da River. Chances abound for beautiful shots of the countryside as you pass by beautiful lakes, corn and rice paddies. At the next family, you will be treated to a refreshing drink and a foot herb bath to unwind before taking a leisurely boat trip downstream enjoying the solemn view of Ba Vi Mountain, home to the Tan Vien Mountain Genie, and soak in the cool river breeze while watching the sunset.
Back in the city, have dinner at a special restaurant, where you will have a wide choice of Vietnamese dishes.
Notes: Distance Hanoi city hotel – Ba Vi District: 60 km Driving time approx. 1.5 hr.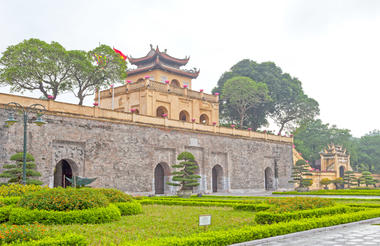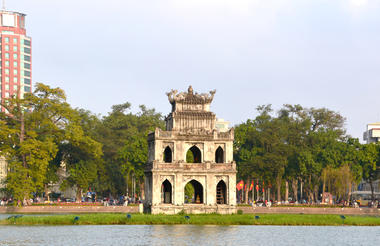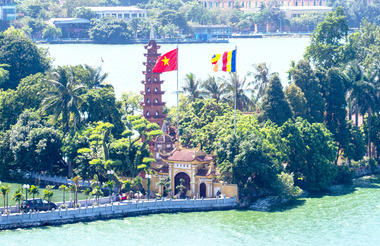 Activities and Services
Full-Day Experiencing the Rustic Life of Hanoi Countryside
Today you will fly from Hanoi to Hoi An via Danang
This morning, you will learn a new skill of fruit carving with your enthusiastic and engaging local host. From familiar and simple ingredients that can be easily found at any wet market in Vietnam, your host will guide you to create beautiful shapes like flowers, stylized letters, animals... with many creative ways you might not expect. Then, you will have chance to test your skills on variety of fruits and vegetable as you carve them up into beautiful sculpture of your own choosing.
Have lunch at KOTO (Know-One-Teach-One) restaurant – the hospitality training centre giving at-risk and disadvantaged youth the opportunity to learn and thrive in their lives.
Transfer to Hanoi airport for the flight to Danang. Upon arrival, meet your local guide and visit Cham Museum, which houses the finest collection of Champa sculptures before driving the short distance south past the famous Non Nuoc Beach onto the enchanting town of Hoi An. Check in the hotel and have free time to unwind.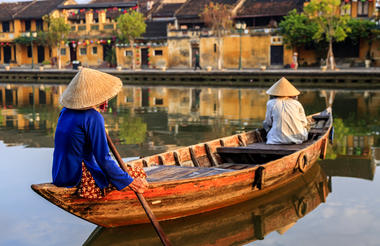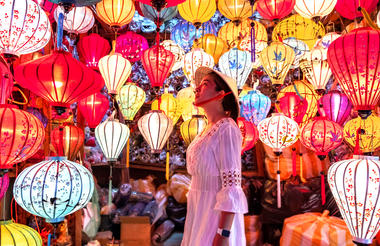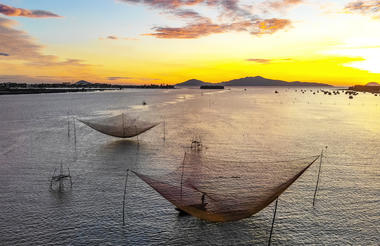 Hoi An cooking class followed by a sunset cruise on the Bon river
This morning, you will take on a cooking lesson at the famous Red Bridge Cooking School.
Hotel pick-up and transfer to Hai Scout Café in the ancient town. Enjoy welcome drink, then the chef will take you to visit Hoi An's colourful market and experience the amazing sights, sounds and aromas of this busy market. Take the opportunity to interact with the local sellers and learn about all the ingredients to be used in the cooking lesson later.
Then you will board the Red Bridge boat for a leisurely cruise (25 minutes) along Hoi An River to the Red Bridge Cooking School. This is a chance to view local river life, so make sure your camera is ready. On arrival, explore the cooking school's herb garden, before learning about some of Hoi An's and Vietnam's well-known dishes. The cooking lesson runs for about 2 hours. The Red Bridge chefs first demonstrate each dish before you prepare the same dish yourself. Included in the class is a brief introduction to Vietnamese food carving (plate decoration). After the lesson, you may indulge in your cooking results.
Back to Hoi An ancient town, you will take a leisurely tour on foot with visit to the old merchant's house, Chinese community's assembly hall and the Japanese covered bridge.
17:00 hrs. Transfer to the pier in Cua Dai street, where you will embark on a wooden boat to cruise along the major branch of Thu Bon River. Plated BBQ dinner will be served during the boat trip while you enjoy the beautiful surrounding with view of river life along the way. Make sure your camera is handy for the lush green scenery and spectacular view of the sunset.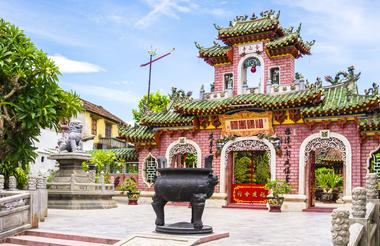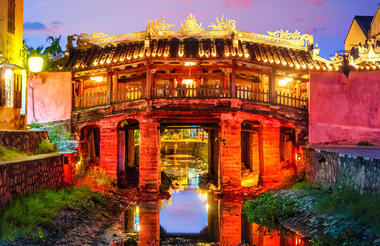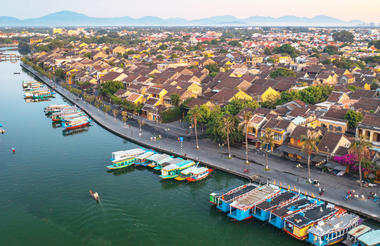 Rural life beyond Hoi An
Today you will discover the typical countryside of Central Vietnam far from any tourist areas by bike and boat with introduction to a green farming collective run by young locals who wish to apply the sustainable farming techniques for the sake of environment.
08:00 hrs: Hotel pick up and transfer to an authentic village located 15 km west of Hoi An. Upon arrival, meet with your host, a young enthusiast, who is part of the collective that started organic vegetable farming. Have a look around his house, then start to cycle through the village and the rice fields.
Arrival at the organic plantation comprised of chilli peppers, water bindweed, salad, basilica, spinach, squash and edible chrysanthemums, you can try some agricultural work such as vegetable harvesting, planting, weeding, tilling the soil, watering or fertilizing crops with organic compost.
Then continue cycling to a small pier at the Thu Bon River and board a local boat. After 10 minutes of crossing, you will arrive at the pumpkin and watermelon farm belonging to the collective. They are grown in sand at the edge of the river. Depending on the season, harvest a pumpkin or watermelon (to eat it later) and return by boat to the pier.
During the ride back to your host's house, visit a wood carving workshop. Enjoy a small try to have a better understanding about this beautiful handicraft. Back at your host's house, have lunch with the family in a typical and authentic atmosphere.
Drive back to Hoi An and have free time to further explore the ancient town on your own.
Notes:
The wood carving workshop is closed every Sunday, the 1st of September, the 30th of April, 1st of May and Tet vacation -> this activity will be replaced by the preparation of the banh xeo
For the month of October, November and December, the local boat tour and the harvest of pumpkin/watermelon will be replaced by the preparation of the banh xeo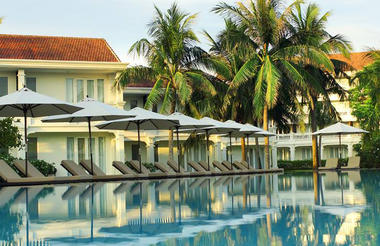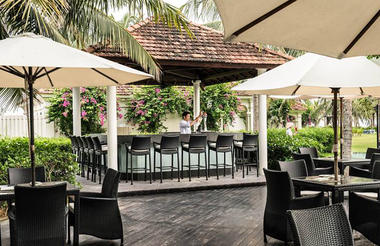 Breakfast at hotel, then have time at leisure until transfer to Danang International Airport for your onward flight (hotel check-out time is 12:00 hrs. Late check-out is subject to room availability and a surcharge will apply)
Notes:
• Distance Hoi An – Da Nang airport: 30 km (Driving time: approx. 45 mins)
• If your flight departs in the afternoon or later, you can fill your time by picking one of our wide range of day excursions in and around Hanoi at a surcharge.