Day 1:
Mashatu Game Reserve
You will be met on arrival at Johannesburg's OR Tambo International Airport by your photo guide and a transfer representative, and transferred to Pont Drift Border Post. The drive will take 6 - 7 hours. You will be met by a representative from Mashatu, who will transfer you in an open 4x4 vehicle to camp.
There is also an option of air transfers, please refer to the price box for air transfer supplement costs. For air transfers, special rules apply regarding baggage: Overweight luggage or hard cases unable to fit in the baggage compartment may need to be excluded from the flight. Each passenger may carry a total of 15 kilograms [33lb] of luggage + 6kg [13lb] carry-on, (please soft bags only!).
Check in at your comfortable chalet. 14 luxury suites lie along the camp's perimeter and are designed to allow absolute privacy and a communion with the bush and its inhabitants. Each of the air-conditioned suites at Mashatu Main Camp is tastefully decorated and includes impressive black and white prints of Africa's most beautiful animals. A double bed and an extra-large single bed, together with a seating area that includes a single day bed, allows for privacy. The ample en-suite bathroom with both bath and shower facilities and a separate W.C. complete the well-appointed suites.
What to bring:
Camera DSLR / mirrorless
Lenses 300 mm or longer
Lens for landscape 16 - 35mm (preferably f2.8) - lenses need lens hoods
Cover for dust and rain
Tripod
4x Memory cards (32 GB or more)
Ideally also bring Laptop with Lightroom and / or Photoshop
Card reader
Lens cleaning kit
Note block and pen
Also important to consider:
Binoculars
Sun block factor 30 or higher
Cap / sunhat
Light walking shoes
Shorts
Swimming costume
Rain jacket
Warm jacket (fleece) - sitting on an open safari vehicle at sunrise can be chilly!
If travelling during winter (April - October), also bring windproof jacket and scarf. It can be very cold early morning and evening on the open safari vehicle!
It is essential that you travel with adequate medical travel insurance, which should also include special medical evacuation cover.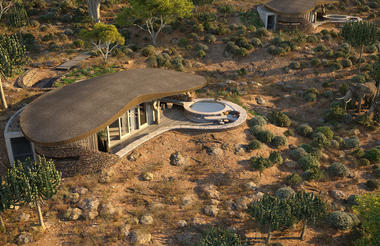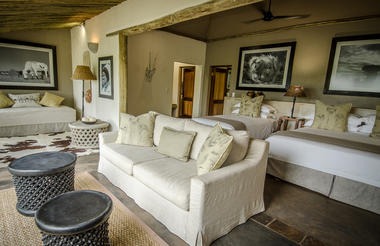 Day 2:
Mashatu Game Reserve
Mashatu Game Reserve comprises 29,000 hectares (72000 acres) of privately owned land in the conserved wilderness area known as the Northern Tuli Game Reserve. The reserve lies in the eastern extremity of Botswana where the great Limpopo and Shashe Rivers converge. This exceptionally diverse landscape includes wide open plains, grassland, riverine forests, rocky hills, marshland and majestic sandstone ridges.
Because of the exceptional diversity of landscapes of the reserve, Mashatu enjoys an ecological biodiversity uncommon in other game reserves. Three members of the Big Five, namely the leopard, the lion and the elephant are complimented by some lesser well-known, but interesting, species, including the aardwolf (or "earth wolf"), the bat-eared fox, the African wildcat, the honey badger, the spotted hyena and the black-backed jackal. For visitors who are interested in bird life and bird photography, Mashatu is home to more than 350 bird species, including the enchanting lilac-breasted roller. The lilac breasted roller has striking plumage which made up of eight different colours. Mashatu is also home to the largest flying bird native to Africa, the Kori Bustard, which is the national bird of Botswana.
Mashatu Game Reserve has become one of the most popular wildlife photography destinations in Africa over the last few years. Its popularity is a result of the photographic products that it offers, as well as the excellent wildlife sightings that are viewed daily on the reserve. Being an unfenced reserve, the feeling of wilderness is immediate, yet it is the openness of the terrain coupled with the relaxed animals that make it such an excellent photo destination. Whereas many other reserves have long grass and thick bush, Mashatu often has lions and leopard sightings in clear openings. This makes for wonderful photography of the subjects.
One of the biggest highlights at Mashatu is the relaxed elephant population. Having a breeding herd come right up to your vehicle and surround you completely is quite an amazing sensation. The combination of large cat sightings, the most relaxed elephant population in Africa and the large assortment of bird life makes Mashatu the destination with the highest 'hit rate' for wildlife photographers in Africa.
Another big advantage is the photographic hides at Mashatu. Photographic hides are structures built at a waterhole to maximize the photographic potential of the animal subjects that visit them. These hides can be used to view wildlife in the normal manner, but have been positioned with consideration of the angle of the sun, the background, and the angle the viewer occupies in relation to the animals and birds.
During your stay at Mashatu, you will have 4 sessions in the photographic hides.
These are some of the reasons why Mashatu is favoured by wildlife photographers:
• Mashatu is a semi-arid area. This means animals are attracted to water in the dry season (June – October), making the hides, situated in front of a waterhole, an excellent location to allow animals to come to you.
• Excellent elephant sightings at the elephant hides and out in the reserve.
• Outstanding bird life for the bird photographers.
• Open landscape that makes for easy photographing of wildlife.
• Relaxed plains animals
• Exceptional and varied bird life with the many perches in certain areas-making good bird photography very possible
• Excellent leopard, lion and other predator sightings and photo opportunities
• Open landscape makes for very easy photography with no distracting grass or thick bush
• Dry riverbeds frame subjects well
• Drying pools create fish traps attracting flocks of heron, storks, etc.
• Good night skies and night photography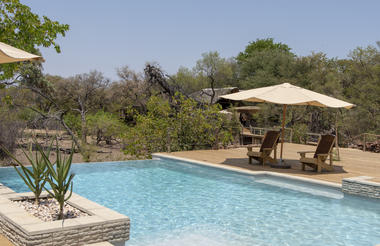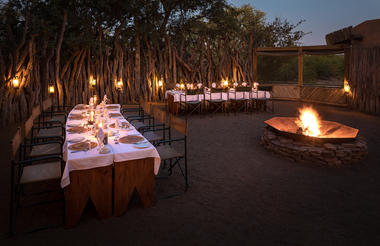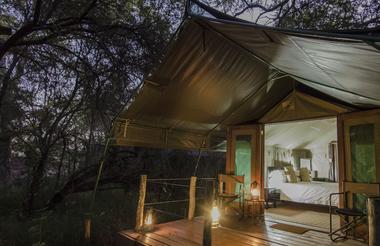 Day 3:
Mashatu Game Reserve
Each day at your photo safari lodge will follow more or less this programme (excluding arrival and departure day):
Early morning Wake up with tea / coffees and snacks - Morning game drive: (3 hours)
A photo safari morning starts a little before sunrise! For many, this is a big challenge, but nevertheless imperative, in order to take full advantage of the golden morning light which embellishes most wildlife and nature images. This is also the time of day when most animals are active, so the mornings should give you some great opportunities for capturing striking images. Remember, there is more to wildlife photography than lions; e.g. "the little things"!
An early wake-up call is usually made approximately 30 minutes ahead of departure. This allows for a quick wash and a hot beverage just to get those creative juices flowing….
After a pre-check and briefing by your photo guide (including giving some suggestions for camera settings and a brief over-view of what to expect on the drive), we set off. Your guide is always available on the vehicle to provide constructive suggestions and individual help during the actual drive.
About midway through the morning drive we take a comfort / coffee break in a safe area, to allow guests to stretch their legs and enjoy a hot beverage and some biscuits/rusks etc
Your photographic guide will help you with the camera settings for each specific situation and condition. You need to understand the basic photography terms such as aperture, shutter speed, ISO, metering, drive modes, focus selection points, etc. It is also important to know where and when you should change these settings (with wildlife photography you may miss the special shot if you are fumbling with your camera looking for which button to adjust).
Topics of Importance for Wildlife Photography:
knowing your subject (the more you know about your subject, i.e. animal, the more likely you are able to predict its whereabouts and actions)
Getting the shot perfect in the field – without having to do lots of editing in Photoshop afterwards
using RAW for maximum results
how and when to use autofocus / manual focus
controlling Depth of Field
settings for night (low light) photography
focusing on the eyes
know what you want the image to say. Have the images got a special feeling? Do they tell a story?
composition: Rule of thirds
use a flash: during day and night
mastering birds in flight
importance of supporting your camera
The morning game-drive usually takes about 3 hours (depending on what we see), and we then return to the lodge for a delicious brunch / late breakfast.
Two of the morning game drives will be replaced by two morning sessions in the photographic hides.
Between Breakfast/Brunch and Lunch/High Tea
After breakfast, photo safari guests may retire to a quiet, private corner of the camp to assess the morning results. There will be free time or optional lectures on editing (Photoshop / Lightroom) as well as photography tips and tricks, depending on the group and their preferences. Edit images for the presentation of your best 3 images (which will be held after dinner).
What else? How about read a book, sleep or just sit still and listen to the sounds of raw nature?
Late Lunch / High Tea
We meet again early afternoon for a light meal, before setting off on the afternoon Game Drive (minimum 3 hours). Similar to the morning game drive, we try to find our subjects to photograph. The photo-guide will help you with some tips and tricks for sunset and night photography, and using flash and lights to enhance your shot. Just before twilight, a safe area is located for evening sundowners, where alcohol or soft beverages are served with lights snacks. (Drinks on the drive are usually pre-ordered before the drive sets out).
After sundowners, the guests will experience driving in darkness with a vehicle spotlight to find interesting animals/owls etc, then returning to camp.
Two of the afternoon game drives will be replaced by two afternoon sessions in the photographic hides.
Return to lodge after Sunset - Dinner
Time for a quick freshen up before we meet for dinner. Dinner could be a plated dinner, a buffet meal or a traditional African "Braai" (Barbeque) often served in an outside boma around an open fire.
After dinner we meet for maximum 1 hour. We will discuss and evaluate the 3 chosen images per photographer, from the last 2 game drives. These images are displayed for the group to see, with each image being discussed as a group and critiqued by your photo guide. It is NOT a competition, but an opportunity to learn by gaining an understanding of what constitutes a good image.
Bed time: a well-deserved rest after this exciting day in the African Bush. Remember, early start tomorrow!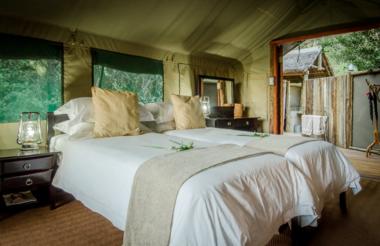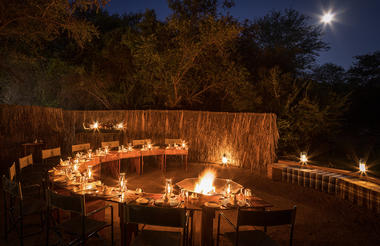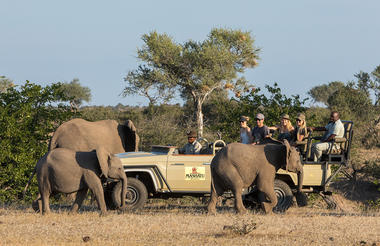 Day 4:
Mashatu Game Reserve
A full day's photo safari programme similar to the previous days, but maybe with a very special sighting?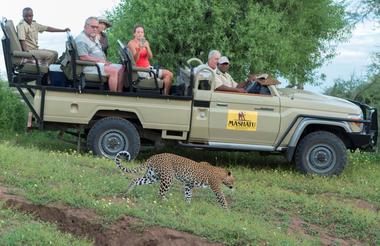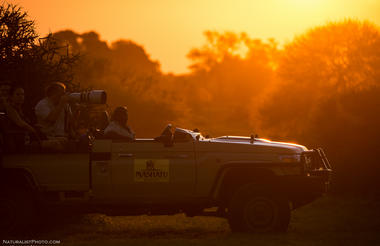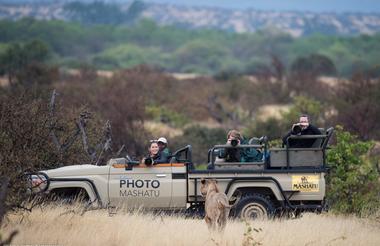 Transfer back to Johannesburg by road (or by air) at the end of your photo safari at Mashatu.