Welcome to Johannesburg! Upon arrival you will be met at the airport and transferred across to your hotel.
Late morning you start your journey with a tour through Soweto, one of the most known townships in South Africa. See the colourful Soweto Towers where it's possible to do a Bungee Jump or a Freefall and much more......
Until 2002 Soweto was an independent city but since then it belongs to Johannesburg. Today, around 4 million people live here in conditions that are certainly not the best. But during your tour you will see that the people are typically happy and friendly. See also the old house of Nelson Mandela and the Hector Pieterson Museum which commemorated the student Hector Pieterson who was shot during an uprising in 1976.
If you would prefer to have an extra night in Johannesburg to relax before the tour starts, or if your flight is likely to arrive after 9am then we can arrange this for you for £55pp (based on 2 sharing)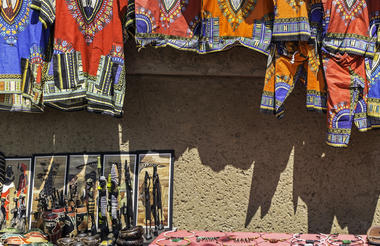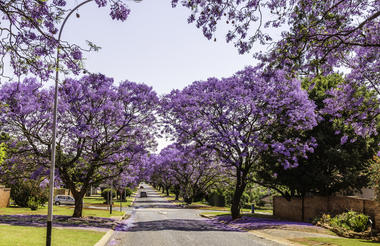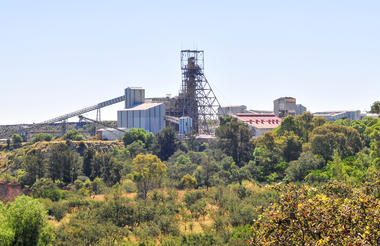 After breakfast it is time to head off towards Maropeng and the Sterkfontein Caves - Official Visitor Centres for the Cradle of Humankind World Heritage Site. The journey should only take about an hour.
The visit to Sterkfontein Caves starts with a fascinating museum display of cave formations and geology, early life forms, mammals and hominid fossils, among other topics. Here you will be introduced to "Mrs Ples", the "Taung Child" and "Little Foot" before heading underground to explore the caves, where scientists have discovered many hominid and other animal fossils dating back more than 4-million years to the birth of humanity.
There is some bending required in the caves and a lot of steps, so this tour is only suitable for the physically able. If you wish to skip this part of the trip then after looking through the museum there is a lovely cafe where you can relax and wait for the group.
After the caves it is on to the Maropeng Visitor Centre - which is an award-winning, world-class exhibition, focusing on the development of humans and our ancestors over the past few million years. You will take a journey through time, starting with the formation of the planet and moving all the way through the evolutionary processes that culminated in the world as we know it today. See fossils, learn about how humankind was born, view stone tools that are up to one million years old, and much more. This self-guided, interactive tour allows you to take all the time you need to ponder humanity's fascinating origin story. It is truly one of the most interesting museums we've visited - plenty of interaction.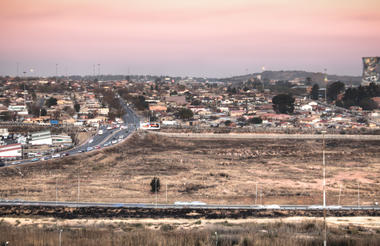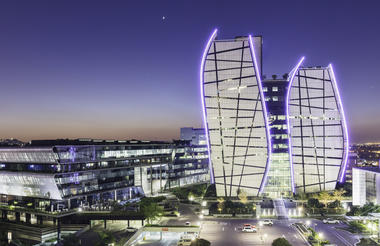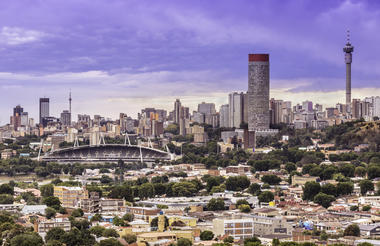 Day 3:
Golden Gate Highlands National Park
It is time to leave behind Johannesburg and head across to Clarions. As the journey passes you can enjoy the changing landscapes outside your window, or perhaps listen to some music, whilst relaxing in the comfortable transportation.
On arrival in Clarens you will visit the Golden Gate National Park. There you find fascinating rock landscapes with sand or ocher colourings over grassland and a there are even a few rock paintings from the San.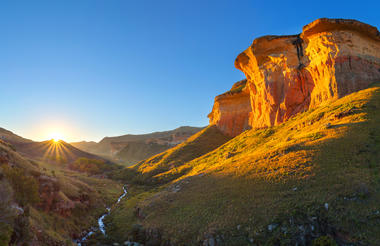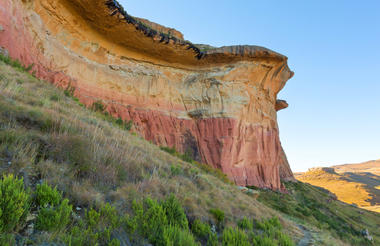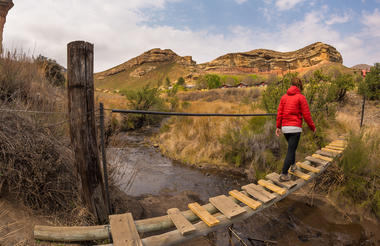 Today you leave South Africa behind and head to Lesotho, where you will stay at the amazing Afriski Mountain Resort to experience the truly unique 'skiing in Africa'.
On route you will visit the Leribe Craft Centre. This centre is both a workshop and shops so you can get an understanding of how the products are made, and then perhaps get a souvenir to take home. The products are all handmade - woven or knitted mohair and are beautiful in their design.
You will also visit the Liphofung "place of the eland" cave which occupies an important place in Lesotho history. The cave is, in fact, a large sandstone overhang, which is a typical feature of the Lesotho lowlands region. Originally used by the San and other Stone Age people, the walls contain important rock art and a rich archaeological deposit of Stone Age implements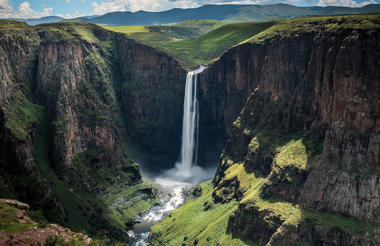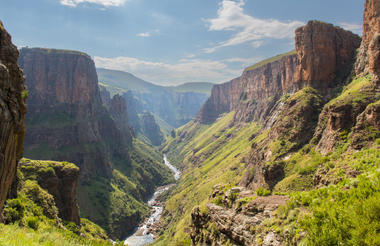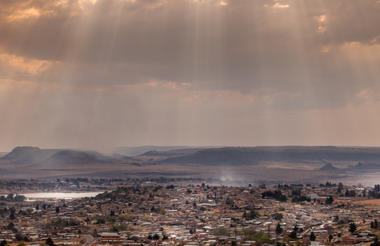 It is a little known fact that people have been skiing in various Southern African mountain ranges since 1929. One of the most ideally-suited locations are the Maluti mountains in the Kingdom of Lesotho, where you will be based for 4 nights. A lot has changed since 1929 and from 2004 the modern snow-making facilities and lifts to Afriski were introduced, which allowed skiing and snowboarding to flourish. The resort operates much as a European ski village, including all the essential components for a great ski holiday with accommodation, ski equipment, snow passes, ski school, hospitality etc.
Your tour includes tuition on how to Ski/Snowboard and includes rental and snow passes.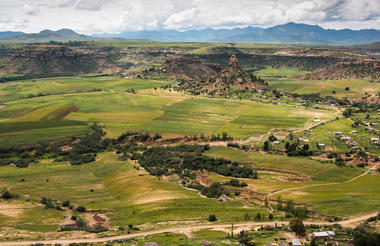 Day 8:
Southern Drakensberg
Sadly, it's time to say good-bye to Lesotho and the snow today.
Your next destination is the Drakensberg region. A mountain range that stretches across parts of South Africa and Lesotho. They are the highest mountains of southern Africa and rise up to 3482 m high. It is here the legendary Sani Pass is situated, the only path from Lesotho to the province KwaZulu-Natal. The pass itself is just beautiful. It is green almost everywhere and you have a great views over the valley. Make sure you have your camera ready to take some amazing pictures!
Before you cross the pass you visit a cultural village in Lesotho. Here you get to know about Sangoma tradition and the real village life. Learn traditional songs and dances and enjoy some home baked bread while you listen to their stories....a truly fascinating experience.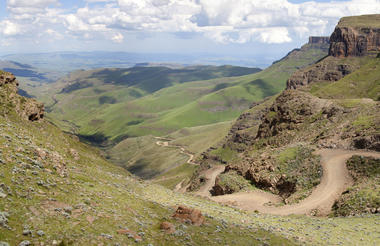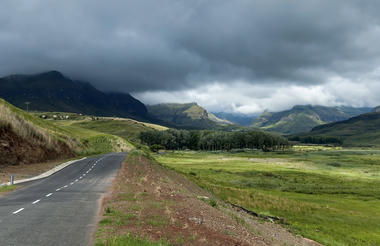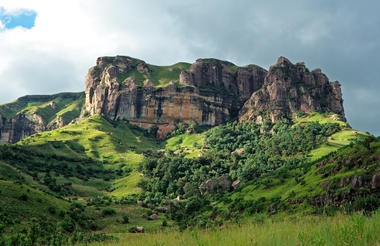 Day 9:
KwaZulu Natal Game Reserves
From the amazing Drakensberg its time to move on to Bayala which is situated in a Big Five conservancy. On your way there you visit the famous Nelson Mandela Capture Site. This place commemorates the 5 August 1962 where Nelson Mandela was arrested. He stayed in prison for the next 27 years of his life whilst continuing to fight for a united and equal South Africa for all. It is an important historical site in South Africa, with an excellent sculpture of Mandiba.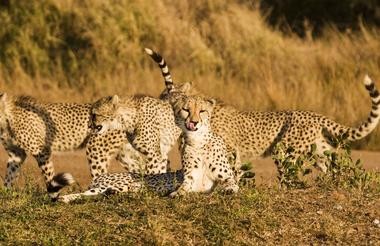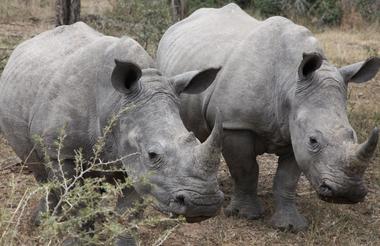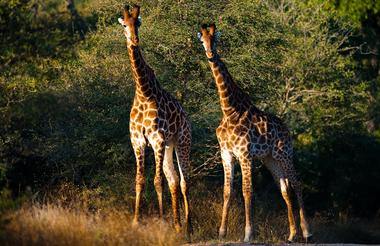 Day 10:
KwaZulu Natal Game Reserves
Today you have an included game drive, where you will go in search of lions, leopards, elephants, rhinos, buffalos and many other animals during your exciting drive. Make sure you keep your camera ready to take unique pictures of some of Africa's most famous residents.
After the drive the rest of the day is at your own leisure. Enjoy the facilities of the lodge and simply relax in the lovely surroundings.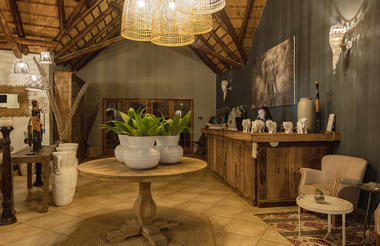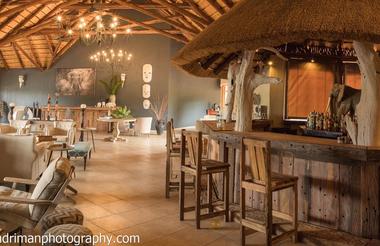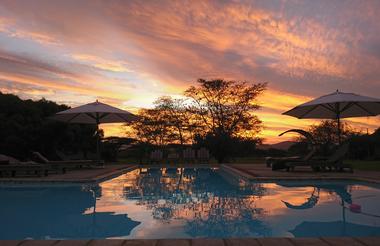 This morning you have another chance too search for beautiful animals as you embark upon another game drive. After leaving the park you drive from Bayala to St. Lucia.
St. Lucia is known for the Hluhluwe-iMfolozi Park which is the oldest national park in South Africa. It is also well known for the huge amount of hippos you can watch during a boat cruise, which you have included this afternoon. You may not only see hippos but crocodiles, birds and other animals as well.
After St. Lucia it is time to drive to Durban, a beautiful city on the coast.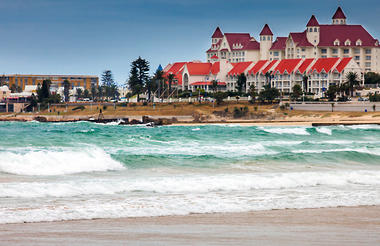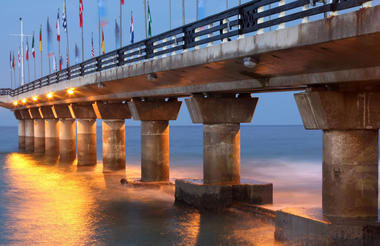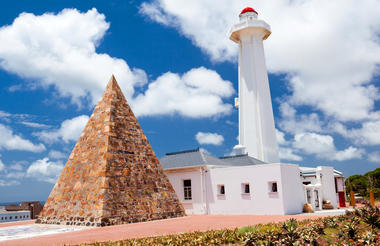 Before your tour ends and you have to head to the airport you have an included city tour through Durban. You will see the Moses-Mabhida-Stadion, which was built for the football world cup in 2010, and the famous Victoria Street Market in Durban where you can taste a lot of different local specialities to get a real understanding of the flavours of the region. Your tour ends with a drop-off at King Shaka International Airport in Durban.
If you would like to spend a couple of extra nights in Durban, or perhaps Umhlanga to relax by the beach before heading back to the UK then we can arrange this for you....