Day 1:
The Kilimanjaro Golf and Wildlife Estate
At arrival in Arusha you will be met at Kilimanjaro airport and taken to Lemala Villas. After settling in and your safari briefing you will spend you first night in Tanzania on this beautiful Kiligolf estate to recover from the journey and to acclimatise.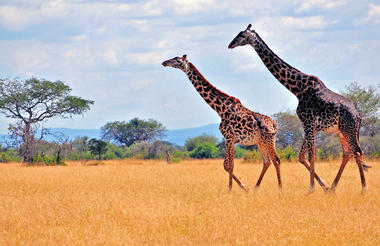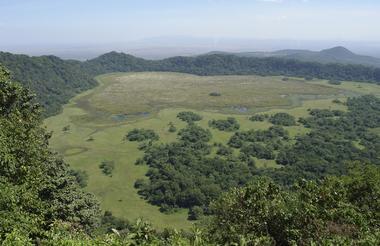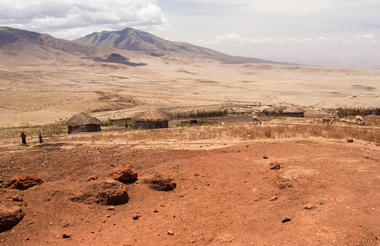 Day 2:
Tarangire National Park
After breakfast you will start your journey south, where you first stop at Tarangire National Park. Giant baobab trees, bush savannah and the seasonal marshes add to the wonder of this nature reserve. The Tarangire National Park is considered as one of the best places to view elephants up close. The park is also home to buffaloes, zebras and wildebeests which are always closely followed by a range of predators such as lions. Leopards are seen now and then but cheetahs are rarely spotted. You will go on a short game drive to Lemala Mpinge Ridge Lodge, where you will stay for two nights. Settle in, unpack and have a rest before you will go on your afternoon safari drive. From the open roof of the safari vehicle you will be able to absorb the landscape and watch the animals.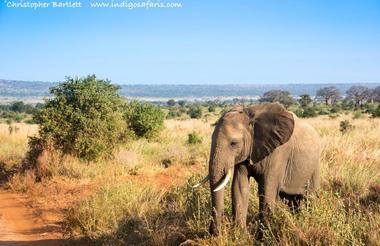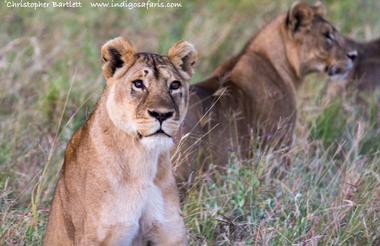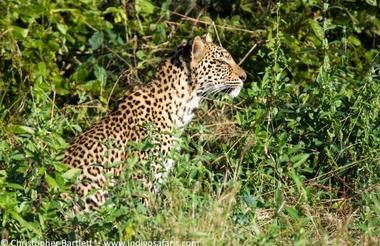 Day 3:
Tarangire National Park
Morning and afternoon or full day safari drive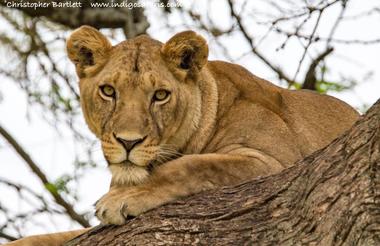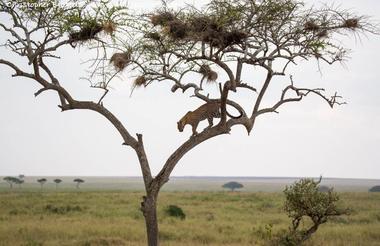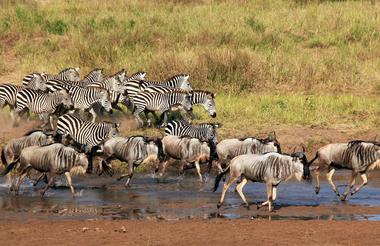 After breakfast leave Tarangire National Park and make your way to lake Manyara National Park, where you will go on a late morning safari drive to look out for all the usual game, but also for flamingoes around the lake. A large area of the park is covered by the alkaline Lake Manyara, the seasonal breeding grounds for large colonies of flamingos and many more waterfowls. The park is also home to giraffes, hippos, wildebeests, impalas and groups of noisy monkeys and baboons. Once you had enough, you will leave the park again and drive through the Karatu area where you can see a lot of daily life going on when driving through/ pass the villages and then eventually you will enter Ngorongoro National park and climb up the crater rim. As soon as you reach the edge of the Ngorongoro Crater, you will see the giant caldera below – a breath-taking view. Head further into the forest area of the crater, where you will stay for 2 nights at the Lemala Ngorongoro tented Camp.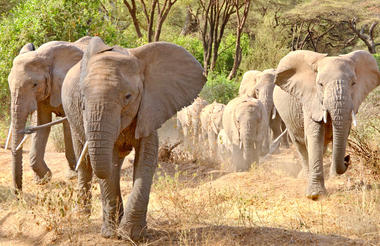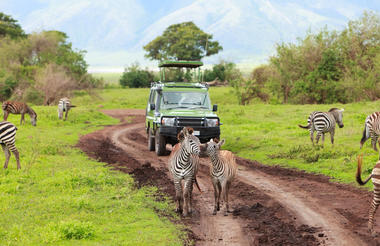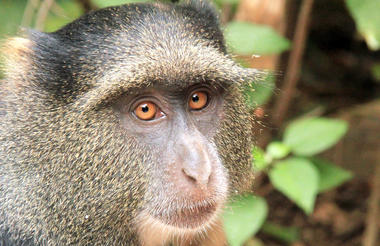 Rise and shine! After breakfast at daybreak you will drive down into the crater. The massive collapsed volcano is home to over 25,000 mammals ranging from the Big Five – lion, elephant, buffalo, rhino and leopard – to spotted hyenas, rare wild dogs and some of the more than 500 bird species of the area. After an extensive game drive and a picnic for lunch, make your way to the highlight of your trip, the Serengeti National Park. You will travel through the cooler highlands towards the southern Serengeti and at midday you will reach the plains of the Serengeti National Park. This park is the largest in Tanzania and has a diversity of habitats and landscapes – short grass plains, savannah, thick bush, swamps and lakes. Bizarre rock formations called kopjes dot the grassy landscape where predators are often seen. The Serengeti is famous for the yearly migration when hundreds of thousands of wildebeests and zebras trek to find fresh grass and water, which you will see at this time of the year. Check-in at Lemala Ewanjan tented Camp, have a dip in the pool and then go out again for an afternoon safari drive in the Serengeti.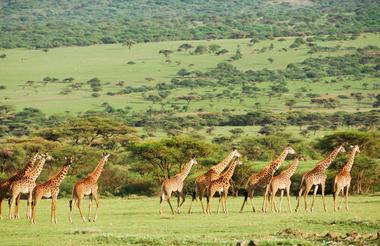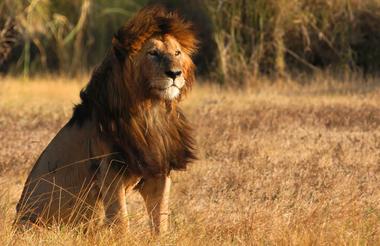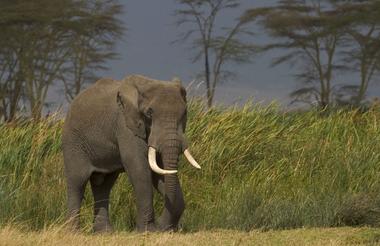 Morning and afternoon, or full-day drive in search of the migration herds.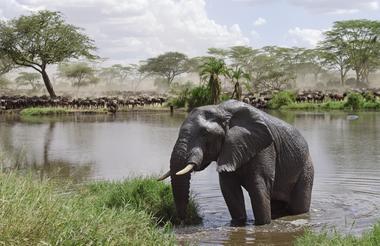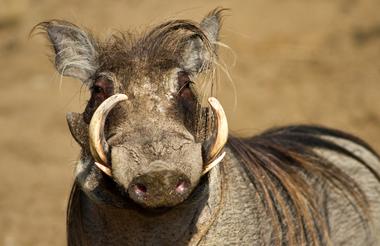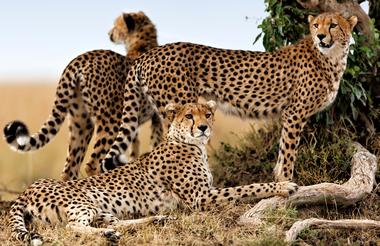 Day 7:
Northern Serengeti
Safari drive transfer to the northern Serengeti, where you will check-in at Lemala Kuria Hills Lodge. Afternoon safari drive.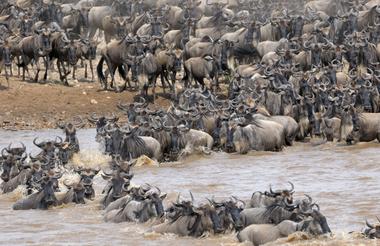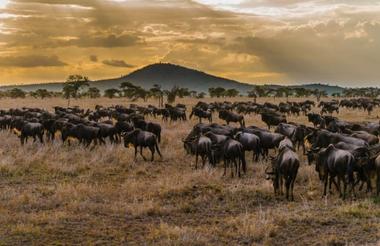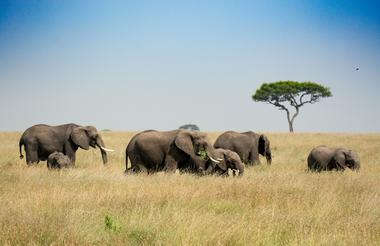 Days 8 - 9:
Northern Serengeti
Morning and afternoon, or full-day drive in search of the migration herds, also along the Mara River where you can witness first river crossings if you are lucky.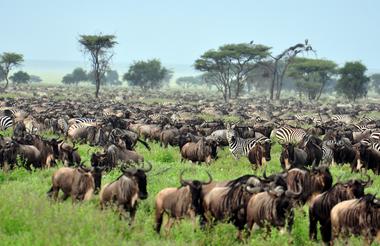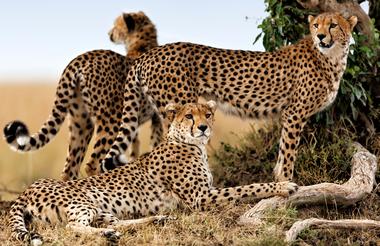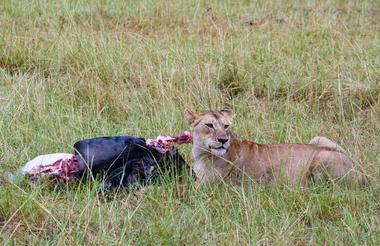 Activities and Services
Morning and afternoon, or full-day drive in search of the migration herds.
Have a last breakfast and then a short safari drive transfer to Kogatende airstrip from where you will say good bye to everyone and fly back to Arusha. After arrival there you can freshen up at the ground agents facilities before you will be taken to Kilimanjaro for your international flight home.
Activities and Services
Light aircraft flight back to Arusha.