ARRIVAL IN JOHANNESBURG
After your arrival at O.R.Tambo International Airport in Johannesburg you will receive your holiday car at the car rental desk. This is how your self-drive trip begins: your first direct contact with the people at the counter. The first destination is The Peech Hotel in Melrose, right next to James & Ethel Gray Park for your first night in Africa. This wonderful boutique style hotel with only 16 rooms will enchant you with its wonderful gardens.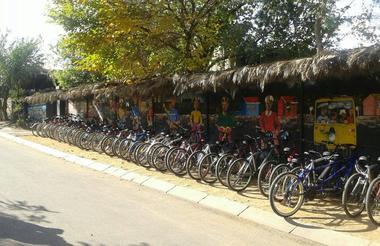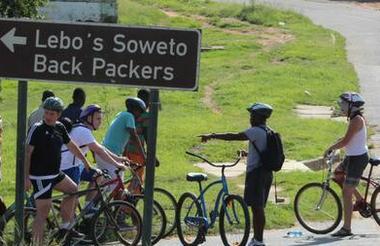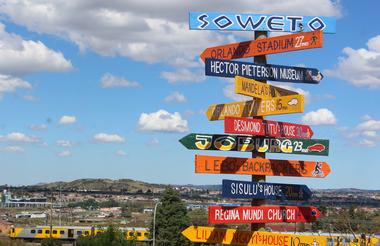 JOHANNESBURG - SWARTFONTEIN / LOWVELD (approx. 386 km / 4: 10h)
From Johannesburg you start your first longer trip, today. Once you have left the city, you drive over the plateau (Highveld), along huge wheat fields. Soon the landscape becomes hillier and more and more forestry comes into sight. You leave the highlands and drive through a valley down to the lowlands, the Lowveld. Here the climate is subtropical, the landscape has changed completely. Todays destination, Swartfontain, will be reached soon.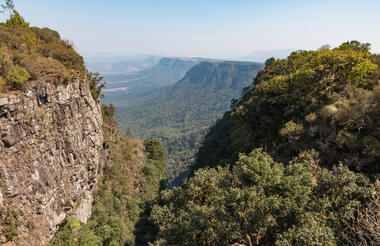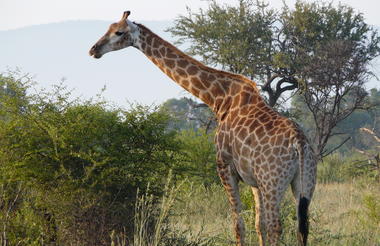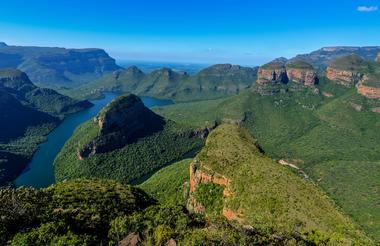 Panorama Route
The Panorama Route is one of South Africa's most impressive destinations. Here the Inlandsplateau (Highveld) falls suddenly and steeply around up to 1000m. Along the entire route there are numerous spectacular vantage points with views as far as Mozambique. Especially in the winter months, when the air is dry and clear, you can see almost endlessly far. One of these view points is 'God's Window', not far from Graskop.
A multitude of waterfalls of all sizes and shapes lies to the left and right of the path and you should have a closer look at various of them.
Bourke's Luck Potholes" is an impressive rock formation formed by erosion over millions of years. You should definitely take a look at the bizarre whirl holes.
Undoubtedly the highlight of the Great Rim Step is the 'Blyde River Canyon' with the 'Three Rondavels'. This view takes your breath away, it is unforgettable!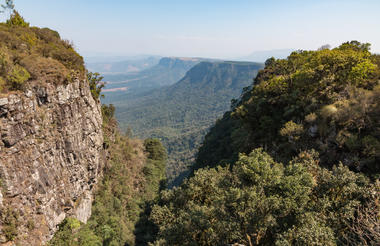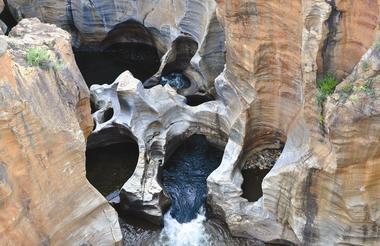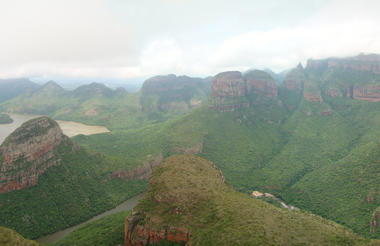 Day 4:
Timbavati Private Nature Reserve
SWARTFONTEIN / LOWVELD - MOTSWARI PRIVATE GAME RESERVE (approx. 166 km / 2: 50h)
This morning is your departure to the safari stage which will be a highlight of your trip. The next days are completely filled with the wonderful African animal world. In the Motswari Private Game Reserve you can watch the big and small animals in their natural environment on game drives. You should reach the nature reserve by noon to start your first game drive in the afternoon.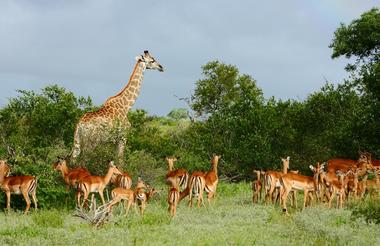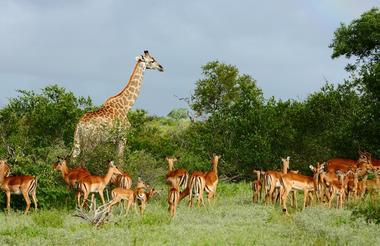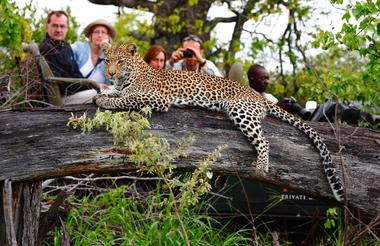 Day 5:
Timbavati Private Nature Reserve
MOTSWARI PRIVATE GAME RESERVE
Today you have to get up very early: you will be woken up before sunrise. After a coffee and the typical South African "Rusks" (hard pastries), you drive deep into the bush in an open jeep. Around this time there is a lot going on here, the nocturnal animals return, the diurnal ones come from their hiding places. In the light of the rising sun the bush shines in wonderful light, a paradise for photographers! After the game drive you return to your lodge where a rich breakfast is already waiting for you. Later on you will have time to relax at the pool, read, or maybe get some sleep.
However, there will still be something to watch: thirsty animals come to the lodge's own waterhole, colourful birds drink in the pool, and small antelopes roam around the accommodation and enjoy the safety of being close to people. After a lunch and often also a "High Tea" you go on a game drive in the afternoon, only interrupted by a sundowner in the bush. From now on you also have the possibility to observe nocturnal animals. Equipped with powerful spotlights you search for the many animals that are not visible during the day. With a good dinner and a drink or two at the bar, an exciting day comes to an end.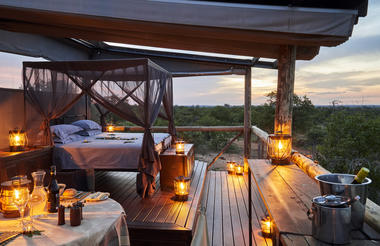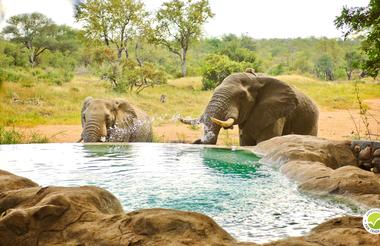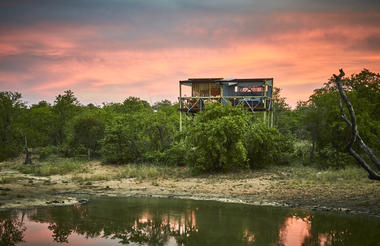 Day 6:
Timbavati Private Nature Reserve
MOTSWARI PRIVATE GAME RESERVE
Another exciting safari day awaits you today!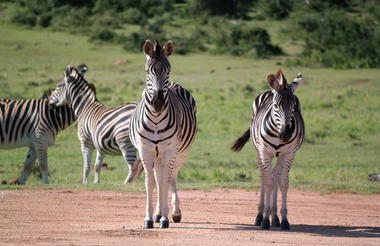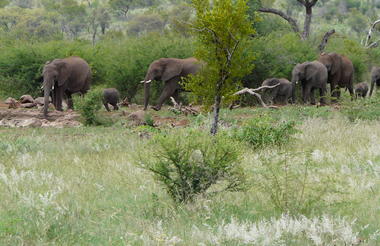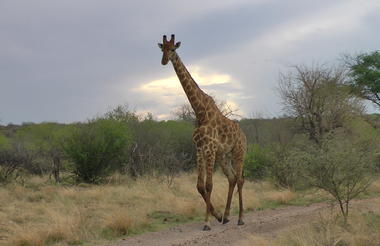 MOTSWARI PRIVATE GAME RESERVE - EASTGATE AIRPORT (HDS) & KAPSTADT - STELLENBOSCH (approx. 54 km / 1:20h & 34 km / 0:40h)
After the safari is before enjoyment! After a short drive to Eastgate Airport you leave the Lowveld and head for the Cape region. It will take about 3 hours to cross this vast and breathtaking country.
From Cape Town Airport take Settler's Way (N2) to the intersection with R310 (Baden Powell Drive). On this road you can directly drive to Stellenbosch, an extremely picturesque little town in the valley. Stellenbosch is an ideal starting point for exploring the region and at the same time a university town in the South African province of the Western Cape.
Cafés, boutiques and art galleries alternate in the oak-lined streets of the city. Like the Cape Dutch architecture, the traditional houses and gardens in the Village Museum are reminiscent of South Africa's Dutch colonial heritage.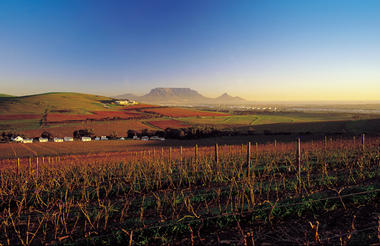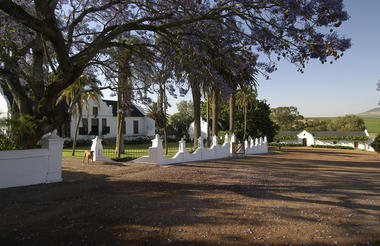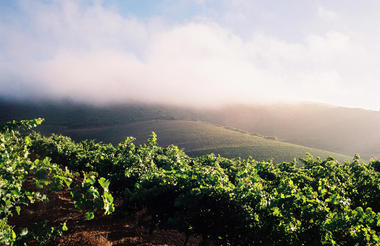 STELLENBOSCH & WINELANDS
Another day to explore and enjoy! Today we recommend a trip to Franschhoek, only 30km away. You drive through lovely vineyards with a variety of wineries that are open for sightseeing (and of course wine tasting). In Franschhoek you can stroll, hike and stop in one of the exquisite restaurants.
It is also worth to visit the NorSA Community Care project in Wellington (www.norsacommunitycare.org - please register in advance!) which is situated only 42 km away. In this city you can enjoy a good steak or an excellent pizza with a glass of wine at the Val du Charron winery, as well.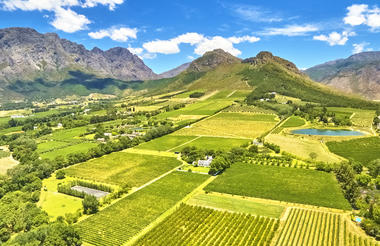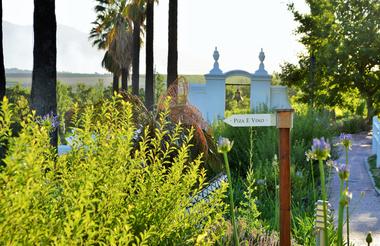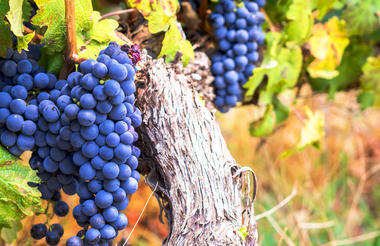 STELLENBOSCH - DE KELDERS (approx. 170km / 2:20h)
Today you leave Stellenbosch towards Franschoek on the R310 and R45 and after a last refreshment, e.g. a coffee in this wonderful region, you drive through the Theewaters Nature Reserve via Villiersdorp to Caledon.
This small town of only 13,200 inhabitants became famous in 1710 when Ferdinand Appel opened the first springs for visitors. Seven 50° hot springs supply around 900,000 litres of water per day. Hotels, spa and a casino attract visitors as well as the Caledon Wild Flower Garden with its thousands of fynbos plant species. The R316 and R326 will take you to Grotbos Private Nature Reserve on the opposite side of Walker Bay, just before De Kelders.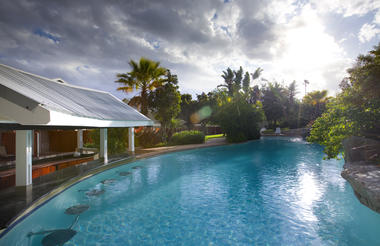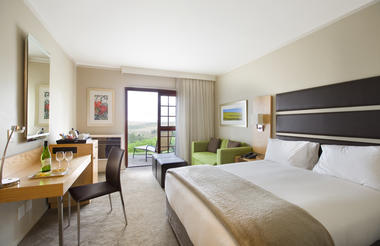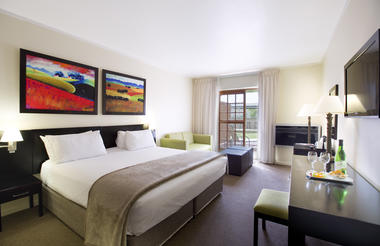 WHALE COAST
You will spend the day in one of the most interesting places on earth to observe the fascinating life in the open sea. The area is not only famous for the whales, of which some species are living here all year round, some only seasonally, but also for white sharks. The neighbouring Van Dyks Bay is one of the best places in the world to get very close to these giant predators.
Various companies have specialized in bringing these fascinating creatures closer to tourists and fighting for their protection at the same time. Only through knowledge and understanding for the robbers can one take away the fear of the people and protect these magnificent animals. We recommend you to consciously experience this fascinating adventure and also to experience the adrenalin kick, to experience these big sharks eye to eye in the cage.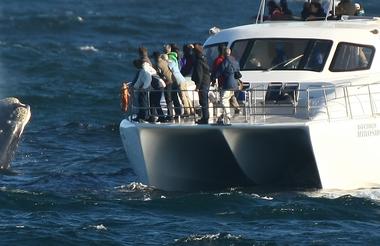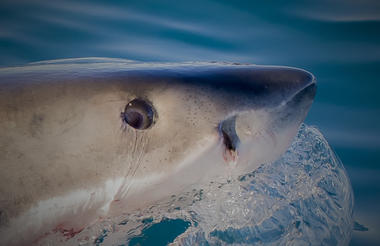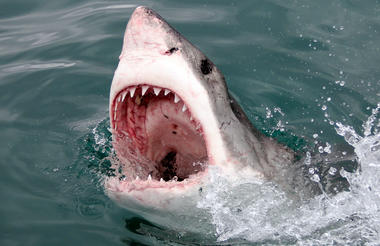 DE KELDERS - CAPE TOWN (approx. 158 km / 2:10h)
Today you leave De Kelders and drive back to Cape Town along the ocean. Along Walker Bay you will pass through Hermanus, the so-called whale watching capital of the world. With a bit of luck, you can watch the peaceful giants right below the cliff path during the season from September to December. A stop is therefore worthwhile.
From False Bay you drive via Betty's Bay along the Kogelberg Nature Reserve on the spectacular coastal road through the village of Gordons Bay to Somerset West. From here you can quickly reach Cape Town via the N2. Although you will experience many beautiful beaches that invite you to swim, you will also get to know another side of South Africa: In the township Khayelitsha just outside Cape Town, many differences become clear.
Your current destination is situated in the Newlands near the Kirstenbosch Botanical Gardens.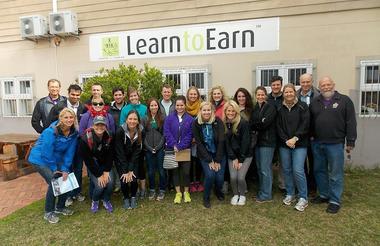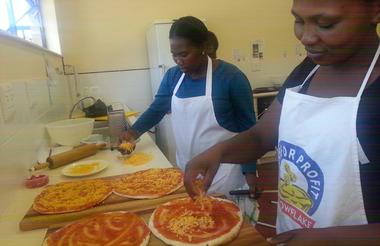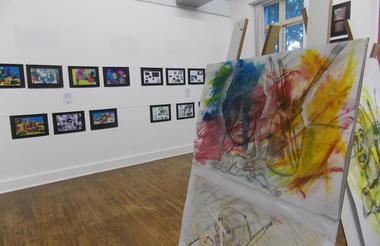 CAPE TOWN
A whole day in Cape Town! There is so much to explore and do. What do you fancy? A good way to explore Cape Town on your own is - for example - a city tour with the "Hop On - Hop Off" bus. In this way you get a very good overview of the city, can get off wherever you like and stay as long as you want to. An ascent to Table Mountain is also an absolute must! Victoria & Alfred Waterfront, the Kirstenbosch Botanical Garden, there is so much to experience!
Or how about a "High-Tea" in the afternoon on the roof terrace of the modern "The Silo Hotel" at the Waterfront? With a 360° view you can fully enjoy a tea (please make a reservation in advance!).
And don't forget: Robben Island is a must-see, as well!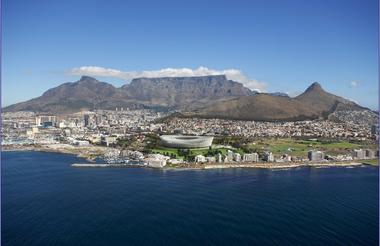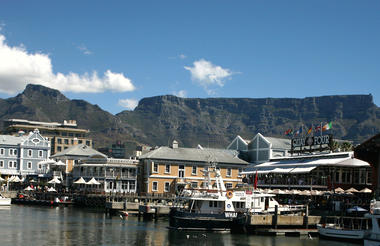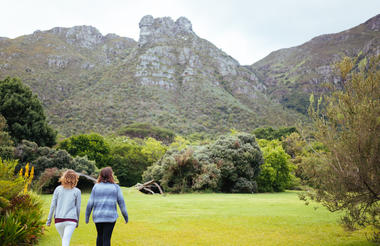 CAPE TOWN
Another whole day in Cape Town! Today would be a good day for a trip to the Cape Peninsula. There is so much more to see than the world-famous Cape of Good Hope. An unforgettable experience awaits you: spectacular coasts with steep cliffs and endless beaches, one of the most beautiful coastal roads in the world, unique flora and fauna (only here you can swim with penguins) and, of course, the surf-filled cape.
Leave early, you'll need the time!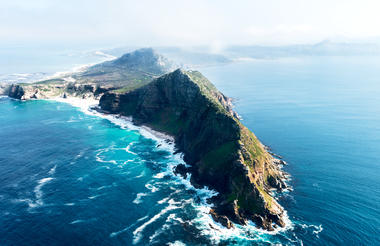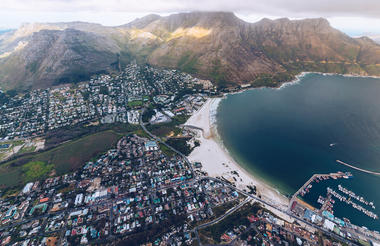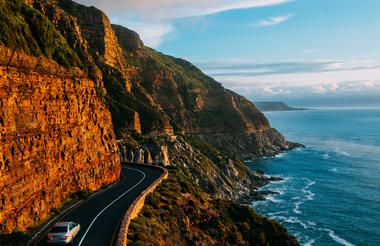 Upon your arrival at Cape Town airport, return your rental car. If you have not booked a follow-up programme, your holiday is already over. We are sure that you have experienced a lot and collected unforgettable impressions.