Day 1:
Victoria Falls (Zimbabwe)
On arriving at the airport you will be warmly greeted and transferred to your accommodation in Victoria Falls. (You may already be there, if you have chosen to add on a few extra days to see more of the falls).
Spend your time exploring one of the 7 Natural Wonders of the World – the iconic Victoria Falls!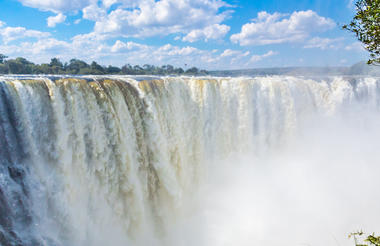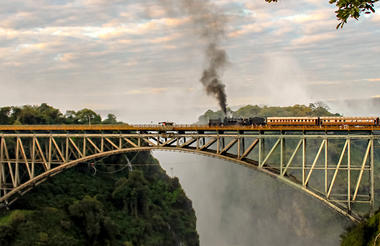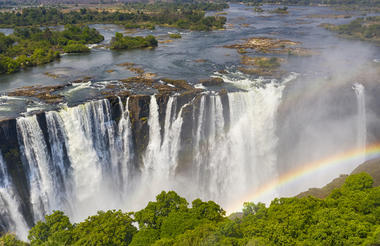 After breakfast you will depart Zimbabwe, and start your Botswana safari adventure.
Fly from Victoria Falls to Maun (flight not included), to connect with your short flight from Maun to Khwai Airstrip, where
you'll be met by your Roots and Journeys Nature Host. You will then have a 1-1.5
hour game drive transfer to Nokanyana - make sure to keep an eye out for wildlife on
the way!

After you have settled in then you may wish to enjoy a sundowner on the banks of
the Khwai River or head out for a short drive to explore the area.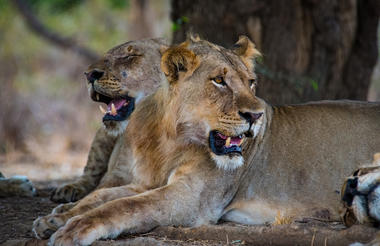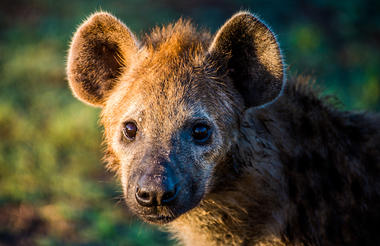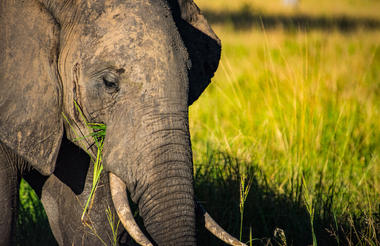 Wake up at about 5.30am to watch the sun rise; a continental breakfast will be ready for you in the main area, or around a roaring fire. Head out at around 6am, as the cool of the morning is generally the best time to spot the animals while they are still active.
In the afternoon, you can head out on a game drive, continuing to explore the area with your guide and seeing what wonderful wildlife sightings are in store for you.
Pre-dinner drinks and nibbles will be served around the fire and in the bar area, around 7/7.30pm.
Gourmet three course meal freshly prepared by our chefs (7.30 or 8pm).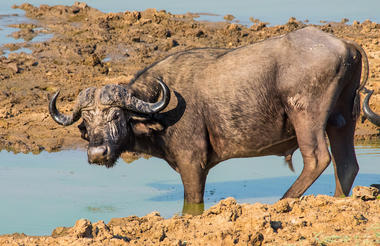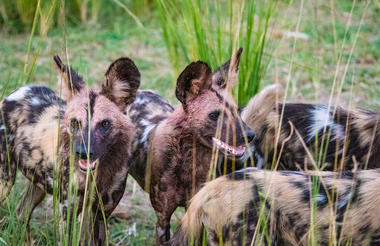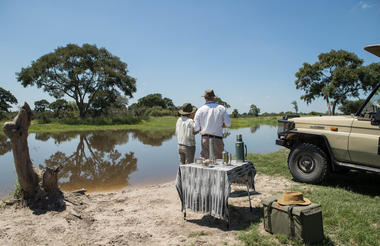 The day is yours to spend how you wish. This morning, you may continue with game drives, or maybe opt for a bush walk if you really enjoy exploring on foot. Or maybe this morning you might opt to book a scenic helicopter flight for an incredible view of the area that you have been exploring, or even combining this with a visit to Elephant Havens (heli flights are optional extras, and can be booked from Nokanyana).
In the afternoon, you may wish to spend the afternoon in camp relaxing by the pool, reading a book, or maybe having an extended and well earned siesta. If not, you could head out on a game drive, continuing to explore the area with your guide.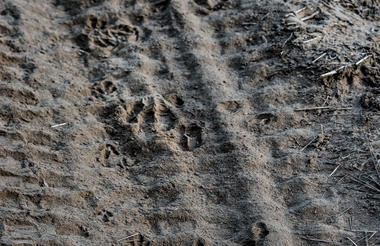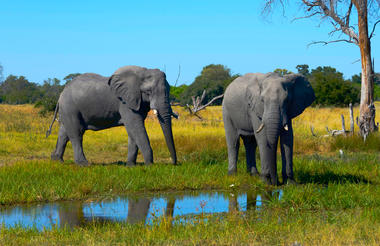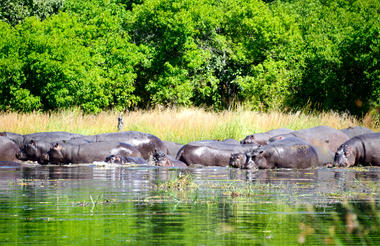 Day 5:
Okavango Panhandle
You have the option of a shorter morning game drive before departing Nokanyana and returning to camp for brunch before heading to the Khwai Airstrip.
Alternatively, you might have a relaxing morning in camp, seeing what comes down to the river to drink and then head off for the airstrip a little later depending on your flight time.
You'll be waved off by your Nokanyana guide as you board the light aircraft, hopefully ready for your next adventure. It's a 35 minute flight to Mopiri, where you will then land at our private Mopiri airstrip. There's then a 5 minute boat ride up the Weboro lagoon into camp.
Upon arrival at Mopiri, you'll be welcomed by one of our Managers who will show you around, and you'll have time to settle in, and take in the different landscape.
Following high tea, the afternoon barge cruise on the Weboro lagoon is a perfect way to take in your new surroundings, and start exploring the Delta.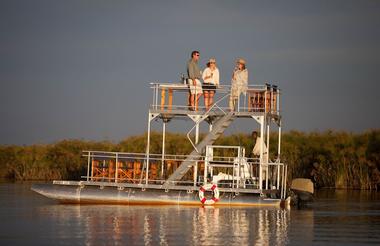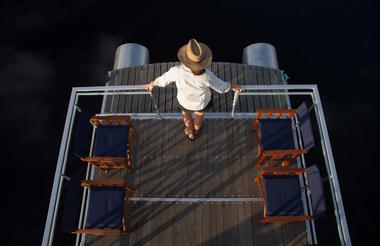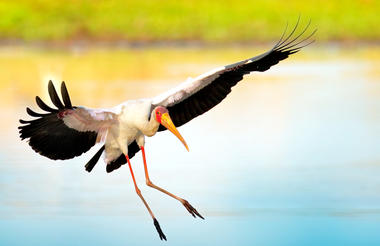 Day 6:
Okavango Panhandle
Wake up early to see the sun rising; a breakfast will be ready in the main dining area.
Leave Mopiri after breakfast and traverse the papyrus channels, stopping along the way. You'll spend about an hour and a half exploring the channels before moving on to some large islands.
Walk - When you reach the islands you can choose to take a walk, or simply tuck into a well-deserved bush brunch.
After lunch - After you have explored the islands on foot, jump back on the boat to try a spot of fishing at a number of different locations recommended by our knowledgeable guides.
Pre-dinner drinks and nibbles will be served around the fire and in the bar area, before a 3-course meal will be served.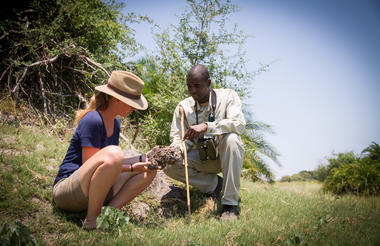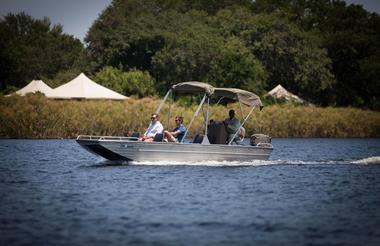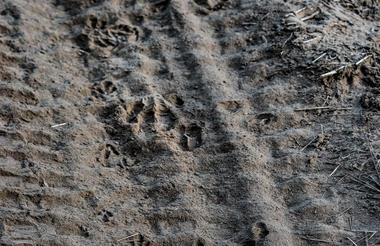 Day 7:
Central Kalahari Game Reserve
Depart Mopiri after breakfast for the Central Kalahari Game Reserve via Tsodilo Hills.
You will be picked up by helicopter and head to Tsodilo Hills - a Unesco World Heritage site, a rare and unique place with an atmosphere of intrigue and mystery. Sacred to the San Bushmen who painted more than 3500 rock paintings against the magnificent stone faces of the hills.
After you have spent some time at the hills, then jump back onto the helicopter and head south to the CKGR. Upon arrival at Great Tsau Hill you'll have time to settle in and be shown around camp by the Managers. You may opt for an afternoon game drive to familiarise yourself with your new surroundings, taking in the incredible landscape of the CKGR.
Enjoy a relaxing sundowner atop the Great Tsau Hill, overlooking the panoramic views of the savannah is the perfect way to spend your first evening of your Roots and Journeys adventure.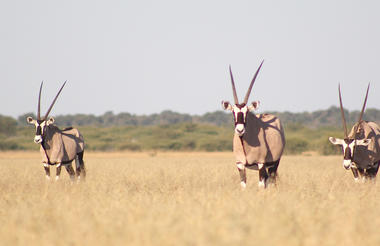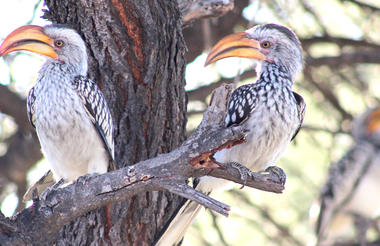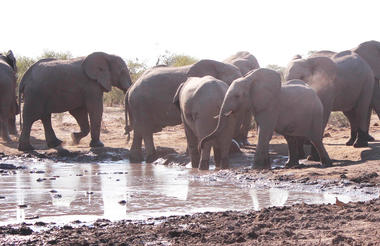 Day 8:
Central Kalahari Game Reserve
Spend the morning with the San Bushmen who are an indigenous hunter-gatherer people in Botswana. They will share with you their culture, heritage and skills that have been passed down for generations. This is an authentic, spiritual, historical and cultural experience. You may wish to visit the local San Bushmen village and learn about their unique history and how they live off the land. This interactive walk offers an incredible insight into the San Bushman way of life.
In the afternoon you may wish to try out our e-bikes, an alternative and great way to see the surrounding area.
This evening will be spent out on a night drive. Animals become more active later in the day, and driving after dark offers a chance to try and spot nocturnal wildlife. Aided with a spotlight, keep a look out for eyes reflective back at you in the dark; they could belong to an aardwolf, brown hyena, honey badger or maybe the famed Kalahari lion.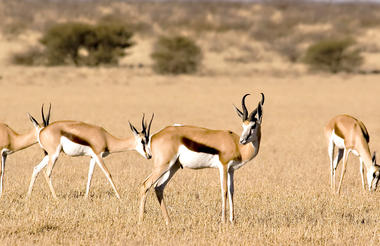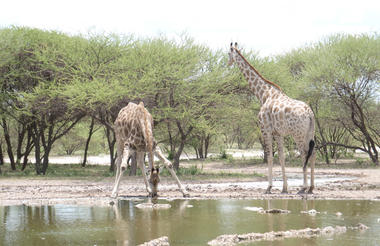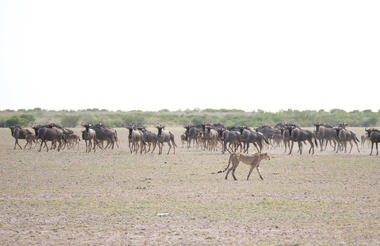 Day 9:
Central Kalahari Game Reserve
The morning is the perfect time to follow the tracks from the night before. You can head into the bush by foot to specific waterholes looking for the famous black-maned lion, oryx and brown hyena. In the afternoon you can head out on a game drive, and may opt to combine this with a night drive on your way back to camp.
Make the most of the unrivalled views of the night sky and opt to do some stargazing in the after dinner. Learn the constellations from our knowledgeable guides, or just simply sit back and take in the wonder of the Milky Way.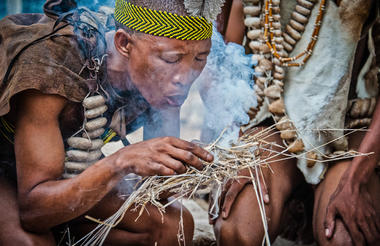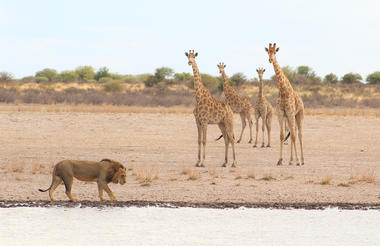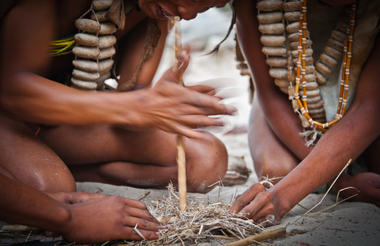 After breakfast, depart Great Tsau Hill for Maun Airport. You will be travelling by road again and the journey will take approximately 3.5 - 4 hours. We will assist in showing you to your connecting flight into Cape Town.
The flight to Cape Town is approximately 2 hours.