Welcome to Ecuador! Pick up at Quito Airport and transfer to your hotel followed by free time to settle-in and acclimatize to your new surroundings.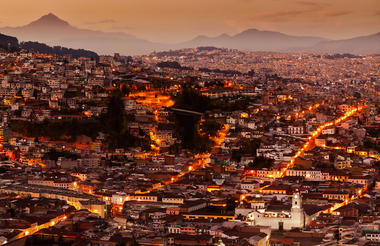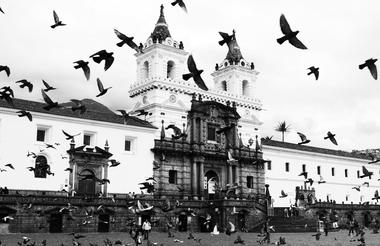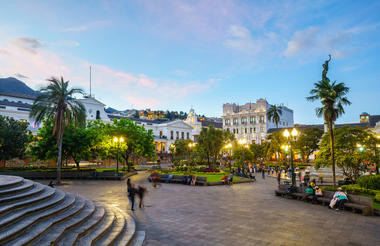 Expert tips
Quito is at 2800m altitude so remember to take it easy the first few days and stay hydrated!
Included
Airport transfer (Spanish)
A full day to acquaint yourself with the best sites of the city of Quito. In the morning you will enjoy a tour of the colonial highlights including the cathedral and most impressive churches and pretty plazas. After lunch we head north to the equator - stand literally in the middle of the world! We also visit the unique Inti ñan museum where you can prove (or disprove) various scientific phenomena that only hold true at the equator. Don´t forget to take your passport along if you want a special equator stamp in it!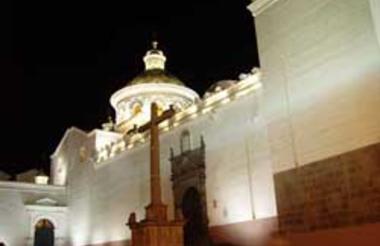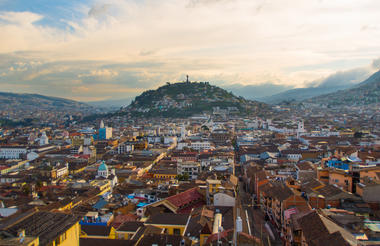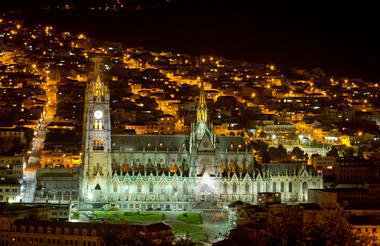 Included
Breakfast
English Speaking Guide
Your day in Otavalo begins with some free time to shop at the famous Indian handicrafts market at the Plaza del Poncho. The hustle and bustle of this colorful market is a great experience, where you can admire the great handmade crafts, ponchos, alpaca blankets and a variety of textiles. This is a great place for souvenir shopping! You also have the opportunity to visit the traditional local food market, where you can learn about the fruits and typical products the merchants offer there. During this visit you may see some tropical fruits that you perhaps have never seen before! Your shopping time is followed by a visit to the sacred Peguche waterfall and the local weaving and musical instrument workshops.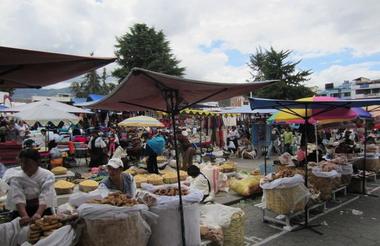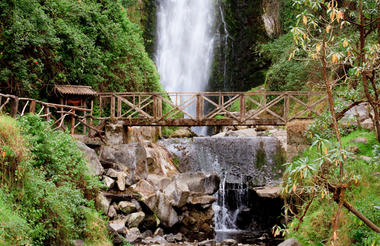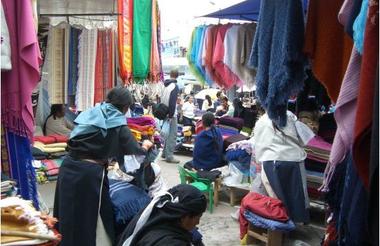 Included
Breakfast
English speaking guide
Private transport
Day 4:
Cotopaxi National Park
After breakfast we will visit the Condor Park where you have the opportunity to see a rare collection of raptors that were rescued in Ecuador from illegal owners. You can see Harpy Eagles, Snow Falcons, Owls... and of course the Andean Condor! The rescue centre works hard to protect this beautiful but endangered bird. At 11:30 you will see the "falconry" demonstration where a few eagles do what they do best... fly over the beautiful mountains of Otavalo! After the Condor Park visit we will transfer you to a beautiful historic hacienda in the Cotopaxi province.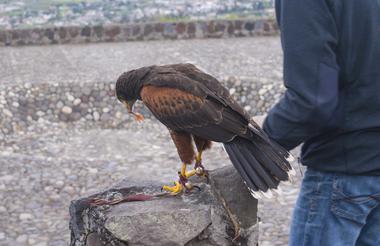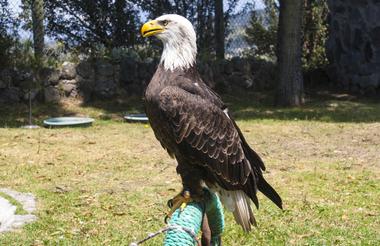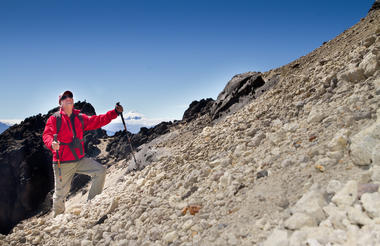 Expert tips
We often use Mid sized SUVs, such as a Hyundai Tucson, for day tours with a Driver/Guide. These SUVs typically are comfortable for 4 passengers. However, if you feel that you might want a bit more space, please let us know and for an additional cost, we can upgrade to a larger vehicle.
Included
Breakfast
Spanish Speaking Driver
A spectacular day visiting one of the highest active volcanoes in the world (5897m) and exploring the Andean grasslands (paramo). In the morning you will visit the picturesque Limpiopungo Lake and the small park museum. Afterwards you can head up to the volcano refuge at the snowline (approx. 1 hour hike up).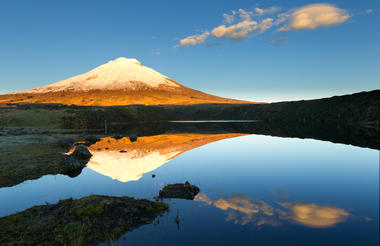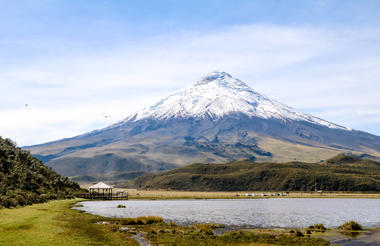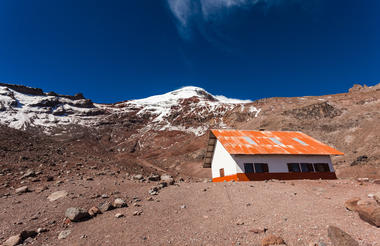 Expert tips
Expert Tip: Warm clothes are recommended for today and remember to drink plenty of water to avoid the effects of high altitude.
Included
Breakfast
Boxlunch
English speaking guide
Private transport
An early flight to the Galapagos Islands where your English-speaking guide will be waiting for you at the airport in Baltra. He/she will take you to the port of Puerto Ayora (Santa Cruz Island). In the afternoon y our guide will take you the Giant Turtle Reserve – Rancho El Manzanillo located in the upper part of Santa Cruz. Here giant tortoises can be found wandering freely. Lunch at Rancho El Manzanillo. Afterwards we visit the Charles Darwin Station to learn about the ongoing conservation efforts on these Enchanted Islands. The Research Station rears endemic Galapagos plants, land iguanas, and Giant Galapagos Tortoises for educational, scientific and conservation purposes.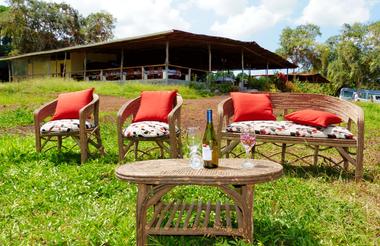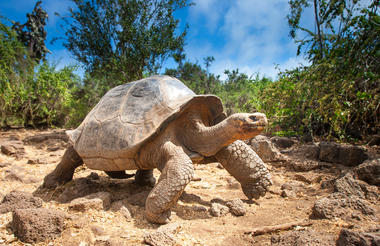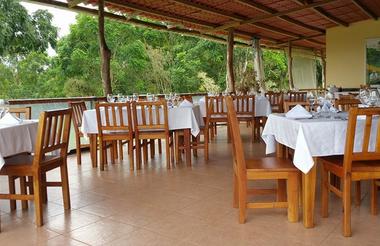 Included
Breakfast
Lunch
English Speaking Guide
Excluded
Entrance fee to the Galapagos National Park ($100 International visitors)
Transit Control Card ($20).
By Yacht to one of the following destinations:
*Bartolome Island
*Plazas Islands
*Floreana Island
*Santa Fe Island
After breakfast, you will take a boat ride to one of the islands listed above. All of them offer fascinating insights into the plant and animal life of the Galapagos Islands where your naturalist guide will explain all about the flora and fauna that you encounter. Note: The destinations depends on availability.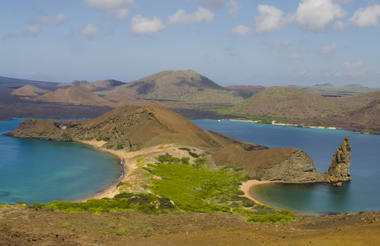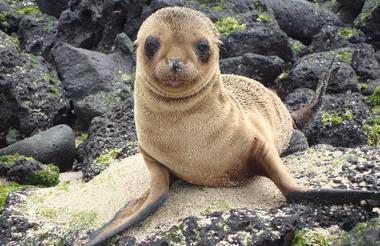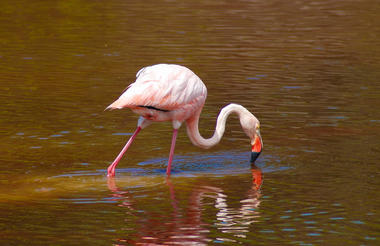 Included
Breakfast
Lunch
English Speaking Guide
After breakfast we will take the Public speedboat to Isabela Island (7:00 aprox), which lasts approximately two and a half hours. On arrival at Isabela we will take a brief rest at the hotel and then head to the Concha de Perla lagoon where you can swim with sea lions, colorful varieties of fish, and with luck sea turtles. After lunch we visit Tintoreras Islet - the name of the islet derives from the sharks that live in the waters surrounding the islet that have whit-tipped fins, which are known as "Tintoreras". The islet is one of the most fascinating places on Isabela Island and in fact all of the Galapagos. In this one area we can see sea lions, marine iguanas, blue-footed boobies, Sally Lightfoot Crabs, sea turtles, pelicans, and Galapagos Penguins. As the island is one of the main breeding sites for the marine iguanas it is an excellent place to see a large community of these creatures close-up. After the hike through the islet we will get back on the boat and cool off by snorkeling in the waters nearby where with luck we may see multicolor fish, starfish, sea-urchins, and with luck manta rays, sharks, and sea lions that may swim with us close up. After this fascinating experience we will return to the hotel.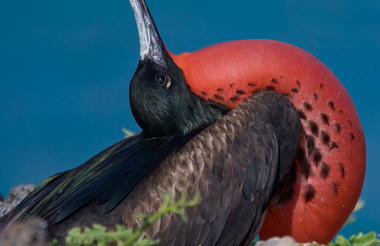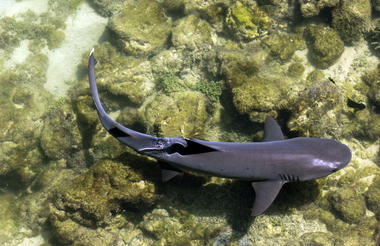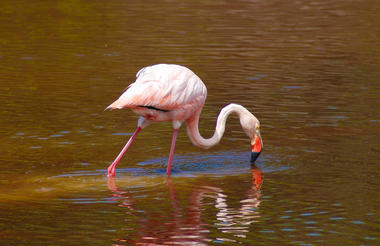 Expert tips
Please note that the speedboat is a public service which is usually full, and is a bumpy ride for approx. 2 ½ hours each way. If you would prefer more comfortable transport then let us know and we can change you to an small plane flight between Islands instead. Bear in mind that the luggage limit is just 12kg per person.
Included
Breakfast
Lunch
English Speaking Guide
Today you have 2 options. You can go to Cape Rose Tunnels, located 40 minutes from Puerto Villamil, where you can snorkel along fish, rays, sea turtles and sea lions, or the second option is to take a hike to Sierra Negra Volcano, that lasts approximately 3 hours, from this point you can take pictures and admire the amazig landscape, and then, you will continue to Volcan Chico. During the rest of the day use the bycicles of the hotel or visit the Tortoise Breeding Center on your own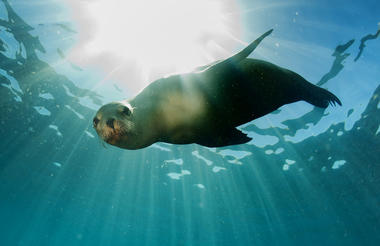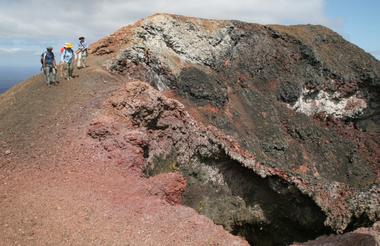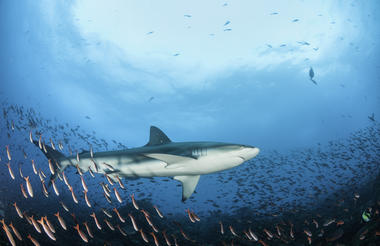 Included
Breakfast
Lunch
Dinner
English Speaking Guide
At 5:00 a.m, head to the dock to take the public speedboat back to Santa Cruz Island (timing subject to change). From Puerto Ayora we will transport you across the highlands and to Baltra Airport. Depending on the timing of your flights we may have time for a quick visit to the twin crater sunken "holes". These craters were formed by the collapse of the earth beneath which lava had passed and created giant tunnels. Once you arrive to Quito our driver will transport you to your hotel.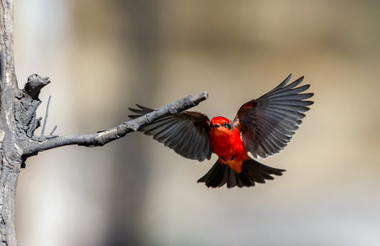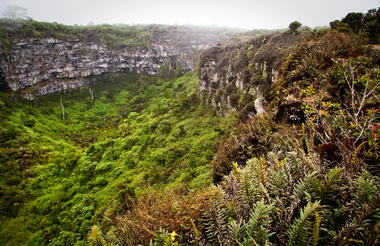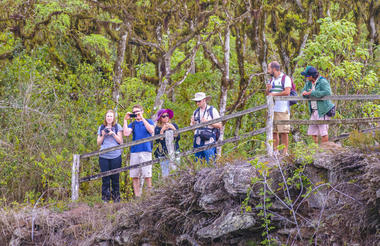 Included
Breakfast
Spanish Speaking Driver
Transfer Out
You will be picked up at your hotel for a transfer to the airport in time for your international flight out.
Included
Breakfast
Airport transfer (Spanish)