Days 1 - 4:
Great Bear Rainforest
The Great Bear Rainforest on the Pacific coast of British Columbia is the largest coastal temperate rainforest on earth. It is here that the Kermode Bear aka Spirit Bear can be found - one of the rarest animals in the world. The Kitasoo Xai'xais people believe that the Spirit Bear holds super natural powers and to spend time in its presence is a truly transformative experience.
Yet this rainforest is home to much more than the iconic bears. Minks, river otters, weasels, wolverines, deer, and many more species big and small that all play an important role in this interconnected ecosystem.
Birders can delight in spotting bald eagles, marbled murrelets, water ouzels, loons, various ducks, and several species of gull amongst many others.
Stand in awe under massive old growth trees, marvel at the variation in mosses, lichens, and numerous unique plant species.
TRIP HIGHLIGHTS:
Scenic flight from Vancouver along the Inner Passage to Bella Bella
Stunning boat ride to the wilderness lodge
4 nights in a culturally authentic lodge, in cozy, ocean front rooms
All meals, snacks, beer and wine are included
Daily guided excursions include:
Exclusive access to private wildlife viewing areas
Explore lush estuaries and stunning inlets with immense waterfalls and granite cliffs
Hike through trails in an intact rainforest
Watch whales, sea otters and other marine life by boat, kayak and canoe
Experience the feeding frenzy firsthand as bears, eagles, sea lions, and whales fill up on the Fall Salmon for the long winter ahead
Explore ancient cultural sites in the Kitasoo Xai'xais territory
Delight in the art of storytelling during an evening in the Klemtu Big House
Conservation efforts are why we have this spectacular wilderness called The Great Bear Rainforest in British Columbia. By joining this safari you will not only have a once-in-a-lifetime wildlife experience, but also support local conservation organizations and community based stewardship efforts.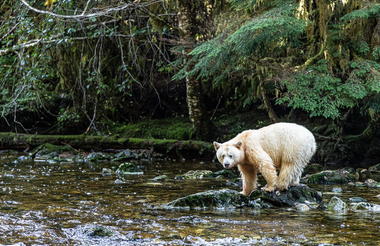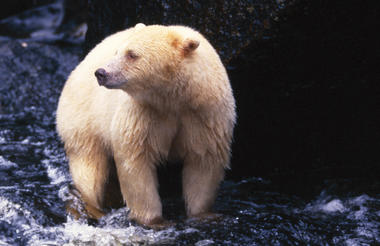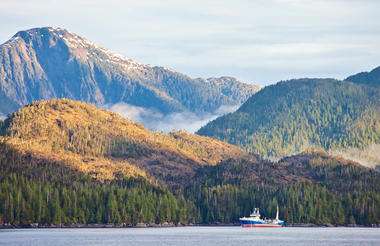 Expert tips
Spirit bears are rare white-coated black bears (Ursus americanus kermodei) that live in the coastal temperate rainforests of Northwest British Columbia. Their striking colour is caused by an uncommon recessive genetic trait. Spirit bears are not a unique species or subspecies, but a unique colouration of the coastal British Columbian black bear subspecies kermodei.
Current population estimates are under review and vary from 50 to 150 individuals. This elusive animal is only found in a small portion of the Great Bear Rainforest. Kitasoo/Xai'xais territory is home to the largest proportion of the spirit bear population and the only Spirit Bear conservancy.
Klemtu is home to the Kitasoo Xai'xais people, 2 distinct tribal organizations have come together here.
The Kitasoo Xai'xais are one of the fifteen Tsimshian nations that call the Great Bear Rainforest home. The Kitasoo people lived in villages that were scattered along the rivers, bays, and inlets of the outer central coast while the Xai'xais people settled in the large river systems on the mainland of the central coast. They were not nomadic due to the abundance of natural terrestrial and marine resources which were used as the basis of the traditional sustenance.
The Tsimshian traveled for trade and to move relatively short distances between winter and summer camps.
Activities and Services
Wildlife-viewing excursions by zodiac and on foot
Kayaking and canoeing along the shoreline
Expert tips
A good level of mobility is essential for this trip, i.e. you should be able to hike for approx. 1 mile over rough terrain in the rainforest.