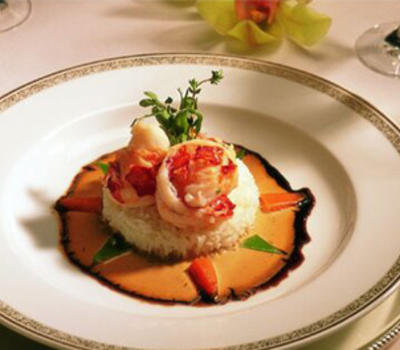 Exquisite Cuisine - Savour...It's All Included.
One might expect to pay additional for the privilege of dining nightly on gourmet cuisine this extravagant, accompanied by exceptional wines and impeccable service, but rest assured, it's all included.
Dine whenever, wherever and with whomever you choose in our open-seating restaurants. Simply request a table when the mood strikes and the Maitre D' will happily seat your party.
Using fresh local produce from international markets, delicious artisan cheeses and scrumptious baked goods crafted from the finest imported French flour, combined with all the skills and imagination of our celebrated chefs to put it all together — cruising has never tasted so good.
Menus change daily in Compass Rose as a multitude of different regional dishes are offered during the course of your voyage. Indulge in a Sunday champagne and caviar brunch at La Veranda or Compass Rose. Dine in elegant surroundings including the iconic Prime 7, the premier steakhouse at sea and delight in mouthwatering entrées paired with distinctive complimentary wines and spirits.
Show More
Show Less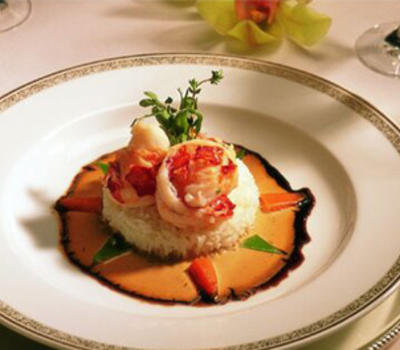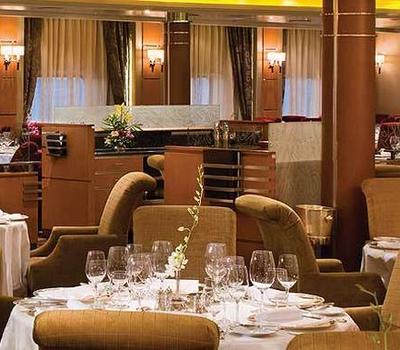 As the flagship restaurant aboard each of our ships, the wonderfully spacious Compass Rose serves breakfast, lunch and dinner and features an exceptional variety of European-inspired Continental cuisine, as well as flavourful vegetarian and kosher dishes and nutritious Canyon Ranch SpaClub® specialties. Elegantly decorated in warm golden and maroon hues, Compass Rose delights with a beautifully refined atmosphere blessed with natural light during the day. Whenever you decide to whet your appetite, your Maître D' will guide you to a quiet, romantic table for two or a festive larger table — reservations are not necessary.
Show More
Show Less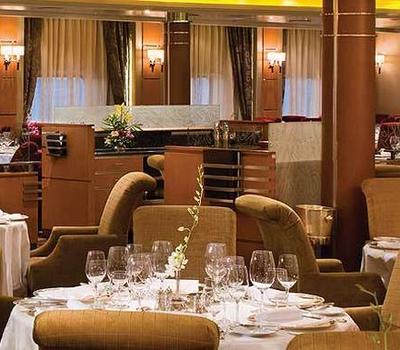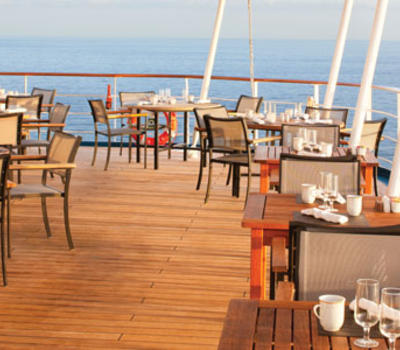 Serving breakfast and lunch, La Veranda is exceedingly popular any time of the day. Spacious and comfortably casual, La Veranda offers regional specialties that often reflect the cuisines of the countries called on, such as Grilled Lamb Chops with Spanish Sherry Sauce or pan-sautéed Mediterranean Sea Bass. Dishes are presented in a buffet style that displays the diversity of the menu. La Veranda also features an authentic pizzeria and a shaded, open-air veranda for dining al fresco.
Show More
Show Less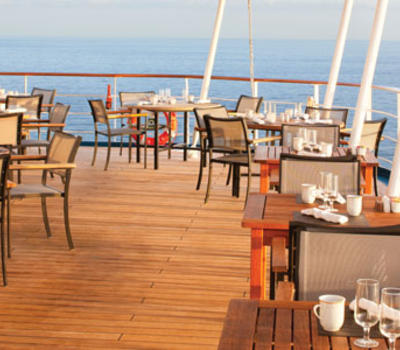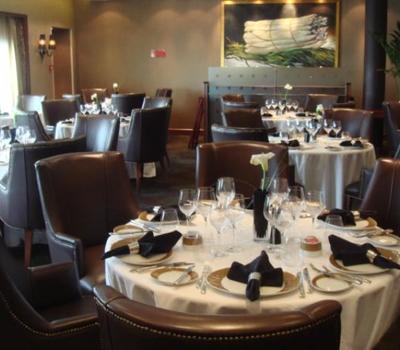 A true classic in every sense, Prime 7 sets a new standard in steakhouse fare with its contemporary interpretation of an American favourite. Handsomely decorated with supple leather wing-back chairs, burnished woods and rich earth-toned fabrics, Prime 7 exudes a distinct, intimate elegance. This is glamour redefined, a luxurious setting to enjoy classic steakhouse cuisine with a modern flair.
All the traditional starters are here, including Jumbo Lump Crab Cakes, Oysters Rockefeller, and French Onion Soup Gratinée. Of course, beef is the undisputed star, as it is all USD A Prime and Dry-Aged at least 28 days to ensure the ultimate tenderness, juiciness and flavour. "Côte de Boeuf" Bone-in Rib Steak, Porterhouse Steak and succulent Filet Mignon only touch upon the selections. Mouthwatering alternatives include Colorado Double-Cut Lamb Chops and Oven-Roasted Organic Free-Range Chicken. Prime 7 is open for dinner only and reservations are required.
Show More
Show Less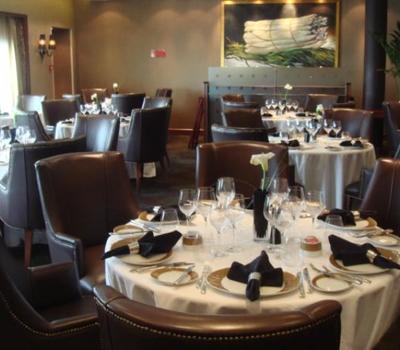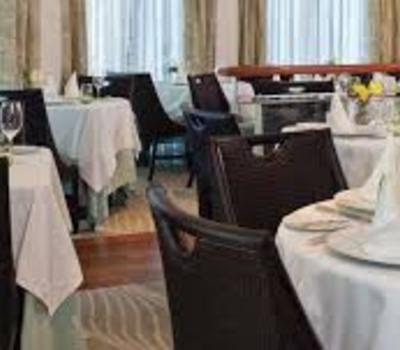 Each evening, La Veranda transforms into Sette Mari at La Veranda, a casual, intimate dining experience. Enjoy an extensive menu of authentic antipasti and Italian specialties served á la carte and paired with fine Italian wines — complimentary of course. Delectable dishes are prepared á la minute by our talented chefs using only the freshest gourmet ingredients and served by our attentive waiters. Sette Mari at La Veranda is open for dinner only.
Show More
Show Less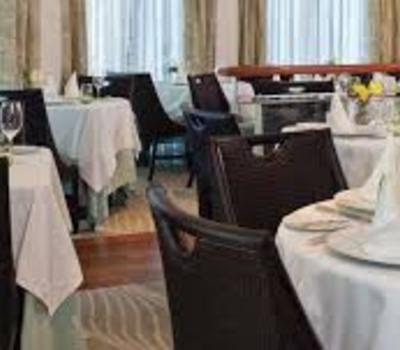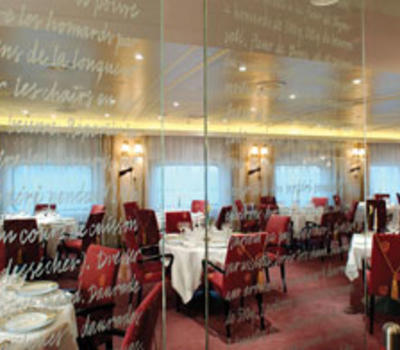 Signatures is one of two restaurants at sea (the other is aboard Seven Seas Mariner). Preparing authentic, decadent French cuisine is an art form and is the raison d'être of our French restaurant, Signatures. Capturing the diversity of French fare, our seasoned chefs offer an exquisite dining experience with tantalising tastes and enticing presentation. Consequently, each and every dish served in Signatures is absolutely sublime and purely French.
Classics like Quiche au Camembert and Foie Gras Terrine with Plum Marmalade tease the palate. Main courses such as Rack of Lamb with Morel Mushrooms and Melted Potato Garnishes and Magret Duck Fillet with Raspberry Vinaigrette excite the senses, especially when perfectly paired with a delightful French vintage carefully selected by the sommelier. The experience is so authentically French that it rivals that of the finest Parisian restaurants. Open for dinner only, reservations are required for Signatures.
Show More
Show Less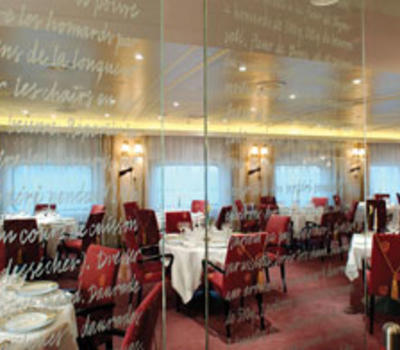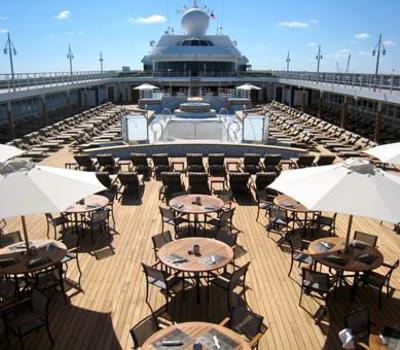 The ultimate come-as-you-are dining venue, the Pool Grill couldn't be more casual. Walk over straight from sunbathing or swimming in the pool. Drop by before or after a shore excursion. Enjoy a snack between activities. The Pool Grill is openair, yet abundantly shaded for comfortable dining. Enjoy grilled-to-order burgers, grilled seafood, sandwiches and fresh salads. Treat yourself to milk shakes, malts, and hand-dipped ice cream desserts sprinkled with all your favourite toppings.
Show More
Show Less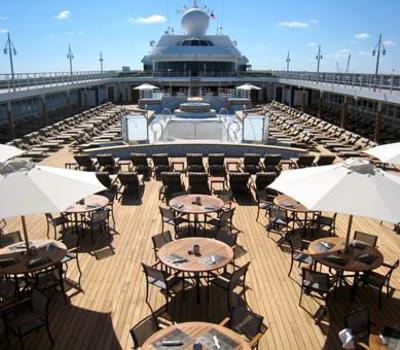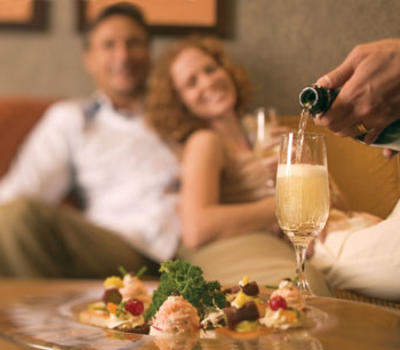 Knowing that guests sometimes prefer to simply dine in the comfort of their suites, we offer room service around the clock. Select from an extensive room service menu and the wait staff will promptly serve your order in the comfort of your suite. During normal dining hours, guests may also order from the Compass Rose menu, which changes daily and features Continental, vegetarian, kosher and Canyon Ranch SpaClub® cuisines. Dinners will be graciously served course-by-course.
Show More
Show Less