[DISABLED]Leleshwa Hiking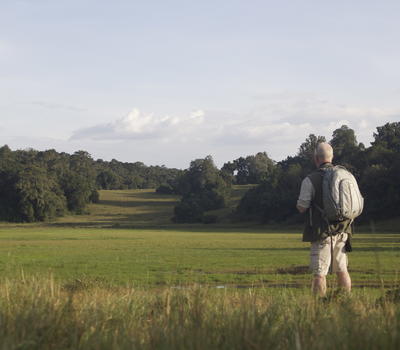 Trips start at Kanunka which is approximately 3hrs drive from Leleshwa Camp to begin your hike. Guests can also drive from Nairobi to the starting point.
Upon reaching the starting point of your hike, you will meet your Maasai walking guide, porters and donkeys who will transport our gear and camping equipment. Day packs are provided by Leleshwa Camp, and you will pack only what you need for the hike – all other luggage will stored to await you at the end of your trek. Each routing is planned according to the length of the hike and the physical ability of the group.
We commence our walking safari for 3-4 hours on the first afternoon, hiking through Maasai farmland and broken bush. After a stop for lunch under a classic umbrella thorn tree, we continue our walk toward the hills. As villages become increasingly remote and dirt tracks diminish into footpaths, we eventually leave the last settlements behind and enter the forest before reaching our first campsite.
Over the next few days we will walk for up to 6 hours a day following elephant and buffalo trails into the forest, passing small waterholes and traverse forest glades, dropping into valleys to walk along massive swamps that runs along the valley floor. On a clear day we can see all the way to the soda lakes of Magadi and Natron where Africa's famous pink flamingos breed; 6,600 foot Ol Donyo Lengai, Tanzania's only active volcano; and the heights of Gale and Shompole. For the more adventurous, visit the Alarsu waterfall, a 300 foot drop into an enormous pool. The route was opened up by our Maasai walking guide, Robert Rerende, who leads the way as we negotiate the rocky path down the valley wall. It is a difficult walk but, when we reach the bottom and are rewarded with a chance to cool off in the huge plunge pool, it is well worth the effort.
Show More
Show Less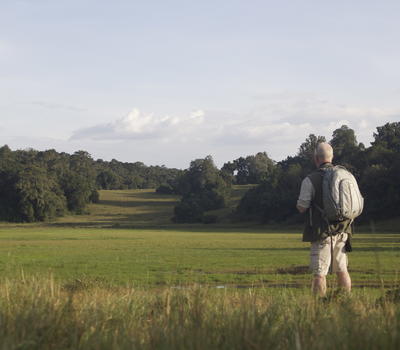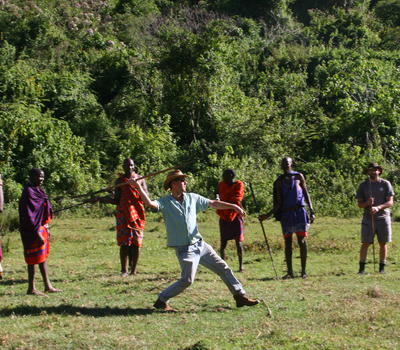 Whilst you are out in the wilderness why not try your hand at some 'traditional' activities? Learn how to throw a spear, light a fire and even dance the dance with your Masaai guides.
Show More
Show Less