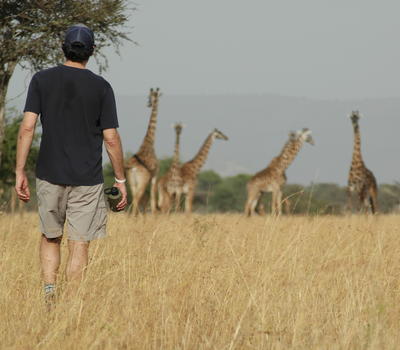 The area surrounding Leleshwa Camp within the Siana Conservancy offers a range of terrain to be explored. We can tailor short walks across the plains or longer hikes of two to four hours through the forest and over the surrounding hills for our more active guests. You will be escorted by your guide and tracker who will point out tracks and signs left by the animals as well as provide insight into various plants used as sustenance or traditional medicines by the Maasai herdsmen. You may also prefer to combine your walk with a 'camp out night' at a carefully selected camp site accompanied by your guide and chef.
Show More
Show Less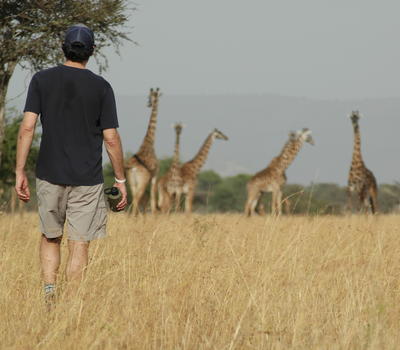 Enjoy a full or half day of discovery in the world renowned Masai Mara Game Reserve which is within comfortable driving distance of Leleshwa Camp. Your guide and tracker will set the route for your game drive depending upon the season and their local knowledge of where the best wildlife viewing is to be found. As the animals are most active during the early hours of the day, we recommend an early start with a mid morning picnic breakfast pausing for lunch under a shaded tree on the banks of the Mara River. Your guide and tracker will set out a traditional picnic with ice cold drinks after which you can enjoy a siesta on the blankets and cushions we provide before continuing your afternoon game drive back towards Camp.
Explore the Leleshwa Conservancy which boasts a rich diversity of game and bird species. Game drives in our conservancy are private and undisturbed therefore guests will rarely encounter other vehicles. Many guest enjoy ending their stay at Leleshwa Camp by rising early on their final morning to watch the sunrise over the African plains with a steaming cup of coffee and hot muffin. In the late afternoon, on your game drive, stop for a 'sundowner' cocktail to watch the sun set and prepare for your night drive back to camp. where you will discover many different nocturnal animals as well as predators coming out to hunt.
Show More
Show Less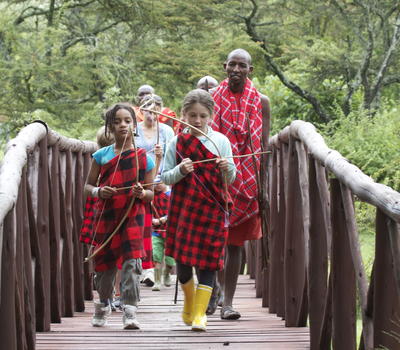 Children's bush activities
Leleshwa Camp is a child friendly camp with an environment that provides endless space for fun and interactive activities focussed on fully immersing and encouraging them in nature, wildlife and culture. While pareents are relaxing together on an early mrornign game drive or share a fabulous bush lunch under the expanse of an acacia tree, our friendly staff will delight in entertaining their kids leaving them free to enjoy time togethrer surrounded by the beauty of the Leleshwa Conservancy.
Along with their guide and Maasai spotter they will enjoy:
- bush walks to identify tracks & signs
- help make handcrafted spears and bows & arrows and learn how to use them
- visiting our chef in the kitchen and making animal bread
- having fun beading their own designs with the Maasai ladies
- using a range of arts materials to recreate their days' adventures
- roasting marshmallows around a camp fire
- treasure hunt around camp
For the more adventurous at heart, enjoy a family walking safari amongst the plains game & beauty of the conservancy to your fly camp for a night - camping beneath the stars and enjoying a hearty meal around the fire whilst your Maasai guide shares stores of his childhood.
Show More
Show Less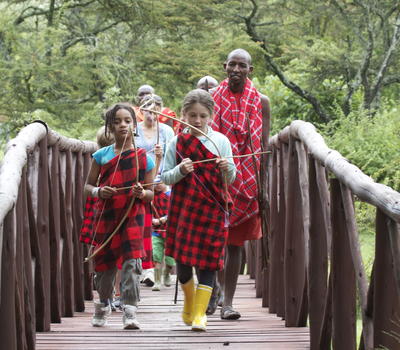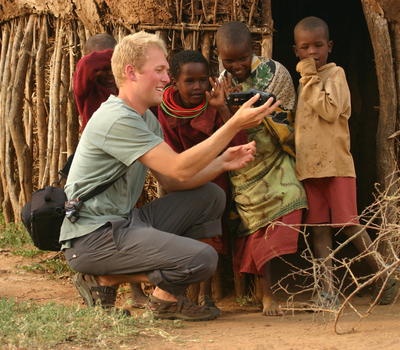 Visit to the Maasai Manyatta
Leleshwa Camp is committed to promoting responsible culture travel that connects guest with local people in a mutually respectful and beneficial manner. A visit to an authentic Masai manyatta is an exciting cultural experience and provides an opportunity to explore their ancient traditional way of life. Village visits give you the opportunity to observe how their traditions have evolved around their cattle. Our spotter staff will introduce you to their family and welcome you into their homes
Show More
Show Less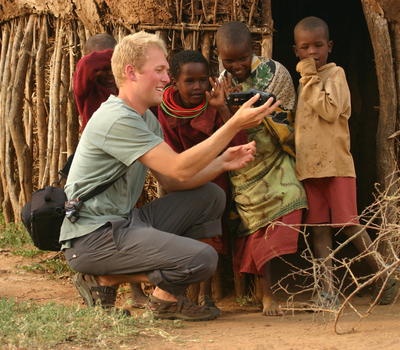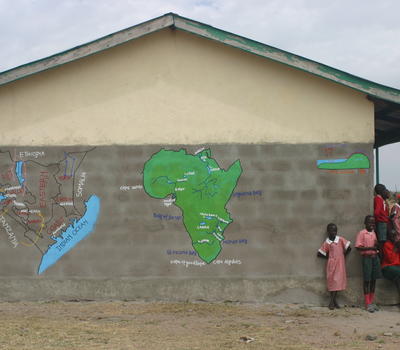 Every guest who stays at Leleshwa Camp does so in the knowledge that they are making a direct contribution towards the upliftment of the Masai Community. These improvements to local lives include infrastructure, health, education and the environment. We have created the Leleshwa Camp Community Fund (LCCF) for this purpose and the primary objective is to assist children of the area with attaining literacy to give them a sound grounding for further personal growth and development.
We achieve this by assisting an established school, Mpopongi Primary School, to ensure that the existing facility operates to its maximum potential. We assist the most needy families within the Siana Area whilst promoting gender equality in the school. Children are also taught the value of conservation principles which demonstrates how the community benefits directly from allowing tourism activities on their land.
Show More
Show Less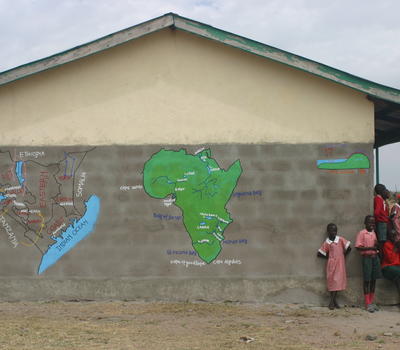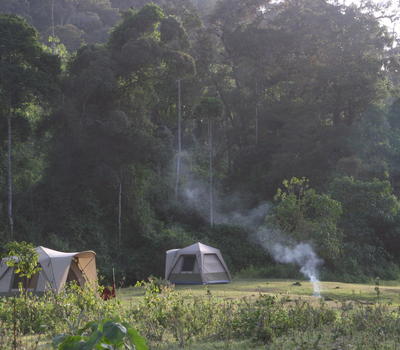 Camp Out on Leleshwa Conservancy
Make memories for a lifetime on a walking safari with a cultural twist. Whether solo, in a group or wanting a unique family experience there's no topping this African safari with fun activities for all ages that are set to thrill, even more so when experienced on foot with your own local Maasai guides. The experience of hiking your way through the Hidden Mara, Leleshwa Conservancy, across the plains with its abundance of wildlife, through the cool of the acacia forests, past bubbling streams & transverse hillsides with spectacular views of the plains of the Greater Mara you will have you thirst for adventure truly activated.
Your journey will make an unforgettable cultural twist when you delve into the ancient culture of the Maasai. Live, breathe and learn from this famous tribe, visit their village, meet local herders, share in their unique customs and traditions and let your senses come alive to the vibrancy of their weekly trade markets.
And at the end of each action packed day you'll find your campsite eager to receive you. Hurricane lamps ablaze, hot water for those weary feet, bubbling pots of hearty fare & a campfire that will renew your energy and power stories of your day long into the night.
In a world of rapidly vanishing natural treasures, the chance for you, your friends or family to experience the wonders of Africa together is an unsurpassed gift.
Show More
Show Less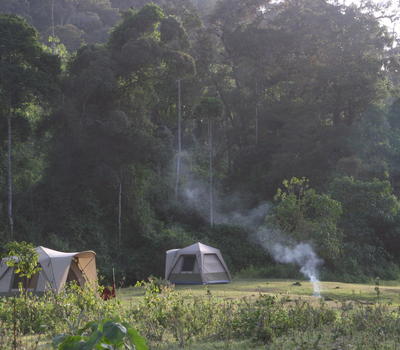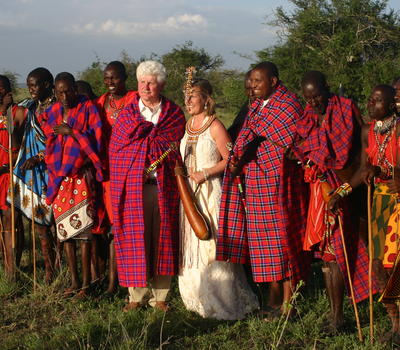 The Masai Mara is an ideal location for your wedding, honeymoon or renewing your marriage vows. Your ceremony will be one of the greatest occasions throughout your life's journey and Leleshwa Camp will ensure that you celebrate in style and make your day truly memorable. We offer a flexible service tailored to your exact requirements be it for a group of friends and family joining you or just for the two of you.
In the Maasai culture the wedding is all about the journey of the bride to her groom at his manyatta (village) and her welcoming. These traditions and associated blessings are incorporated into your ceremony. Each of the bride and groom are met by a group of dancing warriors and ladies and led to the Masai Laibon (spiritual leader) who performs the blessing, as you overlook the surrounding plains. The day is ended with cocktails (or a local brew if you prefer), an African sunset and further celebrations around the fireplace before a starlight dinner with new friends.
On request we will arrange Maasai head garments for the bride and a rungu & spear and traditional Maasai throw for the groom. All the proceeds of your ceremony will be donated to the Masai community.
Show More
Show Less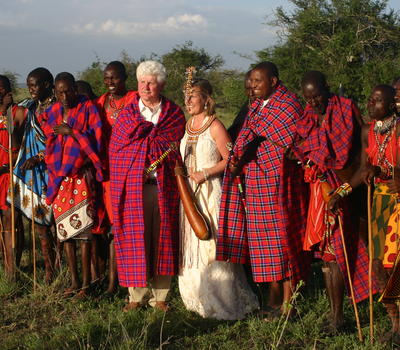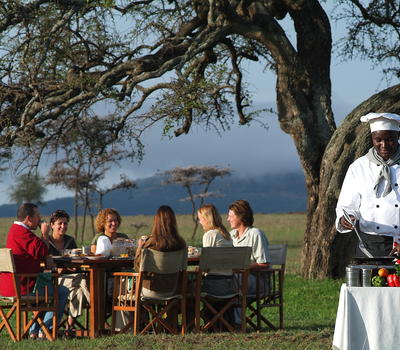 For a truly memorable experience come and dine out in the wilderness. Stunning three course meals cooked for you under the shade of an acacia tree or under a star filled sky. Utterly romantic with just you and your partner or full of laughter with friends and family this is a meal that you will not forget anytime soon...
Show More
Show Less