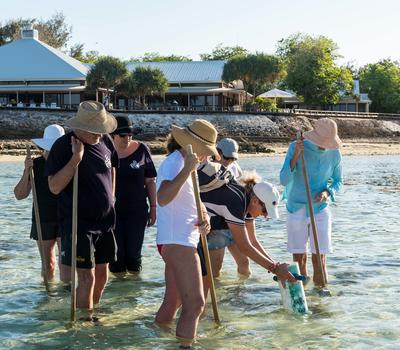 Guided Reef Walks - Complimentary
A stunning one-hour walk out to the edge of the reef that lets you in on its best kept secrets. Wandering around the coral at low tide is the best way to get up close to the reef. Our qualified naturalist guide will point out all the hidden creatures and you'll get a chance to get up close and personal with sea cucumbers, sea stars and a myriad of other amazing reef creatures and corals. On the walk, you'll learn fun facts about the creatures and finish with a true appreciation and understanding of the reef.
Show More
Show Less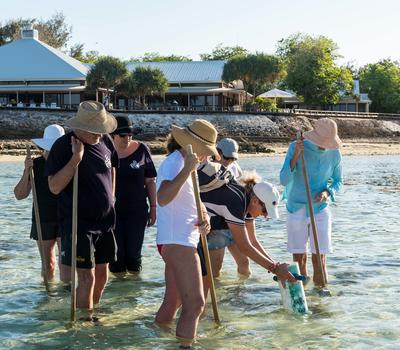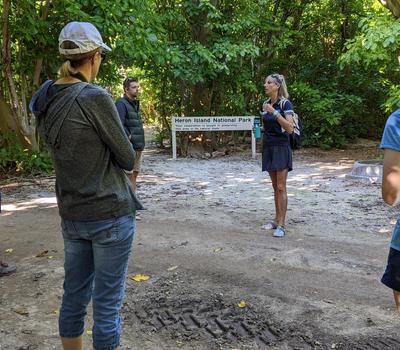 Island Ecology Walks - Complimentary
Learn how the island maintains its ecological balance on an island walk. One of our qualified naturalists will take you on a walk to view all of the different habitats found on the special island.
Show More
Show Less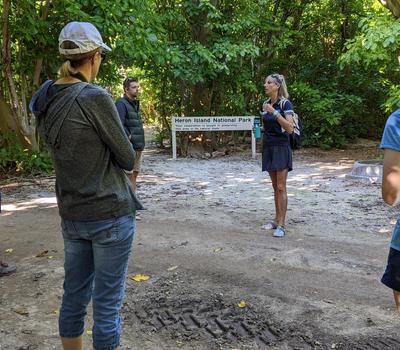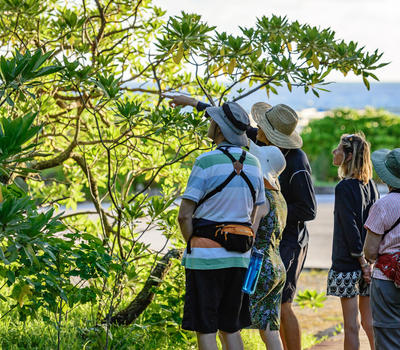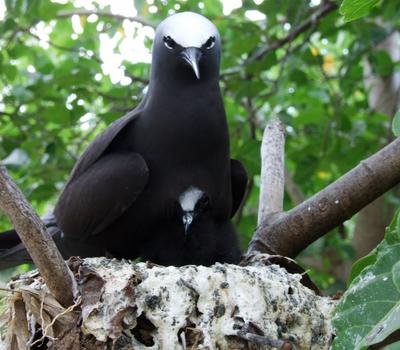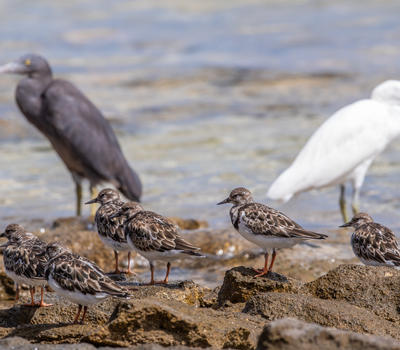 Guided Birdlife Walks - Complimentary
Heron Island is a special nesting site for sea birds, as well as a roosting and feeding site for many visiting species of seabirds and migratory waders. Heron is also home to seven resident species as well. There have been over 100 bird species recorded on the island and about 20 of these are regularly observed including Young Wedgetailed Shearwater birds, Black Noddy Terns, Eastern Reef Egrets and Buff-banded Rail birds. Take a walk with one of our expert naturalists to discover some of these interesting and loveable birds.
Show More
Show Less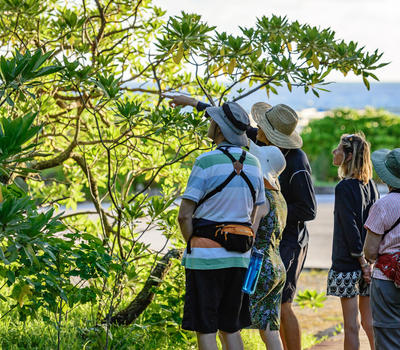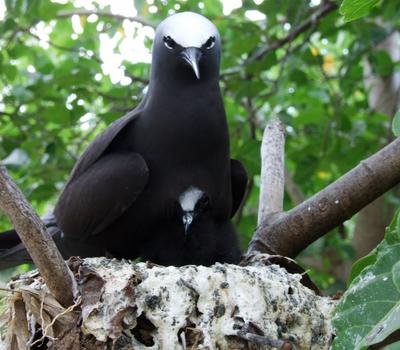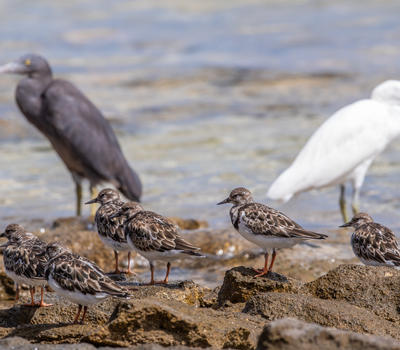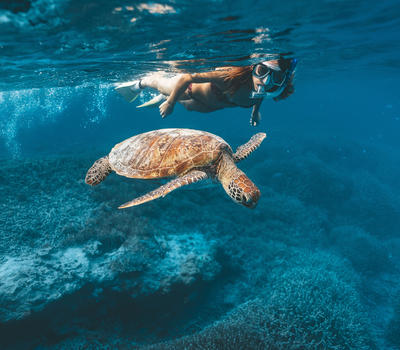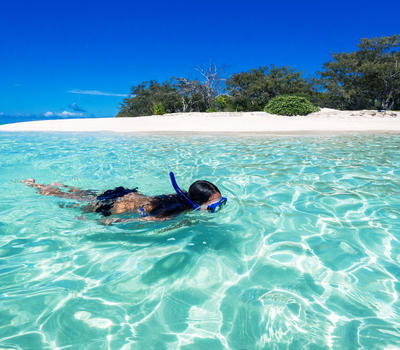 Incredible snorkelling opportunities abound on Heron Island, and it's the most popular of all guest activities. Whether you're a mask and flipper novice or a more experienced diver, you'll find plenty to marvel at just below the waters off Heron Island.
Snorkel right off the beach - Being right on the Great Barrier Reef means that you can snorkel off the beach.
Snorkelling lessons - Complimentary snorkelling lessons are conducted in the swimming pool.
Snorkelling boat tours - Enjoy one of our snorkel tours offering a kaleidoscope of coloured fish and coral on Heron and Wistari Reefs, all within easy reach of Heron Island.
Show More
Show Less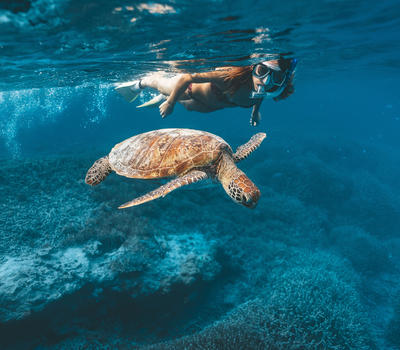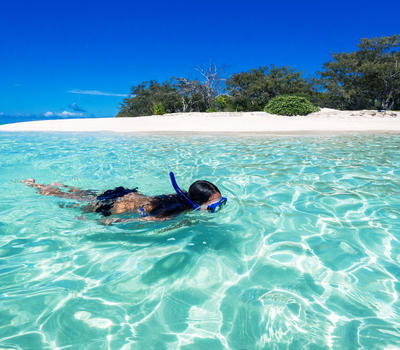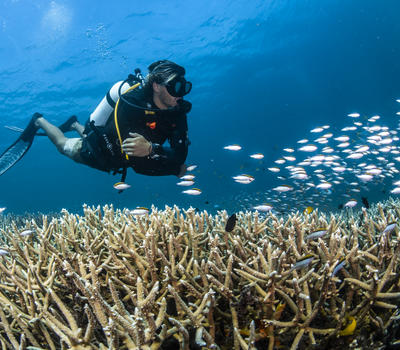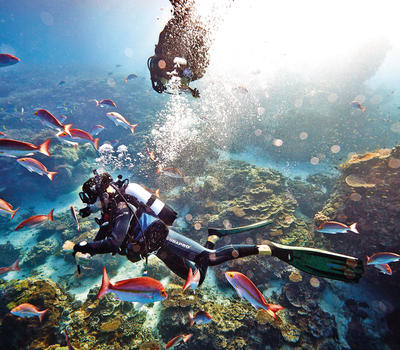 Dive the Great Barrier Reef
Discover the natural attractions that have made Heron Island world famous. Heron Island is a mecca for diving and snorkelling enthusiasts. There's no need for day trips to the reef because you're already there! Explore more than 20 dive and snorkelling sites, including the Heron Bommie, one of Jacques Cousteau's favourite dives. Of course, during turtle season from October to April, you'll be able to see both green and loggerhead turtles on the beaches too. If you love nature, you'll love it at Heron Island.
Show More
Show Less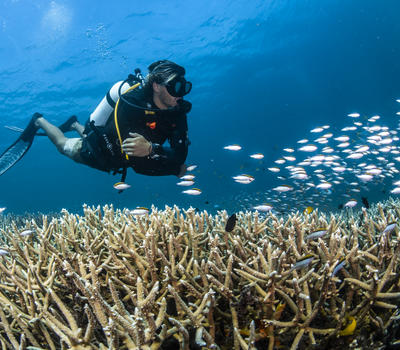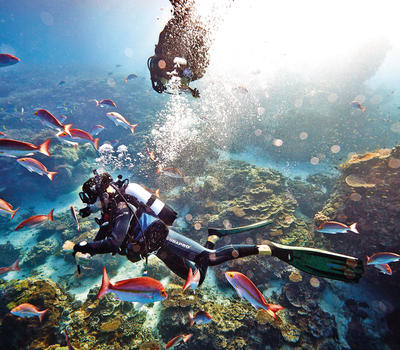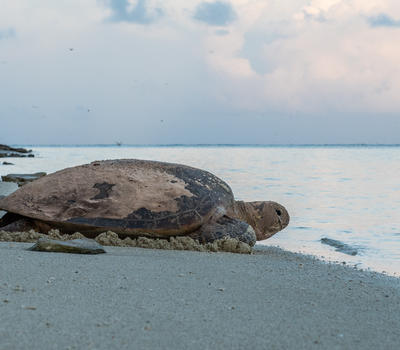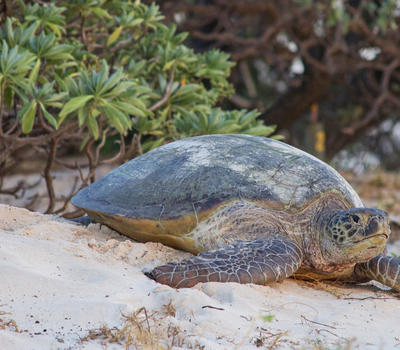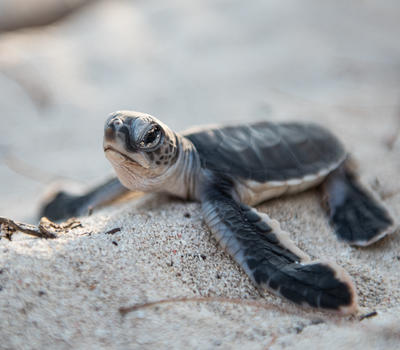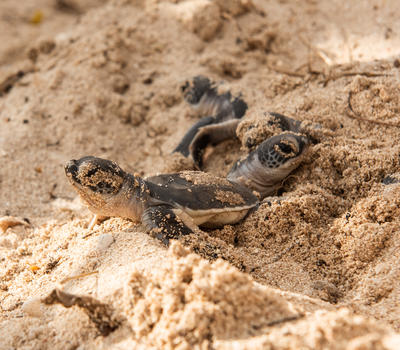 Turtle Tour - Complimentary
During Turtle season, you'll be able to spot both green and loggerhead turtles on the beaches. Join a Turtle Tour to spot turtles nesting and hatching. Nesting times are November through to March. Watching the turtles laying their eggs is a truly magical and unforgettable experience. Hatchlings erupt from the nests from late December to May.
Show More
Show Less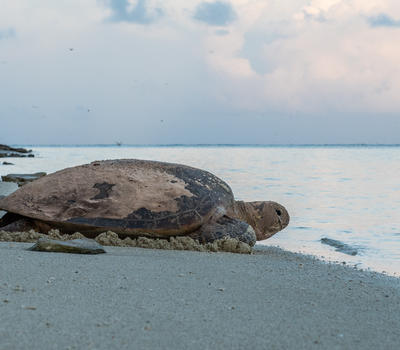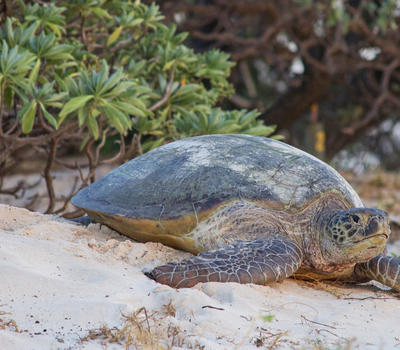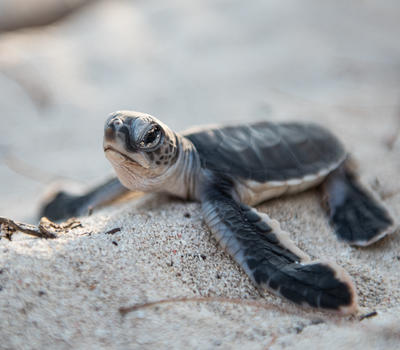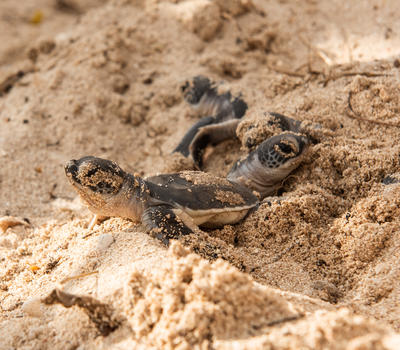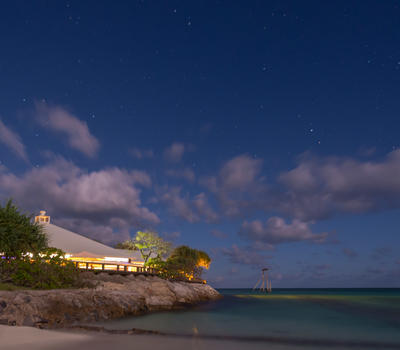 Stargazing - Complimentary
Take a guided tour through the Heron sky with binoculars and telescopes.
Show More
Show Less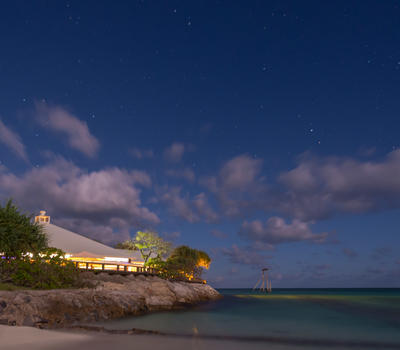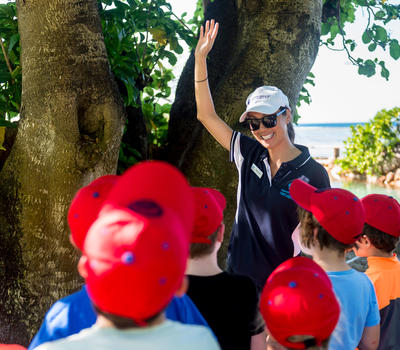 Inspire your children to become eco-warriors. The Junior Rangers Program is available for children from ages 7 to 12 years old (only available during Queensland school holidays). As a true coral cay situated on the Great Barrier Reef Marine Park, Heron Island offers young visitors a myriad of interesting and educational experiences. The Heron Island Junior Rangers Program is no ordinary kids club! As a Heron Island Junior Ranger, kids enjoy hands-on activities while exploring the reef. Sorry, no adults allowed!
Show More
Show Less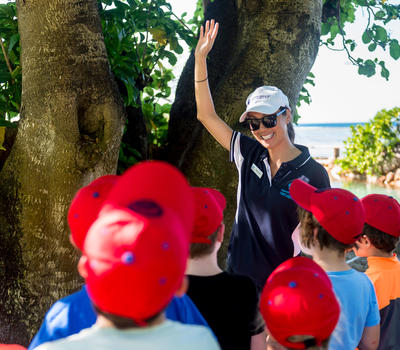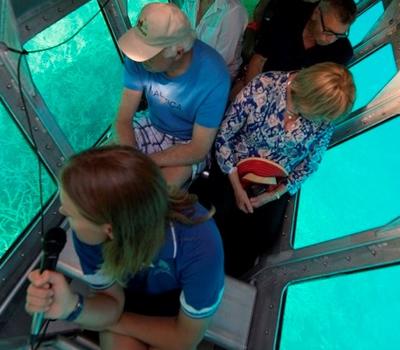 If you'd like to get a diver's view of the reef without getting wet, then our new semi-submarine, I-SPY, is for you! Get up close and personal with green and loggerhead sea turtles, tropical fish, manta rays and more. Don't miss this exciting tour when you visit Heron Island.
Show More
Show Less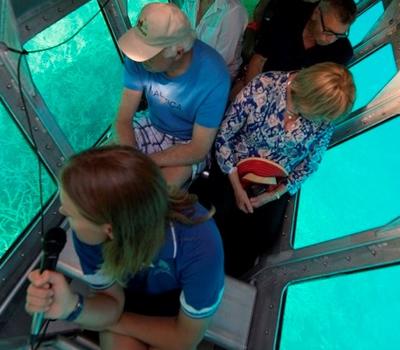 Watch magnificent sunsets from around the reef (selected departure dates). Your guide will take you to the best vantage point to view the sunset on the reef while enjoying Australian wine and gourmet cheeses. This is an adults only tour.
Show More
Show Less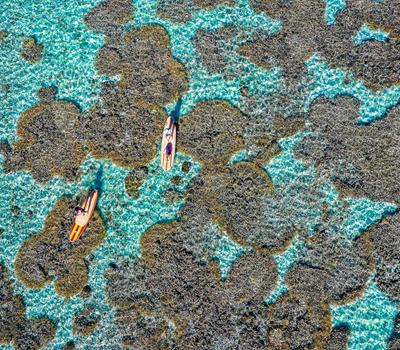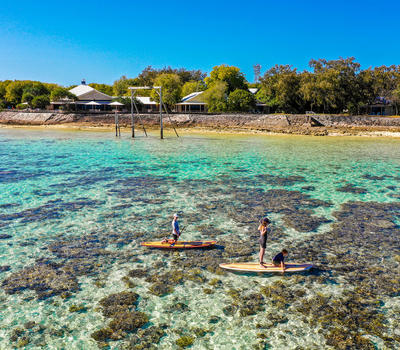 Kayaking & Stand Up Paddle Boarding
See the marine life of the Great Barrier Reef from a another perspective on one of our Kayak or Paddle Board tours. Your guides will take you to areas where you'll glide above abundant coral life, sharks (small ones!), and rays.
Show More
Show Less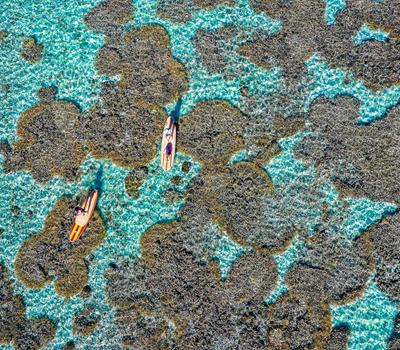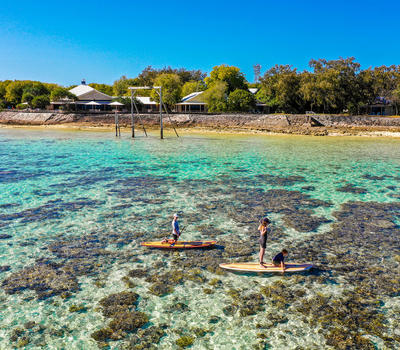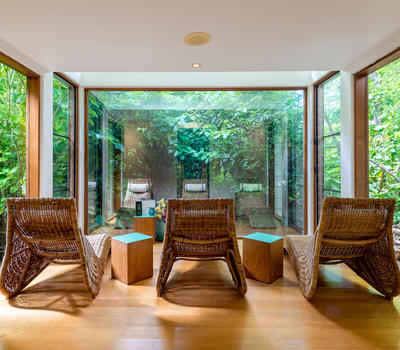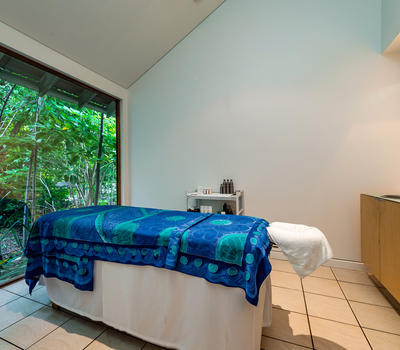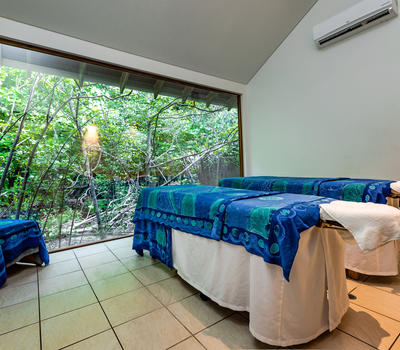 Indulge yourself with a relaxing spa treatment (or a couple of them) at the Aqua Soul Spa. Inspired by Heron Island's Great Barrier Reef location, the Aqua Soul Spa embraces the powerful healing qualities of the sea, using nature to nurture the mind, body and spirit, with a complete selection of marine inspired signature face and body treatments for men and women. When choosing a combination of treatments, you will emerge from the Aqua Soul Spa feeling relaxed and rejuvenated. To reserve your treatments, please make a booking at the spa or at reception.
Show More
Show Less