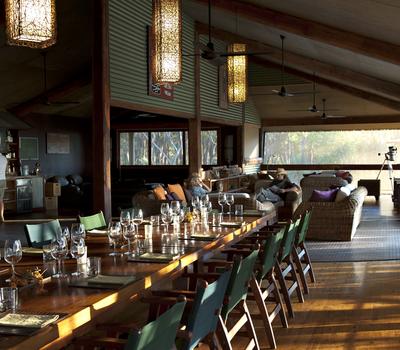 Bamurru's chefs incorporate native and locally sourced produce to provide a gourmet experience integrating authentic, yet contemporary Australian recipes, from kangaroo skewers to crispy barramundi with finger lime salsa and quandong ice-cream.
Dining is enjoyed with fellow guests, where the day's stories are recounted and new friends are made.
Breakfast is generally light as guests are up early to experience the wildlife first thing, start the day with freshly baked wild berry and wattle seed muffins, 'bush eggs' any style on sourdough toast with bacon, tomato, warrigal green and kutjera relish or house blend bircher muesli with Manuka honey, bush apple and a dollop of vanilla bean yogurt.
Lunch is generally served on the wildlife observation deck overlooking the floodplains, where guests might enjoy citrus and fennel warm chicken salad with roasted macadamia nuts while watching a changing cast of birds, brumbies, buffalo and wallabies.
Canapés and sundowners are enjoyed out in the wilderness during your afternoon activity or on the lodge deck just before dinner.
Nightly, a three-course dinner hosted by one of your field guides is served at the long timber dining table as frogs break into a croaky serenade. The menu features Australian bush-inspired recipes. Watch our chef create his favourite bush spiced duck confit in the open kitchen from the dinner table.
Guests can help themselves to drinks at any time from the self-service bar offering a variety of refreshments, including an after dinner tipple for those so inclined.
Show More
Show Less