Our expert guides are always on hand to share their wealth of wildlife knowledge as you explore the Delta in modified open 4 x 4 vehicles on morning and afternoon game drives. The game viewing opportunities at Sanctuary Chief's Camp are awe-inspiring. On the plains one may find the roaming lions that prey on the thousands of antelope, zebra and buffalo who live here all year round. There are also healthy populations of wild dog. These extremely rare predators have been hunted to the point of extinction in most areas of Africa and this is one of their last strongholds. There are several local lion prides and leopards, genet cats and hyena are in abundance.
Show More
Show Less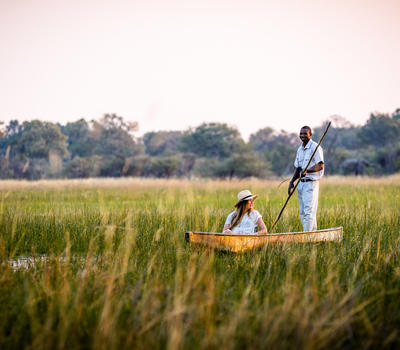 Mokoros, local dugout canoes, offer a different perspective of the bush in the company of a highly trained local guide. Each June the whole area around the camp floods and turns the Okavango Delta into a labyrinth of lily-filled lagoons and streams where hippos fight for bathing rights and crocodiles wait for unwary antelope to linger too long over a drink. Poling through the byways created by the floodwaters is a magical experience that allows guests to get very close to the biggest of game and to see the world from a totally different angle. As a change from a game drive, the quiet, gentle pace of a mokoro is a real introduction to a way of transport still used in the Delta by the 'river bushmen' or BaYei people. (Seasonal Activity)
Show More
Show Less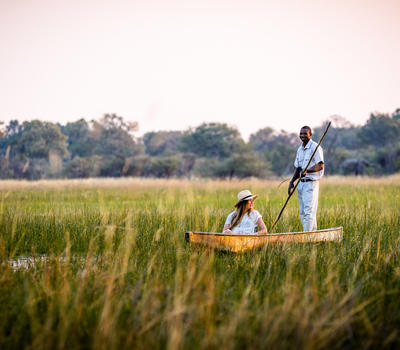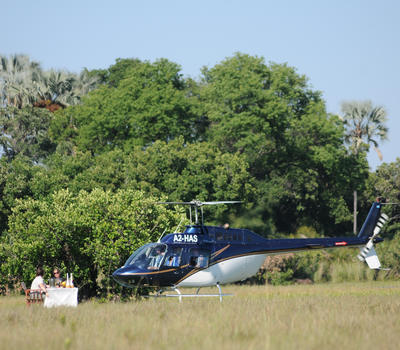 Scenic Flight over the Delta
These scenic flights involve flying west towards the permanent delta, exposing areas which are unreachable by vehicle or boat and showcasing the sheer enormity of the Okavango Delta. There is the option of the doors being removed for unrestricted photographic opportunities. Choose between 30, 45 or 60 minute tour in a single piston engine Robinson r44 helicopter with 3 seats. This activity is offered on a year round basis at an extra cost. Being a personalised activity, it's up to you what time of day you would like to do the activity, however we would recommend early morning and late afternoon as these times usually provide the best light for photography. Preferred flight times can be requested on booking.
Show More
Show Less