KIDS CLUB- PLANET TREKKERS
An all-new kids club, InterContinental Planet Trekkers will immerse explorers of all ages. Connection will be key; connection to Australia's iconic Great Barrier Reef, the beauty and adventure of Australia's most iconic private island and, most importantly, the chance to connect as a family while experiencing the wonder of InterContinental Hayman Island Resort.
Explorers of all ages can indulge in nature-driven moments designed to support growth, curiosity and creativity. From sand flat walks at low tide revealing the Coral Sea's unique marine life, to wonder-filled snorkelling lessons organised through the resort's new activity centre.
Our little InterContinental explorers also can partake in barramundi feeding in the Rainforest Lagoon, bird walks, tropical garden tours and more, all in addition to an ever-changing roster of daily programs, family-friendly entertainment and babysitting services.
Our teenage guests will revel in an unforgettable collection of action-packed recreational facilities including sunset island hike, catamaran adventures, windsurfing, paddle boarding, diving and kayaking. In addition, the island has a dedicated fitness centre offering guests tennis courts, tennis lessons, squash courts, basketball, golf simulator, croquet, soccer, bocce, pool and fuseball.
Show More
Show Less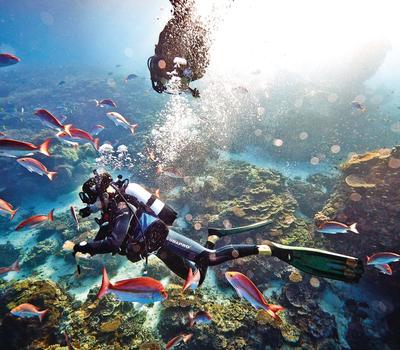 The outer Great Barrier Reef is approximately 1 hour travelling by boat from Hayman Island and is spectacular, however in winds over 20 – 25 knots, the sea conditions make travelling to the outer reef uncomfortable for passengers and an inner reef location is chosen as an alternative.
Hardy Reef
Hardy Reef, 23nm from Hayman Island, part of the Great Barrier Reef near the Whitsundays, is home to thousands of spectacular reef fish including coral trout, travelly, snapper and smaller tropical species. Visitors can experience excellent snorkelling and diving on Hardy Reef, and will see a myriad of interesting marine animals such as turtles, reef sharks, giant Maori Wrasse and even the two metre long Giant Queensland Gropers.
Bait Reef is located on the edge of the Coral Sea, 18nm from Hayman Island, in the Great Barrier Reef Marine Park. It's a great example of the breathtaking diversity of the reef's marine life.
South East Bait Reef is best as it is protected from the seasonal cyclones, which come in from the north. Divers can experience spectacular coral-encrusted walls and shallow, untouched coral gardens in pristine condition due to the isolated location.
The fish life is plentiful, large schools of bait fish attract pelagic fish such as giant trevally, weighing up to 20 kilograms (40lb), in schools of 50+ fish. There is nothing more exhilarating than to be inside a huge silver fish spiral! Resident reef sharks, coral trout, huge schools of sweetlips and fusiliers, plus beautiful clown fish are all abundant at Bait Reef.
Show More
Show Less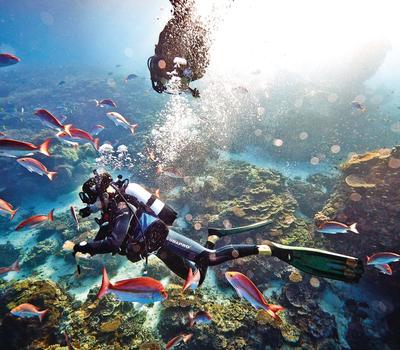 Whitehaven Beach is a pristine, award winning beach on Whitsunday Island, the largest of the 74 islands in the Whitsundays. Whitehaven Beach stretches over seven kilometres and boasts brilliant white silica sand that is among the purest in the world. Sink your feet into the sand and wade into the warm waves that gently lap the shore and you'll soon realise why people come here from all over the world.
At the northern end of Whitehaven Beach is Hill Inlet, a stunning inlet where the tide shifts the sand and water to create a beautiful fusion of colours. Many people claim Hill Inlet and Whitehaven Beach are the most beautiful places they've ever seen. The lookout at Tongue Point is the best spot from which to view the swirling sands of Hill Inlet
Show More
Show Less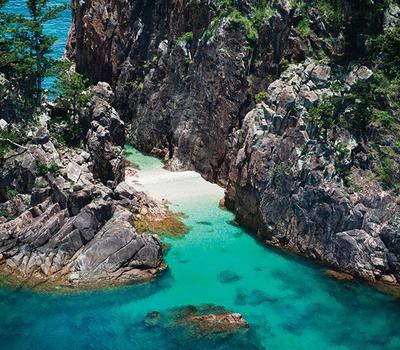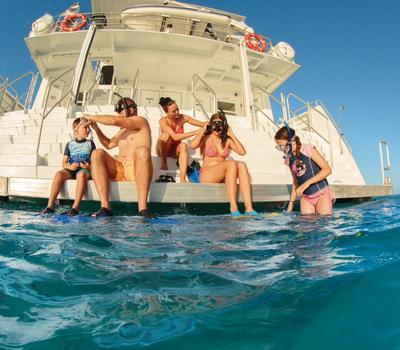 Manta Ray Bay (Hook Island)
Manta Ray Bay, at Hook Island in the Whitsundays, has an array of underwater valleys, caves, and swim-throughs leading all the way to the seafloor 25 metres below. Considered one of the best dive and snorkel sites in the inshore islands, Manta Ray Bay has a good coverage of hard and soft corals and abundant marine life including Maori Wrasse and Manta Rays in winter.
Butterfly Bay is a favourite for its excellent snorkelling and diving, protection from most wind conditions and namesake butterfly habitants found on the bay's beach at certain times of the year.
Only 10 minutes from Hayman Island via boat.
Butterfly Bay is a Marine National Park Green Zone. As such it offers:
snorkelling
diving
abundant marine life (in both shallows and at depth)
wonderful birdlife
With its great protection from the south/south east winds and vast marine, butterfly and bird life, all easily accessible from the beach or off your boat, you may find yourself spending an extra night or two here to explore this diverse bay.
Best snorkelling to be found along the western reef ledge deep into the bay. Bottom consists of coral cover with large patches of coral rubble and silty sand. This popular bareboat anchorage offers coral outcrops with shallow walls. Many small, colourful fish. Best of the bommies is found deep in the centre of the bay, though difficult to locate at high tide. Tidal currents can be a problem as one moves away from the bay edge towards the centre. Visibility around 2-10 metres. Diving depth 5-12 metres.
Show More
Show Less