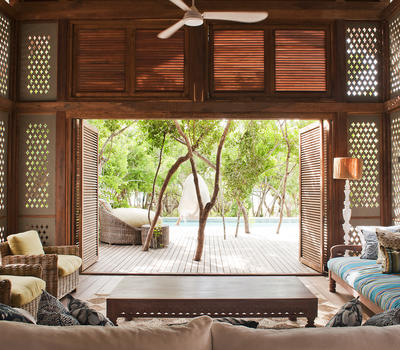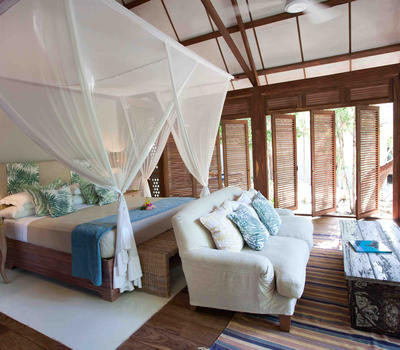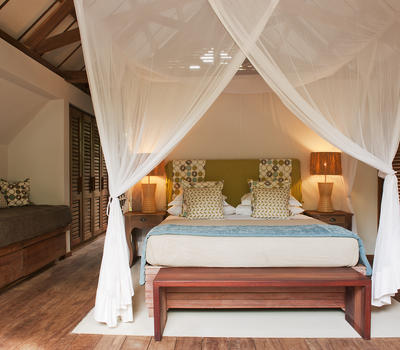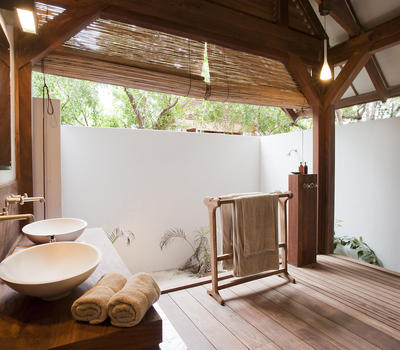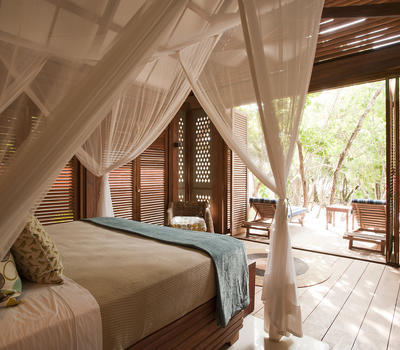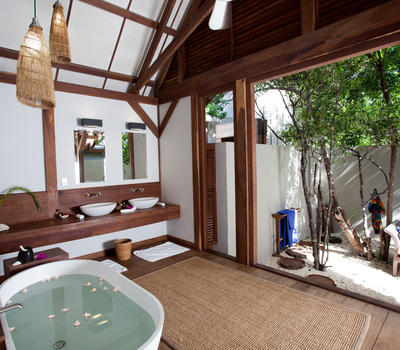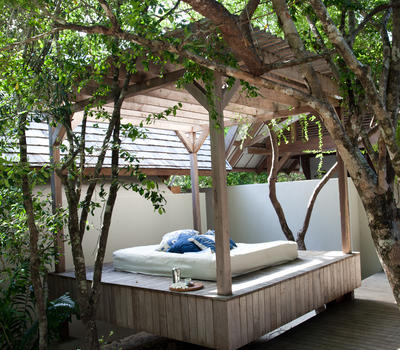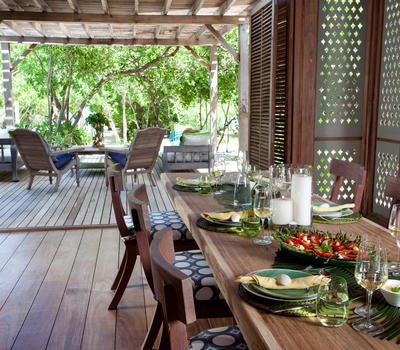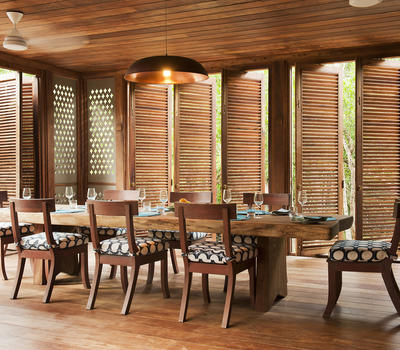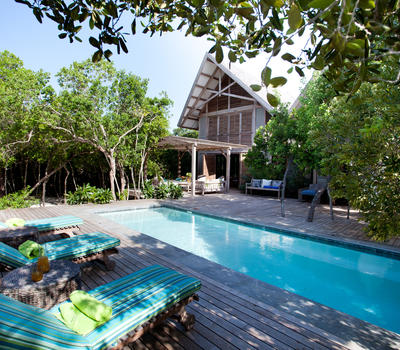 Drawing inspiration from its breathtaking tropical surrounds, andBeyond Vamizi Kipila (meaning "plover" in Kimwani) offers a refreshing palette of blues and greens that accentuate its earthy brown finishes and pitched Balinese-style timber shingle roof. The perfect castaway retreat to reconnect with family members, Kipila is ideally situated within three acres of flourishing gardens that line a vast stretch of private beachfront. It boasts four ensuite rooms that overlook the ocean and a children's room. The bathrooms have been creatively designed to feature elegant gardens within them, bringing the lush surrounds of the villa indoors.
Languid moments can be spent lounging in the spacious sitting room, cooling-off in the sparkling lap pool or enjoying a game or two in the entertainment area, while a private chef prepares a selection of tantalising favourites for the day. A tower, inspired by the Portuguese lighthouse on the island, offers spectacular views across the ocean; the ultimate setting to enjoy a refreshing cocktail and to toast the sun as it sets over another idyllic day.
Show More
Show Less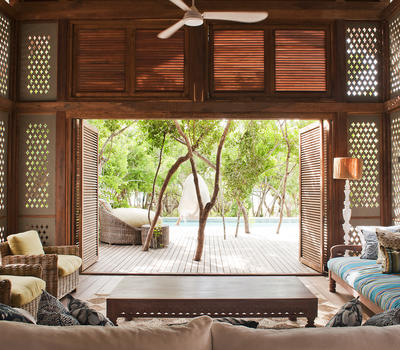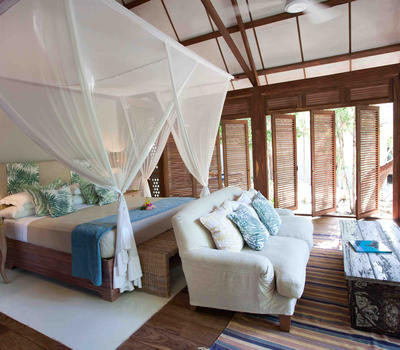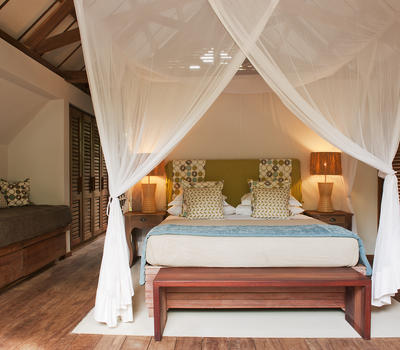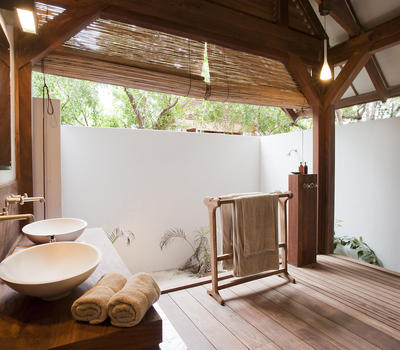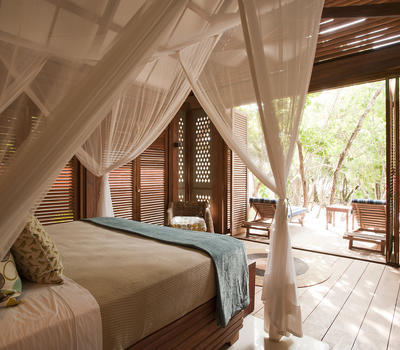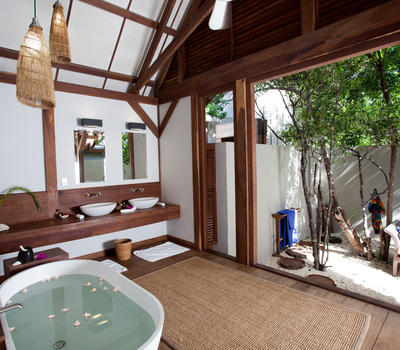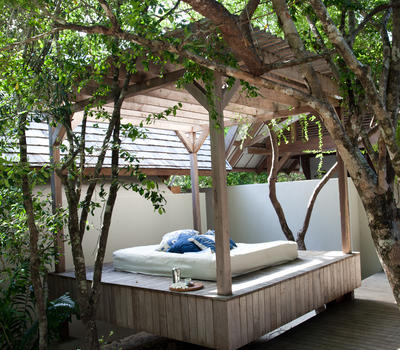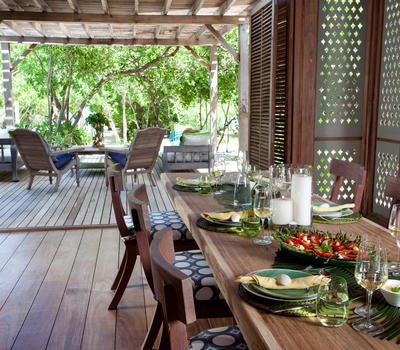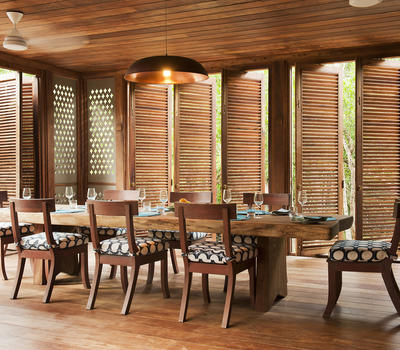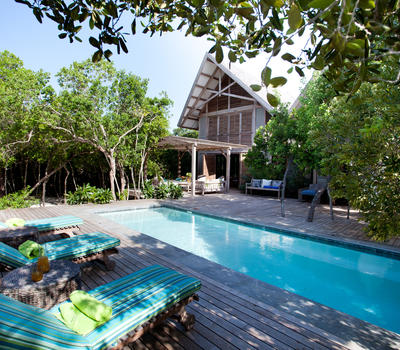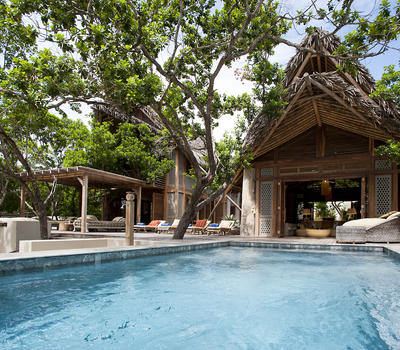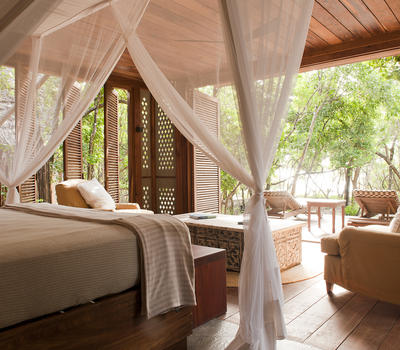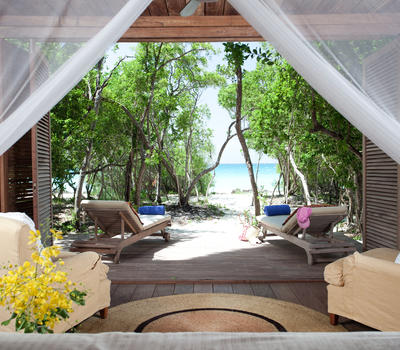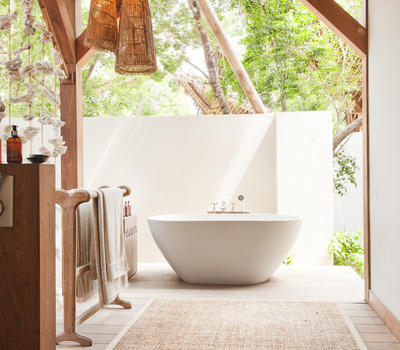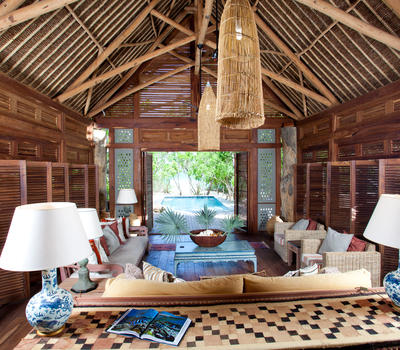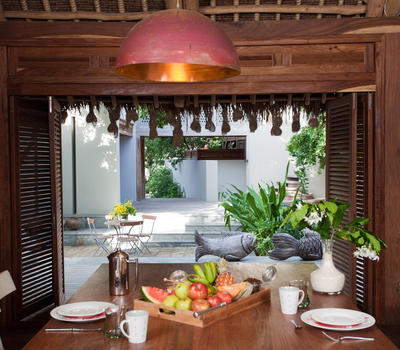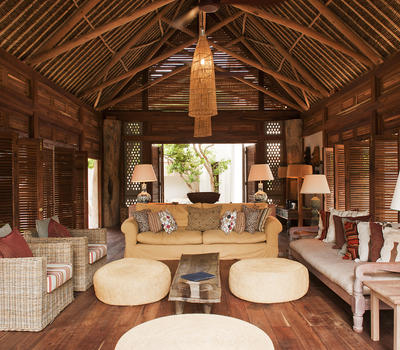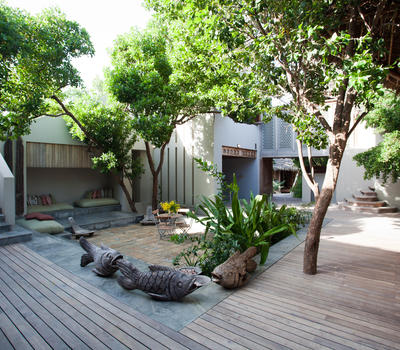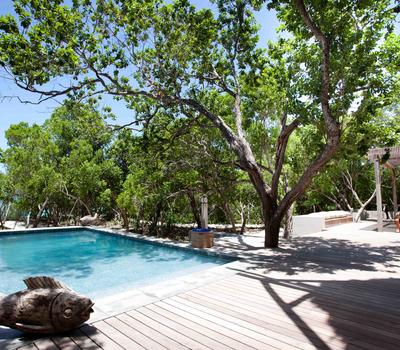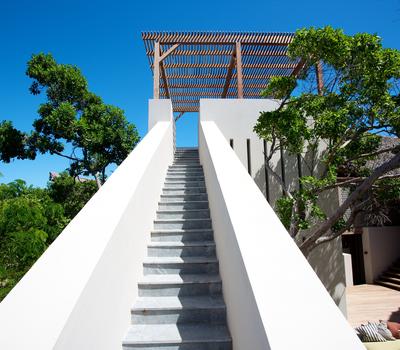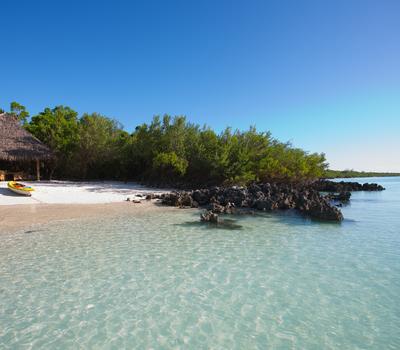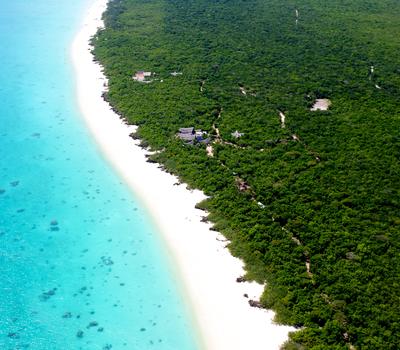 andBeyond Vamizi Suluwilo
Meaning "forest weaver" in Kimwani, the luxurious andBeyond Vamizi Suluwilo offers a spectacular blend of Arabic influences and contemporary finishes. Sweeping palm-thatched roofs draw inspiration from the sails of a traditional dhow, carefully angled to catch the cool sea breeze. A sunken Arabic courtyard offers cosy nooks for quiet moments of reflection, while a "lookout" tower provides the ideal setting for refreshing sundowners.
The villa boasts four beautifully adorned ensuite rooms and a children's room with bunkbeds and an adjoining childminder's room. The master bedroom features a small area, with two single beds, for children. A private chef is on hand to create mouth-watering favourites, served in the spacious dining room or private beach sala, whilst a sparkling swimming pool offers an alternative to the azure waters right on the villa's doorstep. Apart from the extraordinary adventures available on the island, children can enjoy an entertainment room complete with satellite television, table-tennis and board games.
Show More
Show Less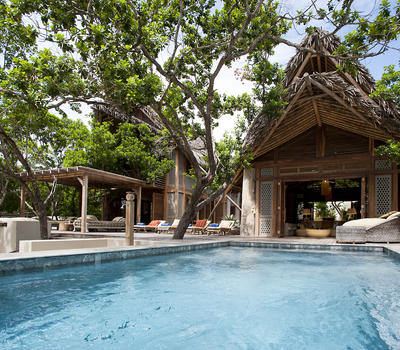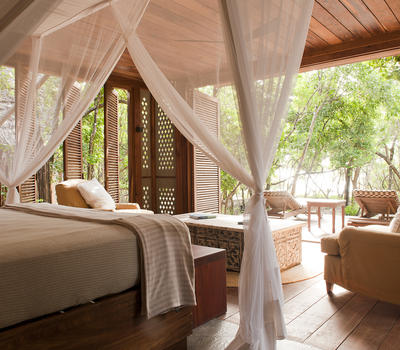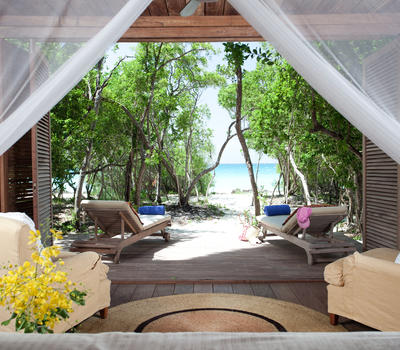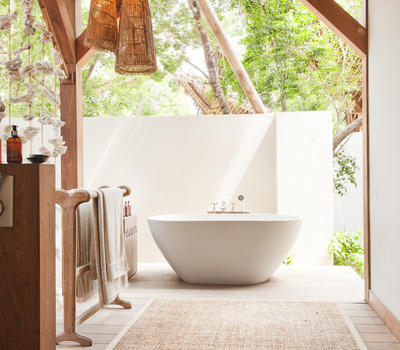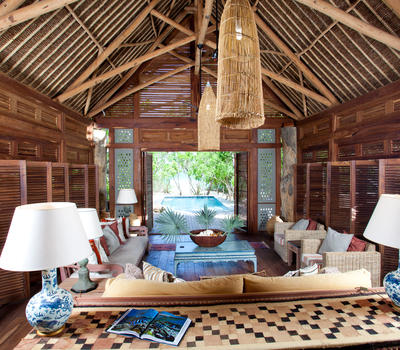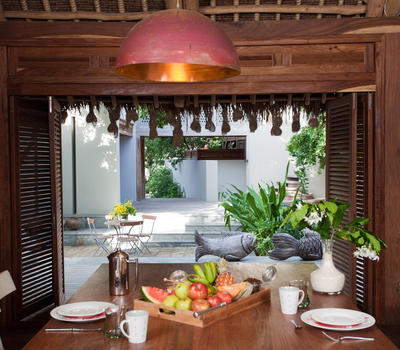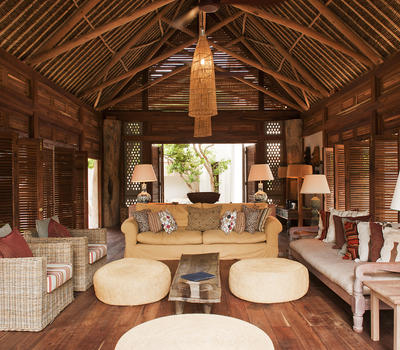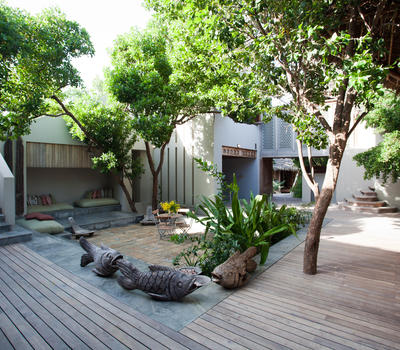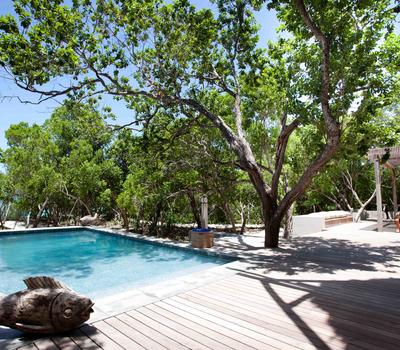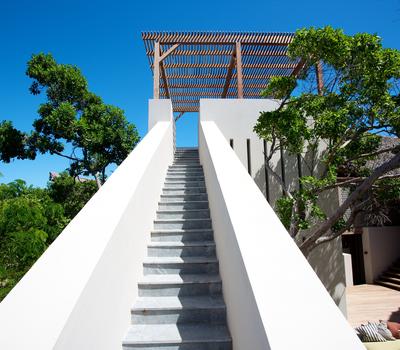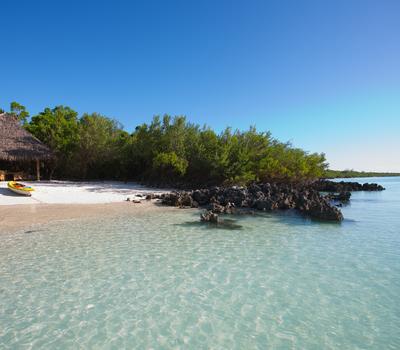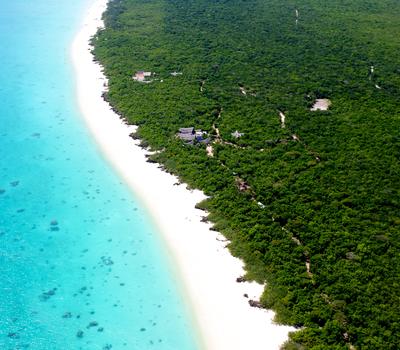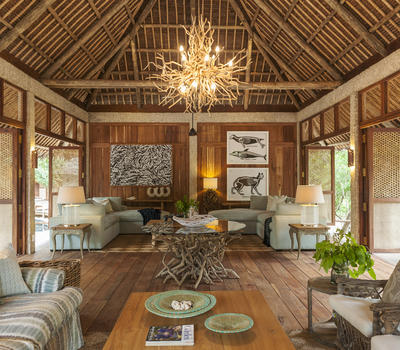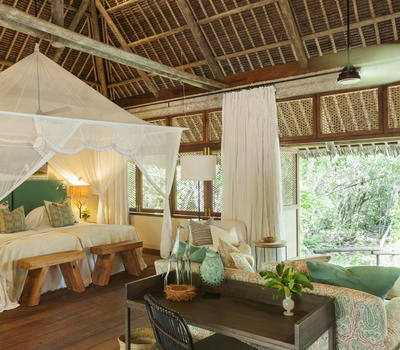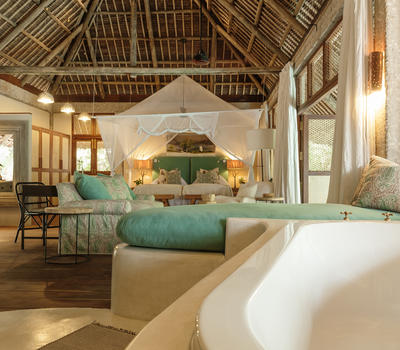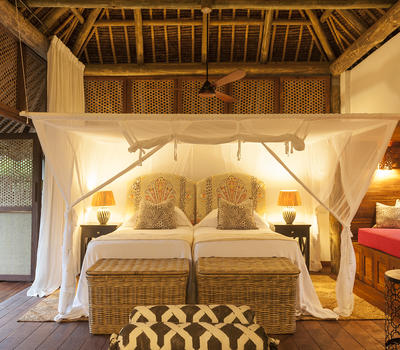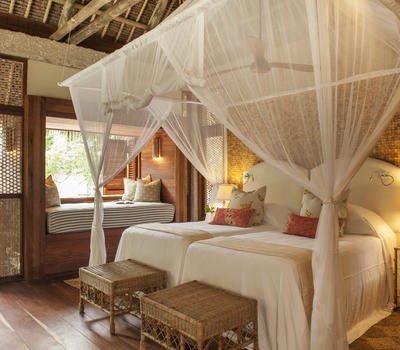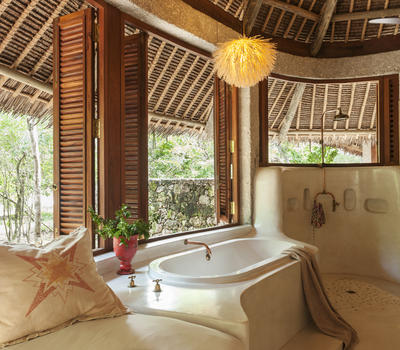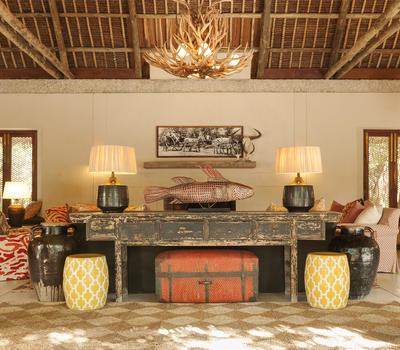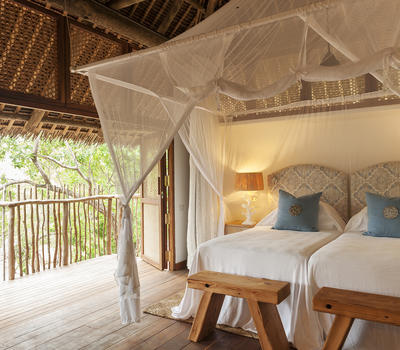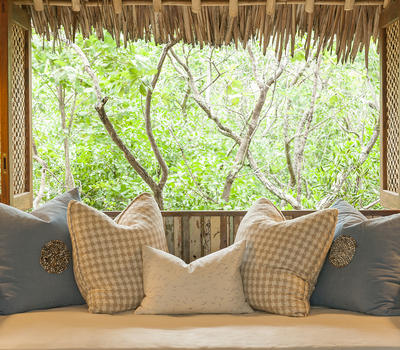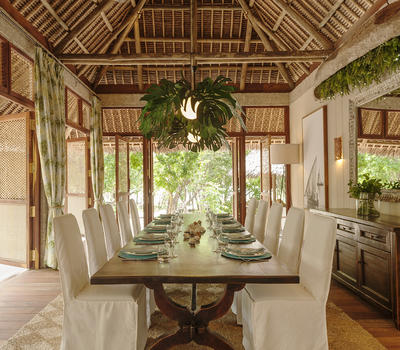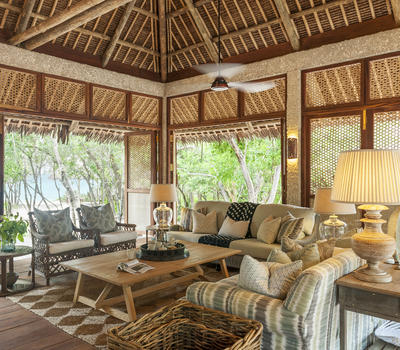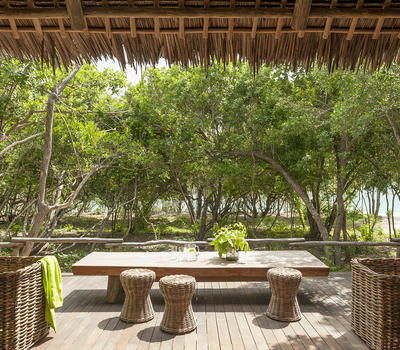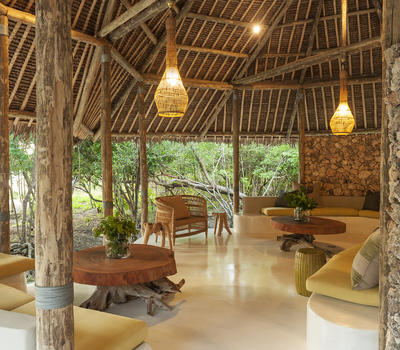 andBeyond Vamizi Papilio, aptly named after a genus in the swallowtail butterfly family, is a tranquil haven decorated in delicate hues of cream, muted blues and light wood furnishings. Spacious beyond measure, this light and airy villa offers the ideal refuge for families and groups to reconnect. Set within three acres of verdant forest, Papilio has been designed around a "courtyard theme" with a blend of split-level living, cosy nooks for moments of reflection and luxurious rooms that urge guests to completely unwind on their well-deserved vacation.
The main guest areas include a roomy dining area where scrumptious tailor-made menus are served by a private chef, two large sitting rooms (one overlooking the beautiful pristine beach, and the other with a lovely open fireplace for those cooler winter evenings), a convivial bar area, sparkling swimming pool and private beach sala. In the evenings, guests can retreat to one of four spacious ensuite rooms, each with their own private deck and living area, whilst a further two ensuite rooms, built as "treehouses", can be accessed by a suspended walkway and are wonderful for adults and children alike. A deck sitting in the tree canopy links the two treehouses.
Show More
Show Less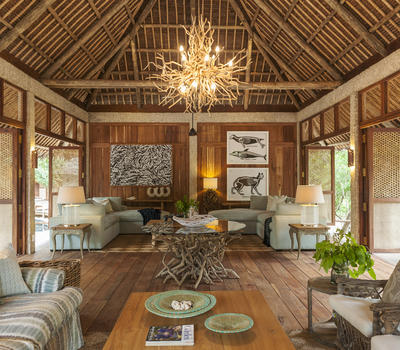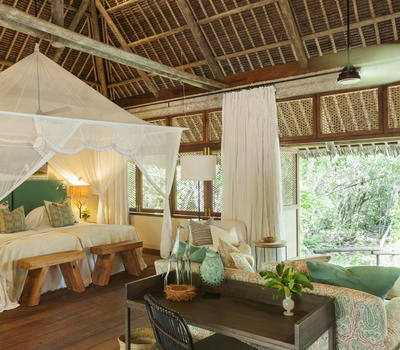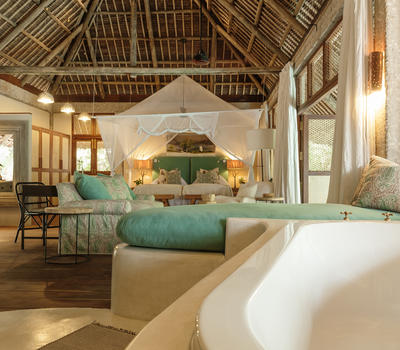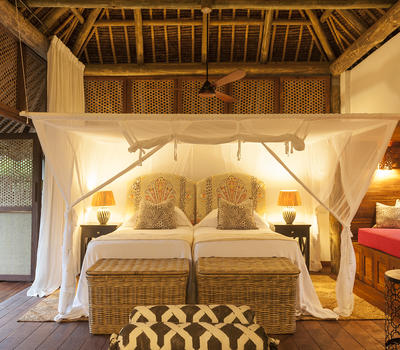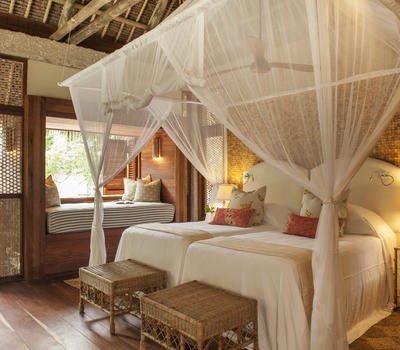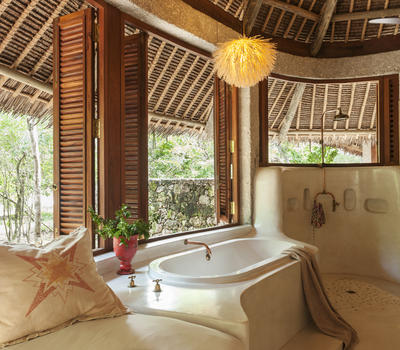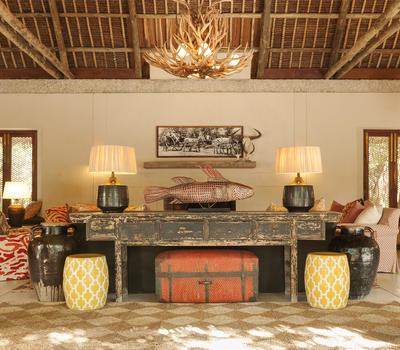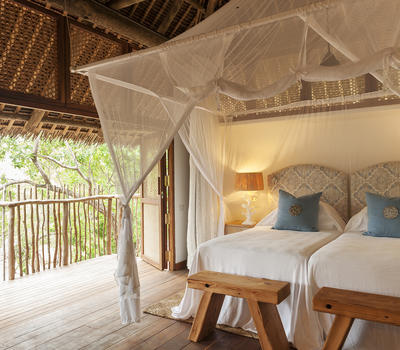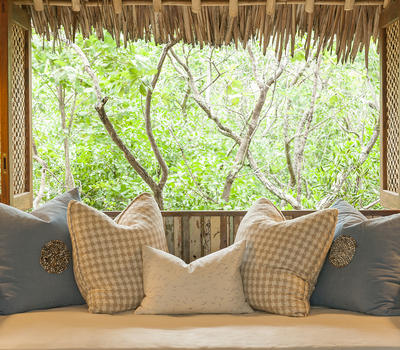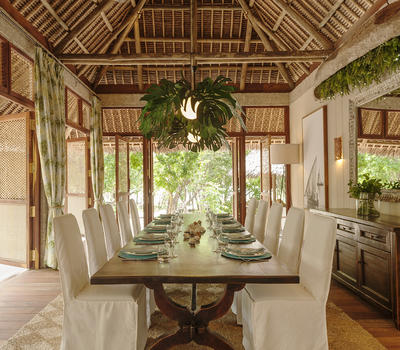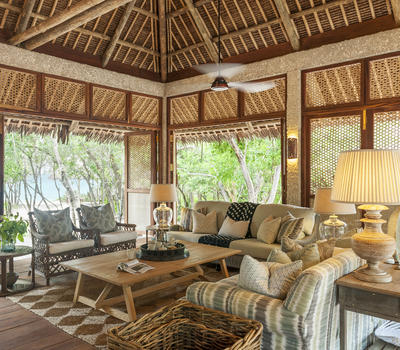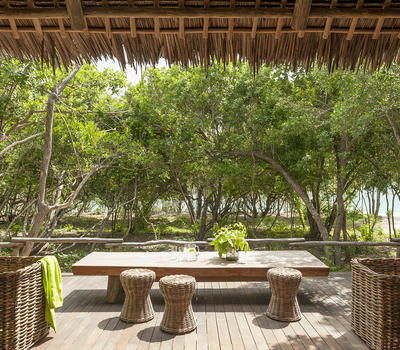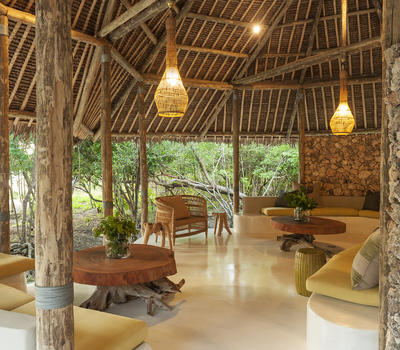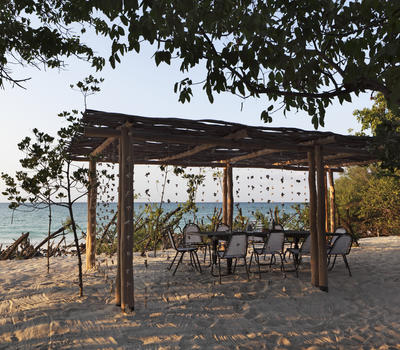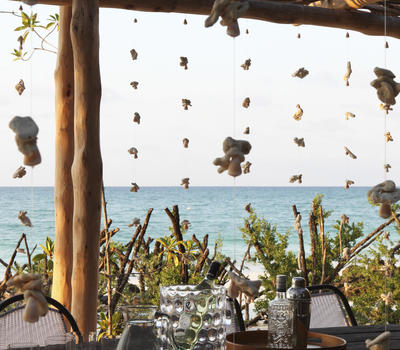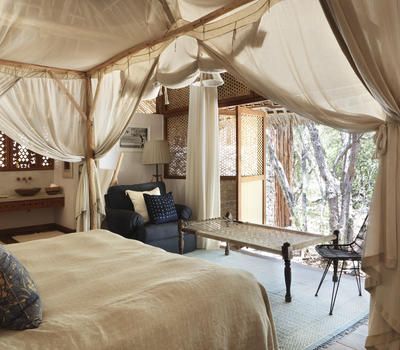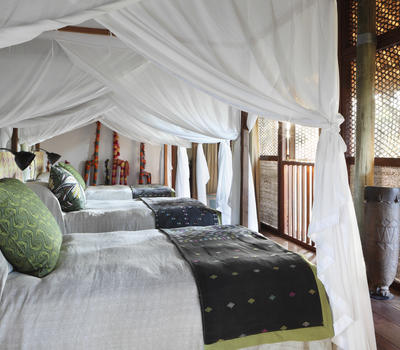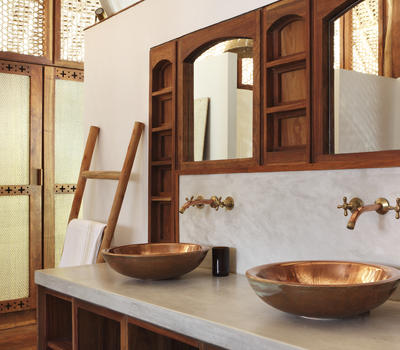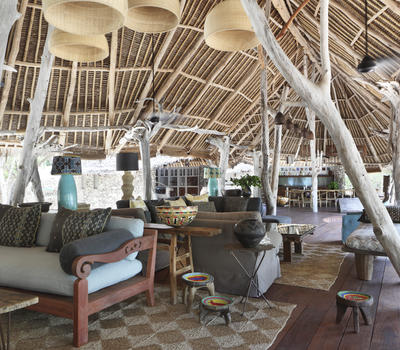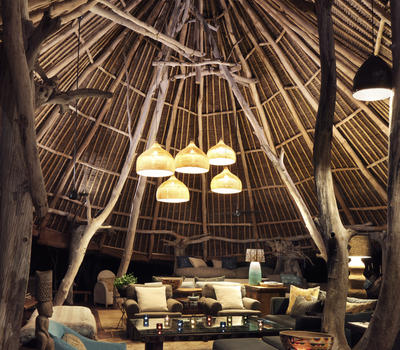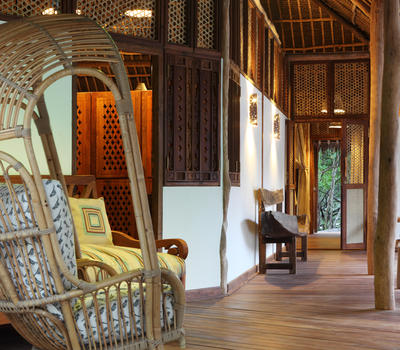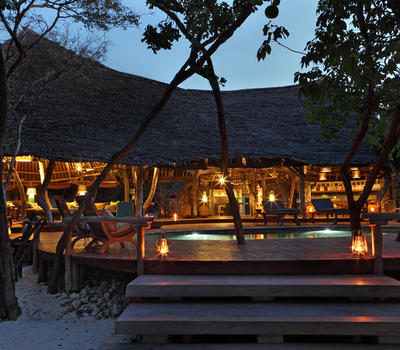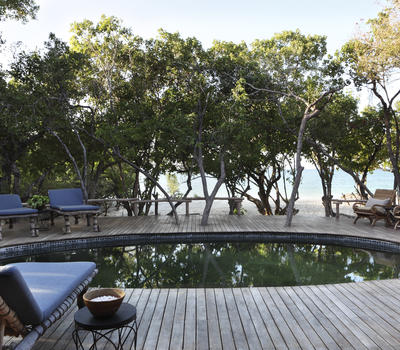 andBeyond Vamizi Tartaruga
Set within three acres of lush forest, with a vast stretch of unspoiled beachfront at its doorstep, the natural elegance of andBeyond Vamizi Tartaruga (meaning "turtle" in Portuguese) is highlighted in its earthy tones, with splashes of green, and driftwood finishes. The ultimate Robinson Crusoe hideaway, this luxurious five-bedroomed villa is a must for families or groups. Three ensuite rooms boast a private deck and spacious sitting room - the master bedroom also features an adjoining area that can accommodate two young children. A further two rooms are situated in the lush canopy of the forest, in the villa's enchanting treehouses. These rooms offer three single beds, which can be converted into a super-king bed. The treehouses are perfect for adults and children alike and are linked by a stargazing deck.
The main guest area has a striking palm thatch roof, supported by magnificent pillars of locally collected casuarina driftwood. Its open sides lead on to a vast deck, home to the freshwater swimming pool, which flows into the landscaped gardens leading down to the ocean. Adjacent to the sitting room is a shaded al fresco sala, with a further dining area located at the edge of the beach. The local coral limestone walls, and hand-carved windows and doors are a distinctive feature of this beautiful villa.
Show More
Show Less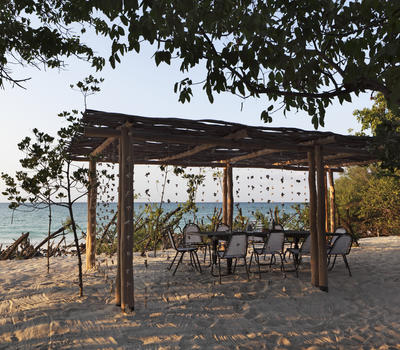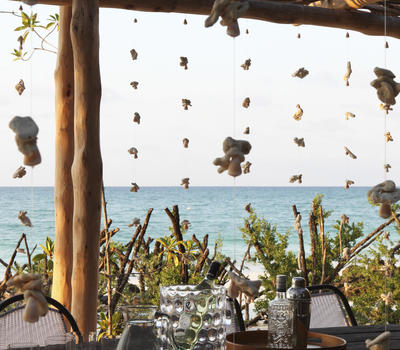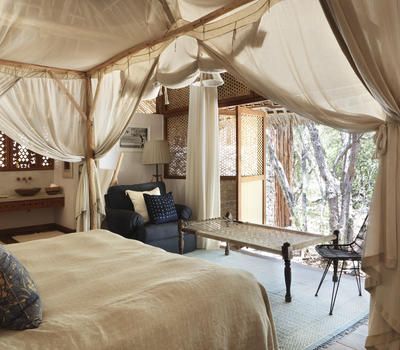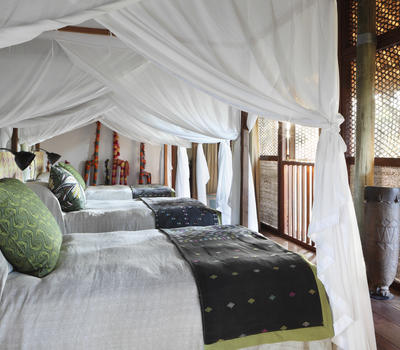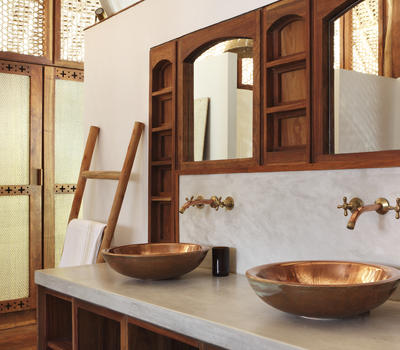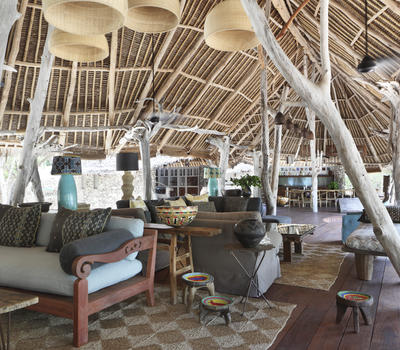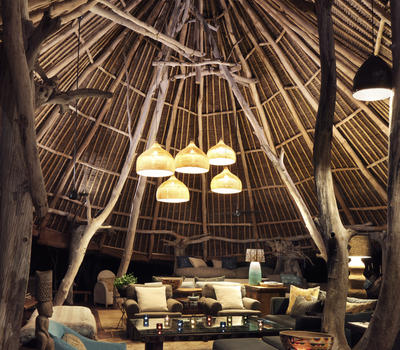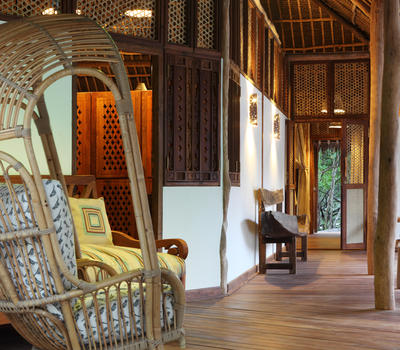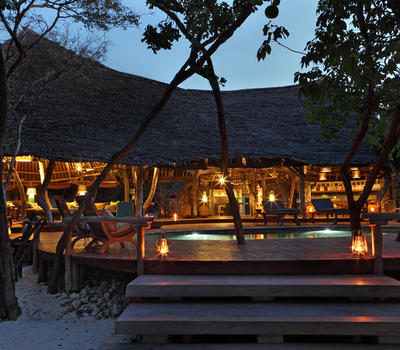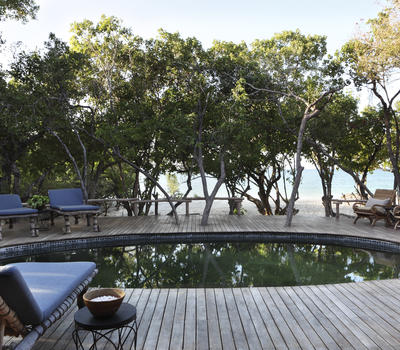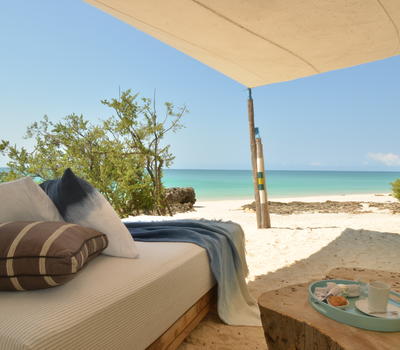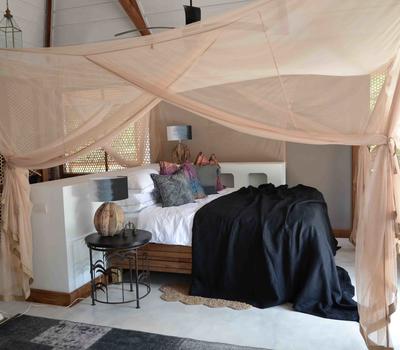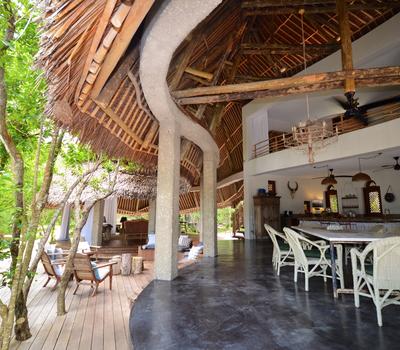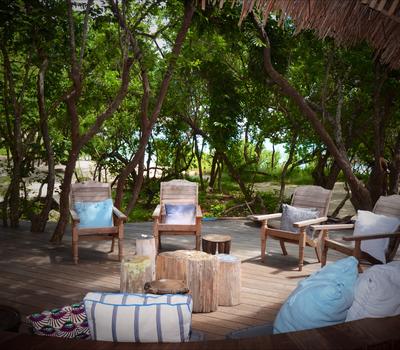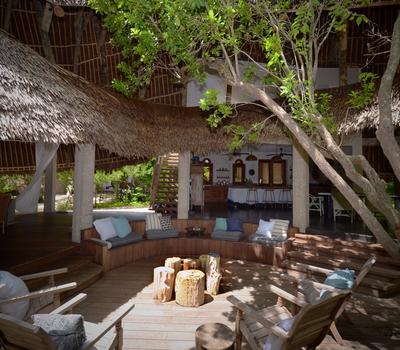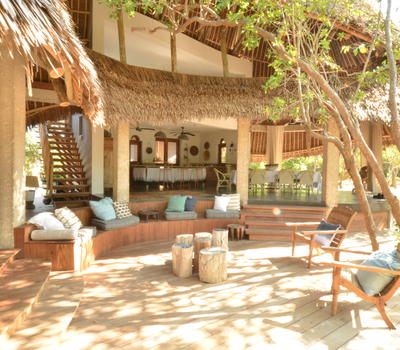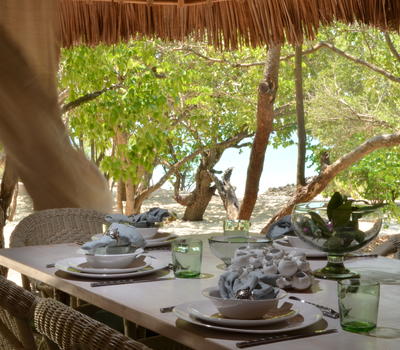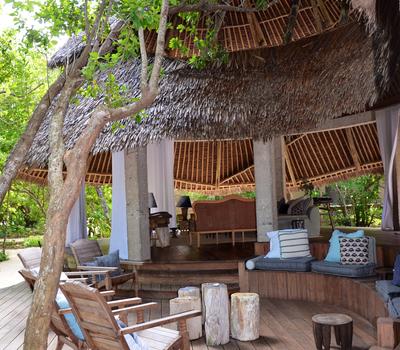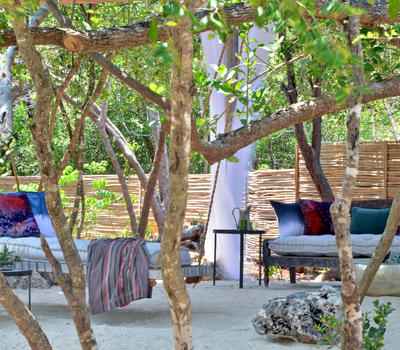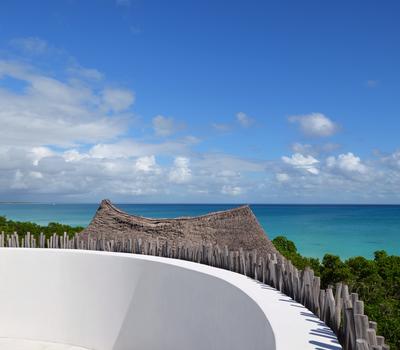 andBeyond Vamizi Casa Marjani
Meaning "coral" in Kimwani, the natural, earthy ambience of andBeyond Vamizi Casa Marjani blends seamlessly into its private beachfront setting. This magnificent "traveller's hideaway" combines design elements which pay tribute to the island's breathtaking surrounds and trinkets, lovingly collected from across the globe, that pay homage to the diverse cultural heritage of the atolls of Mozambique. Backed by a lush forest, this luxury villa boasts five bedrooms, making it the perfect retreat for families.
The master bedroom is ideally situated to make the most of the island's glorious ocean views and boasts a private pocket beach and an ensuite bathroom, complete with a walk-in shower. The second room is also sea-facing and has a private veranda that leads onto the beach and an ensuite bathroom with walk-in shower. Children are oh-so welcome at Casa Marjani, with two bedrooms carefully designed to cater to their needs. These rooms are set back into the forest and feature an ensuite bathroom. Lastly, this coastal oasis offers a spectacular elevated 'treehouse' bedroom with a lovely ensuite bathroom.
The main guest area has a striking palm thatch roof and open sides. Its decking flows into beautifully landscaped gardens offering a tranquil al fresco setting for private dining, accompanied by serenading waves. A mezzanine level makes for a cosy hideaway - perfect for family game time. There is an elevated study behind the master bedroom and an open courtyard, complete with swinging chairs and hammocks, just behind the main guest area. The tower, adorned with stargazing chairs, offers uninterrupted views across the island and up to the night sky. Set within the tower is a breakaway lounge, complete with a day bed. A simply designed beach sala makes use of a traditional dhow sail for shade, and is the ideal retreat to while away sun-drenched days on the beach.
Show More
Show Less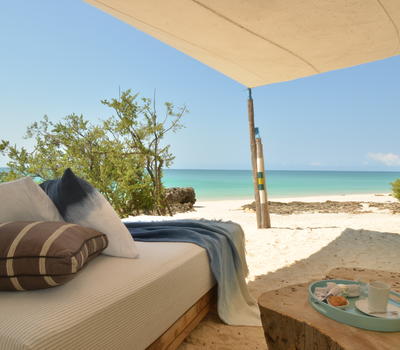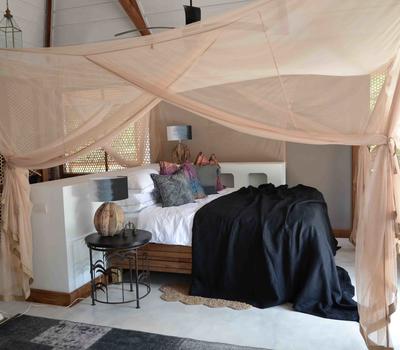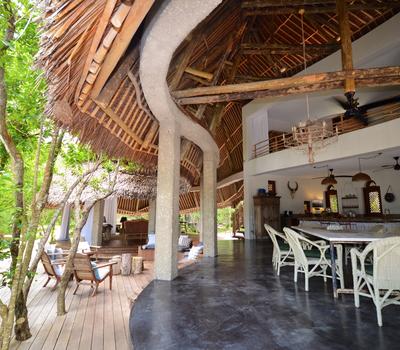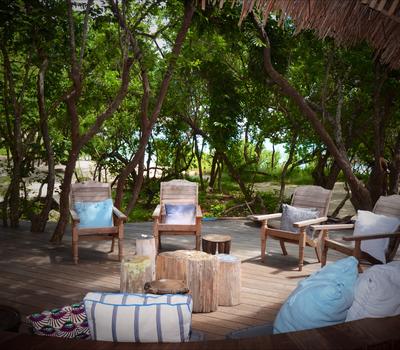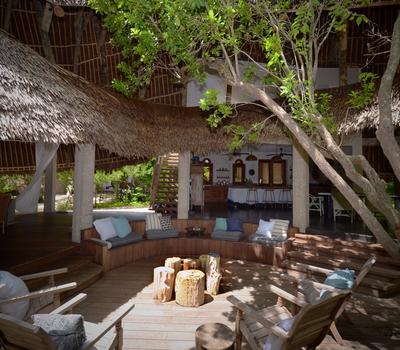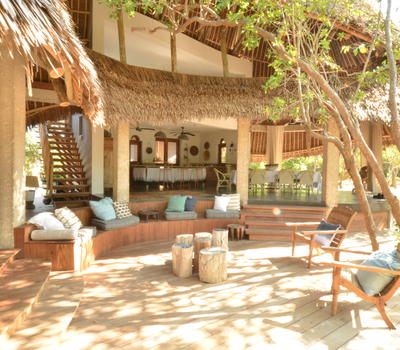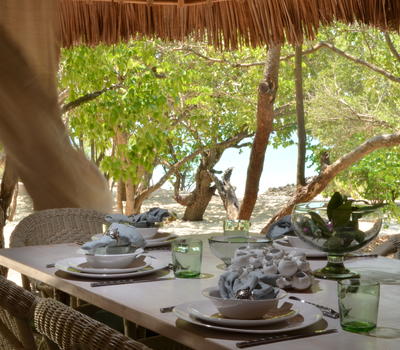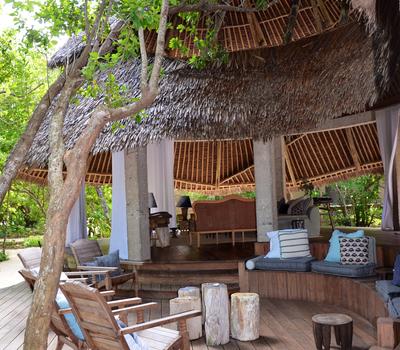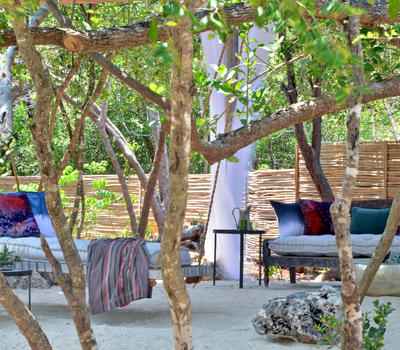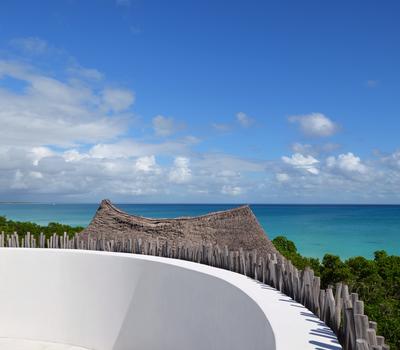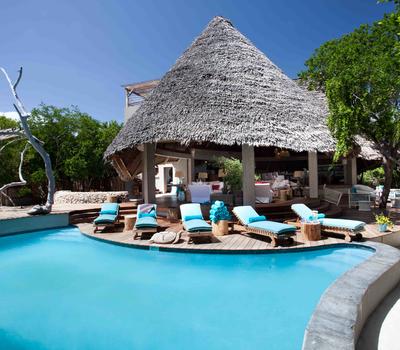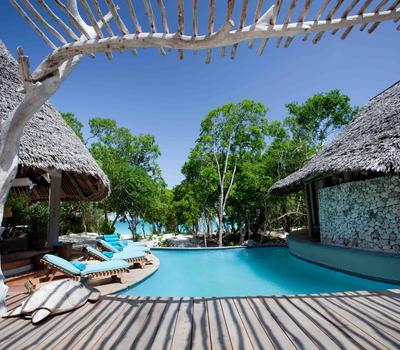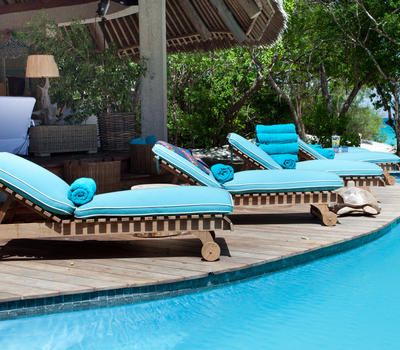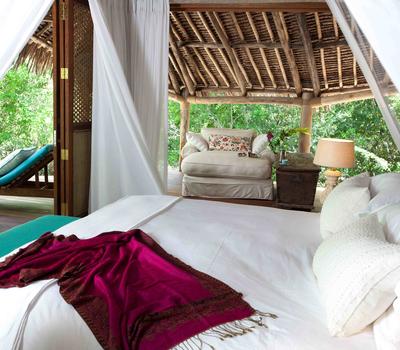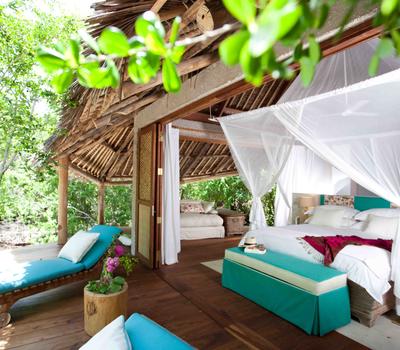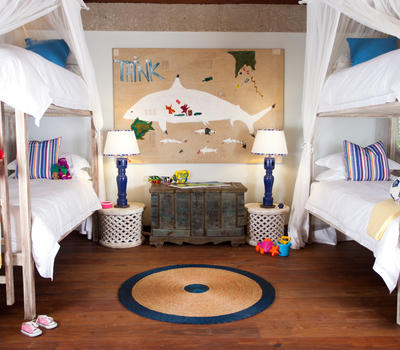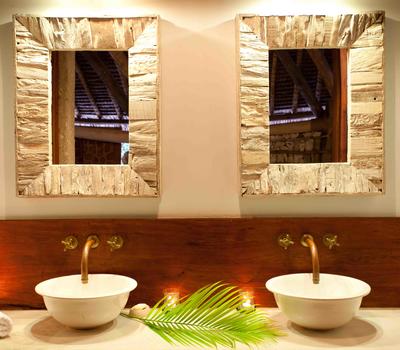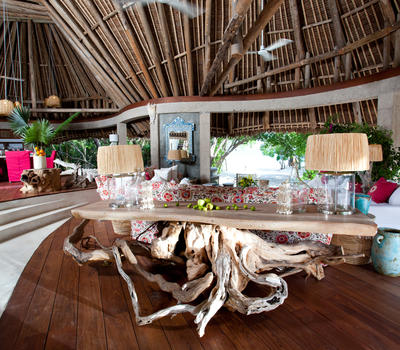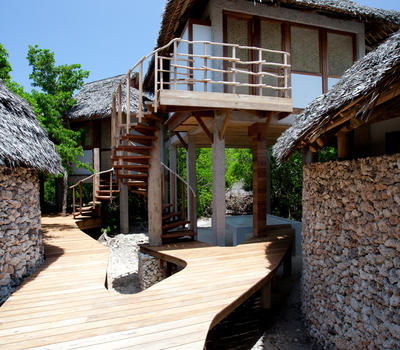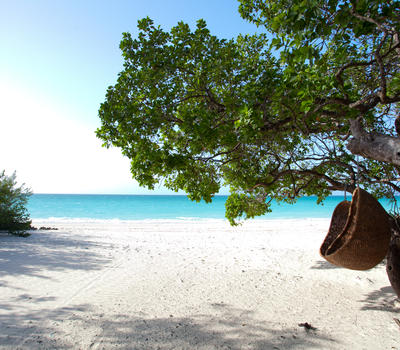 andBeyond Vamizi Casamina
The contemporary, beach-chic atmosphere of andBeyond Vamizi Casamina offers a vibrant setting in which to enjoy the idyllic tropical paradise of the island. Here, stark white fabrics are accented by brilliant hues of turquoise and magenta – the perfect accompaniment to the villa's warm wooden furnishings, contemporary décor and palm-thatch roofs. Casamina is the ultimate family or group getaway. Adults can unwind in one of three beautifully furnished ensuite rooms, with dreamy ocean views, whilst children have a hideaway of their own in the form of two rooms, each with two sets of bunkbeds and a shared bathroom. One of the children's rooms has a small adjoining area, big enough for a single bed, to accommodate a childminder. An enchanting treehouse room lends itself to both the young and young at heart.
A split-level living, dining and bar area is covered by an impressive thatch roof with open sides, providing spectacular views of the ocean, while a sparkling swimming pool offers the perfect respite after a successful day of adventures. Take in the panoramic vistas of the island as you enjoy a wholesome breakfast on top of the villa's tower, which also houses a games room with satellite television, books and board games.
Show More
Show Less