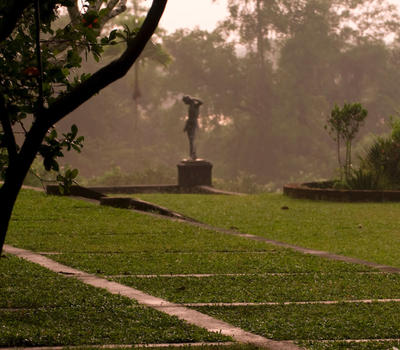 Lunuganga and Brief Garden Tour
Location: Bentota
Duration: 3-4 hours
Host: Lunuganga & Brief guides.
Group size: 1+ (private tour)
What to wear: Cool, lightweight clothing, a sun hat, sun cream and your camera
Other: There are four guided tours of Lunuganga a day (9.30am, 11.30am, 2pm and 3pm), so we recommend you choose either the 11.30am, 2pm or 3pm tour to coincide with lunch. Lunch can be taken as well.
This inspirational experience takes place in Lunuganga and Brief, two houses and gardens created over a period of many years by a pair of brothers, Geoffrey and Bevis Bawa. Geoffrey was Sri Lanka's most famous architect whose inspiration continues to this day, and Bevis, his younger brother, was a landscape architect.
Lunuganga was the holiday home of Geoffrey Bawa. This exceptional estate, once a rubber plantation on the banks of the Lunu Ganga (salt river), provides telling insights into the life's work of this legendary architect. Geoffrey was famous for his tropical modernist style of architecture, features of which include blurred boundaries between indoor and outdoor areas, linear verandas, and windows that framed views both inside and outside of a room. The house, at the top of a small hill, enjoys views of the lake and of Cinnamon Hill, and though you can only peep indoors, it's enough to get the gist.
After visiting Lunuganga, you'll move on to Bevis Bawa's former home, Brief Gardens. This estate is much smaller than Geoffrey's, though the gardens seem to have more detail. What the garden lacks in far-reaching views, it makes up for in interesting sculptures, archways and garden features. The house itself, a low slung cottage, can be toured, and inside is a lot of artwork by friends of Bevis, including an exceptional mural representing a tapestry of Sri Lankan life, by Australian artist Donald Friend who came for six days and ended up staying six years. There are also photos of Vivien Leigh and Lawrence Olivier, two other notable house guests who stayed here during the filming of Elephant Walk in 1953.
You can also tour both estates without lunch, or opt for high tea at Lunuganga instead of lunch.
Please speak to one of our butlers for pricing.
Show More
Show Less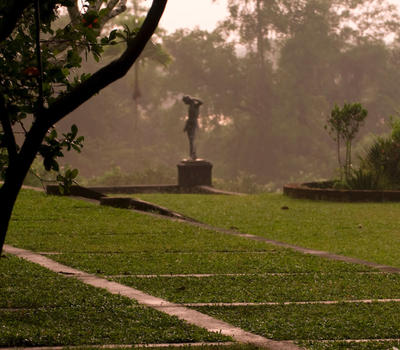 Location: Ambalangoda
Duration: 60-90 minutes
Group size: 1 to 3 guests
What to wear: Comfortable clothes (no beachwear)
Other: Option to paint your own mask for an additional LKR 1,750 per person
(allow another 90 minutes).
Southern Sri Lanka is famous for its arts and crafts, and Ambalangoda, just a five-minute drive south
of the hotel, is its undisputed capital. For years, craftsmen have been carving life-like masks out of
balsa wood to use in three types of dance drama; devil dancing, folk dancing and medicinal masks.
On this tour you will first visit a mask museum in Ambalangoda. You'll see how the masks are made
(you can have a go yourself if you wish for an additional LKR1750 per person) in the workshop and
then have a tour of their little museum. Some of the masks in here are 200-years-old, and the
museum provides a brief glimpse at the different uses of masks. There's a shop upstairs. Across the
road is another mask museum (the two museums are owned by brothers), with a smaller selection of
masks.
On your way back to the hotel, you have the option of stopping off at the house of Dudley Silva,
a noted local batik artist. Dudley learnt the craft of batik-making from his uncle and now exhibits
his creations across Asia. He has a tiny workshop at the back of his home where you can see the
process of batik making, and plenty of finished batiks available for sale in his shop.
Show More
Show Less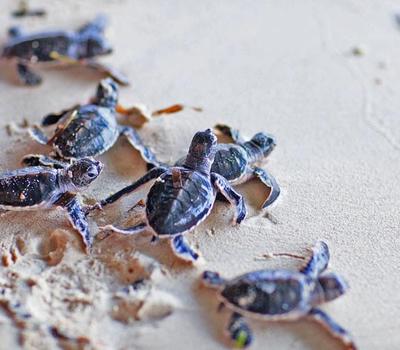 Location: Kosgoda
Duration: 1 hour
Group size: 1 to 3 guests
What to wear: Comfortable clothes
Other: No flash photography is allowed.
Kosgoda Beach, a 20-minute drive north of the hotel, is one of Sri Lanka's most important nesting
grounds for marine turtles. As many as five out of the world's seven species of marine turtle visit and
lay their eggs on Sri Lankan shores yet all of these species are considered to be either threatened or endangered. Female turtles come ashore and lay their eggs on the very same beach they were born. Once their eggs are buried, they return to the sea and leave them unattended to mature and hatch.
Unfortunately, although it's illegal, turtle eggs are still collected and sold as a gourmet/medicinal
delicacy in Sri Lanka. Turtle hatcheries, such as this government-accredited one on the beach,
purchase the eggs directly from 'egg poachers' and rebury them safely in their hatchery. It's not
cheap. The current rate per egg is LKR20, and a turtle lays, on average, 150 eggs in one sitting.
Turtle eggs take around two months to mature, and when ready, the hatchlings emerge from their
eggs and make a bid for the sea. The scamper to sea and their first days and weeks in the ocean
are fraught with danger. Not many of them make it. Only around one percent of turtles will reach
adulthood.
This is a small but tidy hatchery. You'll be guided around and are very likely to see baby turtles
(though these are usually released into the sea at night within one day of them hatching), juvenile
turtles and adult turtles – these will be a mix of green (most commonly seen), olive ridley and
leatherback species. There is also a small museum. Your donation goes towards protecting local
turtles.
Although there are a number of turtle hatcheries in the area (that all seem pretty similar), we chose
this one for a few reasons. They are committed to protecting the turtle's habitat by organising weekly
beach cleans every Thursday (along a 5km stretch), and encouraging school children to get involved
by coming to learn about marine turtles. They also have overseas volunteers working here.
It might be possible to see the release of baby turtles into the sea if your visit coincides with a time
that hatchlings are planned to be released into the sea. This is usually done at night and you can
ask at the hatchery if you can return at night to see the release of hatchlings (additional cost may
apply).
Show More
Show Less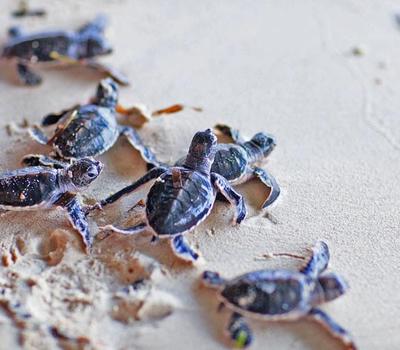 Sri Lankan Cookery Demonstration
Location: Kumu garden or beach
Duration: 90 minutes plus lunch
Host: Kumu Beach Chef.
Group size: 2 guests
What to wear: Comfortable clothing
Other: Your camera if you want to take pictures.
Meet with one of Kumu Beach chefs at 11 am for an in-depth demonstration of how to make some of
the stunning rice and curry dishes served in our restaurant. You'll learn about the spices used to
flavour the dishes and the different methods of preparing each of the delicious curries. The chef will
select some fresh vegetables from the local markets prior to the demonstration to use in the cook;
you are very welcome to join him on his visit to the fresh produce market if you like so please let our
staff know at the time of booking if you'd like to visit the market too.
In the demonstration the chef will use clay pots to cook each curry; these clay chatties impart an
authentic and distinctive flavour to Sri Lankan cuisine and have been used across the island for
centuries. Villagers in rural areas still use them for cooking on an open hearth. You can choose from
one fish, chicken or seafood curry, along with a dhal (red lentil) curry and a selection of vegetable
curries depending upon what is fresh and in season. The chef will also share with you his secrets for
making the perfect rice accompaniment. You may get involved as much or as little as you wish and
you'll have many opportunities to taste the curries during the cooking process. Feel free to ask as
many questions as you like – our chefs will be happy to indulge you!
After the demonstration, enjoy a lunchtime feast of the delicious curries you've seen prepared
followed by a traditional Sri Lankan dessert.
Show More
Show Less
Location: Madu Ganga River
Duration: 2 hours
Group size: 1 to 6 guests
What to wear: Comfortable clothing
The Madu Ganga is a shallow 915-hectare lake system home to 64 islands (15 that are surrounded by water year-round) that's connected to the sea by a brackish estuary. This crucial waterbody is fringed by vital mangrove plants and is one of the south coast's most unique wetland ecosystems. It is home to over 300 plant species and 200 vertebrate animals. The mangroves are also a sanctuary for 110 species of aquatic birds such as eagles, cormorants, kingfishers and herons. On a typical trip you are also very likely to see monkeys, water monitors and giant squirrels, and maybe even a crocodile. Most of the villagers living in the vicinity of the lake and the islands make their living from fishing and farming, to a lesser extent, cottage industries such as the production of cinnamon quills and oil.
The entrance to the wetlands is just a few minutes' drive from the hotel. You'll board your private
boat (seats up to six) from a jetty and cruise the short journey up the estuary to reach the wetlands.
The boat has a shade that can be quickly put up if you require (once you've passed under the low
bridges). A guide will point out any wildlife, and take you to a series of destinations on the lake –
these include dark and shady mangrove 'tunnels', which the boat drives through, an island where
you can see the production of cinnamon, and to the Koth Duwa Maha Raja Temple, a well-kept
Buddhist temple with old bo tree which is once thought to have sheltered the sacred tooth relic of
the Buddha. There are also a couple of fish spas on the banks of the wetlands which you can stop at
if you wish.
The boat trip takes around two hours and is best done first thing in the morning or in the late
afternoon, when it is cooler and when you're more likely to see more wildlife. Life jackets are provided.
If you wish, we can pack you a picnic and some cold beers (or wine) to enjoy on the rocky banks of
one of the islands – please just let us know in advance so we can let the boatmen know.
Show More
Show Less
Location: Hikkaduwa Beach
Duration: 120 minutes including transportation
Group size: 1 to 3 guests
What to wear: Comfortable clothing
Surfing is a major part of the Sri Lankan coastal culture. Sri Lanka has been a major surf destination
since the 1970s, with the main surf spots in the South Coast (during December to March), and the
East Coast (from July through to October). From Hikkaduwa up to Tangalle, there are reef-break
points and dive spots on almost every beach, with less of a crowd on the waves than the East Coast.
A few beaches over from Balapitiya and a 20-minute drive, Hikkaduwa has great surf, especially for
beginners. With white water waves, shallow water, longboards and foam boards available, Hikkaduwa
is the perfect place for everyone to learn how to surf! The more advanced-level waves are further
back behind the white water waves, with offshore winds making clean waves and consistent swells,
and rain at a minimum during peak season.
The surf lesson begins with half an hour of theory and explanation of the basic moves and
techniques. The theory is then followed by a one-hour practical lesson in the surf with the instructor
to help get you up on the wave! Lessons are suitable for everyone - children, locals, foreigners,
expats and even advanced surfers. The lessons can also customize for the level required.
Show More
Show Less
Galle Fort Walk with a Resident
Location: Galle Fort
Duration: 1 -2 hours
Host: Atheeq Ifthikar - Ceylon Soul
Group size: 1+
What to wear: Cool, lightweight clothing, suitable footwear and your camera
The Ceylon Soul Galle Fort Walk with a Resident is hosted by a local guide that comments on the attractions and cultural history of the Galle Fort . Nestled within fourteen strategically erected bastions, which demarcate Galle Fort's extent, are numerous places of worship, a plush hotel originally used as the Dutch Governor's residence, an old warehouse utilised to safekeep ship equipment and store spices, several local schools, a post office, a lighthouse, and a clock tower, all criss-crossed by a grid pattern of streets.
Show More
Show Less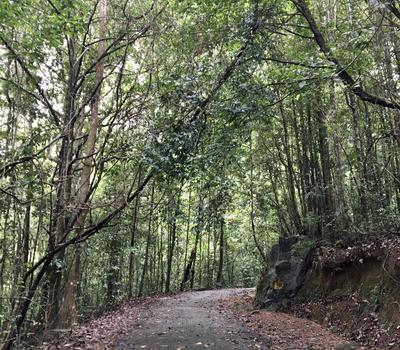 Kanneliya Rainforest Trek
Location: Kanneliya
Duration: 3.5 hours, including transfer time (1.5 hours one way) from the hotel
Host: Trekking porter
Group size: 1+
What to wear: Comfortable and light clothing, comfortable footwear, a rain jacket/umbrella (during the monsoon season) and sunscreen.
The Kanneliya Rainforest is one of Sri Lanka's lesser known forest reserves, yet astonishingly, it is one of the world's 21 biodiversity hotspots! Marked as a Biosphere Reserve by UNESCO in 2004, the forest covers an area of 5,306 hectares and boasts a diverse range of flora and fauna. Some 220 faunal species (of which 41 are endemic) have been recorded, including 86 species of mammals, 36 species of snakes (17 endemic forms), and several varieties of fish, butterflies, dragonflies, amphibians and reptiles. Of the 26 endemic birds in Sri Lanka, 20 of them can be found here. Flora includes over 500 types of tress and a wide variety of medicinal herbs and rare plants. The reserve is also a major catchment area for two of the most important rivers in the region, the Gin and Nilwala Ganga (river), which feed numerous other rivers and streams.
Four attractions in this enchanting forest include the cascading Anagimale Waterfall, an ancient tangled giant creeper the height of a person, the little waterfall of 'Narangas Ella' and a massive Nevada tree with an observation platform, a great spot to look out over the lush reserve.
Neatly tucked away just 35km from Galle, the outskirts of the Kanneliya forest houses around 78 villages. Your tracker is from one of these villages and has spent his entire lifetime living within the reserve. Our recommended trek, approximately 2 hours, takes you passed the Nevada tree to the beautiful Anagimale Waterfall. The tracker will walk you through the forest, showing you particular plants and trees, and pointing out any animal sightings along the way. If you're feeling adventurous you can even crawl through a mini cave underneath the rainforest floor! You will stop at the waterfall for refreshments and a quick break, before heading back to the entrance of the forest.
The cherry on top – You'll finish up with a hearty, authentic, Sri Lankan rice and curry lunch cooked by your tracker's wife in their nearby home, and served at a table in the shallows of an idyllic lake. The scenery in the area is straight out of The Jungle Book and the opportunity to be out in nature makes this a fantastic experience for children and families. If the event of rain, the lunch will be served at their home overlooking the lake.
If you wish to go on one of the longer treks (3.5 hours or 5 hours) please get in touch with the team who will assist in arranging this for you.
Show More
Show Less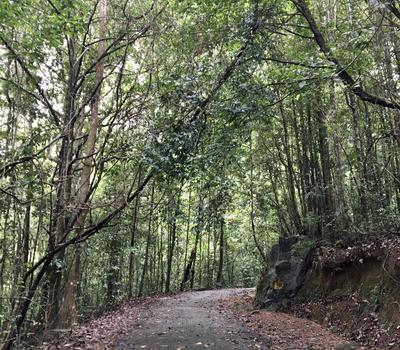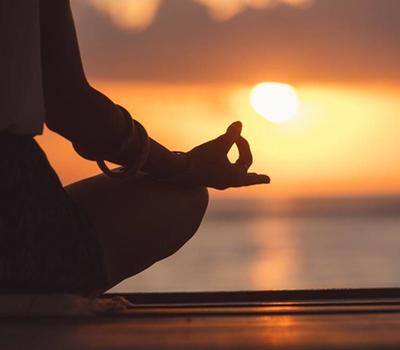 Location: Kumu Beach | Mihiripenna | Fort Bazaar
Duration: 2.5 hrs including transfers
Host: Eva
Group size: 1+
What to wear: Lightweight sports/yoga clothing or breathable shorts and T-shirts
Southern coast is an emerging yoga destination and full of promise of spiritual renewal and reawakening. If you'd like a yoga session, we can connect you with Eva Priyanka Wegener, one of Galle's best yoga teachers and a practitioner of Hatha Vinyasa Yoga (certified with Yoga Alliance, E-RYT +500). Eva has practiced yoga and meditation since 2002 when she was first introduced to Buddhist meditation on a retreat in Sri Lanka.
You can choose to enjoy a private one on one session with Eva, either in the hotel's library or at the
beautiful purpose-built Sri Yoga Shala, tucked deep into the Mihiripenna hills, a 20-minute drive from
Galle. This centre is a tranquil timber construction that looks out over the palm trees and inland jungle, and also has a swimming pool and (soon-to-open) health food café.
If you prefer to join one of the group classes at the Shala (usually held from 7.30am to 8.30am and again from 9am to 10am), this is also possible. There are also other experienced visiting yogis who come and conduct classes at the Shala, and our Front Office will be able to check for you which practitioners are currently in attendance along with their daily schedules (group classes take place every day except Sunday).
About Eva
Eva holds certificates in Contemporary Dance and Hatha Vinyasa Yoga (Yoga Alliance). She received her education in Sri Lanka (Nilambe Meditation Center), Germany (Yoga Shala Berlin initial
200hour TT), India (Krishnamarchaya Yoga Mandiram Chennai), with David Swenson in Hong Kong (Ashtanga Teacher Training Immersion, 30hrs), with Louisa Sear, Rose Baudin, Lucy Roberts and Stuart Girling in Bali (Yoga Arts Australia 300hrs TT), with Sri Nanda Kumar (Senior Iyengar Teacher) at Dayananda Ashram in Rishikesh, with Sianna Sherman (Anusara‐ inspired) and Sally Kempton (Tantric Philosophy & Meditation) in London. Eva conceived and designed the Sri Yoga Shala, which opened in late 2015.
Show More
Show Less