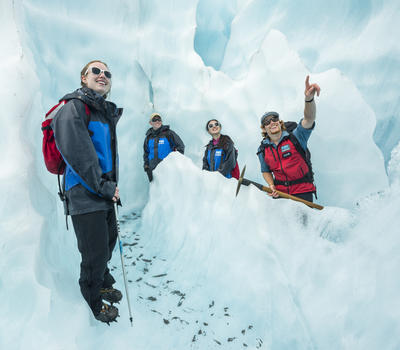 The fly-in, fly-out helihike combines the excitement of walking on the Fox Glacier with the thrill of helicopter flights. By flying in you are able to access and explore a part of the glacier where its forces work hardest and often create spectacular ice caves and arches.
Equipped with leather walking boots and other equipment, you board the helicopter for your first flight over the pinnacles of the lower icefall. Here, the ice is in constant motion. 
Your landing site on the ice is a remote and exceptionally beautiful part of the glacier at approximately 800 metres above sea level.  You will see the stunning Victoria Falls, which is the melt river from the hidden Victoria glacier.  At this stage, your guide outfits you with crampons, specially designed for these ice conditions and you follow the ice steps cut by your guide as you explore the amazing formations.
Each departure is a true voyage of exploration. There are so many changing features that the guides always find something new. Weather permitting, ice time is up to 3 hours.
Please note that this is a natural and ever changing environment. Ice features change constantly and no guarantee can be given that specific features will be seen. This is a weather dependant trip.
Minimum of 3 people required (if you have less than 3 people in your group, we will do our best to put you on a trip with other people).
This is our most popular experience so bookings are essential.
We have small groups the maximum guide to customer ratio is 1:11
Show More
Show Less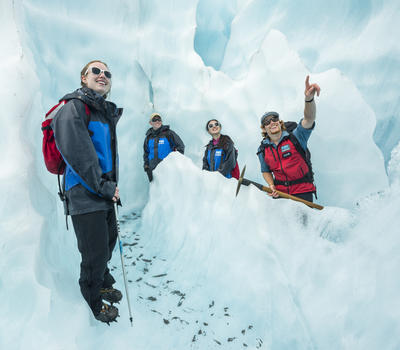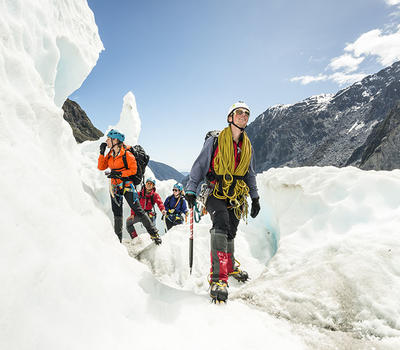 Extreme Fox: All Day Heli Hike
Feeling amped?  Then our Extreme Fox Heli-Hike is for you; spend an exhilarating day on the West Coast's largest glacier and challenge yourself.
Forge your own unique trail through the dramatic terrain of Fox Glacier's steep upper icefall.  Our expert guides (we are New Zealand's most experienced glacier guiding company) will show and teach you how to use your technical climbing equipment.
Start:  Before you leave home to come check in with us at our base building for the day, make sure that you fuel up with an energy-giving breakfast; you'll need it.
Learn: Listen as your highly experienced guide explains the nature of your glacier encounter and the environment you are exploring.  You can trust their high level of NZMGA training and mountaineering skill; they're excited to guide you, and take your safety and comfort very seriously.
Briefing/Gear Up:  We'll fit you out with a harness and other technical gear and equipment.  Your guide will give you a comprehensive safety briefing and prep you on what to expect for the day; then we will transfer you to your helicopter.
Take Flight:  There's nothing like the freedom of helicopter flight in the mountains!  Feel your adrenalin flow as you climb above the lush rainforest of the Fox Valley, and your eyes drink in the majesty of the mighty Fox Glacier in all its glory.
Climb higher still, (to 6,000 ft).  Your pilot points out New Zealand's highest peaks, Mount Cook (Aoraki) and Mount Tasman as they open up ahead, before you swoop over the magnificent Fox neve (the top of the glacier) and down its breath-taking upper icefall.
We'll show you the (approximate) location of your exploration area from the air, so you get a cool perspective of your upcoming adventure.
(Please note that the availability, route and length of this scenic flight will be dependent on weather conditions on the day).
On the glacier: Ready to blaze a trail?  We bet you are!  You'll land on Victoria Flat and put on your crampons (ice-hiking spikes), then you are on the move.  A good level of English comprehension is important as your guide gives you technical and safety instructions while you explore the upper icefall.
What you will see and do will depend on the ice features on the glacier at the time.
You might ford crevasses, use rope to travel, or be lowered into and climb out of moulin (deep ice holes).  You might climb and abseil down ice walls, or ascend short ice pitches, using ice axe and crampon climbing techniques.  How much you do will depend on the day's ice conditions and the level of ability of your small group (3-5 people).
Food:  You'll break for lunch, which we provide.  Water is plentiful on the glacier, and it's probably the purest you'll ever drink.
Wrapping up: You'll spend up to 6 hours on the ice, and then heli-transfer back to our base at Fox Glacier township.  There, we'll present you with a t-shirt, so you can proudly say you came and conquered the Extreme Fox!
No one else guides a glacier experience like this, you'll be buzzing.
Minimum of 3 people required (if you have less than 3 people in your group, we will do our best to put you on a trip with other people).
Maximum guide to customer ratio is 1:5
Instruction is given in English so a good level of English comprehension is mandatory.
Show More
Show Less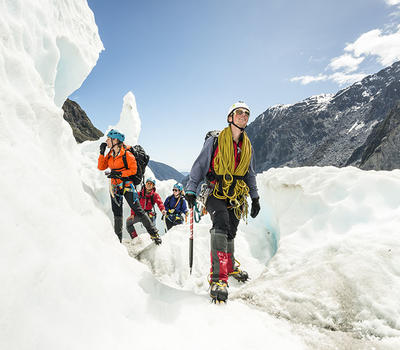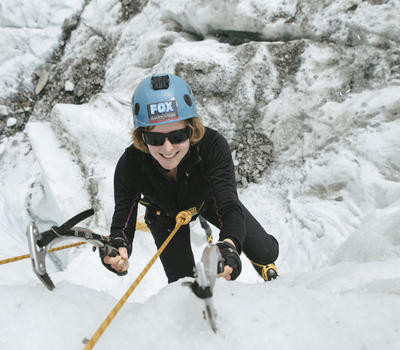 Fox It Up: Heli Ice Climbing
This day long experience introduces the adventurous to the exhilarating sport of ice climbing, on the spectacular ice walls in the upper part of the Fox Glacier. Your professional guide will tailor the day to offer variety and challenge to the novice and expert alike. Before heading to the ice you will be equipped with specialised mountaineering boots, crampons, ice axes and technical gear.
During your thrilling helicopter transfers to the ice you will enjoy breathtaking views of the majestic Fox Glacier and surrounds.
Guides who instruct on these days receive special training to ensure they teach skills in the correct order so you advance quickly. You will be surprised by the quick progress that you make. The maximum guide to customer ratio is 1:4 ensuring that you receive close personal attention.
There are many steep walls to challenge you and you will quickly master basic cramponing and ice axe techniques. The adrenaline will start to flow as you challenge yourself with longer and steeper pitches. Using ice tools and the front points of your crampons, you climb vertical and at times, overhanging ice walls and pinnacles, secured at all times by a top rope attached to your harness.
Show More
Show Less