Introduction
This is a completely unique wildlife journey into the untouched rainforests of Central Africa on a safari that will leave you looking at the world differently. If the mysterious tropical forests, meeting the people who live here, and the thought of encountering mind boggling diversity of wildlife fascinates you then this is the expedition you simply must take.
Delayed flights and bumpy roads not withstanding, this is a unique and rewarding wildlife experience. A journey into the untouched rainforests of Central Africa. This vast region, spanning three countries sparsely populated with Bantu tribes and nomadic groups of Ba Aka Pygmies.
Dzanga-Sangha is in the northern section of the Congo Basin in the Central African Republic. In the reserve are thriving populations of Gorillas, Forrest Elephants, Bongo, Sitatunga, Red Riverhog and many of the smaller primates and mammals, forest birds, and a myriad of plants and trees.
During your safari you will be traveling in 4 x 4s, and on foot into the remotest parts of the jungle. You will encounter Ba'aka Pygmies, and if you wish join them in a hunt for food into the forests. These experiences are not contrived for tourists rather they are a window in to the lives of the people of the forest. You will trek to visit habituated families of Western Lowland Gorillas, experince bird watching with experts. Explore by boat on the SANGHA and YOBE Rivers.
Spotlighting around the camp and from the boat to find some of the more unusual nocturnal species like Galago, Potto, Gennet, Civit, Golden Cat, Hammer-Bat and a number of owls.
We also have a small project with the Ba'aka people where we go into the forest and spend the night with them in a forest camp. The dimension of music and dance that you experience here is something that few westerners will ever see. All monies from this activity go directly to the Ba'aka to help with education and health issues.
The lodge's own ongoing research and rehabilitation of Pangolins offers visitors a chance to see wild Pangolins while they feed on ants in the highest trees.
Visits from local experts and conservationists when they are available can add an interesting dimension around the dinner table at night.
The incredibly committed owner/hosts at Sangha Lodge have over the years they have rescued many orphaned animals from the bushmeat trade. Pangolins especially are often kept alive after being caught and live adults rehabilitate easily, these are normally released on the same day in a secure location. As well as the 70 pangolins saved, they have also hand reared several interesting smaller mammals like Blue duikers, successfully hand raised and re-wilded, Brush-tailed Porcupine, Servaline Genet, and Long snouted Cusimanse,
Accommodation and Destinations
Price
Fast Facts
Includes
Excludes
Price
10 Night Itinerary EUR 7645 . ( Feb , April or June , Jul, Aug, Sep, Oct, Nov, Dec)
**Rates may reduce on certain dates dependent on numbers of guests, please enquire

Single Supplement for single accommodation Euro 500

Price is quoted in Euro but you can pay in USD $ or GBP £
at the prevailing exchange rate.
Just ask for a quote in your preferred currency.
Fast Facts
11 Days / 10 Nights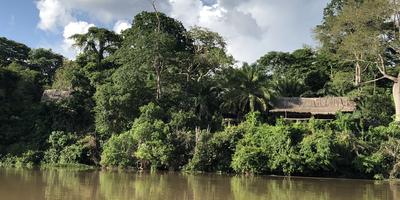 Includes

The cost for the trip includes the following according to your itinerary for:
7 night's accommodation at sangha lodge on full board.
All vehicle hire and landed costs while at sangha lodge.
1 gorilla tracking permit per person.
1 Mangabey tracking permit
1 Bai walk
1 Visit to Dzanga Bai
1 day's net hunting and pygmy activities
1 Boat trip to the waterfall /Picathartes site
1 night walk
Charter flights to and from Bangui.
Meet and Greet and Airport assistance.
AdditionaL activities are charged EXTRA :
Gorilla treking EUR 290
Full day at Dzanga Bai EUR 135
Guideed night walk EUR 31
River Cruise EUR 31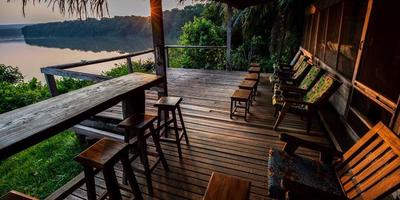 Excludes
Extra Accommodation and transfers in Bangui if needed.
Any park activities not specified here.
Drinks except bottled water

In the result of delays in the charter due to weather or any other issues, Busanga Safaris will help get you back on track but cannot be responsible for any extra costs incurred.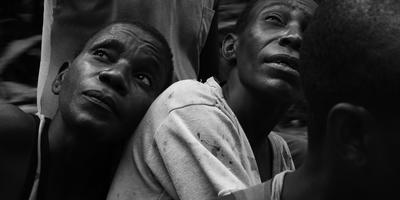 Dzanga Sangha Reserve :
Sangha Lodge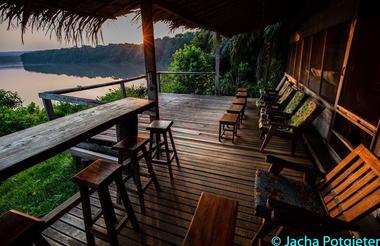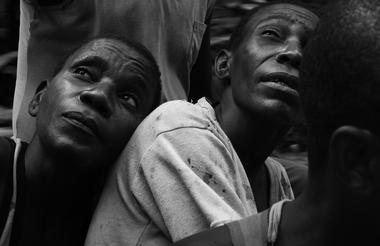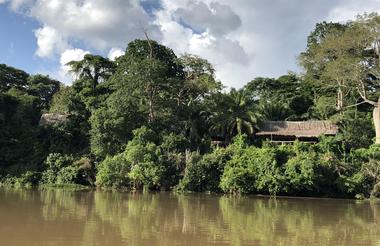 Dzanga Sangha Reserve :
Sangha Lodge