Introduction
Perched on a nunatak (a protrusion from an ice field or glacier) above the Don Sheldon Amphitheater, only accessible by helicopter, and just 10 miles from the summit of Denali, this is truly one of the more unique lodges of the world. Experience the indescribable majesty, grandeur and awe of Alaska's towering mountain wilderness from absolute comfort. At 6,000 feet in elevation, the chalet is as unique as the surroundings are breathtaking. Fine dining, luxury accommodations, and exquisite service are a rarity in such a distinctive environment. In the company of personal guides and experienced staff, immerse yourself in the grandeur of this unique luxury destination for leisure or adventure.
The chalet is open year-round and offers up different opportunities at different seasons, an example of a winter visit is below.
Winter on Denali exhibits prime aurora borealis and meteorological viewing, full moon glacier treks, cozy fireside evenings and comforting saunas. Late morning golden sunrises illuminate the multitudes of peaks in the 35 square mile Don Sheldon Amphitheater, lighting up each in a wild color show as it fades into pastel and bronze sunsets in the late afternoon.
Activities include:
Snow cavern spelunking
Aurora viewing
Star and meteor shower gazing
Sledding runs
Glacier trekking
Cross country skiing
Snow storm viewing
Ability level: beginner, anyone can enjoy this remote mountain luxury with as much or as little activity as desired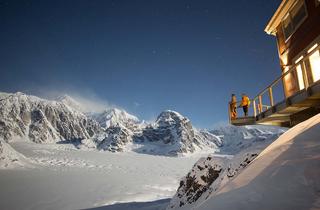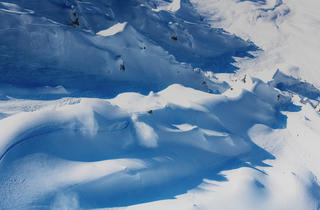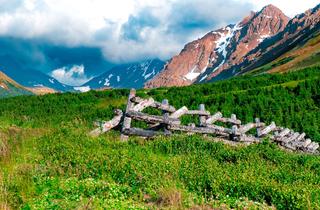 Key

FB: Full Board - Dinner, Bed, Breakfast and Lunch
Fast Facts
5 Days / 4 Nights
Special Interests: Northern Lights, Aurora Borealis, Remote, Luxury, Denali, Alaska, Glacier exploration, Cross country skiing, Flightseeing, Helicopter, Unique Lodge, Family
Included
Private all-inclusive in 2,000 square foot, 5 bedroom, 2.5 bathroom luxury accommodations for up to 10 guests
Helicopter flightseeing tour from Anchorage or Talkeetna
Staff - chef, concierge, and two adventure guides Gourmet meals, beverages and Luxury accommodations
Guided glacier exploration
Outdoor apparel rental package- boots, pants, parka, gloves
Use of glacier gear - trekking skis or snowshoes and poles, harnesses, and climbing helmets
Stoke Broker service to customize, plan and prepare for your trip
Your adventure creates impact. Stoke Broker profits advance the mission of First Descents. First Descents is a non-profit organization that provides life-changing outdoor adventures for young adults impacted by cancer and other serious illnesses.
Denali National Park:
Sheldon Chalet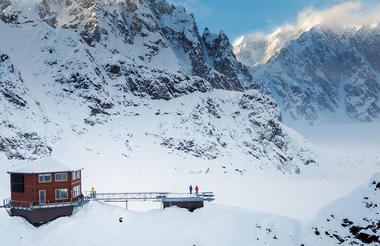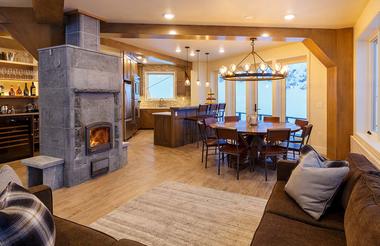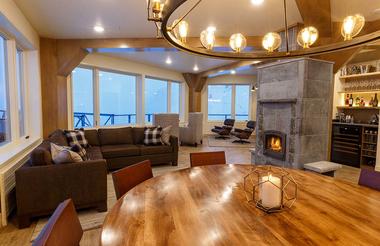 Denali National Park:
Sheldon Chalet