Introduction
Angler's Inn
For over three decades, Anglers Inn International has worked to give experienced anglers and novices alike the fishing trip of a lifetime. We've hosted many luminaries from the fishing world in both Mexico and Brazil, along with professional athletes, titans of industry, and folks from every walk of life and from all over the world who want to experience the best fishing on earth. Over 80 percent of our business comes from repeat customers, and with appearances on major television shows and in magazines ranging from Bassmaster to Forbes, we've made a name for ourselves as the premier angling outfitter in the Americas.
The Fishing
No less an authority that Kevin VanDam referred to Lake El Salto the ultimate "bucket list" destination for largemouth bass. It's where he caught his personal-best five fish stringer that totaled over 50 pounds, and every day both novices and experienced anglers alike break their own personal bests. The lake provides a perfect laboratory for growing big fish, with textbook structure, Florida strain bass and an actively-managed tilapia population that enables the fish to grow.
At Anglers Inn El Salto, you'll fish out of boats specifically designed for these waters, big enough to get you where you're going fast, but also able to squeeze in among the standing timber. They feature wide casting decks big enough for two, Humminbird electronics and Minn Kota trolling motors. Most importantly, the majority of our guides have been working here for decades – they know the lake like the back of their hand and they understand its seasonal moods and work diligently to make sure that you go home with plenty of good pictures and stories to tell.
Accommodations
In addition to our plentiful and cooked to order world-class meals, you'll be greeted each morning with a hot cup of coffee and a wake up call. Our bartender won't allow your glass to go empty, either. But despite the fact that you'll feel like you're in a remote fish camp, you don't always have to leave the comforts of home behind. We have satellite television for those needing a bit of evening entertainment or if you can't miss the big game. There's wireless internet in our main gathering area and a small business center with computers and a printer if you simply can't leave work behind. If you're tired at the end of a long day battling big fish, we even have a masseuse on site who can work out the knots in your back and shoulders.
Key

FI: Fully Inclusive - Bed, All Meals, Fees and Activities
Price
TRIP FEE
$2,095.00 per person based on double occupancy
50% non-refundable deposit is required to confirm your reservations
Season: October - July
Game: Largemouth Bass
Fast Facts
5 Days / 4 Nights
Reference Number: Angler's Inn
Lake El Salto:
Anglers Inn Lake El Salto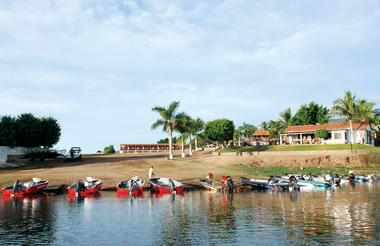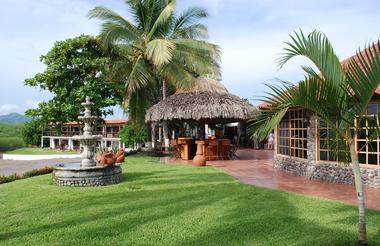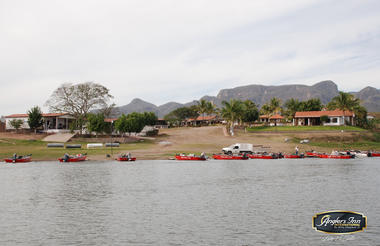 Lake El Salto:
Anglers Inn Lake El Salto