Introduction
The Icelandic Highlands is one of the most wild, remote places on the planet. It's a raised plateau in the middle of the island, populated with numerous volcanoes, vast tundra and glacier tongues sprouting from Ice Caps. This region is completely uninhabited, with only a few mountain refuges scattered across the land. Originally established to protect farmers from the elements when they were rounding up sheep in the Autumn, now they are left empty for most of the winter except for when expedition teams venture out during the snowy months.
This raw environment brings you to appreciate the simple things, food, warmth, drinks. It is a lifestyle where you quickly adapt, learn from those around you and come accustomed to. Living accommodation is communal but not without charm, live with the locals, do like the locals and realise why the locals love being locals.
The staff that will accompany you on the journey have a vast knowledge not only how to navigate the mountains but the cultural aspects of the country. Their passion for being in nature extends beyond sheer ability, it's about traditionally how the landscape was formed, which areas are known for Trolls and which for Elves and what it means when the Northern Lights show themselves on clear winter nights.
You will ski in snow, in powder, on ice, over rocks, through mud, down glaciers. This is a trip for someone that wants to explore and be fully immersed in Icelandic nature and culture. You can expect it to be harsh and rough, but to laugh endlessly and feel accomplished on the other side, you may even forget that through all of it, you made all of those first descents on unnamed peaks because you were too busy having fun.
Key

B&B: Bed and Breakfast
Kerlingarfjöll:
Kerlingarfjoll Mountain Resort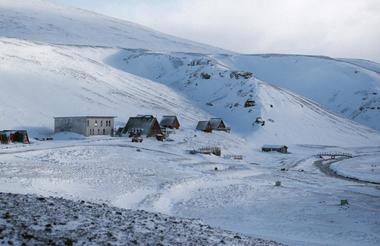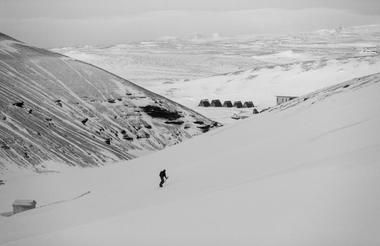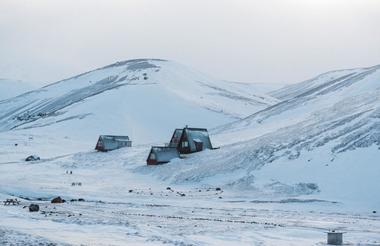 Fast Facts
7 Days / 6 Nights
Included
Heli Ski

Snowmobiling

Ski Touring / Splitboarding

Super Jeeping

Glacier Walking

Ice Climbing

Ice Caving

Geothermal Exploration

Hot Springs

Hiking

Cross Country Skiing
Kerlingarfjöll:
Kerlingarfjoll Mountain Resort