Namibia
Located in south-western Africa, Namibia boasts a well-developed infrastructure, some of the best tourist facilities in Africa, and an impressive list of breath-taking natural wonders. Visitors can explore the capital of Windhoek and discover the lovely coastal town of Swakopmund boasting remnants of the country's German influence, reflected in the architecture, culture, cuisine and the annual Oktoberfest celebrations. To appreciate this extraordinary country appropriately, you will have to venture out of the cities to explore the remarkable natural landscapes Namibia has to offer. These include: the impressive Fish River Canyon; the vast Etosha National Park teeming with abundant wildlife, such as lions, desert-adapted elephants and the Hartmann's Mountain Zebra; the hauntingly beautiful Kalahari Desert; and of course the Namib Desert stretching for over 2000 km along the magnificent Atlantic Coast. Namibia is an ideal destination for travellers seeking an unforgettable African experience in a uniquely beautiful untamed wilderness.
Central Namibia
Days 1 - 2
Encompassing the bustling capital city of Windhoek, and the laid-back seaside towns of Swakopmund and Walvis Bay, Central Namibia features an array of towns, deserts, and wildlife reserves. The landscape of this region is characterised by grasslands decorated with clusters of Acacia trees, between the Namib Desert to the west and the lush Kalahari to the east. Visitors can soak in the steaming waters of the Cross Barmen Hot Springs, view a wide variety of wildlife, and explore the untouched beauty of the beautiful Erongo Mountains with the breathtakingly beautiful Spitzkoppe, which offers some of the best stargazing opportunities in the country. Divers and snorkellers will enjoy the incredible marine life just off the coast of Walvis Bay. Art lovers should make sure to visit the little town of Okahandja, famous for its fine wood carving and vibrant markets.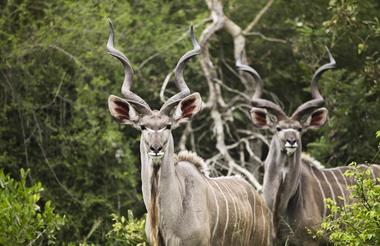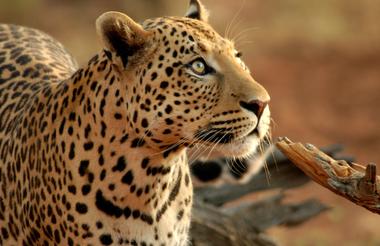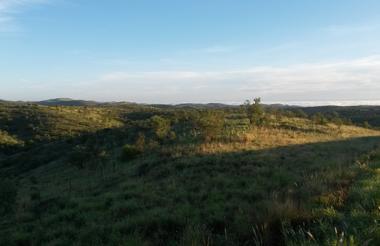 Etosha East
Days 2 - 4
Located in north-western Namibia, Etosha East is a protected sanctuary in the eastern part of the world-renowned Etosha National Park, known as one of the most accessible game reserves in Southern Africa. Etosha East boasts vast open plains scattered with semi-arid savannah grasslands dotted with watering holes and secluded bush camps. The impressive 5000-square-kilometre Etosha saltpan makes up a large area of the eastern side of the park and is visible even from space. This remote area teems with abundant wildlife such as lion, elephant, black rhino and giraffe, as well as a variety of birdlife featuring flamingos, ostriches, eagles, hornbills, and owls.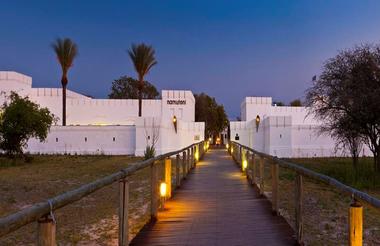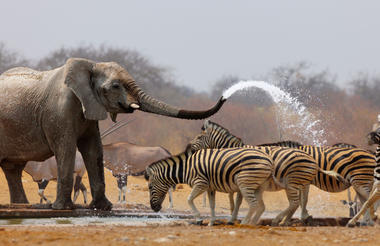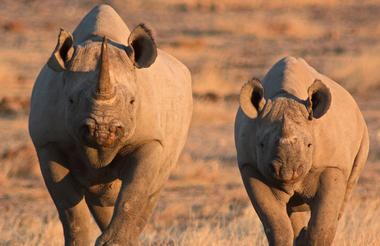 Okaukuejo Area
Days 4 - 5
Part of Etosha National Park in northwestern Namibia, Etosha South makes up the southern region of this wild paradise. The national park can be accessed via the southern entrance at Andersson's Gate. Visitors can catch a glimpse of a variety of wildlife including lion, giraffe, elephant, white and black rhino, and a multitude of plains game.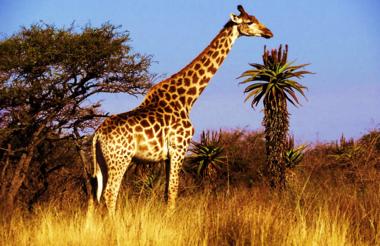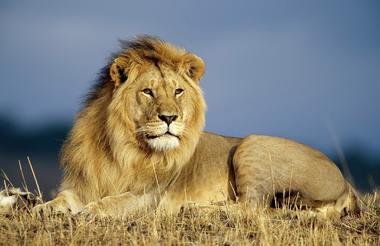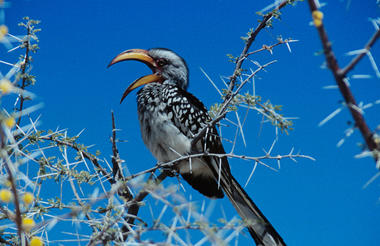 Damaraland
Days 5 - 6
This vast desert landscape is known as one of the most beautiful regions in Namibia. Huge, untamed and ruggedly beautiful, Damaraland is an exceptionally scenic landscape featuring open plains, ancient valleys and spectacular rock formations. The major attractions are the sacred Spitzkoppe, the Brandberg, Twyfelfontein, Vingerklip and the otherworldly Petrified Forest. Visitors can take in the dramatic vistas, catch a glimpse of the rare desert-adapted elephant, and enjoy spectacular stargazing in crystal-clear night skies from one of the many safari camps dotting Damaraland. Other popular activities include: guided drives, nature walks and visiting the local communities. Don't miss the opportunity to view Damaraland's world-famous ancient rock art.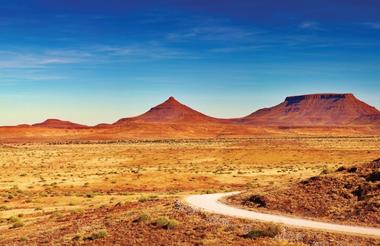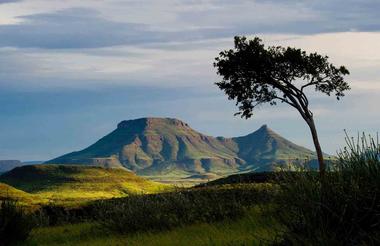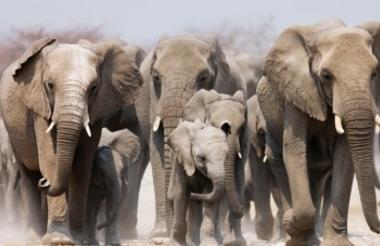 Swakopmund
Days 6 - 8
Set along Namibia's spectacularly scenic coast, the seaside town of Swakopmund is known for its wide-open avenues, colonial architecture, and its surrounding otherworldly desert terrain. Founded in 1892 as the main harbour for German South-West Africa, Swakopmund is often described as being more German than Germany. Now a seaside resort town, Swakopmund is the capital of the Skeleton Coast tourism area and has plenty to keep visitors happy. The quirky mix of German and Namibian influences, adventure options, laid-back atmosphere and cool sea breeze make it a very popular Namibian destination. Visitors can look forward to a number of exciting activities including: quad biking, horse riding, paragliding, fishing, sightseeing and fascinating desert tours.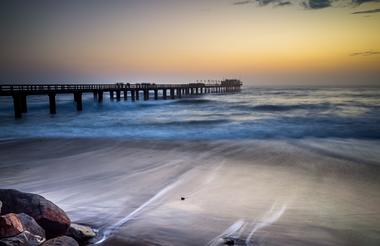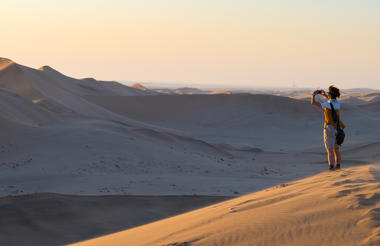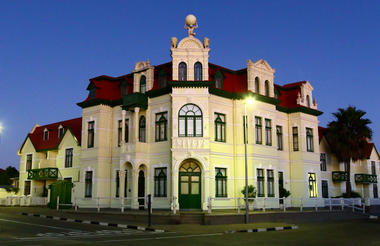 Sossusvlei
Days 8 - 10
Located in the scenic Namib-Naukluft National Park, Sossusvlei is where you will find the iconic red sand dunes of the Namib. The clear blue skies contrast with the giant red dunes to make this one of the most scenic natural wonders of Africa and a photographer's heaven. This awe-inspiring destination is possibly Namibia's premier attraction, with its unique dunes rising to almost 400 metres-some of the highest in the world. These iconic dunes come alive in morning and evening light and draw photography enthusiasts from around the globe. Sossusvlei is home to a variety desert wildlife including oryx, springbok, ostrich and a variety of reptiles. Visitors can climb 'Big Daddy', one of Sossusvlei's tallest dunes; explore Deadvlei, a white, salt, claypan dotted with ancient trees; or for the more extravagant, scenic flights and hot air ballooning are on offer, followed by a once-in-a-lifetime champagne breakfast amidst these majestic dunes.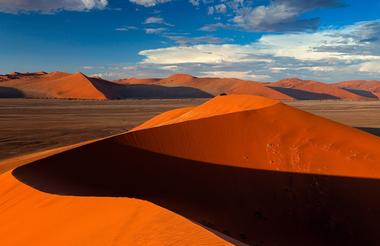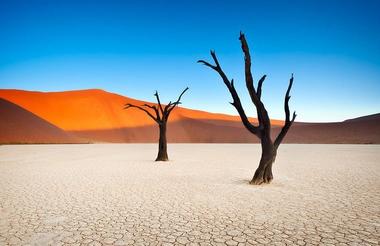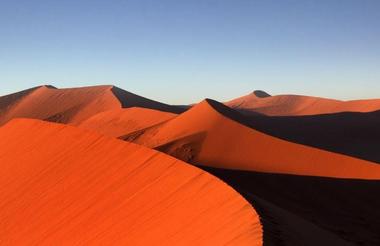 Kalahari Namibia
Days 10 - 11
Spreading across Botswana, South Africa and Namibia, the Kalahari meaning 'the great thirst' is an exceptionally beautiful living desert. The landscape is characterised by a large semi-arid sandy savannah draped over a gently rolling inland sea of sand covering most of Botswana and large parts of Namibia and South Africa. It is also the last bastion of the indigenous San people with the modern world having enveloped all the other areas they once roamed. The Namibian portion is made up of red sands covered in thin, wispy, mostly golden grass and dotted with acacia trees and wide-ranging wildlife including gemsbok, impala, jackals and cheetah.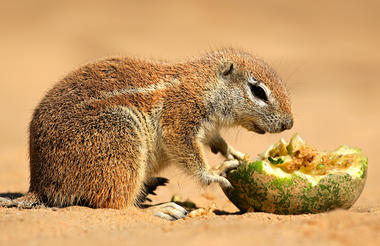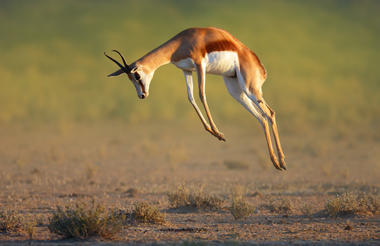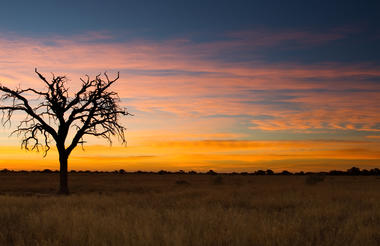 South Africa
One of the most culturally and geographically diverse places on earth, South Africa, fondly known by locals as the 'Rainbow Nation', boasts 11 official languages, and its inhabitants are influenced by a fascinating mix of cultures. Discover the gourmet restaurants, impressive art scene, vibrant nightlife, and beautiful beaches of Cape Town; enjoy a local braai (barbecue) in the Soweto township; browse the bustling Indian markets in Durban, or sample some of the world's finest wines at the myriad wine estates dotting the Cape Winelands. Some historical attractions to explore include the Zululand battlefields of KwaZulu-Natal, the Apartheid Museum in Johannesburg, and Robben Island, just off the coast of Cape Town. Above all else, its untamed wilderness is astonishing: wildlife roams freely across massive unfenced game reserves such as the world-famous Kruger National Park.
Cape Town
Days 11 - 13
Resting at the confluence of the Indian and Atlantic oceans, situated between the slopes of the iconic Table Mountain and the glistening sapphire waters of the Atlantic and Indian oceans, the exceptionally scenic city of Cape Town is in a class of its own. Some cities boast rich culture, vibrant nightlife, a cosmopolitan atmosphere and extraordinary architecture, while others boast breathtaking landscapes and extraordinary natural wonders. Cape Town is fortunate to be blessed with all of these attractions and so much more. With its bustling harbour, world-class beaches, top-notch vineyards, and its mountainous surroundings brimming with diverse flora and fauna, Cape Town consistently captivates the hearts of all who visit.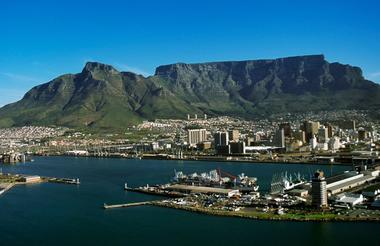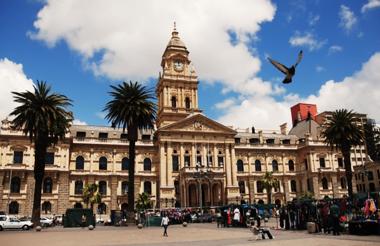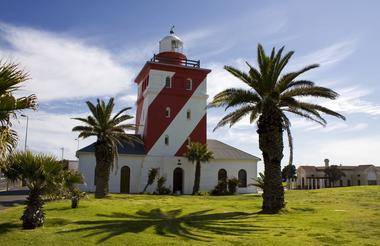 Stellenbosch
Days 13 - 14
A blend of historical architecture, student life, epicurean delights and oak-lined avenues, Stellenbosch is a picturesque university town surrounded by mountains and vineyards in the Western Cape Province of South Africa. A walking tour of the town centre allows visitors to take in its beautifully preserved Cape Dutch and Victorian architecture, as well as the many enticing art galleries, craft shops, clothing boutiques and gift stores, while foodies may prefer indulging in mouth-watering cuisine, and fine wines at one of the chic restaurants or buzzing bistros. Stellenbosch is also the ideal base from which to explore the renowned local wine route, boasting a high proportion of the country's leading wine estates.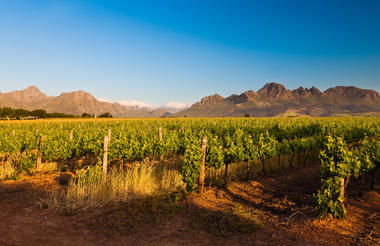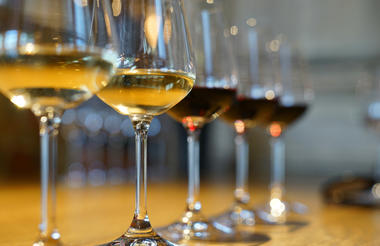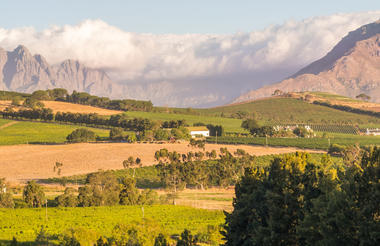 Cape Winelands
Days 14 - 15
Resting at the feet of the Boland Mountains in South Africa's Western Cape Province, the Cape Winelands area is renowned for producing some of the world's finest wines. The breathtakingly beautiful landscape boasts incredible mountain scenery and an impressive list of luxury wine farms, stretching across lush fertile valleys. Visitors can look forward to a variety of wonderful activities. Explore a collection of historic little hamlets and towns dotting the countryside, sample a wide selection of world-class wine at historic Cape Dutch farmsteads and other wine estates; and make your way through a sublime network of hiking and biking trails. The culinary scene here is world-class and constantly improving; visitors who don't drink alcohol will enjoy discovering this destination as part of a 'food tour' - numerous superb restaurants are on offer.