Kenya
Resting in the magnificent Great Rift Valley and presided over by the majestic Mount Kilimanjaro, Kenya is characterised by hauntingly beautiful natural landscapes of forested hills, patchwork farms, wooded savanna and vast forests brimming with an extraordinary abundance of wildlife. The nation's diverse range of traditional African cultures is influenced by over 70 unique ethnic groups from the Maasai, Samburu, Kikuyu, and Turkana tribes to the Arabs and Indians that settled on the coast. Add to this: an exquisite tropical coastline fringed with breathtaking golden sand beaches; gorgeous coral gardens providing excellent snorkeling and diving opportunities; and a slew of lively beach resorts, and it is easy to see why so many visitors flock here from around the world to experience a truly unique African adventure in one of the world's most pristine safari destinations.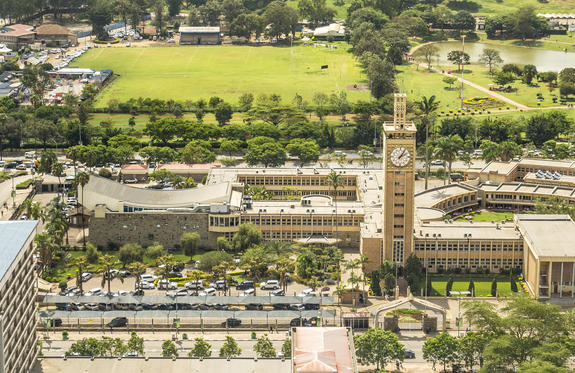 Situated along the Nairobi River in beautiful Kenya, the capital of Nairobi is East Africa's most cosmopolitan city. It serves as an excellent starting point for African safari trips around Kenya. Nairobi is Africa's 4th largest city and is a vibrant and exciting place to be. There are some fascinating attractions: its cafe culture, unbridled nightlife, the National Museum, the Karen Blixen Museum and most notably, just 20 minutes from the city centre, wild lions and buffalo roam in the world's only urban game reserve. Make sure you pay a visit to the elephant orphanage operated by the David Sheldrick Wildlife Trust for a once in a lifetime experience.
Amboseli National Park
Days 2 - 4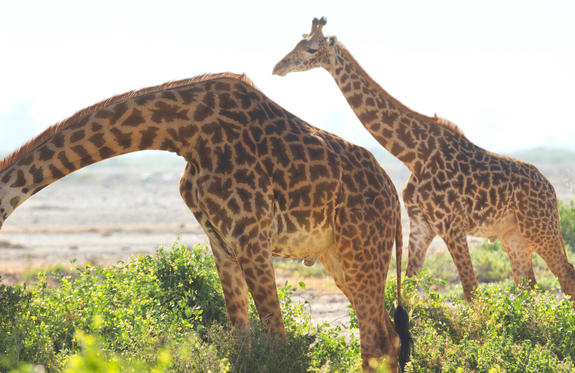 Located in the southern reaches of Kenya, the Amboseli National Park is renowned for its excellent variety of wildlife such as Maasai giraffe, elephant, lion and cheetah and not surprisingly it is one of Kenya's most popular parks. The landscape of Amboseli is dominated by the majestic snowcap of Mount Kilimanjaro, as well as open plains, acacia woodland, swamps and the massif of Ol Doinyo Orok. The birding is excellent, especially closer to the lakes and swamps. The park is famous for being the best place in Africa to get close to large herds of elephants among other wildlife species. Other attractions include opportunities to meet the Maasai people and soak up spectacular views of Mount Kilimanjaro, the highest free-standing mountain in the world.
The Masai Mara together with Tanzania's Serengeti form Africa's most famous wildlife park, the Masai Mara National Reserve. The image of acacia trees dotting endless grass plains epitomises Africa for many, then add a Maasai warrior and some cattle to the picture and the conversation need go no further. The undeniable highlight of the Masai Mara National Reserve is undoubtedly the annual wildebeest migration traversing the vast plains of the Serengeti and the Masai Mara. It is known as the largest mass movement of land mammals on the planet – with more than a million animals following the rains. Large prides of lions, herds of elephants, as well as giraffes, gazelles and eland can also be spotted in the reserve. Aside from horse riding safaris and traditional vehicle safaris, hot-air ballooning over the Mara plains has become almost essential.
Tanzania
The name Tanzania conjures up images of wildebeest stampeding across vast savannah, rain forests teeming with monkeys and birdlife, and great plains brimming with legions of game. All of these natural wonders and more are on offer in this exceptionally diverse African nation. Visitors typically visit Tanzania to partake in at least one of the four well known Tanzanian tourist experiences: a relaxing seaside vacation on the picturesque island paradise of Zanzibar, an underwater tour of some of the world's most renowned dive sites around the gorgeous Spice Islands, a safari adventure in some of Africa's most impressive game reserves, or a hiking excursion around Mount Kilimanjaro National Park. Whichever of these incredible holidays you choose, you will undoubtedly be welcomed by some fabulously friendly and peaceful inhabitants who, despite being divided into 120 different ethnic groups and cultures, live in harmony with one another and provide some of the most wonderfully exotic local cuisine you could imagine. With all of this diversity on offer, the most difficult part of your Tanzanian holiday experience is likely to be deciding where to go!
Northern Serengeti
Days 6 - 8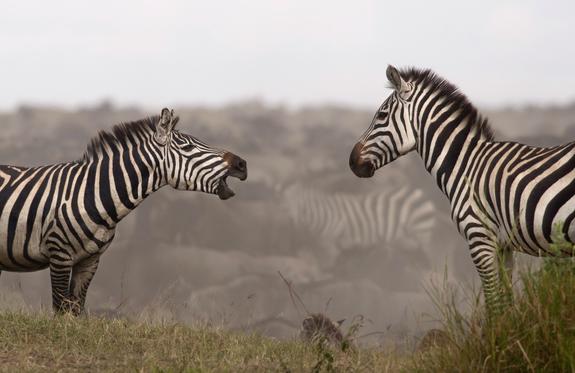 Located between the Central Serengeti and Kenya's Masai Mara National Reserve to the north, the Northern Serengeti is a remote African wildlife wonderland. The vast, rolling savannah of the Northern Serengeti, is known as the hub of the great migration. The landscape is characterised by vast stretches of savannah interspersed with acacia trees and riverine woodlands. Wildlife can be seen along the banks of the Mara River and visitors can view the annual spectacle of the half a million migrating wildebeest. Commonly spotted wildlife include: a multitude of plains game such as buffalo, zebra, gazelles, impala, giraffe as well as lion and leopard. Visitors can look forward to bird watching, hot air ballooning, game safaris and guided bush walks.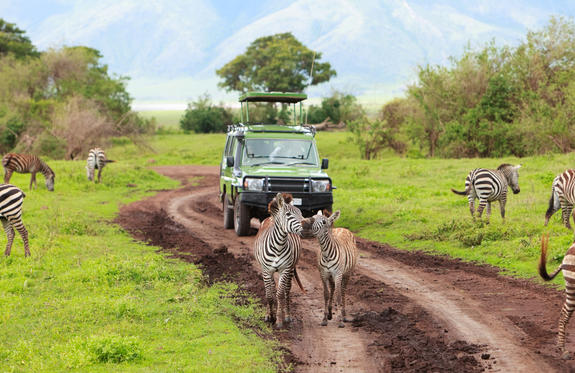 Travellers heading for the Serengeti and Ngorongoro Crater will pass through the town of Karatu in the green hills of Tanzania's northern highlands. Presided over by the towering Ol Deani Volcano, this small, colourful town serves as a popular overnight stop for visitors exploring the area's many game parks. The town offers a variety of activities including browsing the bustling marketplace, sampling beer at a local brewery, visiting a traditional homestead, or taking a guided walk through the Ngorongoro Forest in search of waterfalls and caves. Whether you are looking for cultural tours, hiking and biking opportunities, a chance to enjoy an authentic rural Tanzania experience, or simply a break between safari game drives, this underrated town has plenty to offer.
Tarangire National Park
Days 10 - 11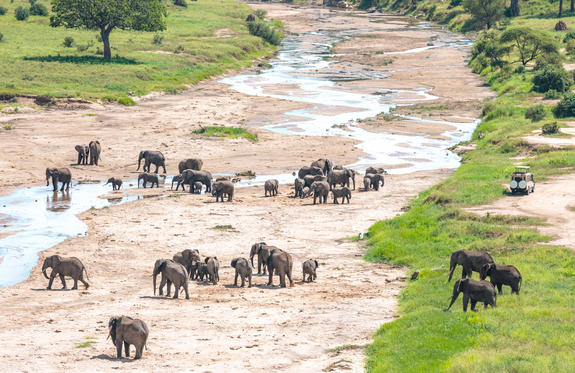 Tarangire National Park, situated within Tanzania's spectacular Manyara Region, is an awe-inspiring national park comprising of granite ridges, river valleys, mixed vegetative landscapes, and free-roaming wildlife. During the annual dry season, the Tarangire River is a magnet for thirsty wildlife. Large herds of elephants and migratory wildebeest, zebra, buffalo, impala, gazelle, hartebeest and eland gather and not surprisingly the predators follow. With lion being among the most commonly spotted animal, it is a rare day that a visitor does not spot this majestic animal prowling or grazing. Tarangire is also the one place in Tanzania where dry-country antelope such as oryx and gerenuk are seen regularly. This expansive area is also known for its spectacular baobab trees, its breathtaking views of the Masaai Steppe and the wondrous mountains to the south.