Zimbabwe
A nation of spectacular natural beauty, friendly people and rich culture, Zimbabwe's status as one of Africa's leading safari destinations was dampened for years by its political instability. But now that the country is transcending its strife and returning to a state of equilibrium, it is once again emerging as a vacation highlight of the continent. Victoria Falls – known to locals as 'The Smoke That Thunders' – is one of the seven natural wonders of the world and the sheer power of this massive body of water plunging into the Zambezi Gorge is awe-inspiring and unforgettable. Lake Kariba, with its game-rich shores and islands, is an idyllic safari spot featuring mind-blowing sunsets; Hwange National Park is known for its huge herds of elephants; and a kayak trip down the Zambezi through the Mana Pools National Park will appeal to the intrepid traveller, providing close encounters with crocodiles, hippos and a host of other wildlife.
Victoria Falls (Zimbabwe)
Days 1 - 3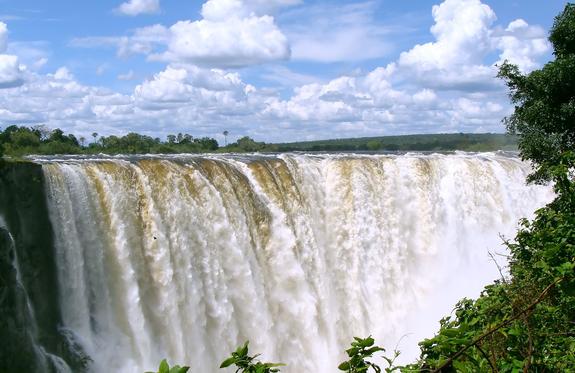 Victoria Falls is one of the world's most impressive waterfalls. It is set on the magnificent Zambezi River which creates the border between Zambia and Zimbabwe. These spectacular falls can be easily visited and viewed from the Zimbabwean side. Considered to be the world's widest waterfalls, Victoria Falls measures an impressive 1708 metres in width. The small town of Victoria Falls, which lies adjacent to the waterfalls, serves as a great base from which to explore the many attractions this area of Zimbabwe has to offer. The surrounding area provides a wide range of adrenalin-filled activities for adventure lovers. Visitors can look forward to an array of wonderful activities including: scenic flights, micro lighting, white water rafting, bungee jumping, kayaking, and once-in-a-lifetime expeditions into the incredible Chobe National Park.
Southern Hwange National Park
Days 3 - 6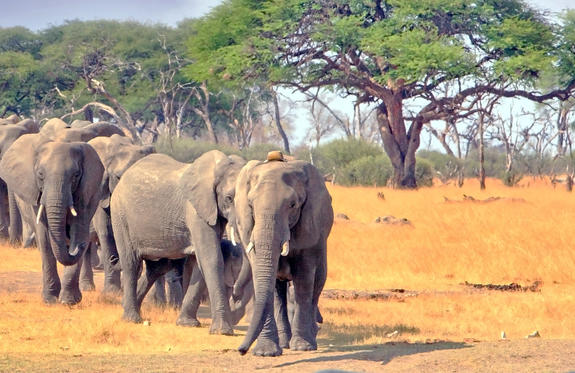 Located in western Zimbabwe, Hwange National Park (formerly Wankie Game Reserve) is the largest natural reserve in the country and is famous for its rich diversity of wildlife. Home to one of the biggest elephant populations in the world, as well as around 100 mammal species, the park is popular among animal lovers. Several protected species inhabit the awe-inspiring open landscapes, including the endangered wild dog, critically endangered black rhino, and rare roan and sable - along with lion, cheetah, and around 500 bird species. Adventurers can look forward to guided bush hikes, game drives, and horse riding safaris, all of which offer excellent photographic opportunities.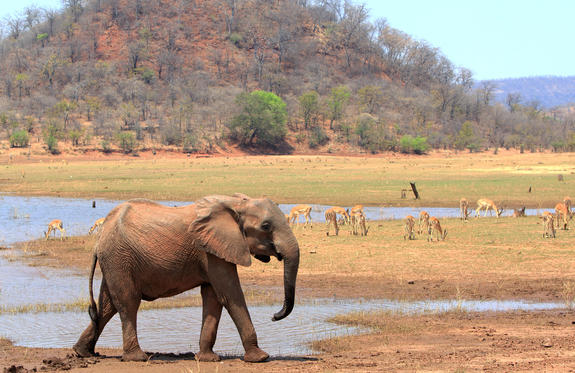 The planet's most voluminous man-made lake, Kariba is a popular tourist destination that was created in the 1950s when the mighty Zambezi was dammed. It stretches for more than 200 kilometres along the border between Zimbabwe and Zambia, forming a natural boundary between the two countries. The lake's waters are home to abundant wildlife including: crocodiles, hippos, fish and aquatic birds, while its shoreline and islands are rich with terrestrial game such as elephant and buffalo. It has become one of Zimbabwe's main tourist attractions offering houseboat holidays, fishing safaris and wonderful game viewing experiences.
Mana Pools National Park
Days 8 - 11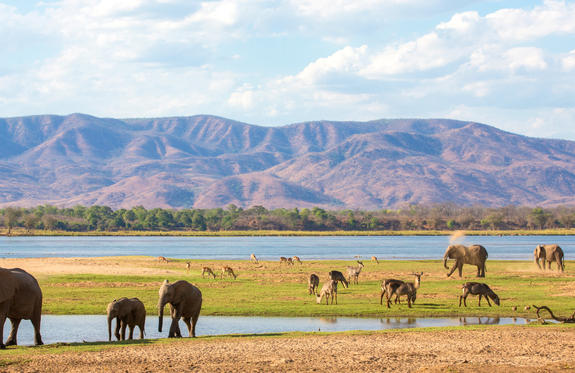 Located in northern Zimbabwe, the life-giving power of the Zambezi River makes Mana Pools National Park one of Zimbabwe's most lush and flourishing regions. Characterised by a diversity of landscapes including floodplains, forests, and baobab trees, the park has been designated as a UNESCO World Heritage Site for its natural beauty; providing a fantastic destination for photographers. It is an Important Bird Area and is also one of the continent's premier game-viewing locations, known for its good chances of seeing elephants, wild dogs, lions, and leopards. Mana Pools is also home to crocodiles, hippos, cheetahs, and eastern black rhinos. Visitors can look forward to an array of activities such as canoe trips, guided walks, game drives, river cruises, nature walks, bird watching, catch-and-release fishing, and searching for dinosaur tracks.