Victoria Falls (Zimbabwe)
Days 1 - 4
Victoria Falls is one of the world's most impressive waterfalls. It is set on the magnificent Zambezi River which creates the border between Zambia and Zimbabwe. These spectacular falls can be easily visited and viewed from the Zimbabwean side. Considered to be the world's widest waterfalls, Victoria Falls measures an impressive 1708 metres in width. The small town of Victoria Falls, which lies adjacent to the waterfalls, serves as a great base from which to explore the many attractions this area of Zimbabwe has to offer. The surrounding area provides a wide range of adrenalin-filled activities for adventure lovers. Visitors can look forward to an array of wonderful activities including: scenic flights, micro lighting, white water rafting, bungee jumping, kayaking, and once-in-a-lifetime expeditions into the incredible Chobe National Park.

Nairobi
Days 4 - 5
Situated along the Nairobi River in beautiful Kenya, the capital of Nairobi is East Africa's most cosmopolitan city. It serves as an excellent starting point for African safari trips around Kenya. Nairobi is Africa's 4th largest city and is a vibrant and exciting place to be. There are some fascinating attractions: its cafe culture, unbridled nightlife, the National Museum, the Karen Blixen Museum and most notably, just 20 minutes from the city centre, wild lions and buffalo roam in the world's only urban game reserve. Make sure you pay a visit to the elephant orphanage operated by the David Sheldrick Wildlife Trust for a once in a lifetime experience.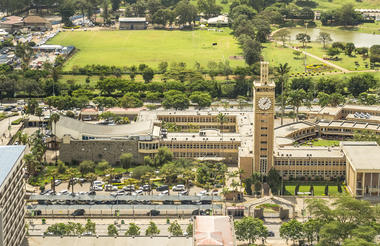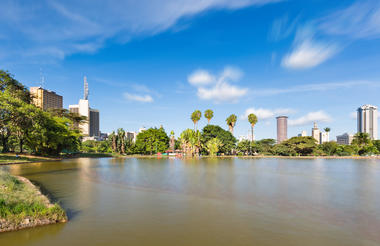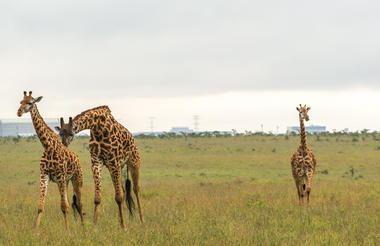 Masai Mara National Reserve
Days 5 - 8
One of Kenya's undisputed natural highlights is the Masai Mara National Reserve, which sprawls across more than 1500 square kilometres of the country's southwest. The park protects a phenomenal array of game, including elephant, lion, leopard and buffalo, as well as crocodile and hippopotamus in the Mara River. The birdlife is no less impressive, with over 450 resident bird species. However, the true highlight here is the Great Migration, recognised as one of the Seven New Wonders of the World. To survive the dry months of July to September, some 1.7 million wildebeest, migrate from the parched plains of the Serengeti National Park in Tanzania. Along with much smaller numbers of antelope, buffalo and zebra, they move to the more forgiving grasslands of the Masai Mara. In their wake come predators such as lion, hyena and cheetah, for whom these giant herds are an easy source of prey.