Kenya
Resting in the magnificent Great Rift Valley and presided over by the majestic Mount Kilimanjaro, Kenya is characterised by hauntingly beautiful natural landscapes of forested hills, patchwork farms, wooded savanna and vast forests brimming with an extraordinary abundance of wildlife. The nation's diverse range of traditional African cultures is influenced by over 70 unique ethnic groups from the Maasai, Samburu, Kikuyu, and Turkana tribes to the Arabs and Indians that settled on the coast. Add to this: an exquisite tropical coastline fringed with breathtaking golden sand beaches; gorgeous coral gardens providing excellent snorkeling and diving opportunities; and a slew of lively beach resorts, and it is easy to see why so many visitors flock here from around the world to experience a truly unique African adventure in one of the world's most pristine safari destinations.
Ol Pejeta Conservancy
Days 1 - 4
Resting at the foothills of Mount Kenya and the Aberdare Mountain Range, in central Kenya's Laikipia County, the Ol Pejeta Conservancy is the largest black rhino sanctuary in East Africa. It is also home to the last three remaining northern white rhino in the world. Originally a working cattle ranch in colonial Kenya and now a pioneering wildlife conservancy, Ol Pejeta works to protect wildlife and provide a sanctuary for rescued chimpanzees. The Conservancy is a popular safari destination and is home to the renowned 'Big Five' as well as a wide selection of other African animals including: zebra, giraffe, hippo, cheetah, jackal, serval, hyena, vervet monkey and many more. Visitors can enjoy an assortment of outdoor activities such as horse rides, game walks, and nocturnal game drives.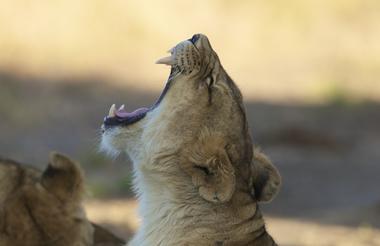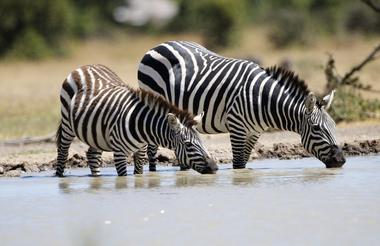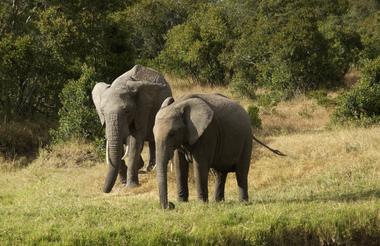 Masai Mara National Reserve
Days 4 - 7
One of Kenya's undisputed natural highlights is the Masai Mara National Reserve, which sprawls across more than 1500 square kilometres of the country's southwest. The park protects a phenomenal array of game, including elephant, lion, leopard and buffalo, as well as crocodile and hippopotamus in the Mara River. The birdlife is no less impressive, with over 450 resident bird species. However, the true highlight here is the Great Migration, recognised as one of the Seven New Wonders of the World. To survive the dry months of July to September, some 1.7 million wildebeest, migrate from the parched plains of the Serengeti National Park in Tanzania. Along with much smaller numbers of antelope, buffalo and zebra, they move to the more forgiving grasslands of the Masai Mara. In their wake come predators such as lion, hyena and cheetah, for whom these giant herds are an easy source of prey.