Zimbabwe
A nation of spectacular natural beauty, friendly people and rich culture, Zimbabwe's status as one of Africa's leading safari destinations was dampened for years by its political instability. But now that the country is transcending its strife and returning to a state of equilibrium, it is once again emerging as a vacation highlight of the continent. Victoria Falls – known to locals as 'The Smoke That Thunders' – is one of the seven natural wonders of the world and the sheer power of this massive body of water plunging into the Zambezi Gorge is awe-inspiring and unforgettable. Lake Kariba, with its game-rich shores and islands, is an idyllic safari spot featuring mind-blowing sunsets; Hwange National Park is known for its huge herds of elephants; and a kayak trip down the Zambezi through the Mana Pools National Park will appeal to the intrepid traveller, providing close encounters with crocodiles, hippos and a host of other wildlife.
Victoria Falls, Zimbabwe
Days 1 - 3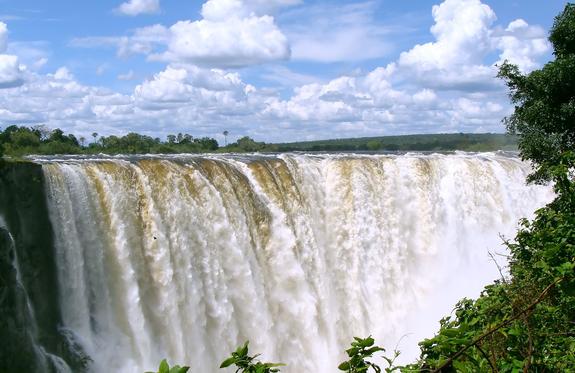 Resting on the southern banks of the Zambezi River at the western end of the eponymous falls, this popular tourist town is compact enough to walk around and makes an ideal base for travellers exploring the seventh wonder of the world, the unfathomably vast Victoria Falls. About two-thirds of the falls can be viewed from the Zimbabwean side and, while the falls are undoubtedly the star attraction, the area provides both adventure seekers and sightseers with plenty of opportunities to warrant a longer stay. Popular activities include scenic flights over the falls in helicopters or microlights, bungee jumping off the Victoria Falls Bridge, white-water rafting (seasonal), and day trips to Chobe National Park. The town itself offers some excellent accommodation and restaurant options as well as an eclectic variety of African curios and authentic art sold by friendly Zimbabwean locals who are wonderfully welcoming and eager to help you enjoy your stay.
Botswana
Situated in the southern reaches of Africa, Botswana is renowned for its pristine wilderness areas characterised by deep lagoons, wetlands, lush palms, rugged hills and desert plains scattered with scrubland. The country's primary tourist drawcard is undoubtedly the vast red expanse of the Kalahari Desert and its remarkably beautiful Okavango Delta, the largest inland delta in the world. These natural wonders provide a tranquil haven for an abundance of African wildlife to thrive. Other highlights include the impressive Makgadikgadi Salt Pans, where visitors are privy to massive zebra migrations during the flood season; the Savuti plains, which host large prides of lions; and the Tsodilo Hills, where 4500 rock paintings form a unique record of human settlement over many millennia.
Chobe River Front
Days 3 - 5
The Chobe River forms the northern boundary of the Chobe National Park, renowned for its diverse and abundant game viewing opportunities. This section of the park is best known for its dense concentration of wildlife including elephant and hippo populations, but the waters attract all manner of game including large herds of buffalo and the lions that prey on them. A visit to this area guarantees close encounters with an array of African wildlife. Visitors can look forward to some exciting activities such as: driving along the game-dotted river banks in a 4WD; cruising along the river in a motorboat, spotting rare birdlife and for a unique, luxury safari experience, hire a houseboat.
Okavango Delta
Days 5 - 7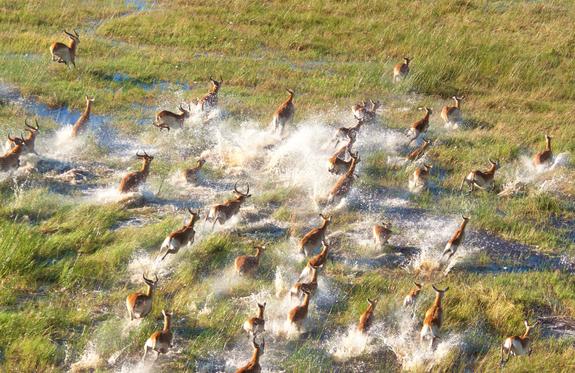 Situated in the northwestern corner of Botswana, the Okavango Delta is a World Heritage Site as it is the largest inland delta in the world. The magnificent Okavango River sprawls out over the dry sands of the Kalahari Desert forming this flourishing waterlogged oasis featuring countless meandering waterways and crystal clear lagoons studded with water lilies, as well as fertile floodplains and reeded islands inhabited with abundant wildlife. The Okavango Delta stretches over 15000 square kilometres. Visitors can enjoy a number of wonderful activities such as game viewing, fishing, bird watching or taking an authentic guided Mokoro excursion through this wetland paradise in a traditional dugout canoe. Commonly spotted animals include: lion, rhino, leopard, giraffe, hippos, elephants, crocodiles and countless species of bird.
South Africa
This vast country is undoubtedly one of the most culturally and geographically diverse places on earth. Fondly known by locals as the 'Rainbow Nation', South Africa has 11 official languages and its multicultural inhabitants are influenced by a fascinating mix of African, Asian and European cultures. Spend your days: discovering the gourmet restaurants, impressive art scene, vibrant nightlife and beautiful beaches of Cape Town; enjoying a typical local braai (barbecue) in the Soweto township; browsing the bustling Indian markets in Durban; or sampling some of the world's finest wines at the myriad wine estates dotting picturesque Cape Winelands. There are plenty of historical attractions to explore including the Zululand battlefields of KwaZulu-Natal, the Apartheid Museum in Johannesburg and Robben Island, just off the coast of Cape Town. Above all else, South Africa's attraction lies in its remarkably untamed wilderness with its astonishing range of wildlife roaming freely across massive unfenced game reserves such as the world-famous Kruger National Park. With all of this variety on offer, it is little wonder that South Africa has fast become Africa's most popular tourist destination.
Resting at the confluence of the Indian and Atlantic oceans, sandwiched between the slopes of the iconic Table Mountain and the glistening sapphire waters of Table Bay, the exceptionally scenic city of Cape Town is in a class of its own. Some cities boast rich culture, vibrant nightlife, a cosmopolitan atmosphere and extraordinary architecture, while others boast breathtaking landscapes and extraordinary natural wonders. Cape Town is lucky enough to be blessed with all of these attractions and so much more. With its bustling harbour, world-class beaches, top-notch vineyards, and its mountainous surroundings brimming with diverse flora and fauna, Cape Town consistently captivates the hearts of all who visit.