Namibia
Located in southwestern Africa, Namibia boasts a well-developed infrastructure, some of the best tourist facilities in Africa, and an impressive list of breathtaking natural wonders. Visitors can explore the capital of Windhoek and discover the lovely coastal town of Swakopmund boasting remnants of the country's German influence, reflected in the architecture, culture, cuisine and the annual Oktoberfest celebrations. To properly appreciate this extraordinary country, you will have to venture out of the cities to explore the remarkable natural landscapes Namibia has to offer. These include: the impressive Fish River Canyon; the vast Etosha National Park teeming with abundant wildlife, such as lions, desert-adapted elephants and the Hartmann's Mountain Zebra; the hauntingly beautiful Kalahari Desert; and of course the Namib Desert stretching for over 2000 km along the magnificent Atlantic Coast. Namibia is an ideal destination for travellers seeking an unforgettable African experience in a uniquely beautiful untamed wilderness.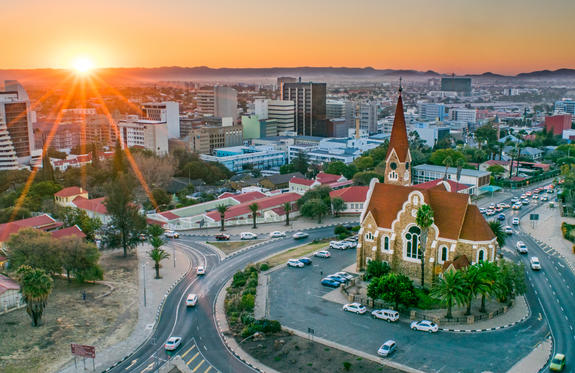 Situated in Central Namibia, the cosmopolitan city of Windhoek serves as the capital of the country. It is home to an international airport and a plethora of restaurants, shops, entertainment venues and accommodation options. The city is clean, safe and well-organised, with a colonial legacy that is reflected in its many German eateries and shops, and the widespread use of the German language. Windhoek has an interesting mix of historical architecture and modern buildings, many of which are worth a look, including the Alte Feste an old fort, the 1896 Christuskirche Christ Church, and the more contemporary Supreme Court.
Okonjima Nature Reserve
Days 2 - 4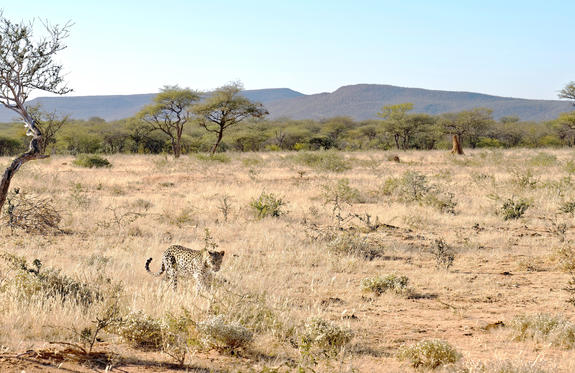 Midway between the spectacular Etosha National Park and the capital city of Windhoek, lies the well-known Okonjima Nature Reserve. The 22 000 hectare nature reserve is home to AfriCAT, a carnivore sanctuary, which gives the captive cats a second chance to be released back into the wild and become completely independent hunters in a protected area right in the middle of commercial cattle farmland. Visitors can enjoy a stay at a variety of excellent accommodation options including everything from luxury villas to secluded camping. Don't miss the opportunity to enjoy thrilling cat-tracking guided safaris, leopard-spotting, off-road night drives and learn about local San culture along the Bushmen trail.
Onguma Game Reserve
Days 4 - 6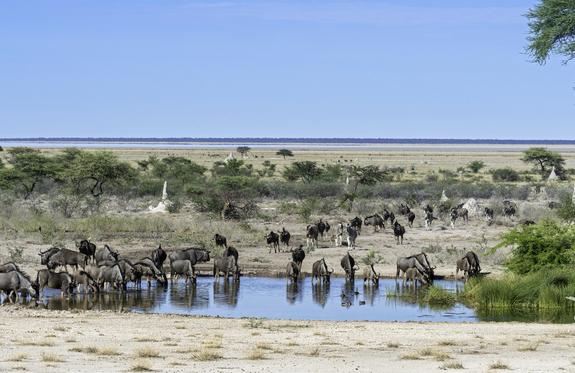 Situated east of Etosha, bordering Fisher's Pan, Onguma Game Reserve is one of Namibia's best-kept secrets. The reserve offers visitors the opportunity to experience Africa in all her beauty and diversity. Onguma Game Reserve features over 34000 hectares of protected land scattered with a variety of wildlife including plains game, black rhino, kudu, giraffe, zebra, lion, cheetah, leopard and more than 300 bird species. The seasonal rains attract thousands of migrating birds to the Fisher's Pan wetland area. The neighbouring Etosha National Park is home to a rich array of wildlife, including four of the Big 5. Visitors can enjoy game drives, guided walks and rhino research drives within the private reserve as well as wildlife safaris into Etosha National Park to view abundant game in the largest national park in Namibia.
Ongava Private Game Reserve
Days 6 - 7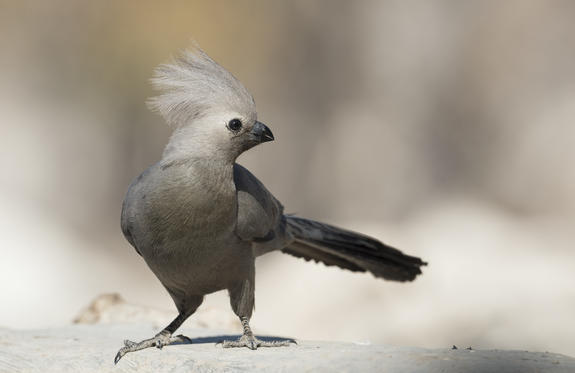 Sharing the southern boundary with Etosha National Park, the prolific 30 000-hectare private Ongava Game Reserve is considered one of the top private game reserves in the region, enjoying global recognition for exceptional conservation, groundbreaking research and exciting safari experiences. The landscape is characterised by vast open plains dotted with salt plans and abundant wildlife. Visitors can easily access Etosha through Andersson's Gate in the south.
Known for its luxury lodges made out of natural materials, Ogava is a popular destination for those looking to immerse themselves in nature. The reserve offers visitors the perfect combination of wildlife safari experiences within and around the Etosha National Park. One of Ongava's top attractions is its rhino population and guests can experience the thrill of getting close to these majestic creatures. Popular activities include: night game drives, guided nature walks, bird watching and 4x4 guided game drives.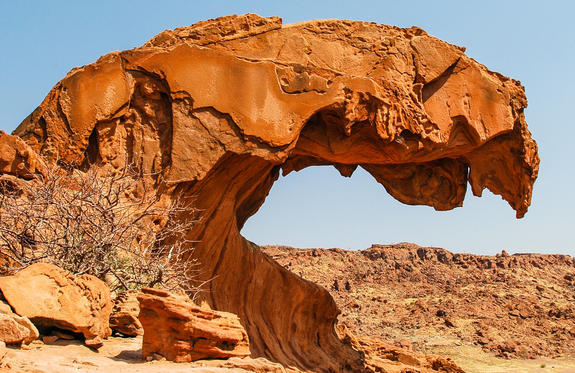 Set in the Kunene Region of northwestern Namibia, Twyfelfontein is a spectacularly scenic area, featuring one of the largest and most important concentrations of rock art in Africa. The name 'Twyfelfontein' translates to 'Fountain of Doubt', which refers to the perennial spring situated in the impressive Huab Valley flanked by the slopes of a sandstone table mountain. It was this spring that attracted Stone Age hunters over six thousand years ago, and it was during this time that the extensive group of rock engravings and paintings were produced. Visitors can look forward to basing themselves at some wonderfully shady campsites along the Aba-Huab riverbed, while exploring over thirty different sacred ritual sites of the traditional hunter-gatherer communities.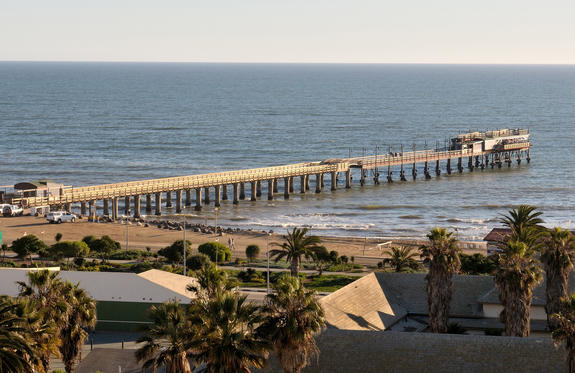 Set along Namibia's spectacularly scenic coast, the seaside town of Swakopmund is known for its wide-open avenues, colonial architecture, and its surrounding otherworldly desert terrain. Founded in 1892 as the main harbour for German South-West Africa, Swakopmund is often described as being more German than Germany. Now a seaside resort town, Swakopmund is the capital of the Skeleton Coast tourism area and has plenty to keep visitors happy. The quirky mix of German and Namibian influences, adventure options, laid-back atmosphere and cool sea breeze make it a very popular Namibian destination. Visitors can look forward to a number of exciting activities including: quad biking, horse riding, paragliding, fishing, sightseeing and fascinating desert tours.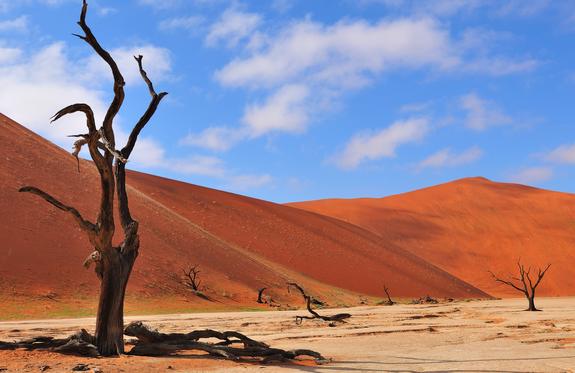 Located in the scenic Namib-Naukluft National Park, Sossusvlei is where you will find the iconic red sand dunes of the Namib. The clear blue skies contrast with the giant red dunes to make this one of the most scenic natural wonders of Africa and a photographer's heaven. This awe-inspiring destination is possibly Namibia's premier attraction, with its unique dunes rising to almost 400 metres - making them some of the highest in the world. These iconic dunes come alive in morning and evening light and draw photography enthusiasts from around the globe. Sossusvlei is home to a variety of desert wildlife including oryx, springbok, ostrich and a variety of reptiles. Visitors can climb 'Big Daddy', one of Sossusvlei's tallest dunes; explore Deadvlei, a white, salt, claypan dotted with ancient trees; or for the more extravagant, scenic flights and hot air ballooning are on offer, followed by a once-in-a-lifetime champagne breakfast amidst these majestic dunes.
NamibRand Nature Reserve
Days 12 - 14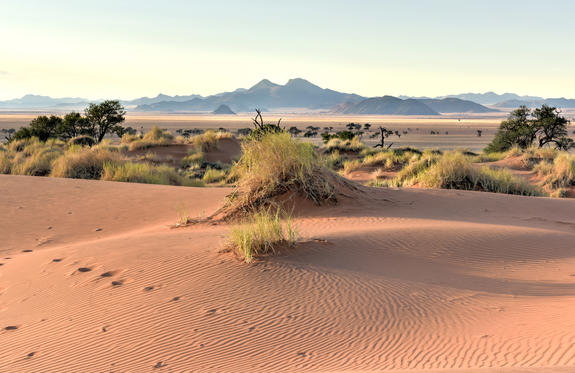 Spanning an area of 172,200 hectares and encompassing four distinct ecosystems, the NamibRand Reserve of southern Namibia is among the largest privately owned game parks in Southern Africa. Founded to conserve the unique environment and wildlife species of the Namib Desert, the park's mix of dunes, mountains, rocky outcrops, sandy flats, and gravel plains provides habitats for a diversity of mammals, including hyenas, jackals, foxes, antelopes, and various wild cats. A plethora of bird species, reptiles, insects, and frogs also have their home here, alongside an array of plant species. Discover the mysterious 'fairy circles', unexplained bare patches in the sand, or enjoy a night of sublime stargazing - having been named Africa's first International Dark Sky Reserve, it is one of the least light-polluted areas in the world.